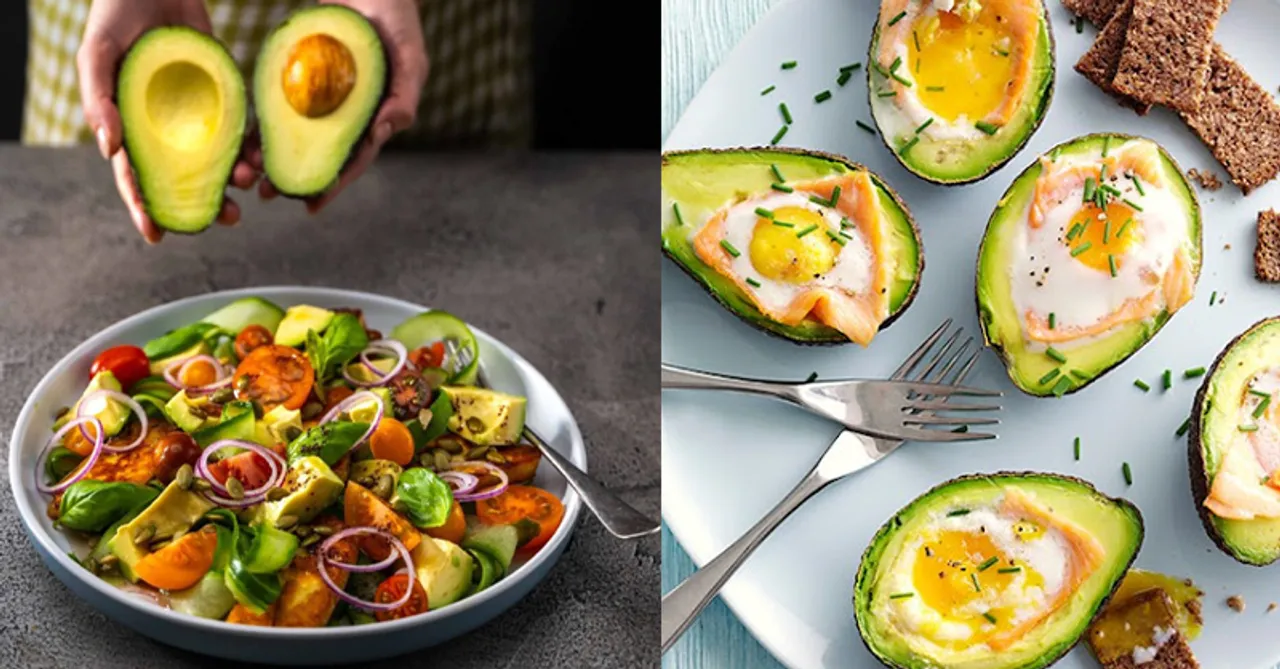 From a sabzi to a healthy shake, this article finds some of the best avocado recipes for you to try at home. 
Let's not confine this healthy fruit to just Guacamole and toast, as many new versions can be carved out of it. The alligator pear is rich in vital nutrients and proteins. It is not only healthy but tasty, too and many new dishes can be tried out of it. Let's explore some desi and firangi avocado recipes this Avocado Day and go Awwwacado!
1. Avocado Paratha
First things first, Parathas are famous in every Indian household and are made out of many stuffings. Here's a recipe for Avocado Paratha by Manjula's Kitchen to add to a long list of Parathas.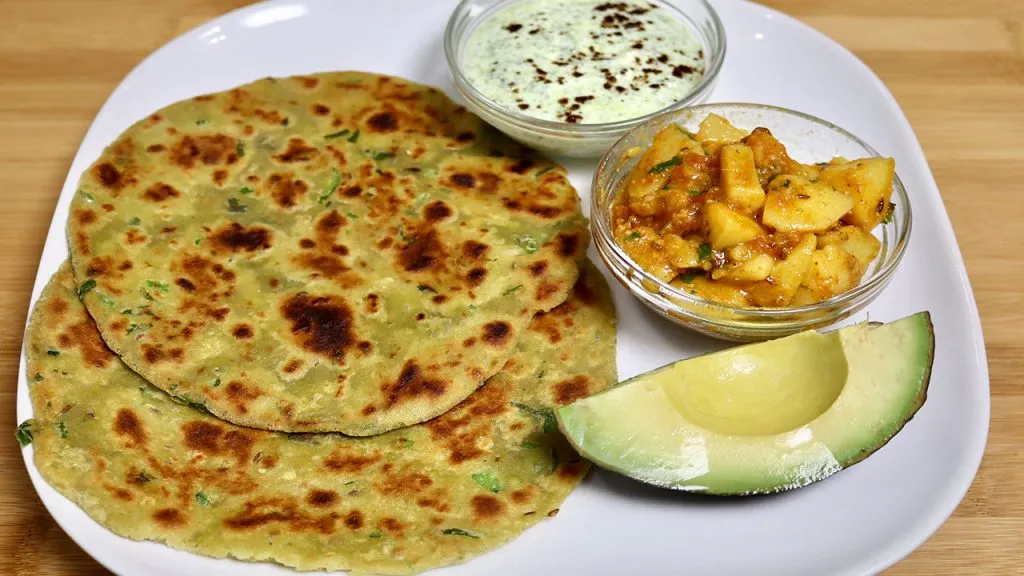 Ingredients
| | |
| --- | --- |
| Ripe Avocado | 1 |
| Whole Wheat Flour | 1 1/4 cup |
| Salt | 1/2 tsp |
| Cumin Seeds | 1/2 tsp |
| Asafotida | 1/8 tsp |
| Green Chilli | 1 tbsp |
| Cilantro finely chopped | 1 tbsp |
| Ginger | 1 tsp |
| Lemon Juice | 1/2 tsp |
| Cooking Oil | 3 tbsp |
Method
Slice the avocado in half, remove the pit and skins, and scoop them into a mixing bowl. Then use a fork to gently mash. Add green chili, salt, asafetida, cumin seeds, lemon juice, cilantro, and salt, and mash all the ingredients together. Add the whole wheat flour gradually and knead the ingredients together and make a smooth but firm dough. Do not add any water. Grease your palm and roll the dough between your palms. Let the dough sit for 10 minutes before making the parathas. Heat the flat skillet over medium heat. Place the Paratha over the skillet. Turn the paratha over once the color changes and it puffs. Paratha should have golden-brown spots. Wait a few seconds and put about 1 teaspoon of oil and spread with a spatula. Flip the paratha and put half a teaspoon of oil again. Lightly press the paratha with a spatula. Flip again and press with a spatula making sure the paratha is golden-brown on both sides. Repeat for the remaining parathas. Parathas are best served hot and crispy.
2. Avocado Sabzi
After the Paratahas are done, will you eat them plain and simple? Let's make a sabzi from the fruit and pair it with our paratha. Find the recipe for avocado sabzi by Sangeeta's World.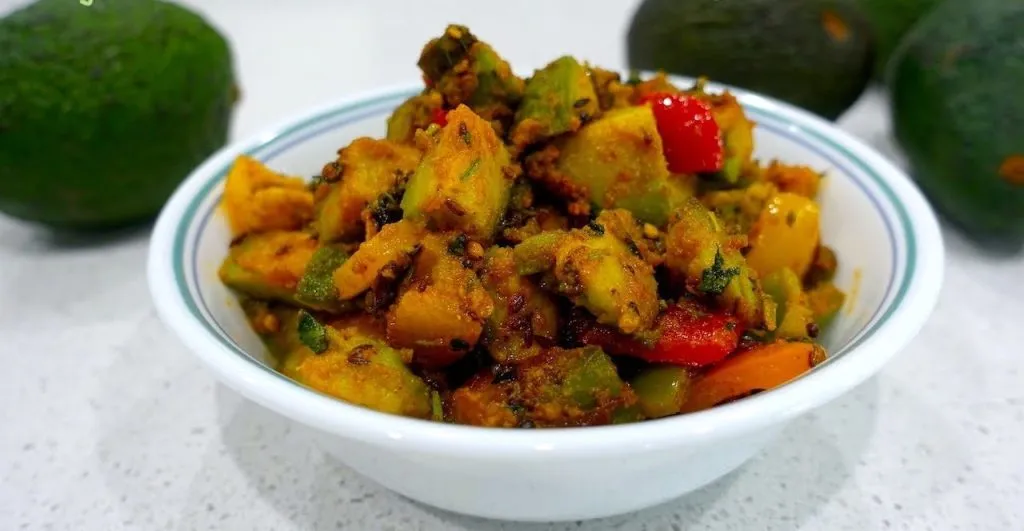 Ingredients
| | |
| --- | --- |
| Raw Avocado | 2 medium |
| Bell peppers | 1/2 green, 1/2 yellow, 1/2 red |
| Cooking Oil | 2 tbsp |
| Mustard Seeds | 1/2 tsp |
| Cumin Seeds | 1/2 tsp |
| Dry Coriander | 1/2 tsp |
| Green Chillis | 4-5 |
| Asafoetida | 1/4 tsp |
| Turmeric Powder | 1/2 tsp |
| Salt | as per taste |
| Chilli Powder | 1 tsp |
| Lemon | 1/2 |
| Coriander | to garnish |
Method
Peel the skin of avocados, dice them into big pieces, and remove the seeds. Take a pan and add oil. Add mustard seeds, cumin seeds, dry coriander, green chillis, and asafoetida once the oil is heated. Mix all of it and add turmeric powder. Add the dice of avocado. Add salt as per taste, and mix everything well. Let the vegetable cook for 4-5 minutes on a medium flame. Add diced bell peppers after the avocado is cooked. Add red chilli powder and dry coriander powder. Squeeze lemon, sprinkle fresh coriander and your sabzi is ready to serve.
3. Avocado, Cream Cheese & Flamin' Hot Cheetos Sushi
Time to spice things up with some flamin' hot Cheetos sushi with avocado and cream cheese. This one is for all the spice lovers who like their sushi hot and creamy. Note the recipe for the same by Bombay Cartel.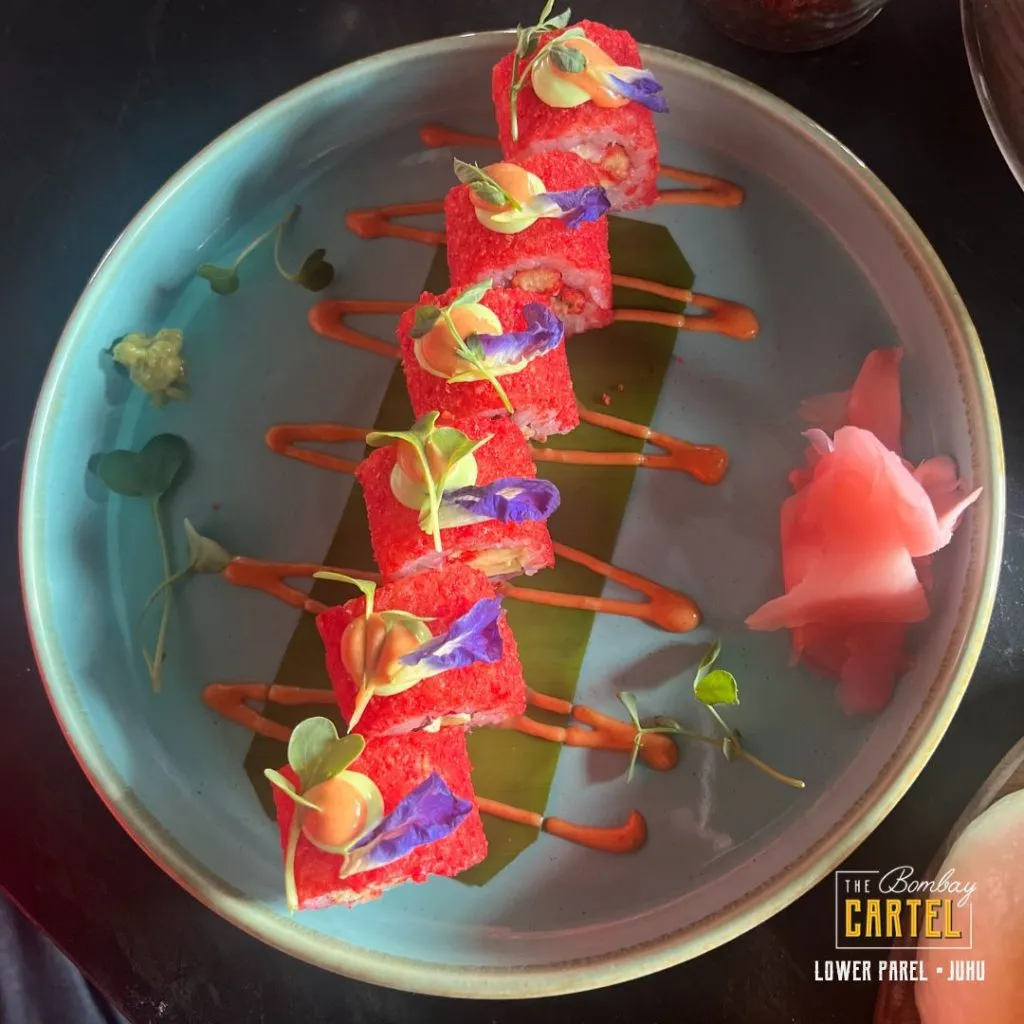 Ingredients
| | |
| --- | --- |
| Sushi Rice | 200 gm |
| Salt | a pinch |
| Oil | 1 tbsp |
| Nori Sheet | 2 - 3 pcs |
| Flamin' Hot Cheetos | 150 gm |
| Avocados | 1 pc. |
| Creem Cheese | - |
| Wasabi | for serving |
| Ginger | for serving |
| Soy Sauce | for serving |
Method
Cook the rice in 1 part of rice to 1.5 parts of water proportion. The cooked rice should be sticky, but not overcooked. Slice the avocado into long stripes. Place a nori sheet on a sushi rolling mat, with the rough side facing upwards, so the rice can stick to it. Fill a small bowl with lukewarm water. Dip your hands in the bowl, so the rice doesn't stick to your fingers, and spread the rice along the nori sheet. The rice layer should be around 2-3 mm thick. Leave the top end of the nori sheet empty (without rice). This part will seal the sushi roll, just like the sticky edge of an envelope. Mash the Cheetos till it turns to dust and spread it over the rice. Spread a line of cream cheese in the middle of the sheet, on top of the rice. Arrange the avocado and pieces of Flamin' Hot Cheetos along the middle of the cream cheese line. Start rolling the sushi, working your way from the bottom towards the top. The empty stripe of the nori sheet should be at the top end. Roll the sheet halfway, and compress it with your hands to give it a tube-like shape. Keep rolling all the way, until the empty piece of the sheet sticks to the outer part of the nori sheet. Cut with a sharp wet knife. Serve with wasabi, ginger, and soy sauce.
4. Avocado Chutney
We all have tried guacamole, but if we make a finer version of it, it turns into a chutney. Here is a spicy chutney recipe by &t=8s">Let's Cook For Us.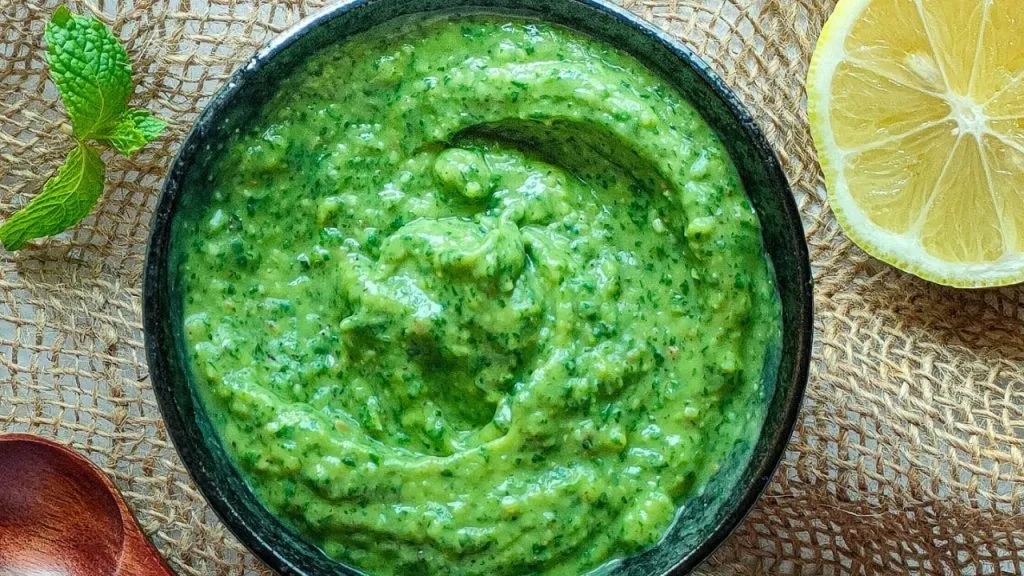 Ingredients
| | |
| --- | --- |
| Oil | 2 tbsp |
| Green Chilli | as per spice level |
| Avocado | 4 - 5 |
| Cumin Seed Powder | 1 tsp |
| Garlic Cloves | 3 - 4 |
| Tamarind | 1 small |
| Coriander | as per the spice level |
| Salt | to taste |
| Peanuts | handful |
| Mustard Seeds | 1/2 tsp |
| Cumin Seeds | 1/2 tsp |
| Dried Red Chilli | 2 |
| Curry Leaves | 4 - 5 |
Method
Take a pan. Pour cooking oil in it and add whole green chillis. Stir well and transfer it into a mixer jar. Take 4 - 5 avocados, cut them into halves, and remove the seeds. Add some cumin seeds powder in the jar with oil and chill. Add some sliced garlic cloves, tamarind, coriander, and salt to taste. Close the jar and grind it to make a rough paste. Scrape avocados into the paste and grind everything together. Take another pan and add 1 tbs oil to it. Add, peanuts, mustard seeds, cumin seeds, dried red chillis, and curry leaves and sort them. Pour all of the seasonings on the chutney and your dish is ready.
5. Avocado On Rice Crackers
What if instead of avocado on toast, you can make an avocado on rice crackers? This recipe by Bombay Cartel is a blend of crunch and smoothness as the rice crackers give it a crunchy bite while the smashed avocado gives it a pasty texture.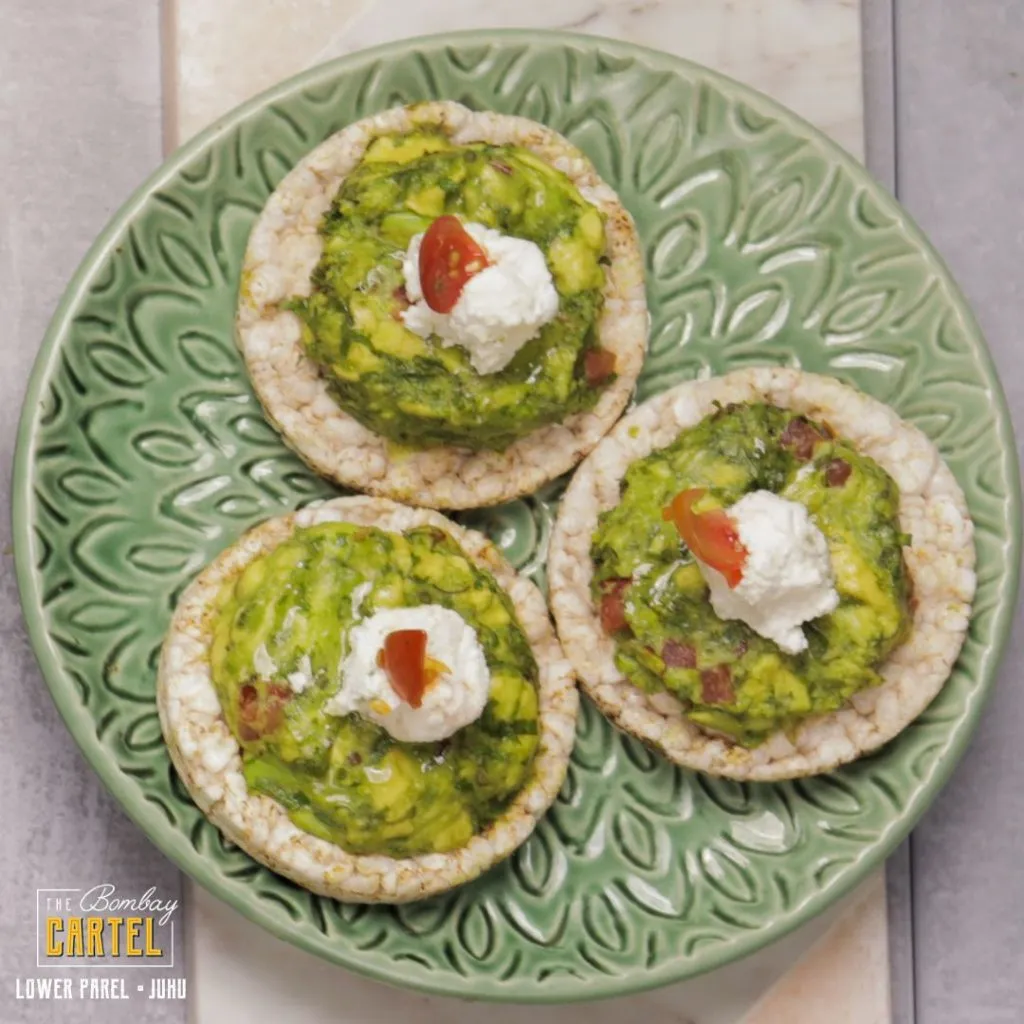 Ingredients
| | |
| --- | --- |
| Ripe, fresh avocado, halved, pitted, peeled, and quartered | 1 |
| Rice Crackers | 3 |
| Feta Cheese Cubes | - |
| Cherry Tomatoes | handful |
| All Bagel Seasoning | 2 tsp |
| Salt | to taste |
Method
On each rice cracker, spread the mashed avocado evenly. Add Feta Cheese Cube on top over the same. Cut cherry tomatoes into half and top over the same. Season with ½ teaspoon of the bagel seasoning and salt to taste.
6. Corn Avocado Fritters
Gloomy monsoon weathers call for a pakoda party but let's make it avocado style. These fritters are made with corn and avocado by Easy Chomps that you can definitely try for your evening snacks.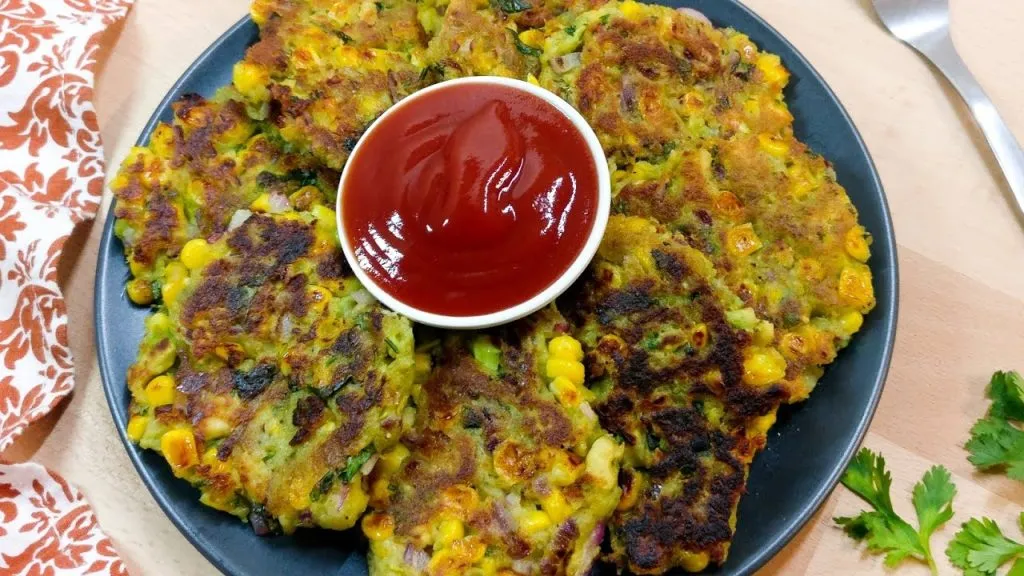 Ingredients
| | |
| --- | --- |
| Onion | 1 |
| Avocado | 1 |
| Fresh Coriander Leaves | - |
| Corn | 1 cup |
| Salt | as per taste |
| Lemon Juice | 2 - 3 tbps |
| All Purpose Flour | 2 - 3 tbsp |
| Bread Crumbs | 1/2 cup |
| Pepper | 3/4 tbsp |
Method
Take a medium onion and finely chop it in a bowl. Take pieces of avocado and finely chopped coriander. Mash the avocado and add chopped onions and corn to it. Add salt as per taste. Squeeze lemon juice. Add all-purpose flour and bread crumbs. Sprinkle pepper and mix everything. Take a pan and add cooking oil to it for shallow frying. Take small even portions of the stuffing and make rolls out of it. Keep them in the pan for frying. Keep flipping the sides and cook for 2 - 3 minutes on each side. Remove the fritters from the pan and serve them with ketchup or chutney.
7. Avocado Shake
Ending on a healthy and shaky note. Here's an avocado-banana shake from Mahima's Cooking Class for you to refresh and energize your taste buds.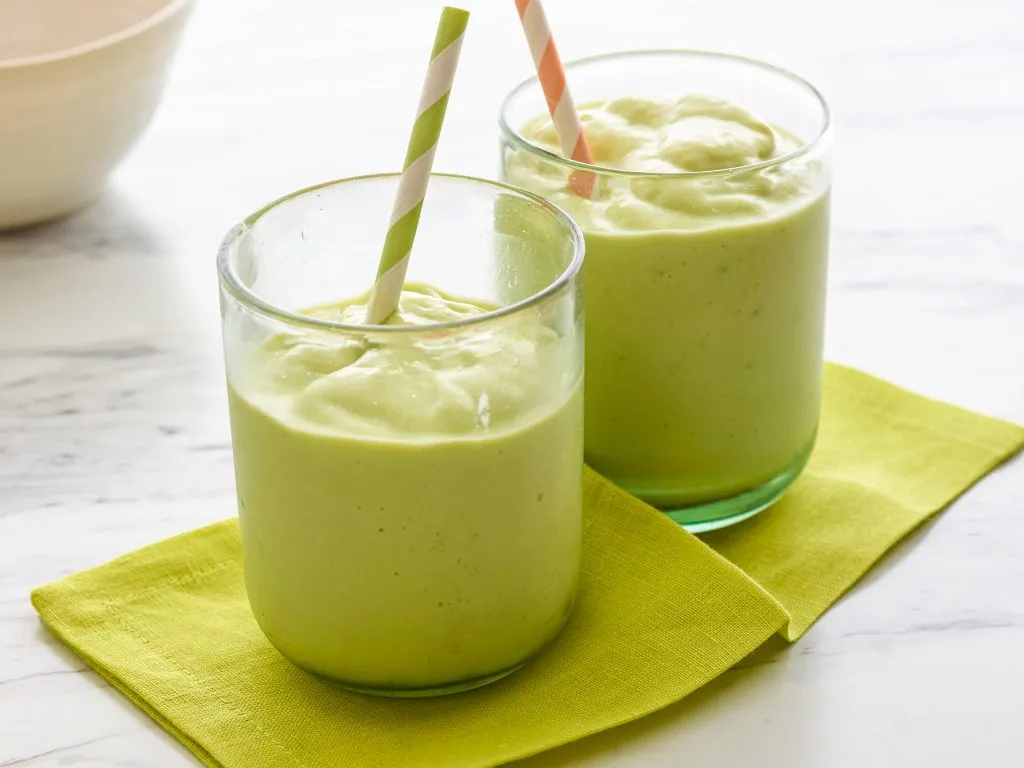 Ingredients
| | |
| --- | --- |
| Avocado | 1 |
| Banana | 2 |
| Milk | 500 ml |
| Almond | 10 nos |
| Chia Seeds | 2 tsp |
| Honey | - |
Method
Take a big ripe avocado, slice it in half, and scoop it into a mixer jar. Peel 2 bananas, cut them into pieces, and add them as well. Take almonds soaked in water for 10 minutes and peel their skin. Add the almonds, milk, and honey to taste in the jar. Blend them all. Open the jar and add some chia seeds. Close the lid and blend again. Your healthy avocado shake is ready to serve.
For more such stories follow Local Samosa on Facebook,  Instagram,  Twitter, and Telegram.