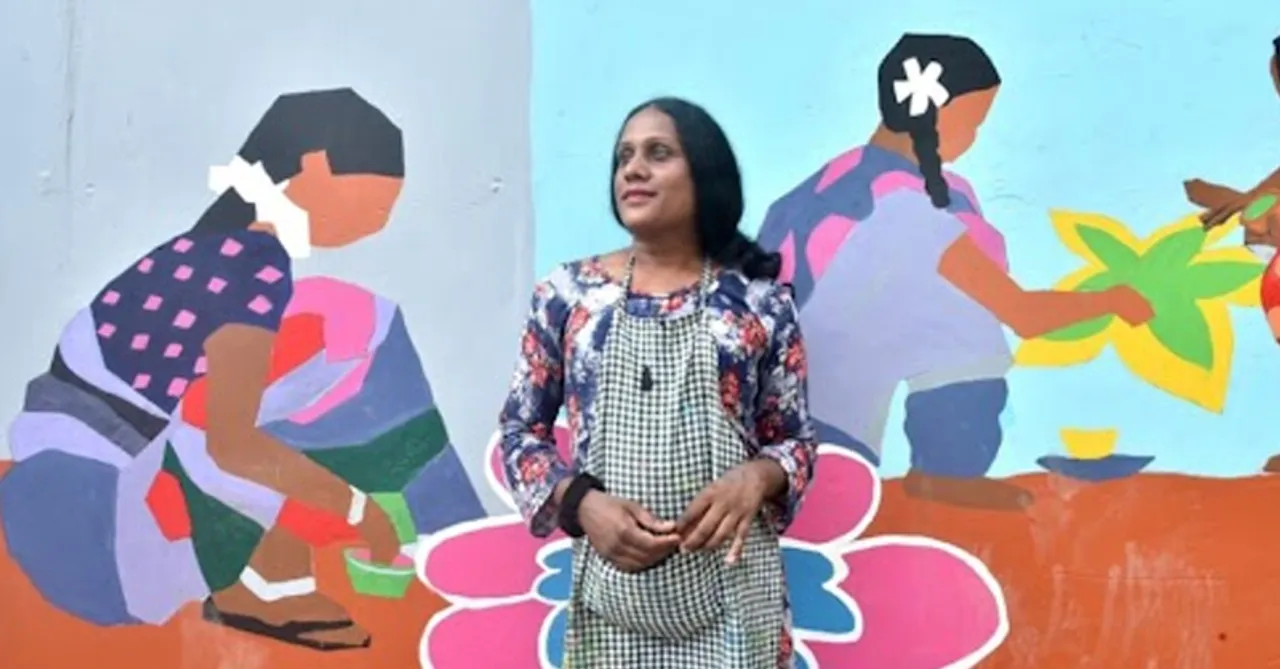 Based in Bengaluru, Shanthi Muniswamy was a sex worker who also had to endure various struggles before coupling with Aravani Art Project, an initiative that changed her life.
Shanthi Muniswamy, a painter and a transgender activist, has been earning considerably well now - a bare essential that was even beyond her distant musings when she was forced to leave school before completing std. 10 and being cast aside by the family. But meet her now and get amazed by the conviction with which she carries herself and talks about her journey and struggles - a portion of which can indeed be credited to the Aravani Art Project, an intersectional art collective to create livelihood opportunities for transgender women through art.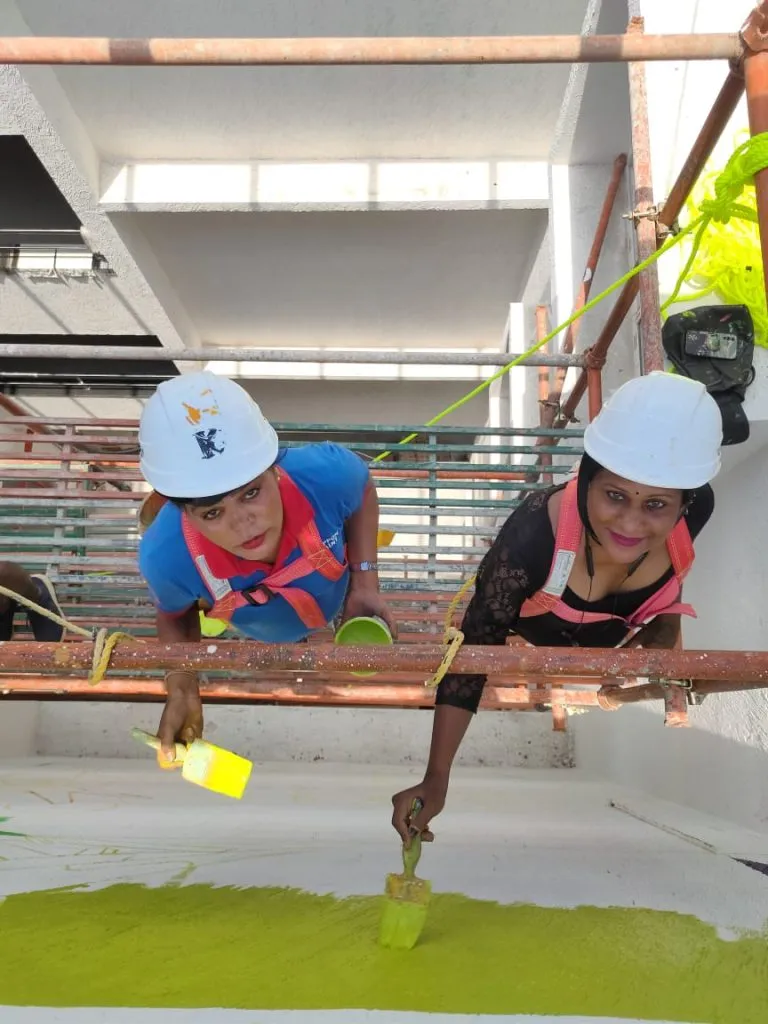 Started in 2016 in Bengaluru by Poornima Sukumar, Aravani Art Project works with transgender women and paints walls and murals all over India, including various institutions, organizations, schools, and public spaces. "Through painting these walls and by occupying and reclaiming the spaces in these so-called places that we think do not belong to the transgender community, we try to create a safe space and reclaim the place for them," Sukumar says.
From battling challenges to making a livelihood from painting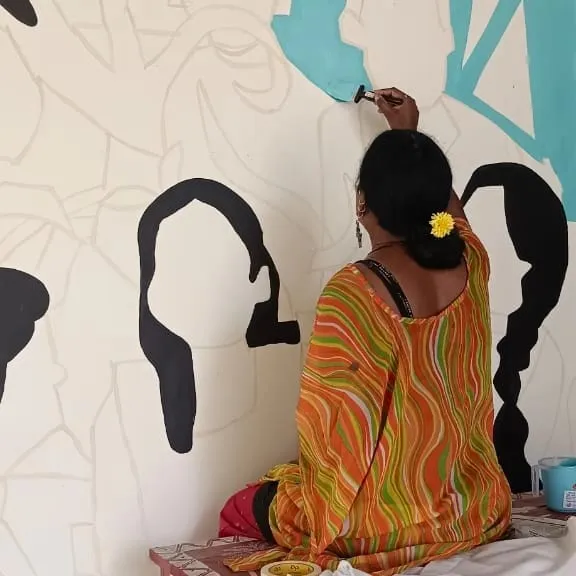 In the last seven years, the project's paramount attainment is making the beneficiaries independent in their livelihood. As Sukumar says, "We paint together to raise awareness and change the perspectives of people towards the transgender community," which seems true in the case of one of the beneficiaries from Bengaluru, Muniswamy, whose family has finally accepted their daughter. Even though assigned 'male' at birth, Muniswamy never identified as a"man." Thrusting aside what should be the suitable definitions of gender or whether there should be the categorization in the first place, Muniswamy always showcased some "feminine traits", as she told Local Samosa.
Things started turning worse when she was growing up. "I was often bullied due to my feminine character back in school," she says. The torments led Muniswamy to leave her school, but the complications did not terminate for her. To help her "get over her misconception that she was a woman," her family fixed a meeting with a girl for Muniswamy's wedding, where she divulged her identity. Instead of turning in her favor, the episode got her house arrested. It was only later that Muniswamy got the daring to ask her parents whether to accept and support her or else she would go out and join the transgender community. Although she had to go for the latter, life started settling for her.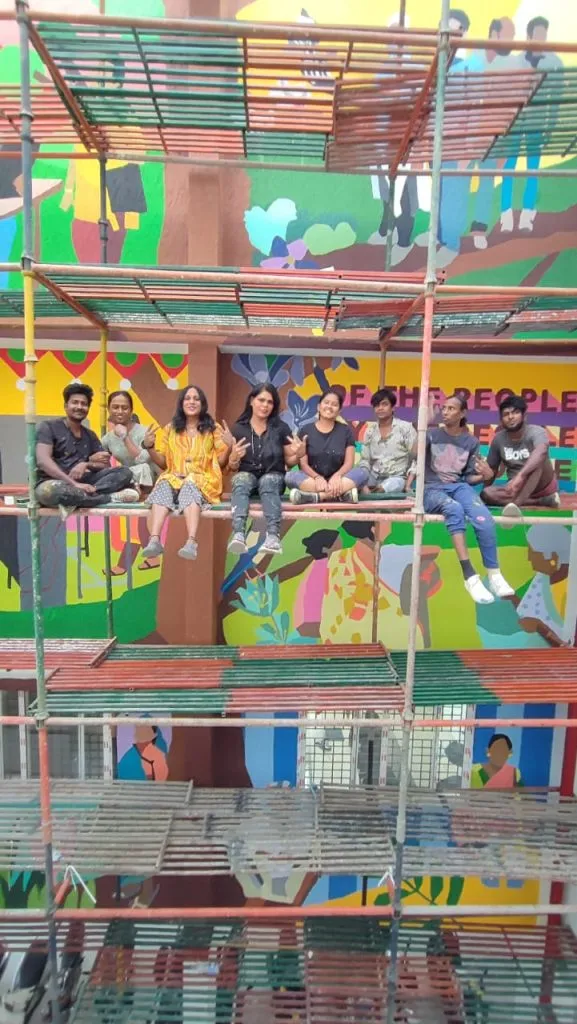 Some 8 or 9 years ago, she went through Sex Reassignment Surgery (SRS), during which she also got acquainted with the Arav'ani Art Project. "Having to know that someone was working for the advancement of the transgender community was different and delightful at the same time for me," adding that the word 'Aravani' refers to the transgender community. Soon after, she contacted the founder, Poornima Sukumar, and got associated with the project. Before this, she also happened to be the RJ for the 90.4 Mhz hosting shows on amplifying the issues of the trans community.
Not only because of her 'transgender' identity did Muniswamy connect with the Aravani Art Project but also for the fact that it reinstalled the passion for art inside her. "I would love to see the intricate designs and the varied mesmerizing colors my mother would put in the rangoli, but I was not allowed to do it as she and would say that it was a 'girl's work.' Although I used to paint in my notebook's pages but would often hide it from the teachers and, if they found out, would blame it on my sister to escape the unwanted scene," she laments.
However, the situation has changed for Muniswamy now. She, who had also painted 36 pillars of the Bengaluru metro station, once painted a mural in Freedom Park in Bengaluru, where she also took her mother and manifested her work. "I believe she might have then realized why I loved to put the Rangoli outside our house," she says, adding that the passion for painting was always there inside her, but it was only through the art project that she pursued it.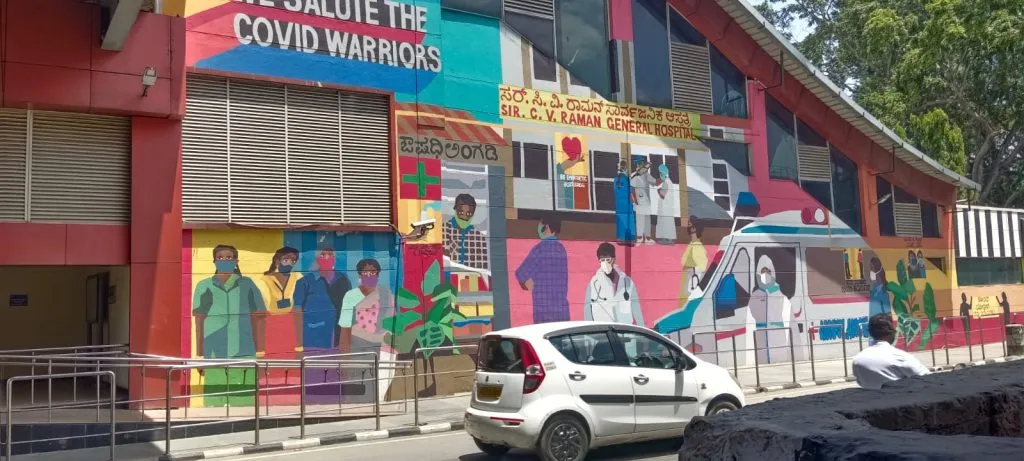 Unlike the gloomy condition of the art that hardly leads to livelihood for the artists, the art project has been able to give people like Muniswamy a stable income, as she says. She and other artists get commissioned work through the Aravani Art Project and do not have to indulge in sex work for livelihood. In some of the most famous artworks, Muniswamy, along with the other painters from the Aravani Art Project, was part of a canvas-painting work for a concert in Pune by the VH1 music channel and has also painted the Swami Vivekananda Metro Station in Bengaluru to salute the COVID warriors during the second wave of COVID-19 in 2021. "I am proudly like to mention that my hands that were once holding a condom now proudly own a brush," she says.
Daily struggles know no end
Even though Muniswamy has been living a life with dignity, her life like many other transgender folks is accustomed to various stigma, prejudices and the set norms of the society. "It is a great challenge to use a washroom and, first, to understand which one to use from the given toilets when I am out," she says. Adding to it, Muniswamy also mentioned that she, very often, comes across situations where people are hesitant towards the community. Citing an example, she says, "If I travel, in the bus and the seat beside me is vacant, the women do not want to sit beside me. Rather, I get stares from the people," she says.
Having said that, Muniswamy also believes that people are, gradually, becoming inclusive towards the transgender community and firmly believes in the power of art to change the scenarios. She, who has been a social activist says that people often tend to forget the issues advocated through protests and dharnas as time passed by them but art like mural painting stays among people and provokes change. On the other hand, such an art has also been a game-changer for her too. Recounting the days of her surgery, she said, "I was in much pain when a project for the mural painting came and as soon as I climbed the ladder and took the brush in my hand, I forgot all the pain." "Art is therapeutic," she concludes.
For more such stories follow Local Samosa on Facebook,  Instagram,  Twitter, and Telegram.