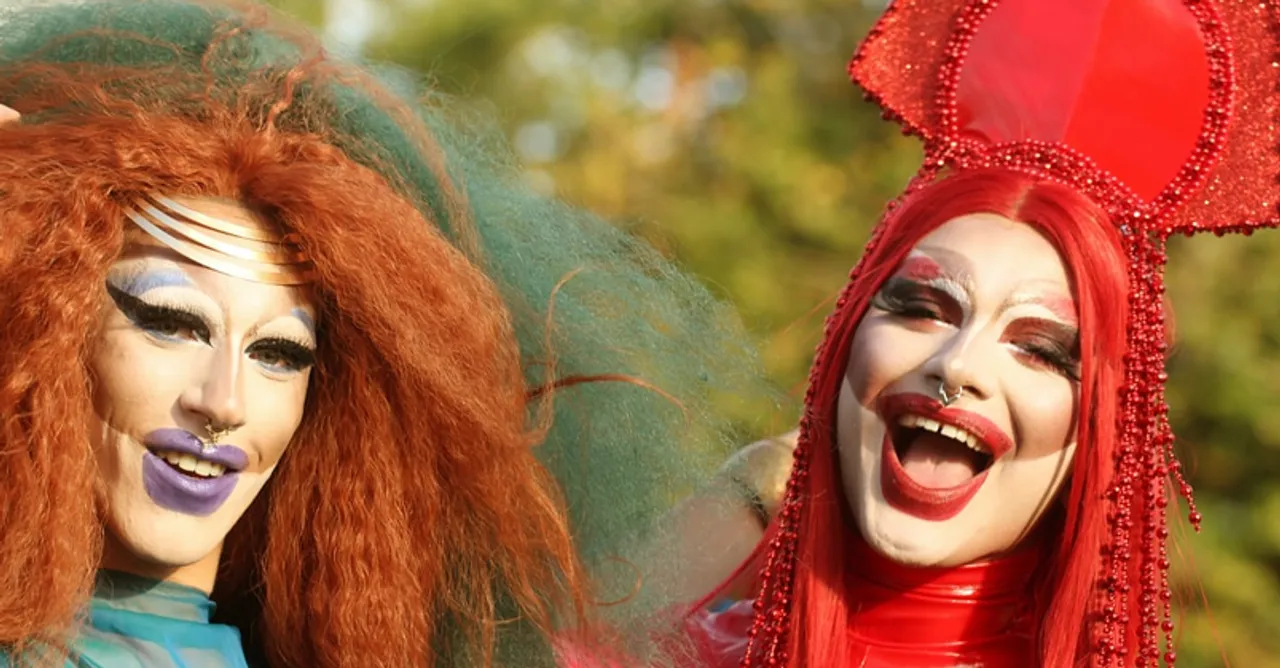 From offline events making space for the drag artists to social media platforms boosting the performances, the drag culture seems to have reappeared in the Indian entertainment industry, even though it holds a minimum share in the mainstream media.
It is rare to come across an artist advocating the Indian folk essence through the drag performances, but Patruni Sastry does it with admirable grace. Started five years ago, Sastry has worked on a unique style called "expressionism", through which he aims to radiate social awareness through dance. Using folk music with a mix of dance as a core of his drag performances, he has maintained to make the drag culture "inclusive".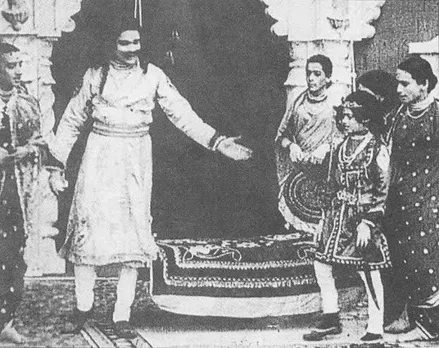 Drag as an art form finds its traces even in the ancient Indian scriptures and mythological texts, while there are many engraved sculptures and carvings highlighting the culture through old constructions as well. Evidently, the initial days of the Indian cinema and theatres also observed the culture when the men would take up the roles of women since the latter were not allowed to act.
Even though the term, 'drag' would not have been used to denote the representation, there is no doubt that it has been a part of Indian culture since time immemorial until colonial powers had enough influence to make it a western art form. And back in India, the art got restricted to the performances meant for local audiences, of which a popular example is "launda naach" in Bihar, where men often dress up as a woman to dance and entertain. Such entertainment also exists in other parts of the country with different names. Nevertheless, drag culture seems to make a comeback in the country with diverse art forms, artists and audiences.
Choosing folk as the art form was quite clear for Sastry from the very beginning. He would write folk songs aiming to create more queer-inclusive songs for his performances. "A folk song is always caste and class-free. It is the property of people. Not only does this make my drag original but also reachable to everyone," he says. However, when he started drag in his native place, Hyderabad, even the term was unknown to many, leading to very few or no spaces for the performances. Catering to the Telugu audience, as per their expectations, was also a tough task for Sastry as he was expected to perform in English.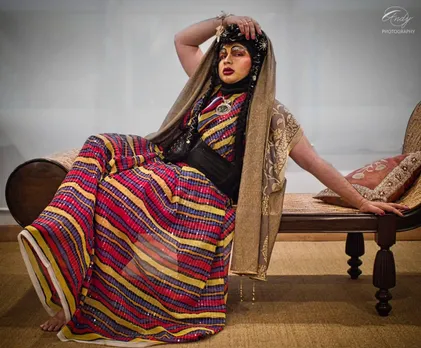 The scenes changed with Sastry as he redefined his drag performances, specifically in Telugu, to cater to the local audience. During that time, Sastry was aware of only 5 drag artists in his city, unlike now, when around 140 artists are listed in Dragvanti, an online space for drag artists initiated by him.
While Sastry is acing with the representation of folk through his performances, the influence of western drag can hardly be ignored on Indian drag artists like Neelesh Mehrotra, who Sastry has also interviewed for a podcast of Dragvanti. Mehrotra was highly impacted by New york's underground club kids, which inspired him to bring the same culture to India.
The Club Kids were a popular group of youngsters and dance club personalities back in the late 1980s and early 1990s. As hard as it may seem, Mehrotra has been trying to introduce the same culture to the Indian nightclubs for the last two years. Although his family has not been much supportive of him choosing the art of drag, he is determined to polish his brand - 'Seventeen', his drag persona.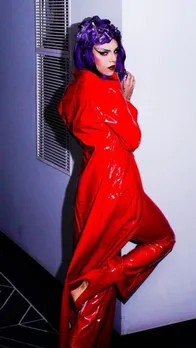 Crediting one of the most popular drag competitions, 'RuPaul's Drag Race', for being phenomenal in promoting drag art, the Delhi resident is of the view that the culture is boosting up in India with many young queer kids aspiring to become drag artists. Meanwhile, he travels across the country, mainly to Bengaluru, Goa, Delhi to perform and says, "I want to showcase what is in my repertoire to the Indian queer nightlife."
Another Delhi-based artist, Nitish Anand, who goes by the name, 'Shabnam Bewafa' for his drag personality, wanted to showcase his inner feelings and emotions, for which he chose drag as an outlet to express all of them together. The only difference is that he remained rooted in the Indian Bollywood classic songs and dialogues. Initially, he would dance to the songs but later, shifted to just lip-syncing popular Bollywood film dialogues.
In the last five years, he has developed his drag personality and now gets the invitation for performances across the country, and people from all regions and localities have accepted his art. In return, he aims to empower people, especially from the queer community through his performances. "I believe, my performances have motivated people to take up drag which, otherwise, they were not confident about," he says.
Taking Indian culture and Hindi cinema abroad through drag
There is no doubt that Western countries have a great acceptance of drag with different styles and art forms that cater to the people residing in those places. However, many Indian drag artists have claimed their space in the industry while not letting go of the Indian culture that they represent through drag. Jolene Queen Sloan, a.k.a. Prianshu Grover, decks up in a saree or a lehenga along with heavy jewellery that signifies the intricate Indian designs for her drag shows in Vancouver in Canada. She performs Indian, mostly Bollywood songs among the foreign audience and mentions that they love the performances.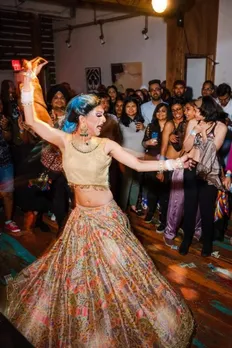 Although Grover, who was raised in Punjab, started the drag in an adverse situation while dealing with heartbreak, two years back, she has now found her way into the space and aims to remove the misconception that drag is a western concept. "India has a rich history of queer performing arts, not just in drag. But many believe that people would not appreciate Indian culture in drag, for it being a western concept, which is not true," she says.
Another Indian artist in Canada, Sarbjeet, never even had an idea of drag until he went to gay bars over there and imagined himself as a "Bollywood drag queen" after looking at other artists. A trained Kathak dancer from Delhi was already missing being on stage, and drag occurred to him as a good way to be on it. Taking inspiration from the Bollywood movies and songs dating back to the 90s and early 2000s, Kween Mallika, the name he goes by, has been entertaining the audience for the last five years.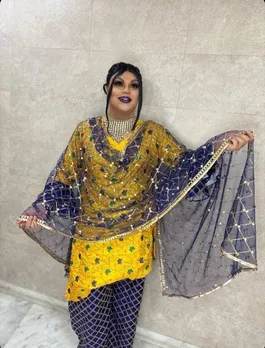 As the majority of his performances revolve around Punjabi and Indian culture, he blends it with traditional Indian clothes. Oftentimes, he also uses Kathak as part of his performances. However, that also makes Sarbjeet vulnerable to questions as such an art form is not easily seen in a place like Toronto. With time, though, he is seeing the acceptance towards his style from his audiences and community. "You do not choose drag but drag chooses you," he says.
Not just Canada, but people of Chicago Illinois, USA also seem to have accepted Bollywood songs and dance in the form of drag performances which could be backed from the fact that Mayur Patel, who did her first performance at 'Jai Ho', a queer Bollywood dance party, now, hosts it every month. What started with a love for make-up helped Patel develop her drag personality, 'Masala Sapphire'.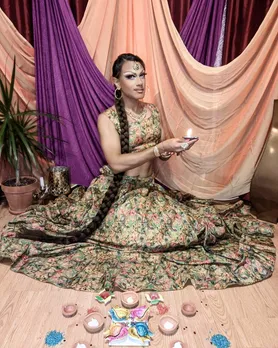 Now, for the past 9 years, Masala Sapphire has been performing Bollywood music. She loves dressing up in a beautiful flowing lehenga and twirling on the stage and usually prefers the late 90s or early 2000s Bollywood songs or whatever is the current hit. "That time brings such a nostalgia to me that I love to perform that music on stage," she says. Eventhough, between shaving, doing makeup and putting on the full look, it takes her up to 4 hours before a show to get ready, but the joy of performing overlaps the challenges for her.
Likewise, the Pride month of 2022 not just brought for her various shows, but she also sat on a float for a parade for Trikone Chicago, the head that throws 'Jai Ho'. In her opinion, "One has to be a well-rounded performer to be a drag artist, but it's just now that people are noticing it," she says.
A long way ahead
Amid the dazzles and the beginning of acceptance in the world of entertainment, there lie various challenges for drag artists, irrespective of region and country. While Patruni Sastry highlights how drag artists are often considered to be working for free, Neelesh Mehrotra points out how there is no drag market in India - unlike the UK and a few European countries, which makes it very difficult for mainstream drag artists like him to continue with the art.
On the other hand, Prianshu Grover mentions people thinking of artists as sex workers too and the prevalence of racism in the drag industry abroad along with acts of mocking by people. Sarbjeet even states that he could not have thought of joining drag had he been in India. Whatever the real reasons it might be for him, one of the major hindrances in choosing drag, especially the newcomers back home, is the stereotypes attached to the art and the drag artists.
Andra Sai Lakshmi Ganesh, who hails from Vizag, started drag performances some six months ago out of their fascination for singing, dancing, and acting. They dance Kuchipudi and sing in various languages, as they say, drag is a freedom of expression for them. Although they wanted to opt for drag since childhood, they could not due to various societal pressure. Now that they finally got the courage to stand for themself and associate with the entities that help them get the drag performances, they often come across people who pose the art as a threat to society. Adding to their problems are the abuses and the vulnerability to physical violence.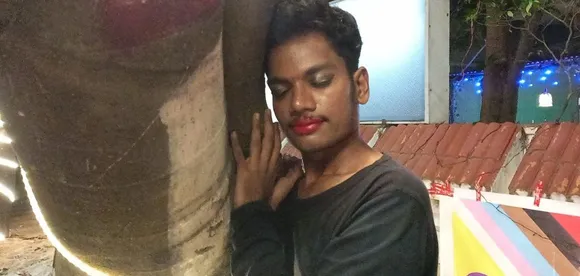 It has been a short while since Ganesh joined the industry and has been subjected to minimum remuneration in return for the art. They say, "Drag artists are paid very less. Sometimes, 1,000 to 1,500 per show. We need financial support to perform the acts." Coming from a middle-class family, they say, the family is not much supportive of them spending too much on make-up, jewellery, and dresses. As Ganesh says, his friends who are in the industry face a similar issue.
What comes more surprising is that Ganesh mention of "internal phobia" that exists within the LGBTQIA+ community. "Many people, who belong to the queer community, do not have a good perception and opinion about drag artists and that is even more hurtful," he says. Adding to the plight of drag artists, Ganesh also does not forget to mention how the art still has no space in the mainstream media and how the acceptance of drag artists in media takes a back seat once the Pride month is over.
While the less acceptance from media might not hurt the artists to the depth, the similar responses from the family sure do. Shivam Kumar, who calls himself as 'Queen Shivangi', lives in Bengaluru for his studies, but the major reason for his shift to the city from Patna was to live independently and take part in drag shows.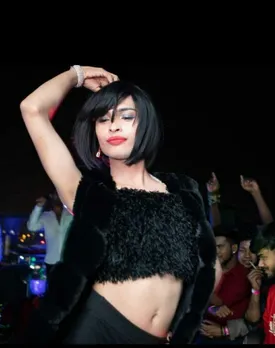 Having performed at least 5 times in public, Kumar, however, had also performed in his hometown at a house party named, 'Mujra by Drag' before leaving the city. It is another subject of resentment that art forms like Mujra have been reduced to the acts only performed by the people from the LGBTQIA+community. Kumar's family has started showing support for his work now, but his relatives continue to abuse and bash him down. Queen Shivangi, his drag personality, on the other hand, is firm about his decision as he says, "I chose drag because I saw my beauty and the 'real me' in it".
Similar has been the case with his roommate and friend, Shaik Mohammed Mushahid Raza. Hailing from Lucknow, when he was in Class 7, he urged his school's principal to let him participate in a dance performance on stage, to which he agreed. During that time, when his father abused him for it, it was his mother who supported him and got him ready for the performance. "It was not easy to be a person from the queer community or a drag artist in a Muslim family," he laments.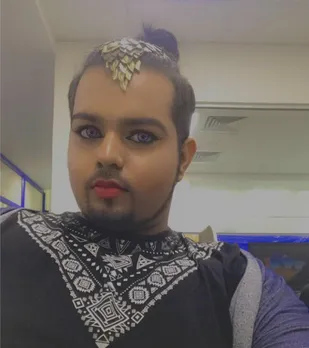 Since then, his mother always supported him for his other performances, while the duo left his father owing to understanding issues. However, her passing away around thirteen years ago and the lack of financial benefits from the drag forced Raza to leave the art altogether.
Years have passed since Raza took the decision and the drag seems to have taken a new shape on social media with many online drag performances also being conducted throughout the country. Take it or toss it, the potential of social media is, indeed, a contributing factor in highlighting the art of drag. After all, it is through his Instagram that Raza is making a comeback with his drag persona after ten years.
For more such stories follow Local Samosa on Facebook,  Instagram,  Twitter, and Telegram.