For those who are seeking to improve their English language skills, there are 7 English learning apps available that may be of assistance.
Are you anxious when speaking in English and wish you had more confidence and fluency? If so, there are several apps available for English language learning that can help improve your grammar, idioms, proverbs, spoken English, fluency, translation, and overall communication skills in English.
1. JoshTalks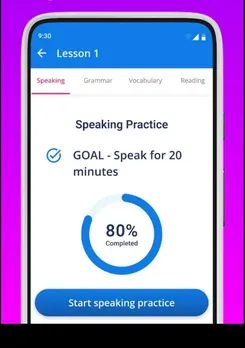 With video lessons, vocabulary lessons, study material, fluency practice, pdf notes, a leaderboard, and unlimited calling with other learners, Josh Talks is one of the best English learning apps and is downloaded by over 50 lakh students.
2. Enguru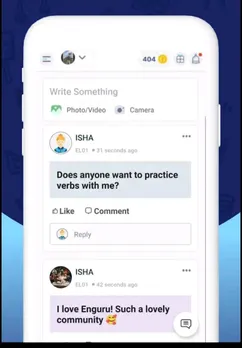 This app offers live classes with monthly paid plans. There is also the option of 1-1 personal classes available if you want a more personalized experience. The app also has book discussions, games, and free practice sections and claims to have helped 4 crore students.
3. DuoLingo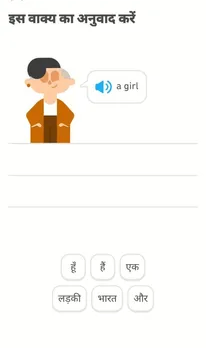 Another free app for English learning, DuoLingo offers short lessons in its game-inspired packages with learning tips, vocabulary, listening, and speaking lessons in different languages, and is perfect for busy individuals, as per reviews. This app was named the best free language learning app by The Wall Street Journal as well.
4. English Speaking Practice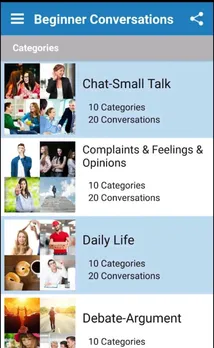 This one is also a must-check for conversational English, as there are interactive conversation tools and conversation lessons with native speakers. Opt for the beginner conversation or check business conversations and practice with quizzes and recordings to enhance your spoken English.
5. Cambly - English Teacher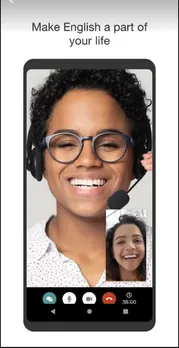 This app gives access to over 10,000 native English speakers who are actors, university students, teachers, and business people, through live video calls and has a paid plan starting from Rs.1,549. The tutors also help with exams like IELTS, TOEFL, and TEFL, and even though it feels a little expensive, the users highly recommend it.
6. Cake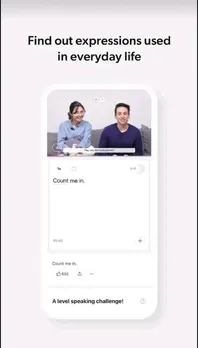 Packed with free video and audio content, which is updated daily, Cake is another must-check as you get to learn English with celebs, artists, and vloggers. There are classes, lectures, quizzes, and speaking sessions and almost all the reviews are positive, making it a great option for learning English.
7. Namaste English
Specially built for those who speak Hindi and are from the Hindi medium background, Namaste English offers three practice levels: Basic, Intermediate, and Advanced, where EnglishDidi, a virtual English teacher, helps with conversational English and other aspects of the language. There are over 100 interactive lessons, language games, and online spoken English classes in the app.
For more such stories follow Local Samosa on Facebook, Instagram, Twitter, and Telegram