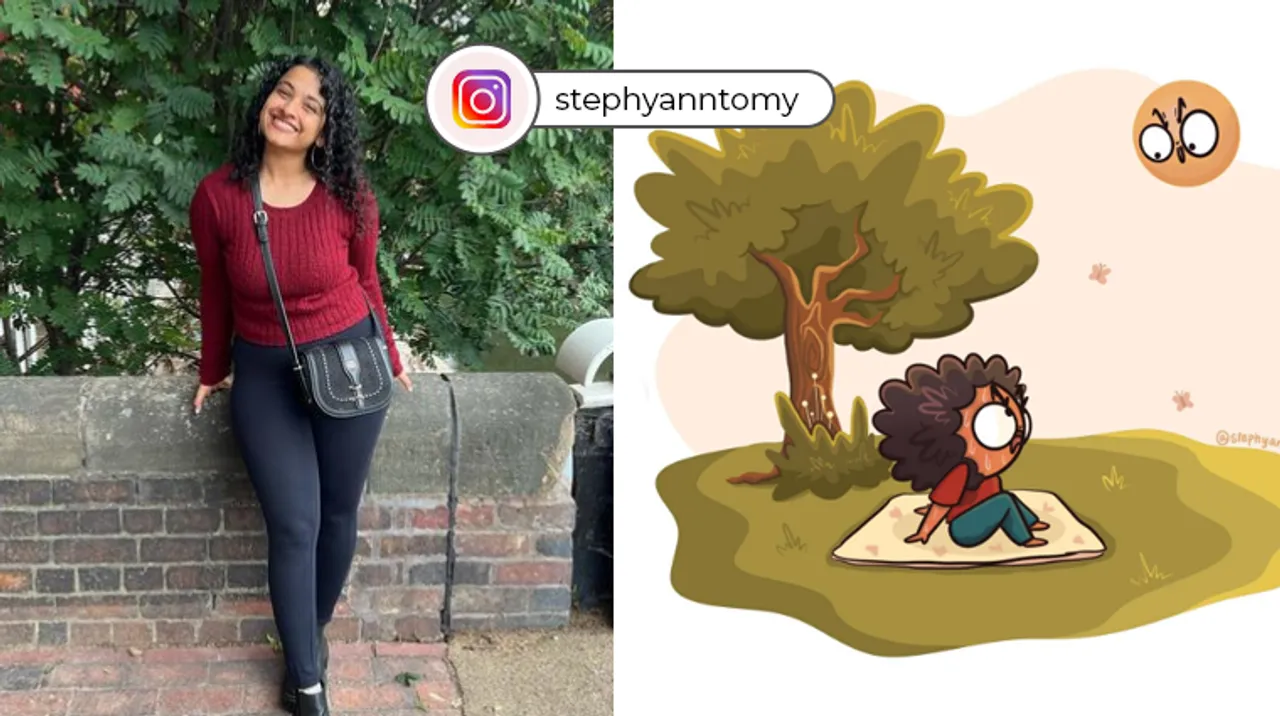 Hailing from Kerala, Stephy is a 24-year-old UK-based illustrator and her work is cute, funny, and talks about love, relationships, identity, navigating adulthood, and everything relatable.
With a warm colour palette, a dash of cuteness, a glass of creativity, and a handful of scenarios that Gen Zs and Millenials can relate to and find funny, Stephy Ann Tomy is making sure that her feed is a happy place to be. Her animations and comics are hilarious and would make you want to share them with your friends. This young artist was always inclined towards drawing from when she could remember but gave illustration and animation serious consideration as a career path when she was in her final year of Architecture, and we are glad she decided to go ahead with her passion.
Following a mainstream career path and looking into content creation was a tough choice for her, but that's what she wanted to do, and that's what she did. "I used to have a habit of writing 'S.A.T Publications, Best Wishes!' on the back of every card I made as a kid for friends and family. I'd like to think that it was very evident to me right from that age that I wanted to do something with art for a living, and now we are at a stage where that dream is turning into a reality", she tells Local Samosa.
Illustrating to entertain
Her work is humourous and will make you chuckle as they are both creative and beautiful. Stephy gets these fun ideas from events that have occurred in her life, and sometimes she also relies on experiences recounted by her friends and family. "It took me a while to find my unique art style. I was also quite comfortable with manual drawings", says Stephy, who always wanted to make a living based on her passion. "The fact that I get to do that- work with brands, collaborate with other creators, and be able to entertain an audience- is something that I'm extremely grateful for," she adds.
Stephy's art will give you a hell lot of nostalgia as it revolves around festivals, childhood memories, and a lot more that's old school and also inspired by real-life events. " I would describe my illustration style as a simple cartoon one, mainly identified by round and exaggerated features," she says.
Stephy plans to grow on YouTube and wants to start a product line! But for now, you'll find her drooling over noodles with a thermos flask filled with ice-cold water and perpetually thinking about what to doodle next!
Quick 5
1. If not illustrating, what would we find Stephy doing: On paper, architecture. But if I were to go by passion, maybe sports!
2. Favourite local spots in Kerala: I'm sorry, but it has to be my grandma's place. It's where I get amazing kappa biryani, pazham poris and whatnot. Nothing can beat that :')
3. What is it about your Kannur you love the most: Where I stay in Kannur is extremely close to nature and helps me completely unwind. There's just something about getting to be away from the city bustle once in a while.
4. If you have to illustrate at a spot in Kerala or about a place in Kerala, which one would that be: By the stream to our home. I cannot find a place more calm and serene to sit and draw.
5. Indian illustrator you look up to: Alicia Souza - her works encapsulate her life and the lives of others around her so well, it's a delight!
Follow Stephy on Instagram to learn more about her work and laugh a little extra today!
For more such stories follow Local Samosa on Facebook,  Instagram,  Twitter, and Telegram.