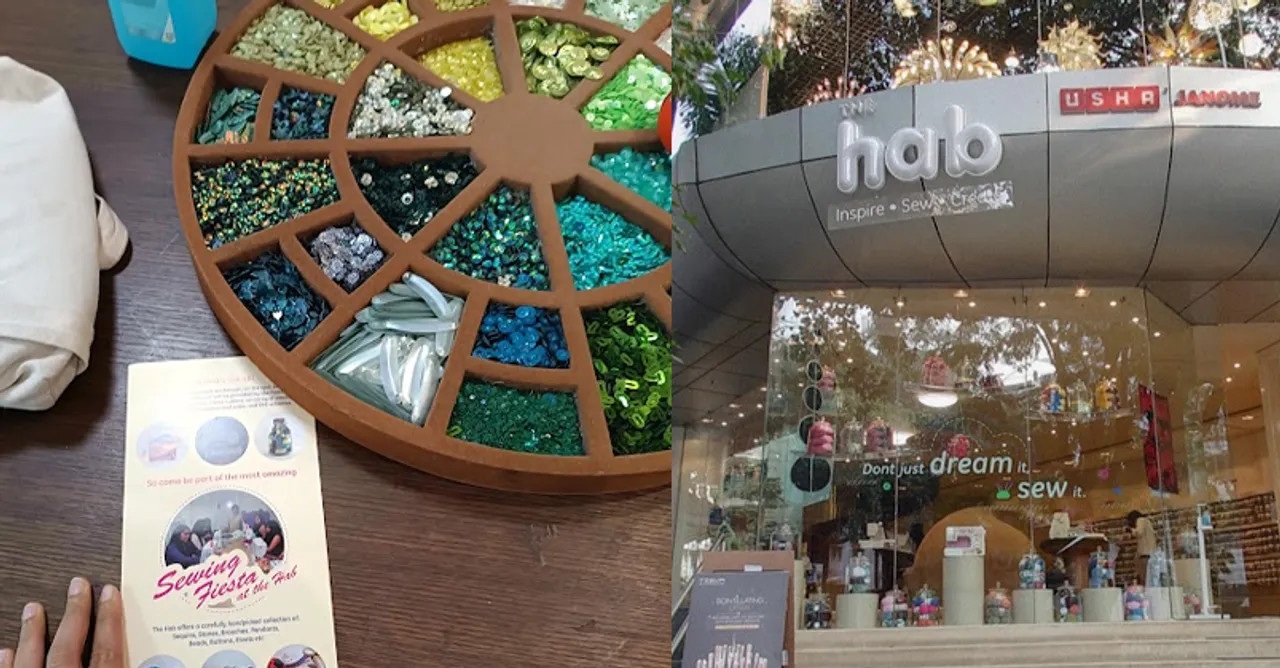 Bringing design, craft, and fashion together under one roof, The HAB by Usha is a place for creative minds where you can sew and create anything you wish literally from scratch.
Turn an old shirt into a necklace, design a quilt with intricate embroidery, add an applique to a plain top, make headgear, macrame, or stitch blinds, pillowcases, or even an outfit, or create literally anything that comes to your mind at the HAB as this space has tech-enabled sewing machines called 'Memory Craft' that are easy to use and fun to work on to.
Made from scratch and waste
Everything at this one of its kind store can be made literally from scratch. The staff showed us a neckpiece made of ties, and the visitor had actually made the ties first and later converted them into a gorgeous pink neckpiece. The HAB acknowledges using the waste and will help you create masterpieces. There was a quilt that featured the details made with Katrans and Chindis that people usually throw away, and also a blind made from an old Banarasi saree that looked simply outstanding. We were then shown a portrait, where the HAB experts used sand to create a realistic effect. But that's not all, this store boasts many such artistic and unique pieces that are either made by experts or visitors.
Sewing stations and everything else you might need
The concept is simple and is all about the art of sewing. The HAB offers various workshops and courses, where they teach different types of weaves, alteration techniques, machine embroidery, fabric painting, quilting, macrame, knitting, crochet, and even hand embroidery. The staff is helpful, and there are experts to assist you in working on your projects.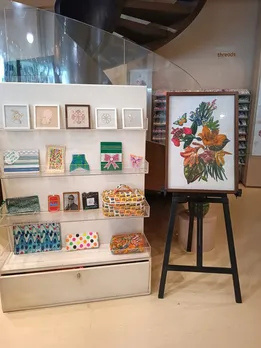 There are also separate shelves where you will find stitching tools and accessories like beads, threads, rivets, buttons, laces, cords, borders, felt, stones, sequins, pendants, and paper patterns. Everything is sourced from the local wholesalers in Rajasthan, Gujarat, and Delhi, and also from China and the USA. One can even buy them at reasonable rates if needed.
A perfect place for creative minds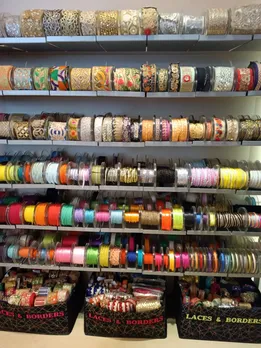 It wouldn't be wrong to say that if you are at The HAB, you can turn your creative ideas into tangible products. All you need is a thought, and the staff will help you make it. There have been visitors who came up with a simple idea and, after discussing the same with the team, made something even better. A school-going girl who visited the HAB to put some stones on her project once ended up sewing an outfit on the same topic.
The staff helps you be as creative as you want, and it's a place where you can experiment with different fabrics, accessories, designs, patterns, and more. We saw some of the most beautiful souvenirs, greeting cards, customized bags, invitation cards, footwear, apparel, quilts, and more in their workshop room on the second floor and couldn't help but appreciate what could be done here.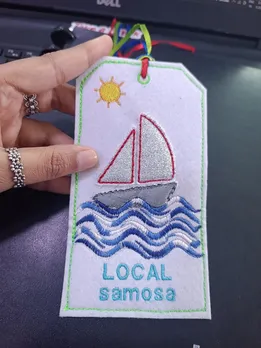 Another thing that caught our attention the most was the fabric portraits. The tech-enabled sewing machines have software on which you can upload an image or a design, and it will be embroidered or stitched on the fabric within a few minutes on its own and will only require you to place the cloth properly.
Many visitors, including team Local Samosa, tried their hands at sewing for the first and made terrific stuff at the HAB. The store is definitely a gem and has also been visited by celebrities like Priyanka Chopra, Mary Kom, Vikas Khanna, and more. They also host sewing parties where you can invite your loved ones and enjoy a creative and fun sewing session. And so, if you plan to learn something and make a new hobby, give The HAB a try.
Note: The store remains shut on Thursdays.
Where: G-1 No.444 Corporate Lounge, Road No 7 Khar - Bandra, Linking Rd, Opp. Sahib Khatwara Darbar, Khar West, Mumbai
When: 11 am to 8 pm
For more such stories, follow Local Samosa on Facebook, Instagram, Twitter, and Telegram.