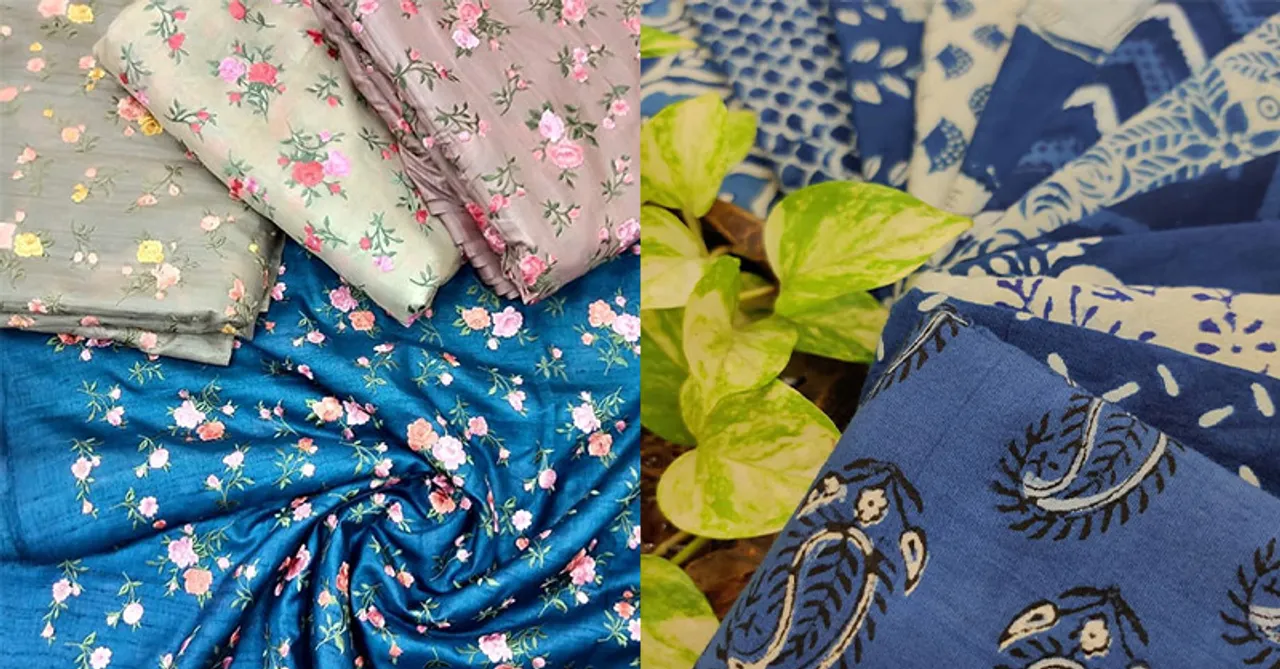 'Only an excellent fabric can originate an excellent Fashion'. We all know the wonders a fabric can do! To make sure your wardrobe is filled with the quirkiest and trendiest fabrics, we have curated a list of online fabric stores for your next DIY styling project. Choose your favorite design, pattern, colors, and fabric to be ready in style. Let us warn you, you might feel like buying everything!
1. Nikunj Fabrics
From floral cotton fabrics to poplin printing, Nikunj has a collection of all kinds of fabrics. This fabric hub presents a collection of visually beautiful and artistic fabrics.
Shop Here
Call: +91 7791869680
2. Chuski
Looking for some hand block fabrics in natural dyes? We've got you covered. Check out Chuski's page and get all that you need at the comfort of your home from this online fabric store.
Shop Here
Call: +91-9873441487
3. Vandana- Styling the Tradition
Be ready to get styled in tradition with fabrics from Vandana. Check out their traditional Bandhani and Banarsi dupatta fabrics and experience the evergreen vintage style. The store is now open, and the team ensures that maximum safety and precautions are taken.
Shop Here
Call: +91-22-2648 8501/ 02/ 03
Where: Linking road Khar(w), Opp.Rajkumar Jewellwers, Mumbai
4. Chandrima Fashion Fabrics
Are you ready for fabrics to design what is on your mind? Chandrima Fashion Fabrics is ready, and now it's our turn. From printed, dyed to plain, they have it all. The store is now open, so hurry up and design the clothes of your choice in your favorite colors.
Shop Here
Call: +917044109000
Where: Ballygunge, Kolkata
5. Unique Fabrics
The name of the store says it all! From quirky prints to customized fabrics, this store is a treasure. These fabrics are of high quality and will surely amp up the look of your outfit or your decor space.
Shop Here
Call: +96565982898
6. Source It Right
Here you can opt for in-store shopping too. Explore fabrics from Ajrakhs to Indigo to plain cotton to satins, their extensive range will make you fall in love with every kind of fabric.
Shop Here
Call: +91- 8141022000
Where: Nalanda Complex, Keshavbaug Wadi Rd, Ahmedabad
7. The Fabric Fair
Do you also miss shopping but are scared of stepping out of the house? Don't be anymore. The Fabric Fair is now delivering fabrics to your doorstep. This Local Fabric Store has stored some jaw-dropping fabrics for their customers.
Shop Here
Call: 9999700909
Where: GT Karnal Road, Industrial Area, Delhi
8. Sanskruti Store
Sanskruti presents traditional Indian fabrics from the craftsmen and weavers of India. The feeling of wanting to buy everything fuels up the moment you check their collection, it is that colorful and pretty.
Shop Here
Call: +91 89993 74880
Where: Smruti Building, Altinho, Panaji, Goa
9. Fabriclore
Love using eco-friendly fabrics? Yes? Then Fabriclore might be one of your new go-to online fabric stores. From eco-friendly denim to sustainable banana fabrics, they have a lot to offer.
Shop Here
Call: +91-8800554542
Where: Vijaylaxmi Tower,Jaipur
10. Saroj Fabrics
Embroidery, printed, plain or woven, whatever your need is, Saroj has answers for all. One thing is for sure, you won't return empty-handed, once you walk in the store.
Shop Here
Call: 022 2677 8638
Where: Multiple locations
11. Fab Couture
Fill colors in your fabrics, and get ready like a fashionista. Fab Couture offers the trendiest to classiest fabrics, you can't deny.
Shop Here
Call: +91 9999064620
Where: Rishi Nagar, Rani Bagh, Delhi
12. Aala
Create new looks and get ready in style with fabrics from Aala. Why dress the normal way, when you can add colors every day?
Shop Here
Call: +91-9920802080
Where: Aala, Mumbai
13. Fabric Hub
Shop natural fabrics in unique patterns, and colors at the Fabric Hub. They do allow in-store shopping but remember to take an appointment, as walk-in entries are not allowed as of now.
Shop Here
Call: +91- 8140977208
Where: Millenium Textile Market, Surat
Do you know any more online Fabric Stores in India? Also, tell us your favorite store in the comments below.
For more such stories follow Local Samosa on Facebook, Instagram, Twitter, and Telegram.