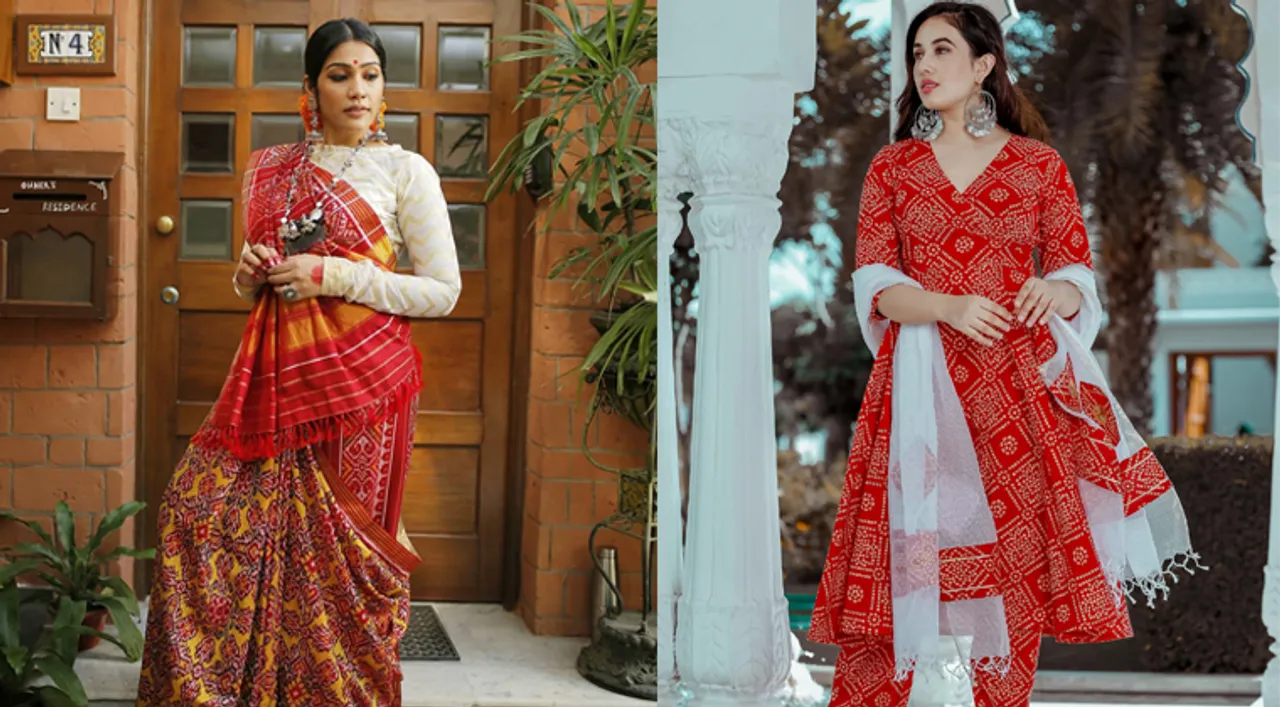 We may have brands coming in and taking up the market, but what truly resonates with our history and the culture is the Indian textiles and handloom They are the true diamonds of the Indian Market and have seen growth through-out. Every year on 7th August, we celebrate National Handloom Day, in remembrance with the country's first Swadeshi movement that was started in 1905 on the same date. And our local Kaarigars, Indian artisans, and most importantly our craft, need to be appreciated. So, read on to find out the list of Handloom Fabrics in India for your wardrobe!
1. Kanjeevaram from Tamil Nadu
Kanjeevaram, Tamil Nadu's famous silk saree is woven with gold threads and zari to create beautiful patterns. Ladies, let us tell you, this is a must-have saree in your closet. To date, Kanjeevaram sarees continue to hold their spot in wedding functions. The hard work shouts beauty after all!
Places to buy Kanjeevaram:
1.Nalli Silks
Where: Nageswaran Road, T. Nagar,Chennai
2. Sarangi
Where: Sterling Avenue, Chennai
3. Pothys
Where: Pothys Boutique Pvt Ltd, Chennai
4. Tulsi Skills Where: Luz Church Road, Mylapore, Chennai.
5. Palam Skills
Where: Pondy Bazaar, Tamil Nadu
2. Patan Patola from Gujarat
Gujarat artisans have mastered the art of making these pure silk Patola sarees, and we are loving them. Patola sarees are woven using dyed threads and may take over 5 months to create one piece of art. Patola is the 'ultimate manifestation of weaving perfection'. Wear a Patan Patola handloom saree from Gujarat, and get the feeling of wearing a piece of art.
Places to buy Patan Patola:
1. Patan Patola Heritage
Where: New Kalika Temple, Patan
2. Patola of Patan
Where: Outside Fatipal Gate, Patan, Gujarat
3. Patan Patola
Where: Patola house, Gujarat
3. Banarsi Saree from Varanasi
We just can't stop gushing over how pretty Anushka looks in this Banarsi saree. Banaras is known for its Banarsi silk sarees, zari embroidery, and brocades, and now we know why. The roots of Banarsi sarees traces back to the ancient city and are known for their rich weaving craft. These royal-look sarees have seemed to find a place in wedding functions. So, the next time you are looking for wedding shopping, don't forget to add Banarsi Sarees to your cart.
Places to buy Banarsi Saree:
1. Holy Weaves
Where: Kashi Anathalaya Building, Varanasi
2. Banarasi
Where: Ground Bulanala, Varanasi
3. Nilambari Sarees
Where: Buddha Vihar Colony, Varanasi
4. Ikat from Odisha
Ikat is pretty much found everywhere, but no one makes it as craftily and artistic as Odisha. After years of practice, Odisha has mastered the art. These Ikat designs are versatile in use, making them a crowd-favorite. Wear it for a casual party, to a business meeting or while going out with friends. Cool, isn't it?
Places to buy Ikat:
1. Itokri
Where: Itokri, Odisha
2. Utkalamrita
Where: Saheed Nagar, Bhubaneswar, Odisha
3. Gaatha
Where: Gaatha, Odisha
5. Bandhani from Rajasthan
Bandhani is a Sanskrit word, 'Bandh', which means 'to tie', and is a burst of colors and art of glasswork. Since Bandhani is a tie and dye process, dying is done by hand, and hence best colors and combinations are possible in Bandhanis. Be traditional ready with these Bandhani dresses from Rajasthan.
Places to buy Bandhani:
1. Rajasthan Rangrez
Where: Rajasthan
2. Bandhej Rajasthan Bandhni Ghar
Where: Opp. Mahaveer Market Rajasthan
3. M S Bandhani
Where: Pannadhay Marg, Rajasthan
6. Zari work from Madhya Pradesh
Zari work was patronized by the Mughal Emperors over 300 hundred years ago and has been in trend till-date. The hand-crafted Zari work instantly adds glamour and elegance to the outfit. Add to your closet the richest embroidery designs, crafted by the artisans of Madhya Pradesh.
Places to buy Zari Work:
1. Craftsvilla
Where: Craftsvilla
2. Holy Weaves
Where: Holy Weaves

3. Jaypore
Where: Jaypore
7. Chikankari from Lucknow
Lucknow, the City of Nawab, is filled with royalty and handloom skills. And Chikankari is one of the famous Handloom Fabrics in India, which is loved by women all over India. Give your traditional look a little upgrade. Try these Lucknowi Chikankari kurta sets and be ready with a classic look. The best part is, the clothes are handcrafted, giving the outfit an elegant look.
Places to buy Chikankari:
1. Cilory
Where: Cilory
2. Jaypore
Where: Jaypore

3. Ada Designer Chicken Studio
Where: Ada Designer Chicken Studio
8. Phulkari from Punjab
Looking for that perfect Punjabi kudi avatar? Buy a simple suit and adorn with Phulkari dupatta and you are good to go! Punjab offers a wide range of jaw-dropping products. From Juttis, dupattas, suits, you can pick a variety in phulkari.
Places to buy Phulkari:
1. Punnjab
Where: Punnjab, Punjab
2. Punjab Phulkari
Where: Punjab Phulkari, Punjab
3. Phulari
Where: Phulari, Punjab
9. Gotta Patti from Kota
Bride-to-be's, here's a little something for you guys. Selecting the perfect wedding dress may be a task, but it surely isn't anymore. Presenting to all, Kota's renowned Handloom Fabrics, Gotta Patti. It is weaved using a combination of threads creating a pattern that gives it a checkered appearance. They also offer Kota Doria, which is a type of garment made of cotton and silk.
Places to buy Gotta Patti:
1. Raghav Fashion
Where: Teen Batti Rd, Kota, Rajasthan
2. FabIndia
Where: Arjun Villas, Kota, Rajasthan
3. Kota Doria Silk
Where: Vigyan Nagar, Kota
Do you know any more Handloom Fabrics in India? Do let us know in the comments below.
For more such stories follow Local Samosa on Facebook, Instagram, Twitter, and Telegram.