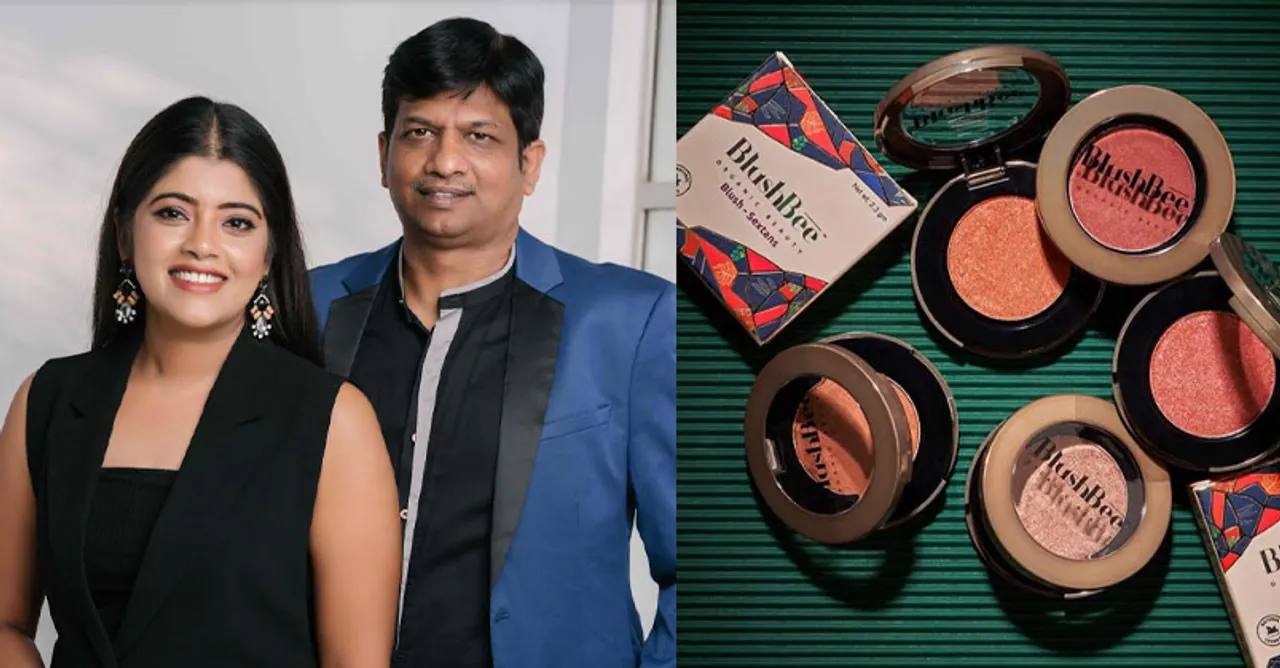 Founded in 2021 by this husband-wife duo, BlushBee Organic Beauty is all about clean beauty & cosmetic products.
Nowadays, most consumers prefer to opt for organic cosmetics that stay subtle to their skin type and give the desired radiance. BlushBee Organic Beauty is one such brand founded by Shobana & Navneethan that is trying to amplify the message of organic beauty cosmetics. Shobana was so much in love with organic cosmetics and clean lipsticks that her husband gave her a lipstick-making machine, and the rest is history. This Chennai-based brand aims to provide the best and believes in cosmetics that not only make us look beautiful but also feel beautiful.
Abhishansa Mathur was in a candid conversation with BlushBee founder duo Shobana & Navneethan, where they discussed the brand's journey and what sets them apart from the rest! Here is an excerpt from the conversation.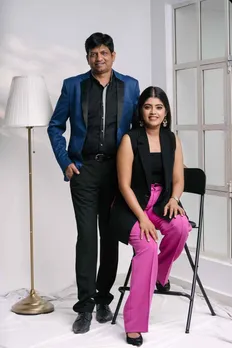 1. Can you tell us something about yourself?
I am Shobana Navaneethan. My husband Navaneethan and I founded BlushBee Beauty. I am a Wharton (University of Pennsylvania) alumni and a chartered accountant with a corporate background in the financial services sector. My husband was a corporate leader in a Big 4 consulting firm. He quit his job and joined me to manage and operate BlushBee.
2. Please share the What, When, & How of BlushBee Organic Beauty? Can you walk us through your journey so far?
The precursor to the idea of consciously clean beauty products came to me around six years back. I was looking for safe, clean beauty products to use for myself. All of us know that we are what we eat. That also is applicable to an extent to what we apply to our skin, lips, and eyebrows. In fact, the first product we came up with was lipstick, because that's what affected me the most. You are literally eating some of your lipstick more often than not.
Back then, finding a one-hundred percent organic label was nearly impossible. So whenever we went abroad, I used to buy brands with organic ingredients that were unavailable in India. Like many of us, I started reading the labels of the brands. I was surprised to find that the organic ingredients were indigenous to India. That got me thinking about a gap to be filled in by a conscious organic beauty brand. Well, there was one consumer, for starters, myself.
But with enough sensitization—I think it was already growing—there could be a good demand for clean beauty. I started making lipsticks in my home for myself. I had given out some to my friends and family, and they loved it. We were all so excited about the lipsticks, my husband even gifted me a lipstick-making machine at that time. That was how the brand was born.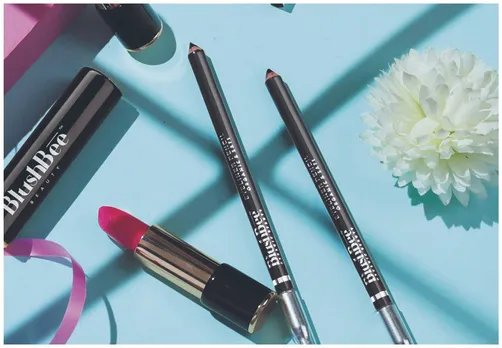 3. Give us some background on your sourcing of raw materials and manufacturing of the final product?
I strongly believe, there is a natural organic solution, an alternative, to every chemical compound, at least among cosmetic ingredients. At BlushBee, we find them, source them ethically, and ensure that after going into the line, they remain clean and safe. It is a conscious, persistent, and perpetual pursuit in operating and expanding the BlushBee Beauty line.
4. What Beauty trends do you foresee?
Brands are Going green, Going organic. It is a viscerally growing trend. People are more conscious about what they put on themselves. They are reading the labels, the fine print, now more than ever. So brands have a significant pivot—move into clean, green beauty. I think it's already happening with the demand. BlushBee's growth is a testament to that.
5. What, according to you, makes BlushBee Organic Beauty stand out amongst other brands?
Like I said before, we are a beauty label, and the organic part is an added benefit. People know they are not compromising on beauty when they choose to be conscious of the environment and what they apply on themselves. So, we make that clear in all spaces. From the packing to all communication and branding, we align with this.
6. How are you using Social Media to promote your homegrown brand?
We encourage eCommerce visits through a variety of posts. Apart from regular social media content like product features and brand awareness posts, we post reviews shared by consumers. We have work on influencer collaboration posts like unboxing and makeup.
7. What is your 5-year plan for BlushBee Organic Beauty?
We are working to become a prominent beauty brand. A brand people are proud to be associated with. All our packaging is stylish, just like or better than top Indian or foreign brands. You can take it out, it will boldly say BlushBee, just like you proudly say, you are its consumer. We are working towards an entire and comprehensive range of cosmetics and makeup and more certifications.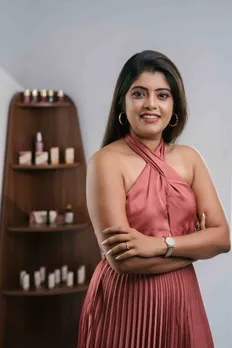 8. One advice/suggestion you'd like to give aspiring entrepreneurs out there.
Be conscious, and be aware, as your consumers or customers are going to be too. Most solutions are close to where you are: so go local, go indigenous. People expect to interact with conscious products. Be that. On top of everything, add value.
The founder duo recommends their star products: edible lipsticks, talc-free blushes, and eye shadows to customers starting off their BlushBee journey!
For more such stories follow Local Samosa on Facebook, Instagram, Twitter, and Telegram.