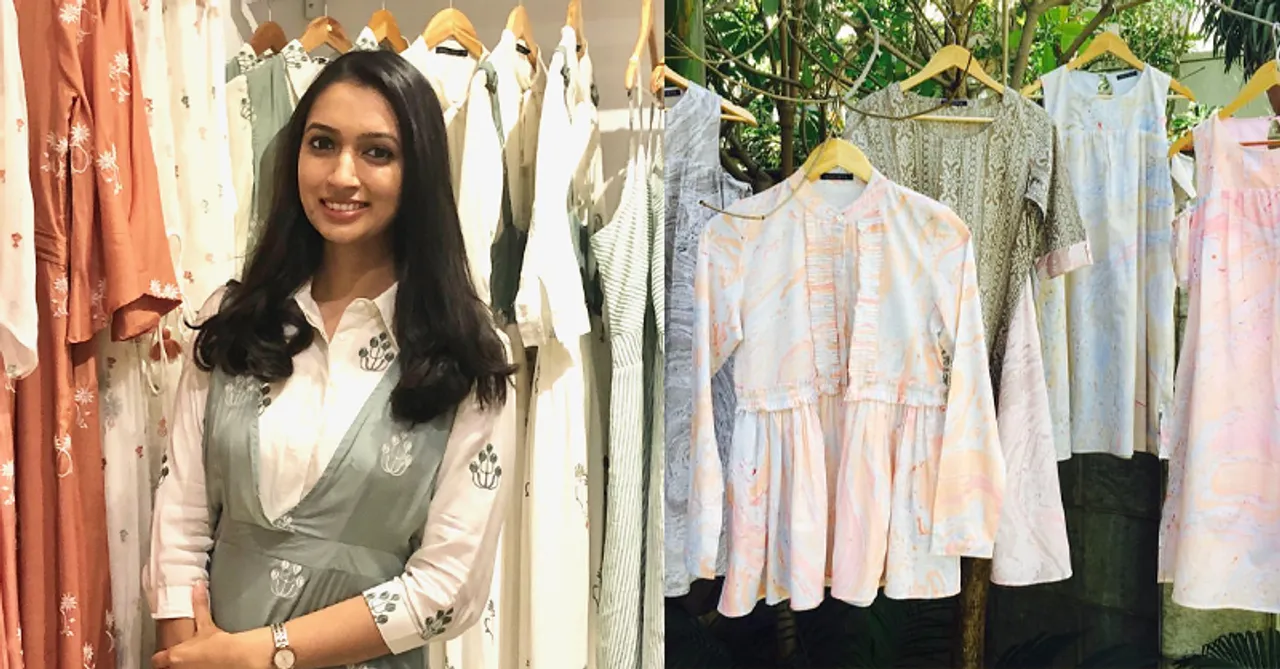 Clothes are never going to change the world, but women who design them, and the women who wear them definitely will. If you are someone who loves pastels and is always up for sustainable fashion, then you are going to love Kapraaha's women's wear collection. It's a homegrown clothing brand styled, designed, and created by Anushree Saraf of Jaipur.
Abhishansa Mathur was in a conversation with Anushree Saraf, founder of Kapraaha exploring her journey of running a brand that carries the rich heritage of India with some quirk, and sophistication. She finds her inspiration from travelling and architecture and you can see that in Kapraaha's collection too. Kapraaha is backed by Her&Now, who are empowering women entrepreneurs from our country.
Where did it all begin for you?
After moving to India in 2012, I started my journey as an entrepreneur. When I completed my degree in Business and Marketing from England in 2011, I decided to move to India next year and spent the next 3 years travelling and exploring the craft villages of India. In 2015, I decided to bring my long-held idea of launching my own clothing label into life.
Please share the What, When, & How of starting your brand Kapraaha?
KAPRAAHA is a Persian/Urdu version of the word 'Kapra' which means 'Fabric'. It is a label that believes in the language of sustainability, the power of handmade, skill, and providing high comfort fashion with the most delicate, luxurious, and sustainable fabrics. We started in 2015, and our very first collection was based on Indigo- which I stumbled across for the first time while visiting Bagru, Rajasthan.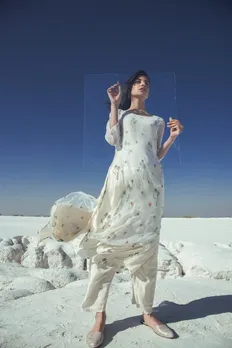 Can you walk us through your journey so far?
Before launching Kapraaha, I was doing a lot of experimental collections while exploring different crafts. In 2015, after launching the brand, our focus to participate in many pop-ups across the country as well as build our presence online.
Tell us how you source your raw materials for your products?
Being a sustainable brand, we value small artisans and weavers. We directly source from Amer, Sanganer, and Bagru - the textile villages of Rajasthan, as well as from Kutch, Gujrat.
What are some challenges that you faced while running Kapraaha?
As for any other small and upcoming business, we faced many challenges such as managing the impact of demonetization and GST. The lockdown due to Covid-19 majorly impacted our business but it also forced us to re-think our strategies and in fact gave us the opportunity to grow in a completely new direction.
What according to you makes Kapraaha stand out amongst other brands? What is your 5-year plan for Kapraaha?
We have always tried to create capsule collections that go beyond generic block-printing. We have created our niche by mixing embroidered motifs with block prints, with our choice of colours, and our own handcrafted additions to each garment. The 5-year plan is to expand our online presence through our website as well as expanding internationally.
How are you using Social Media to promote your homegrown brand?
We are going completely digital with all social media platforms such as Instagram, Facebook, and Pinterest. It helps us reach the audiences in a better way. Also, you get to know about customers' feedbacks too.
Can you share your business model with us?
We focus only on our online business, follow a made-to-order process. Kapraaha doesn't believe in mass-produced commercial lines as that doesn't allow us to stay sustainable in our process. We as a brand, follow a strong ethos in inculcating sustainability at as many levels as possible.
One advice/suggestion you'd like to give aspiring entrepreneurs out there.
Don't be afraid to start, it doesn't matter if you will fail but everything will fall into place if you love what you are doing. It's all about your passion, and hard work.
If you are looking out to buy from Kapraaha, check out their star product EMPRESS OF PERSIA.
Kapraaha is backed by Her&Now-Empowering Women Entrepreneurs, implemented by GIZ, on behalf of the German Federal Ministry for Economic Cooperation and Development (BMZ) and in partnership with the Government of India's Ministry of Skill Development and Entrepreneurship (MoSDE).
For more such stories follow Local Samosa on Facebook, Instagram, Twitter, and Telegram.