Bringing Pizza al taglio or pizza al trancio (square pizzas) to Mumbai, Pizza Dude is a newly opened cloud kitchen in Colaba and offers both- veg and non-veg pizzas.
If pizza makes you happy and you are up for some experimentation, check Pizza Dude for that and enjoy a square-shaped pizza slice with loads of veg and non-veg toppings in different flavours. Delivering across areas nearby Colaba, Pizza Dude has a short menu that makes it easier to pick, mix, and then, make your own little pizza wonder.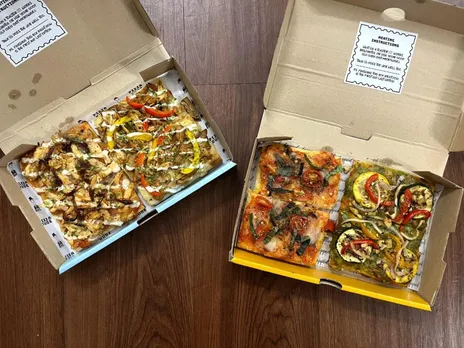 For the vegetarians
If you like subtle flavours, go for Grilled vegetable and pesto pizza. Made with in-house tomato sauce, mozzarella, and pesto, and topped with peppers, zucchini, walnuts, and parmesan, this pizza was good. However, we think it could have been cheesier and a little hint of spice would have been great, too. If you are team tomatoes and love classic pizzas, then Cherry tomato, Basil, and mozzarella pizza can be ordered. This one had roasted cherry tomatoes and was topped with mozzarella and herbs.
For the non-vegetarians
Hot Chicken & Ranch and Turkish Chicken Doner were our favorites from the non-veg section. The first one was a mix of tomato sauce, onion jam, and ranch drizzle, and was loaded with shredded chicken in ghost pepper sauce. It was a spicy bite that we really liked. The Doner pizza was a blend of mozzarella, and spiced chicken pieces, and was finished with peppers and garlic yogurt mayo.
The best way to eat their pizzas would be by ordering different slices and making a mixed box of pizza. Other than these, they also have other options on their menu that comes with light and crusty base. So, if you are a thin-crust person, you'll like what Pizza Dude offers. In a nutshell, this place gives a twist to your regular pizza in a fun way. Place your order, as Pizza Dude is available on almost all food aggregators.
Where: 1st Pasta Lane, Colaba, Mumbai - 400 005 Narayan (Karim) Building Shop No. 10, Shop No. 11, Ground Floor, Mumbai.
Price: Rs.185 onwards.
For more such stories, follow Local Samosa on Facebook, Instagram, Twitter, and Telegram.