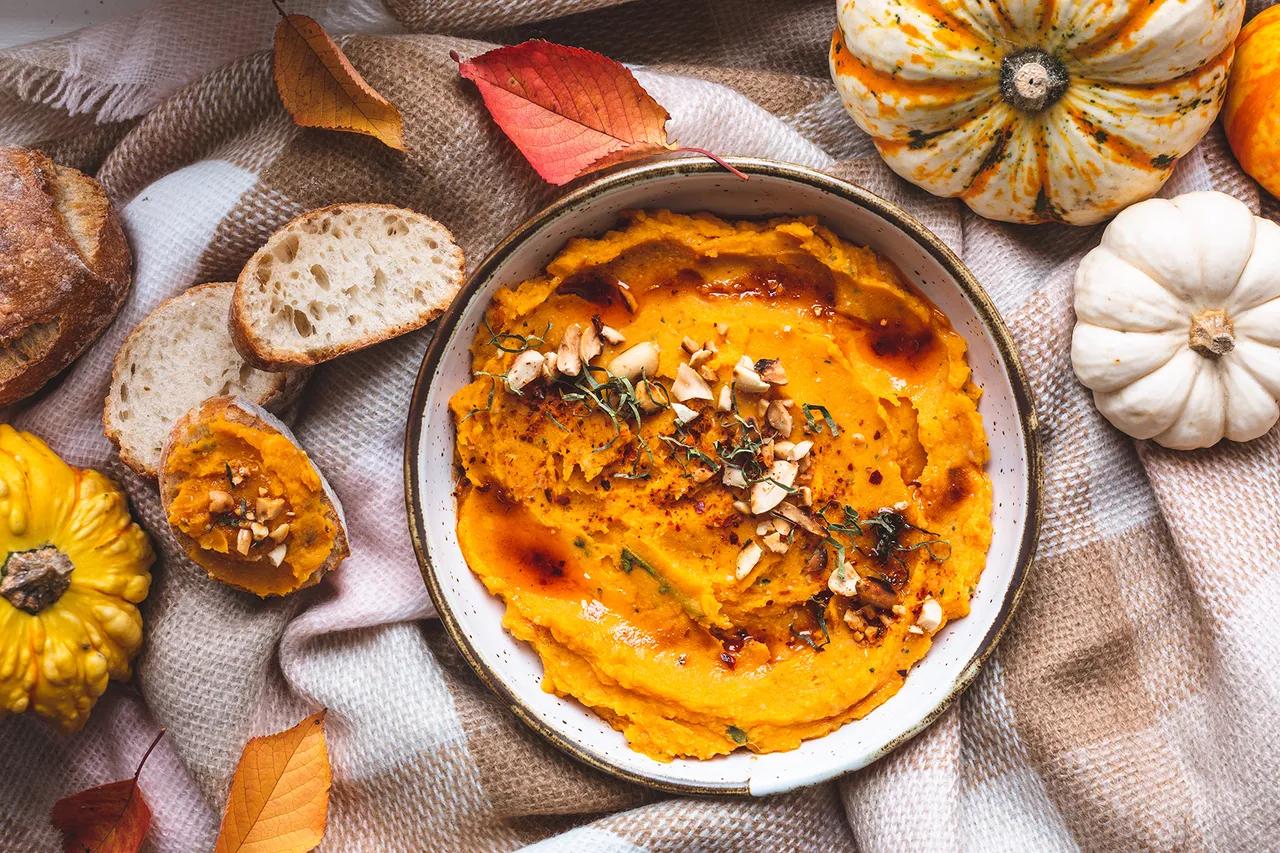 Yalla Habibi if you swear by Hummus and believe it's the best dip ever, here's a list of the best Hummus places in different cities for you to savour!
Well, if you are here it's clear that you love the creamy taste of protein-rich Hummus! Wondering where to head to enjoy a fun Hummus meal next time? Well, we have curated a list of the best hummus places in different cities to make it easy for you. Keep scrolling and find your new Hummus spot in your city.
1. MUMBAI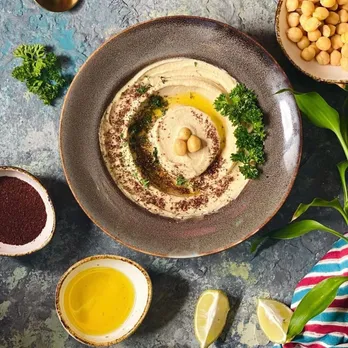 1. Kyma
Kyma is a newly-opened restaurant that serves some lip-smacking Asian and hearty Mediterranean food. They have 6 different types of Hummus that look totally drooling and are worth trying. Other than the hummus you should also try their Jojeh chicken, Koshari, and Baklava cheesecake because they are amazing!
Where: BKC
2. True Falafel
Another good option for Falafel and hummus, True Falafel claims to give you the experience of True Middle Eastern food. Try a bowl of peri peri hummus and basil za'atar hummus if you are here as they're crowd favourites.
Where: Juhu and Andheri West
3. Arbab
Arbab in Bandra is known for its mouth-watering Lebanese & Arabic spread and the Hummus here is a big yes. Hummus Beiruty, Spicy Hummus, and Hummus Bil Lahme are some of the options you should definitely try.
Where: 28th Rd, Bandra West.
4. Za'atar
Za'atar is a dainty place in Mahalaxmi and is one of the hidden gems. It offers popular dishes from Middle Eastern cuisine, including filling bowls, shawarma, Manakeesh, Moussaka, and of course, Hummus. Sundried tomato hummus and pita, mince chicken hummus, and classic hummus are a few options that you can go ahead with.
Where: Khar West
5. Sumac - Middle Eastern Kitchen
Sumac is a Middle Eastern Kitchen in the surreal lanes of Bandra and offers some amazing Turkish, Lebanese, and Mediterranean dishes. They have some interesting hummus options, including hummus with potatoes, Pulled Lamb hummus along with other classic dishes such as Muhumummara, Rebekah, and much more.
Where: Waroda Rd, Bandra West.
2. DELHI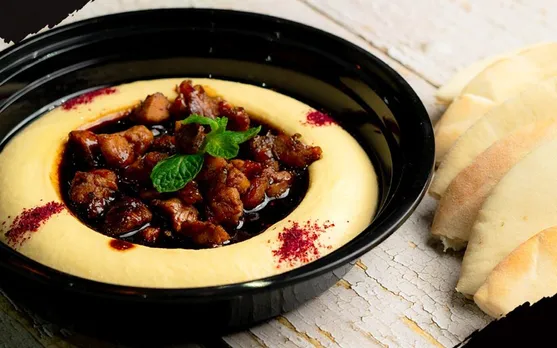 1. Zawadah
Zawadah is a popular vogue Arabian food place in Delhi and offers Arabic and Mediterranean food. If you are here, do try their classic hummus bowl and the massive Zawadah platter.
Where:  HighStreet, Select Citywalk Saket.
2. Syrah
Located inside the Hyatt Regency Delhi, Syrah is another good option for some creamy and dreamy hummus. Beetroot Moutabal and hummus beiruty, and hummus kawarma are some of the must-try.
Where: Hyatt Regency, Bhikaji Cama Place
3. Arabian Delites
This Lebanese fast food joint is running successfully since 1994 and offers everything delicious. You can dig into pesto hummus and chilli hummus if you are here. Other than that, you can also try their grilled chicken and shawarma which are popular among its patrons.
Where: Defence Colony Market
4. Mezze House
This place is known for its delicious Beetroot Salad, Chicken Shawarma, Falafel, Hummus, Fries, and authentic flavours. The menu features quite a few options as well as combos with Hummus and so we suggest you visit them once.
Where: Okhla Industrial Area Phase-1 
5. Baris
Located in the middle of a lush green patch of the GK2 market, Baris offers a Turkish aesthetic. The menu spreads across original and traditional dishes blended and inspired by Mediterranean flavors, and dining here is quite an experience.
Where: Greater Kailash 2
3. PUNE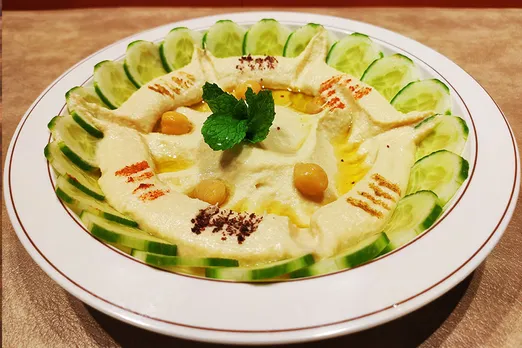 1. Marrakesh
This is a Middle Eastern restaurant that offers Lebanese and Mediterranean dishes with an Indian influence. Garlic hummus and Lebanese platter is something you can try along with their epic shawarma and Dajaj variants.
Where: Multiple outlets
2. Cafe Arabia
This place claims to have put Middle Eastern food on Pune's map and strives to deliver delicious food in the city. Their Hummus menu features 4 different flavours and they look totally drooling. Check them out to have a bite!
Where: Multiple outlets
3. Dandoosh
Enjoy delicious falafels with soft pita bread and hummus at Dandoosh because this place is nothing but so beautiful. They have a scrumptious menu of Middle Eastern cuisine and have a lot for you to eat. Check them out for a proper meal with your favourite hummus.
Where: NIBM
4. The Hummus Culture
As the name suggests, The Hummus Culture is all about different types of hummus and nothing else. They deliver Homemade hummus in different flavours like beetroot, avocado, paprika & bell papers! Sounds interesting right?
Contact: 091564 13114
5. Sante Spa Cuisine
This restaurant is unique and claims to procure the freshest organic ingredients from the farms and local businesses around. Their spa cuisine menu comprises freshly made salads, wholesome smoothies, cold-pressed juices, and a wide variety of starters, and entrees. They also have some good options in Hummus like beetroot & spinach hummus, Moroccan hummus, and hummus & mushroom tartine. Do check them!
Where: Koregaon Park.
4. BANGALORE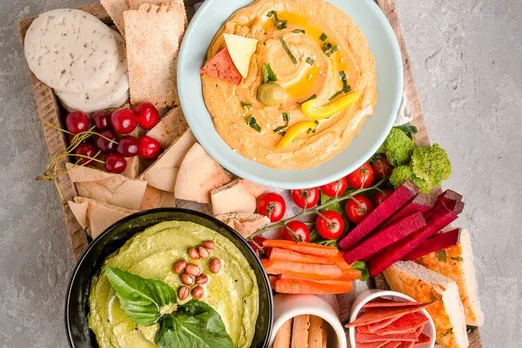 1. Yummus
Yummus sells 14 flavoured handmade hummus dips and spreads with sides. They claim that they are preservatives-free and are 100% vegan! Their Instagram feed is all colourful and features different types of hummus and so if you are a true hummus baby, do check them out.
Contact: 099865 85194
2. Hummus Club Bengaluru
Hummus club Bengaluru is a cloud kitchen that was opened during the lockdown. They also offer different types of hummus, including black olive, avocado, mustard, peri-peri, and even carrot hummus.
Contact: 9513104271
3. Habibi Falafel
This restaurant offers vegetarian Middle Eastern food and its Instagram feed looks delicious. The menu feature falafel, hummus, wraps, mutabbal, salads, and more. You can try their classic hummus, hummus wraps, and baklava!
4. A Little Dipsy
This place offers Hummus and other vegan treats. Their menu is pretty extensive and you'll see many hummus flavours, including green monster, signature black, and more. Check them out and order some bottles home.
Tap here.
5. KOLKATA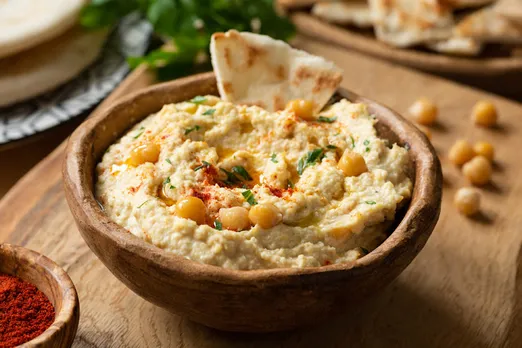 1. Go Lebanese
Dig in some real good Honey Bunny Chicken, Chicken Shish Touk, Chicken Shwarma Roll, Shawarma Salad, Hummus, Pita Bread, and more at this restaurant which is a crowd favourite. The ambience here is cool and cozy and the portion is definitely going to make you happy.
Where: Ballygunge
2. Shawarma Nation
Though Shawarma Nation is loved for its juicy shawarma, hummus is also a must-try. This place offers Lebanese food and people love their Beiruti and Harrisa Hummus. You can also order some burgers and rice bowls to enjoy a full-fledged meal.
Where: Multiple outlets
3. Barkaas Kolkata
Barkaas is another must-visit place for some real good Middle-Eastern food and especially for its Mandi Biryani. They also serve soups, starters, grills, and BBQ, and will treat your tastebuds with some really creamy hummus.
Where: Park Street.
6. AHMEDABAD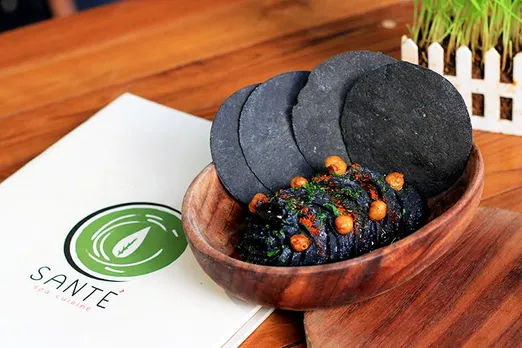 1. Nini's Kitchen
Nini's Kitchen is a restaurant that serves North Indian, Fast food, Lebanese, and Italian cuisines. All their dishes look delicious and their Lebanese Platter is a must-try that comes loaded with Tzatziki, Muhamarra, Lebaneh, hummus, Babaganoush, and beetroot pickle. It is served with pita bread, lavash, and peri-peri chips. A must-try!
Tap here.
2. TGIH- Thank God It's Healthy
Make your snacking fun and creamy and try a healthy snacking option with TGIH. Get your hands on their Greek-style pita pockets and the bestseller Mezze Platter with classic, beetroot, and spinach Hummus.
Where: Vastrapur
3. Falafel Express
Falafel Express also claims to serve authentic Middle Eastern Cuisine and has an epic hummus platter for all the hummus lovers out there. Jalapeno hummus, Chipotle, basic pesto, Moroccan hummus and more are waiting for you.
Where: Sarvottam Nagar Society, Navrangpura
4. Sante Spa Cuisine
It is a contemporary restaurant that serves area-sourced, health-conscious fare, and beverages, with vegan options. They also have some good options when it comes to hummus and some of the must-try would be black & hummus and spinach hummus along with some hearty and healthy smoothies.
Where: Bodakdev
7. JAIPUR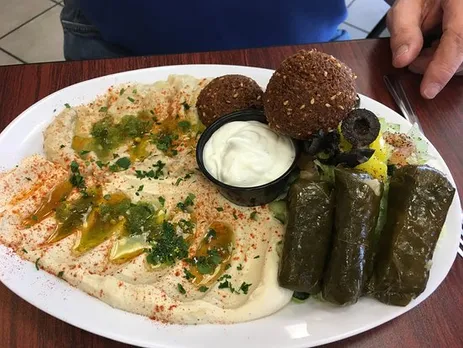 1. TGIH- Thank God It's Healthy!
As mentioned earlier, TGIH is all about a healthy snacking session and we are glad they are also available in Jaipur. Indulge in some creamy and smooth hummus here Jaipuriites and enjoy a healthy bite.
Where: Saket Colony, Raja Park
2. Falafel House:
Not trying the epic falafel Platter at Falafel House would be a big miss as it comes with a bowl of hummus, falafel, fries, salad, and pita bread. This place also has a very pretty ambience and is perfect for a quick brunch.
Where: Sethi Colony, Jaipur.
3. Olive Culture
Olive Culture claims to be the first authentic Mediterranean kitchen in Jaipur that offers Lebanese and Turkish cuisine. They have 5 types of hummus that are surely going to make your tastebuds happy. People also love their cake jars.
Where:  Hathroi, Jaipur.
8. JODHPUR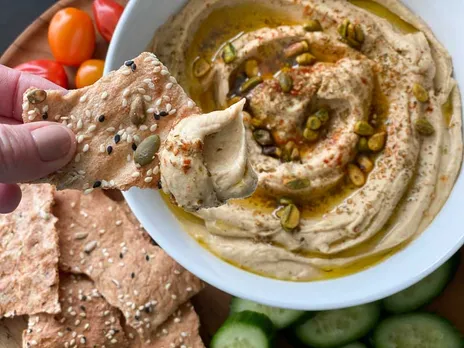 1. Daspan House
This place is all about beautiful interiors, soothing lights, light music, and swift service. The Lebanese platter is something you should try for a creamy bowl of hummus, veggies, and perfectly made pitas!
Where:  Loco Rd, Ratanada
2. The Filos Cafe
One of the beautiful cafes in the city, The Filos Cafe offers good food and amazing coffee. Zaatar bread served with hummus here is delicious while other Lebanese dishes are worth checking out too.
Where:  Panch Batti Cir, Jodhpur
3. The Book Cafe
From healthy salads to Lebanese delicacies, coffee to hand-tossed pizzas, and more, this place is all about good food. Pita pockets with hummus, Beetroot salad with lettuce, and Labneh with tossed veggies are some of our picks!
Where: HI Area Phase II
4. The Almond Grove
The menu here is an amalgamation of Italian, Mexican, Lebanese, and European flavours. It offers small bites, coffee as well as heavier meals that will satiate your hunger pangs. Enjoy hummus with pita, and other Lebanese delicacies at this gorgeous cafe this weekend!
For more such stories follow Local Samosa on Facebook, Instagram, Twitter, and Telegram.