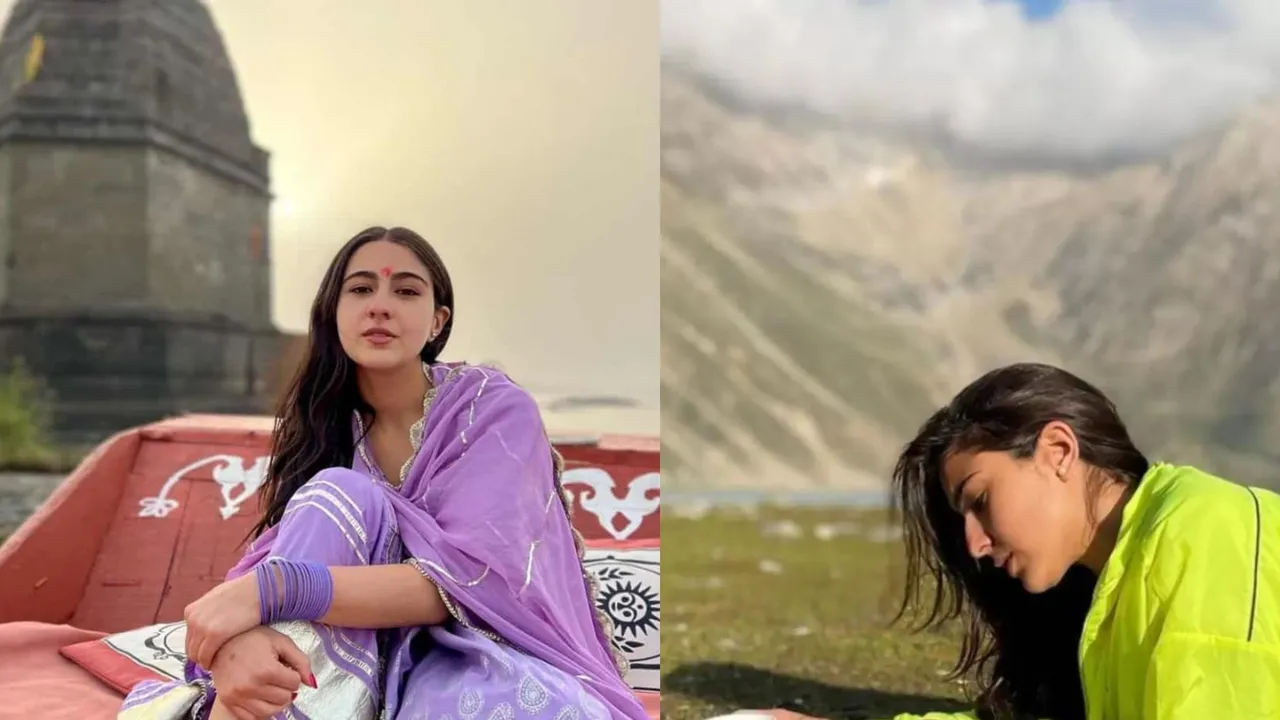 Free like a bird and happy by nature, Sara Ali Khan is known for roaming the corners of our country. Here is how she made us fall in love with the charm of India.
The Zara Hatke Zara Bachke Actress is a free soul and likes to explore beautiful Indian destinations when she is not shooting. From the snow-clad mountains of Kashmir to the majesty of the city of lakes, Sara Ali Khan takes us on a virtual tour through her Instagram posts. Here is how she transports us to the places through her charismatic pictures.
1. Pahalgam
The Bollywood star shares a dump of her trekking pictures in this post. With the backdrop of Pahalgam and mountains, the view looks mesmerizing.
2. Kedarnath Temple, Uttarakhand
Sara Ali Khan recently revisited the Kedarnath Temple to reminiscence her memories of her movie 'Kedarnath' and shared a heartfelt note regarding the same.
3. Mahakaleshwar Jyotirlinga, Madhya Pradesh
The aforementioned post is from her visit to the temple of Lord Shiva, Mahakaleshwar Jyotirlinga, one of the 12 Jyotirlingas in India, accompanied by her mother, Amrita Singh. The mother-daughter duo looks wonderful together.
4. Thajwas Glacier, Sonmarg
This post is a round-up of the actresses' trip to Thajwas Glacier, Sonmarg. She is seen enjoying herself with the local people there. There is also a picture of her with an adorable goat in her arms.
5. Sheshnag Lake, Kashmir
Camping, Trekking, and the Valleys of Kashmir are a vibe altogether. Sara is seen having a great time enjoying with locals in the scenic view of Sheshnag Lake.
6. Raffles Resort, Udaipur
Sara is seen posing at some of the most Instragammable locations in the famous Raffles Resort in Udaipur. The white traditional outfit just makes the pictures more attractive.
7. Kashmir
Here is a lovely encapsulation of different religious places in the 'Paradise on India'. The carousel showcases the Masjid, Hindu Temple, church, and Gurudwara of Kashmir visited by her.
8. Taj Mahal, Agra
The actress seems so joyful at the Taj Mahal as she shares some of her pictures from the famous monument.
9. Spiti Valley
Sara Ali Khan literally shows her love for food and mountains in these mesmerizing pictures from Spiti as she is seen enjoying a paratha and a coffee in the cold weather.
10. Ladakh
Green grass, a ride on a quad bike, a bonfire, and a rainbow are all you need on your trip to Ladakh. Sara summarizes it with a slider of posts on her Instagram feed.
For more such stories, follow Local Samosa on  Facebook,  Instagram,  Twitter, and Telegram.