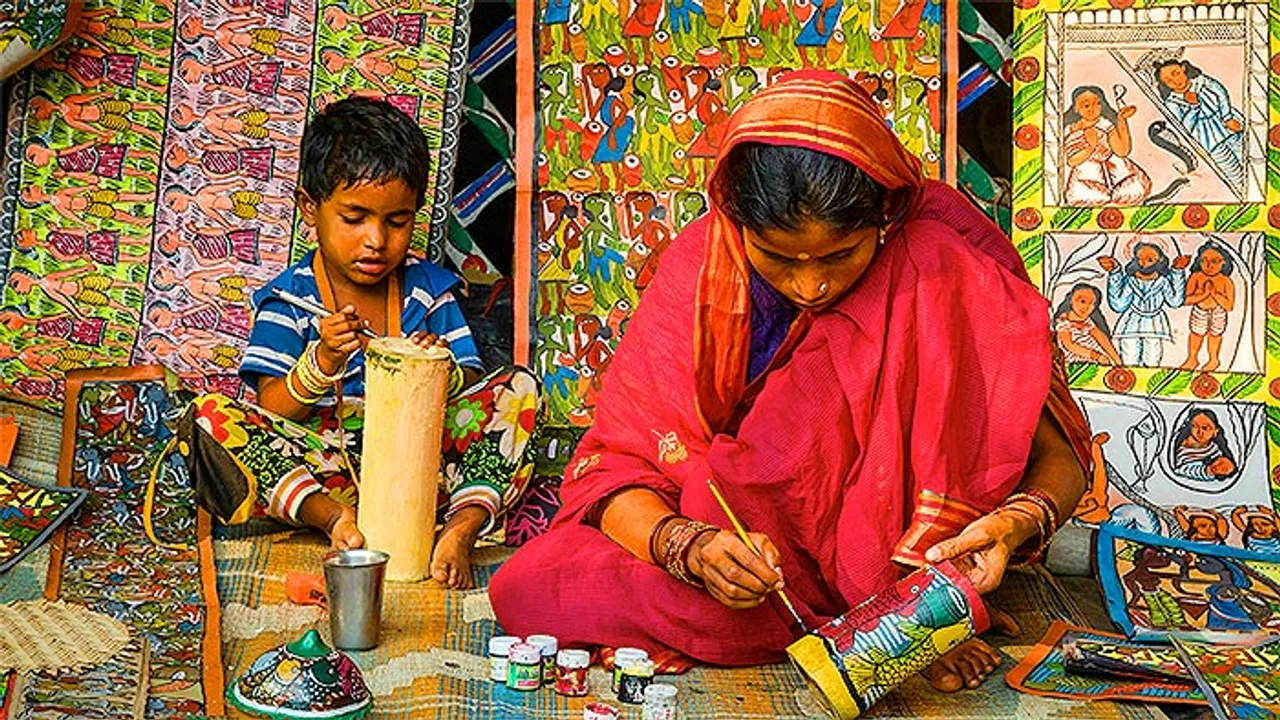 There are various types of art forms in India that adorn the already rich culture of our nation and the credit for it goes to the indigenous communities still honing them.
Vibrating with colours and reverberating with designs, this is what every nook of our country looks like. From the intricate designs of Tanjore in Tamil Nadu to the strokes of Kalighat in West Bengal, art and craft transpires throughout India. Here is a list of types of art forms in India to honour the communities keeping them alive on World Indigenous People's Day.
1. Gond Art from Madhya Pradesh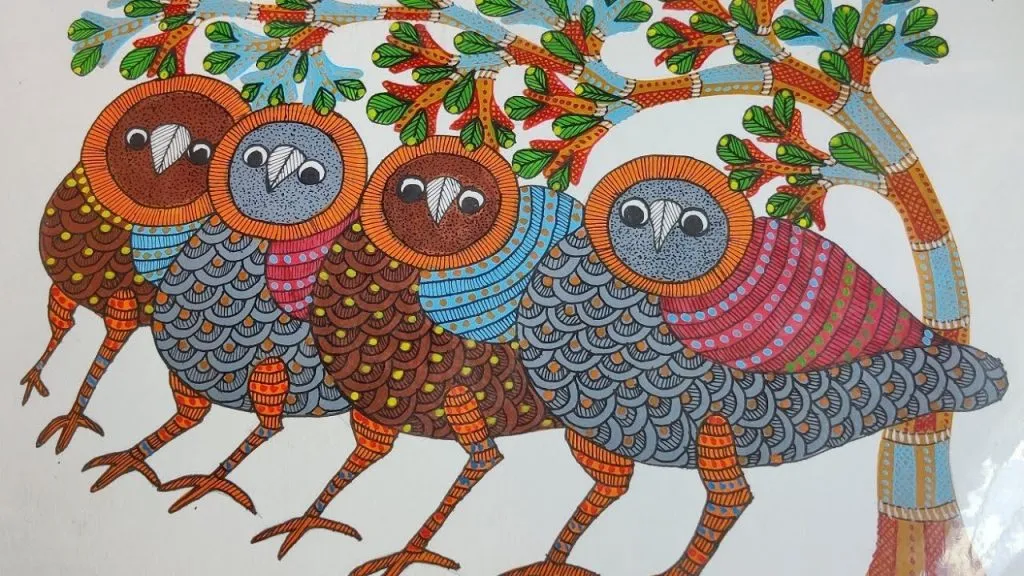 The Gond tribe of Madhya Pradesh is known for making paintings inspired by Urban Culture. Gond is a mixture of folk tales and legends from the community and has depictions of nature's elements and deities. Objects like charcoal, coloured dirt, plant sap, leaves, and even cow dung are used to create vibrant colours like red, blue, yellow, orange, etc.
2. Rajput Paintings from Rajasthan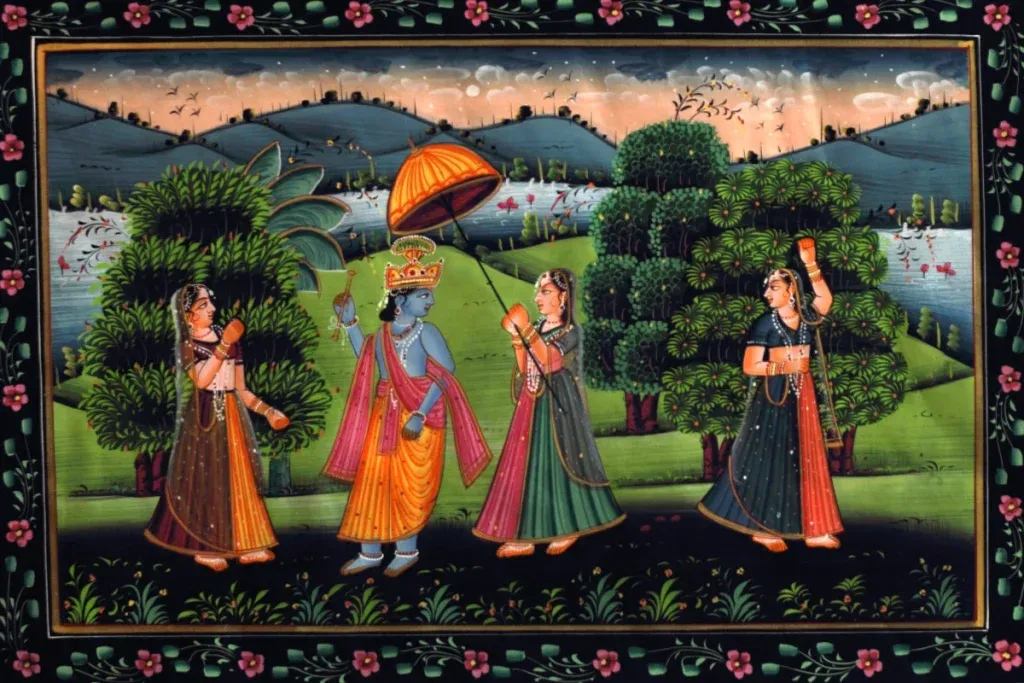 The painting that oozed out of the royal courts of Rajasthan in the 18th century is now well-known all over the country. The Rajput paintings are based on Lord Krishna and the epics of Ramayana and Mahabharata. The bold lines and hue paint on paper, ivory, or silk make them look fascinating. Though the paintings are static they appear to depict a scene or a story.
3. Kalamkari Art from Andhra Pradesh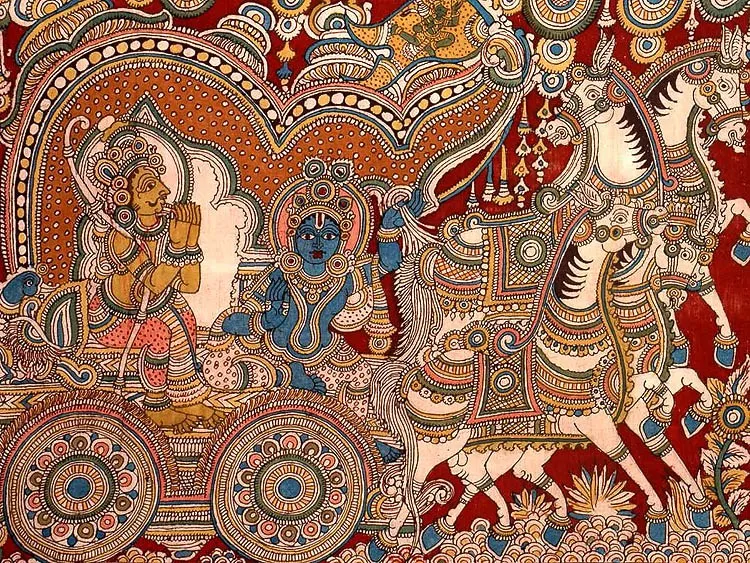 One will often find Kalamkari art on the walls of temples depicting stories of deities. 'Kalam' translates to 'Pen' in Hindi where beautiful designs are drawn on a piece of cloth, a wall, or boards. There are two types of Kalamkari Paintings; Srikalahasti, which is the freehand drawing style, and Machilipatnam, which is the block-printing technique. These paintings are made using natural colours and materials available in nature.
4. Madhubani Painting from Bihar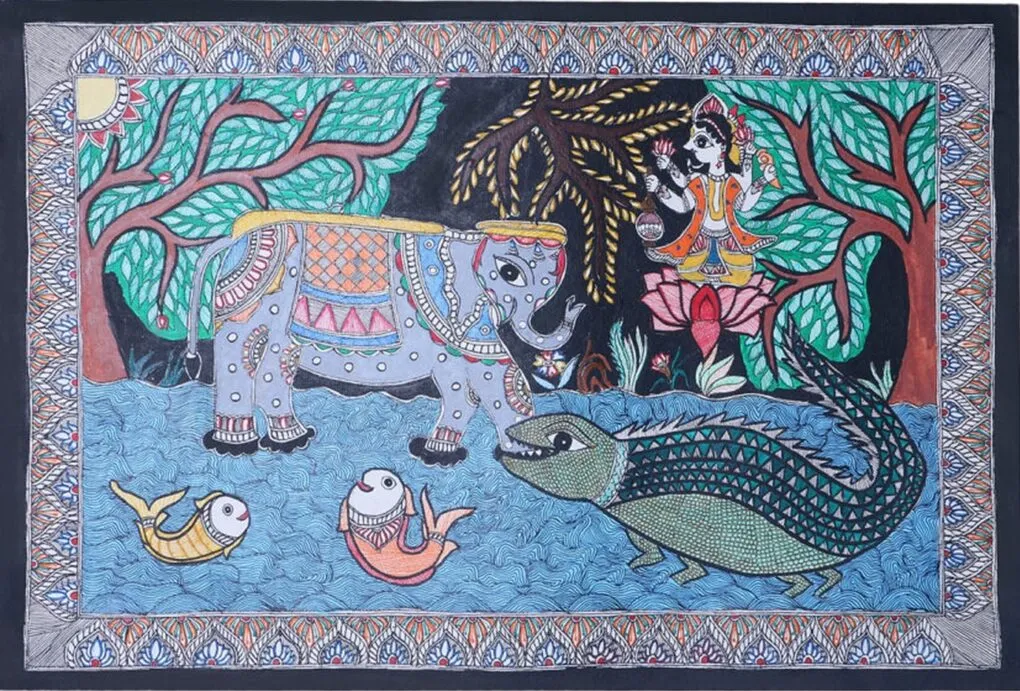 Often glorified with eye-catching colours and figurative models, Madhubani painting is synonymous with the state of Bihar. Traditionally it was only practiced with natural dyes and colours on walls and floors, but nowadays, it can be seen on canvas, paper, and wooden frames. The Brahmin and Kayastha communities are experts in this art form.
5. Kalighat Painting from West Bengal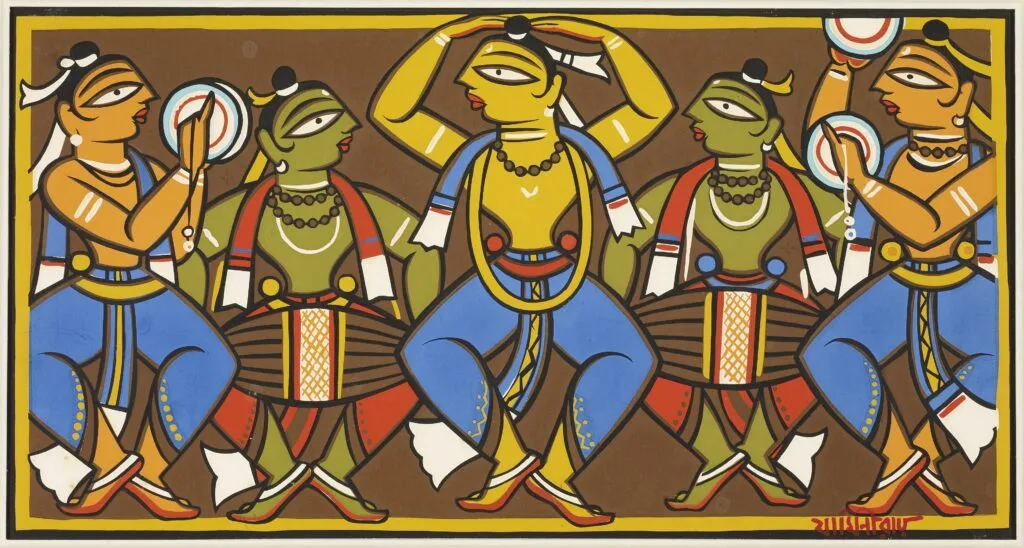 Kalighat painting is native to Kolkata. The artisans of the Patua community used to paint around the Kalighat temple, hence the art got its name from there. Usually, the entire family of the house participates in the affair, practicing different stages of drawing, painting, and finishing. The bold strokes and dense colours depict a particular scene from a tale or a divine figure.
6. Aipan Art from Uttrakhand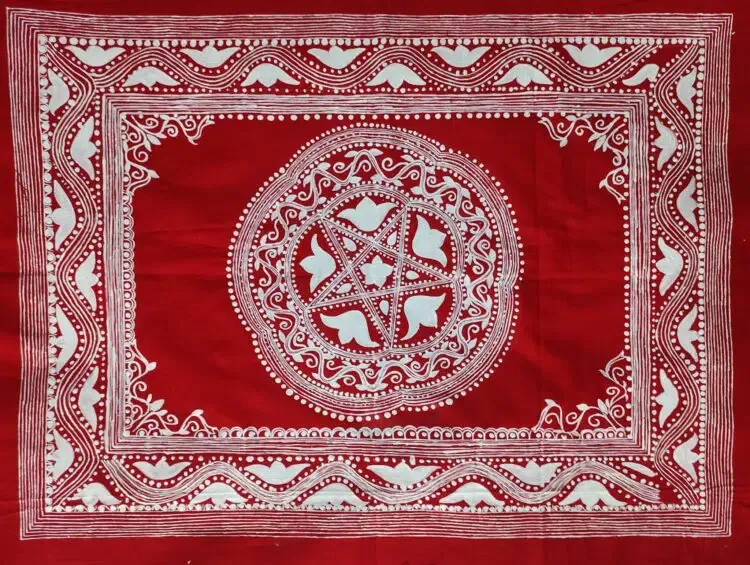 Born in the Kumaon region of Uttarakhand, Aipan is a ritualistic and spiritual form of art. Special symbols are made to depict certain rituals in a Pooja, ceremony, and havans (yagnas). The most common of them all is Saraswati Chowki used to symbolize the goddess of learning, Chamunda Hasta Chowki, symbolizing yagya, and Nav Durga Chowki representing devi poojas. One can find walls, papers, Pichhauras, or dupattas with these geometrical shapes.
7. Warli Paintings from Maharashtra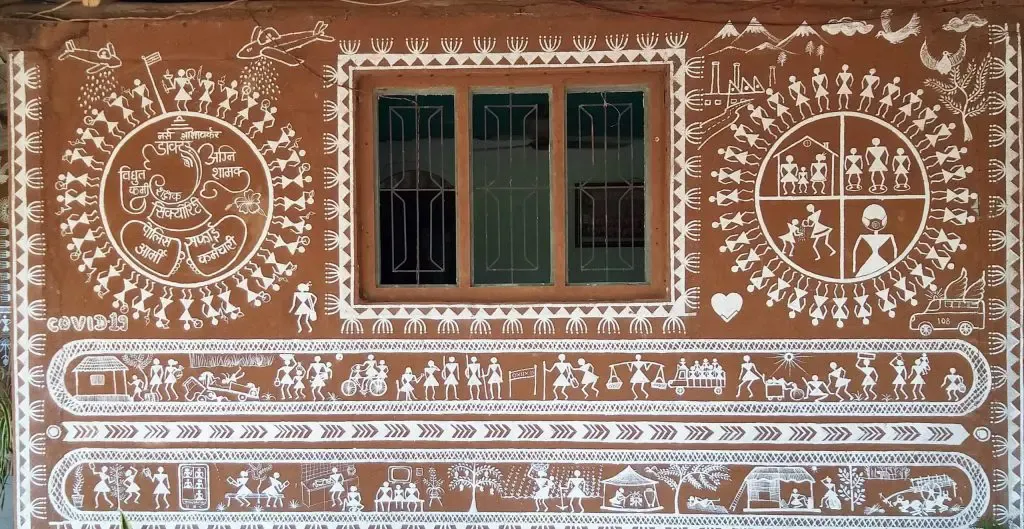 If you walk around the streets of Maharashtra, you will notice brown walls painted with white stick-like figures representing a scene or pattern. These are the famous Warli paintings from the state that are practiced by the Adivasi community from the North Sahyadri ranges. The paintings are made with basic shapes such as circles, triangles, squares, and lines using simple white colours on either brown or blue backgrounds. They are usually based on everyday scenes of life drawn on a piece of paper or walls.
8. Tanjore Paintings from Tamil Nadu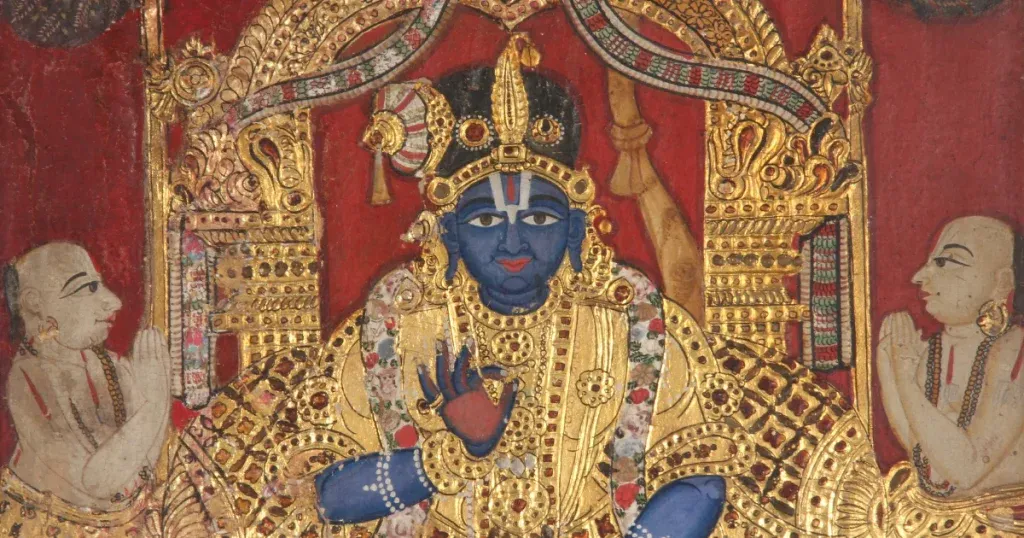 Derived from the name of its place of origin, Tanjore or Thanjavur, a town in Tamil Nadu, these paintings are renowned throughout the country. As these paintings are done on a wooden plank, it is also famous by the name 'Palagai Padam regionally. Intricate designs, mostly with golden and some basic colours are done. These paintings are then embellished with glass beads, semi-precious gems, and stones to make them more attractive.
9. Jadopatia Paintings from Jharkhand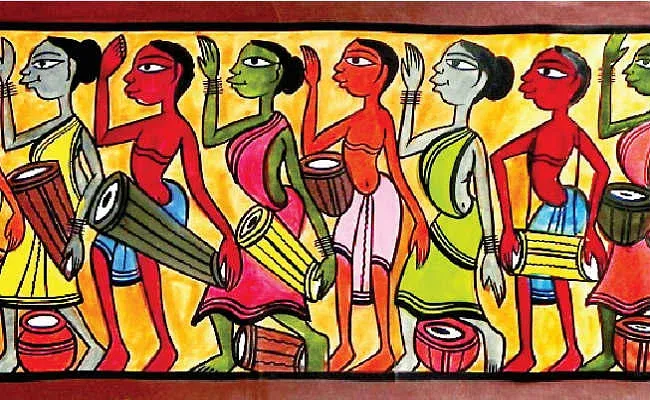 Jadopatia is a type of scroll painting that is practiced by the Santhal Tribe of Jharkhand, Odisha, West Bengal, and Bihar. This art form is gradually losing its importance but it flourished during the earlier times. The scrolls were made from waste papers with bamboo attached at both ends to carry them while travelling. The paintings are made with natural colours from vegetables, or minerals, and the figures depict a variety of expressions and treatments.
10. Kalamezhuthu Art from Kerala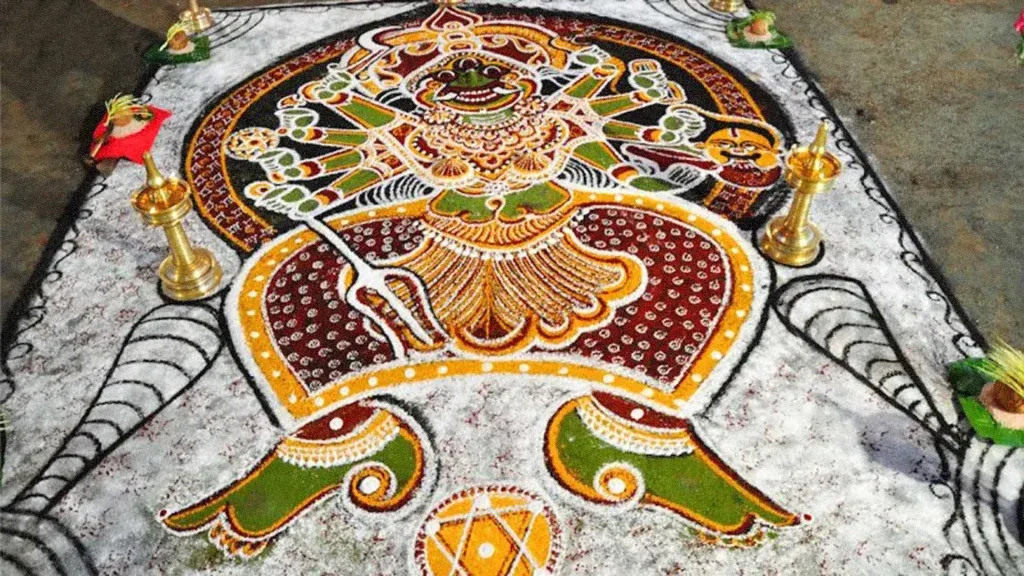 Indians are known for floor arts to invite happiness and prosperity during the times of festivities or poojas and Kalamezhuthu or Kalamezuthu Pattu is one such ritualistic folk art of Kerala. In this craft, a painting is made on the floor with coloured powders from materials such as rice powder, turmeric, and henna. It is believed that the Puttu Kurup community initially practiced this craft and drew deities during auspicious occasions.
11. Chittara Art from Karnataka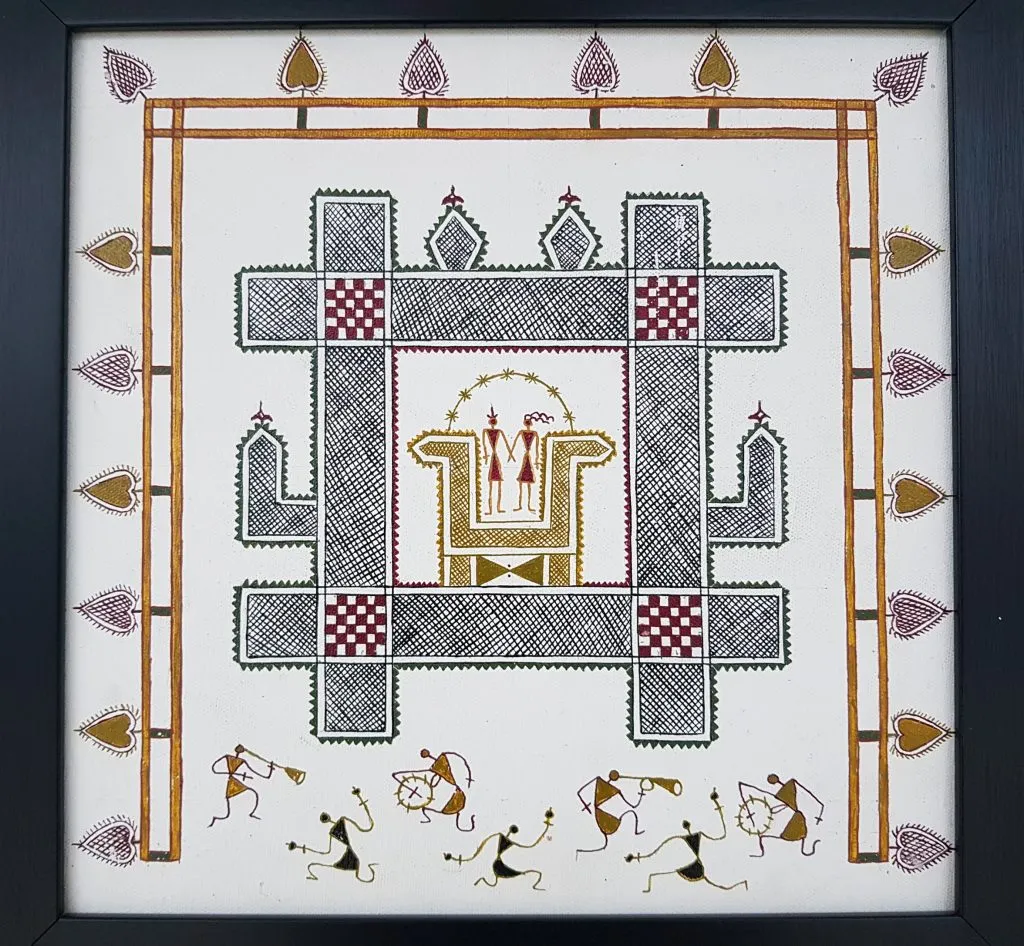 Chittara is a folk art of Karnataka. It uses delicate patterns and solid colours to represent various stories and figures. It is mostly practiced by the women of the Deevaru community. The word Chittara has been derived from 'Chitra' which means 'picture' or 'painting.' The fine work on this painting, along with pressing strokes, makes it one of the most exquisite art forms.
12. Rogan Art from Gujarat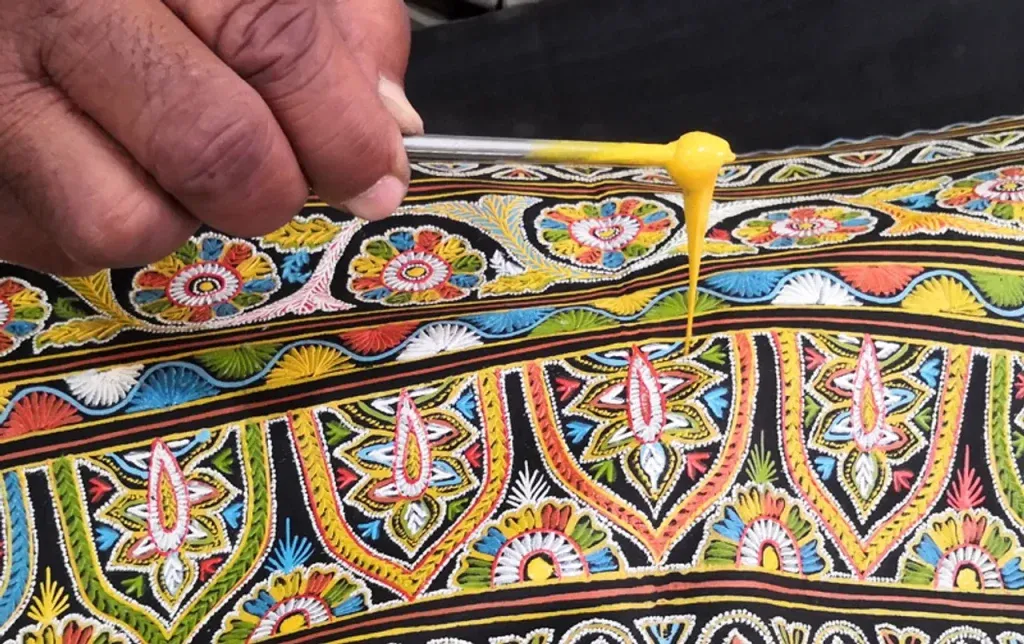 Rogan Art is an exquisite art form practiced in the Nirona Village of Gujarat. Rogan means 'Oil based' in Persian which is the foundation of this art form. Castor oil is heated for 12 hours and cast in cold water to give it a paint-like texture. Then it is mixed with stone pigments to form different colours. These colours are then used on a cloth with the help of a metal stick to draw detailed and beautiful structures, particularly representing nature.
For more such stories follow Local Samosa on Facebook, Instagram, Twitter, and Telegram