The tragic Odisha train accident has left many in distress. Here are a few helping numbers and the organizations helping the victims and their families.
The horrific three-train collision that took place in Odisha'a Balasore last Friday is being termed one of the deadliest train accidents in the last 20 years, leaving 288 dead to date and more than thousands injured. Keeping the Odisha train accident and its adversity in mind, the central government has released a helpline number for all those who are in dire need of any sort of help. People can dial, '139' to take aid, as per the Railway Board.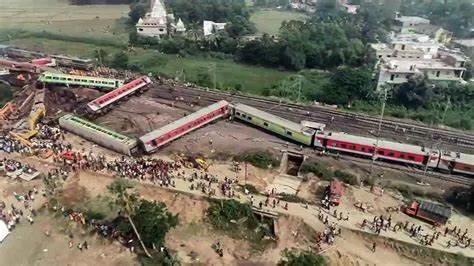 In addition to this, there are other helping numbers that have been issued. Check these out here:
Helpline numbers:
1. 1929 - Bhubaneswar Municipal Corporation
2. 033- 22143526/ 22535185 - West Bengal government's emergency control room number. 
3. 044- 25354771 - RailMadad helpline
4. 033 – 26382217 - Howrah station helpline number
5. 8972073925, 9332392339 - Kharagpur station helpline numbers
6. 8249591559, 7978418322 - Balasore station helpline number
7. 06782-262286 - Odisha government's helpline
8. 8109289460 & 8340649469 - Santragachi Helpline number 
9. 7894099579 & 9337116373 - Bhadrak Helpline number:
10. 9676974398 - Jajpur Keonjhar Road Helpline
11. 8455889917 - Cuttack Helpline number
12. 06742534027 - Bhubaneswar Helpline number:
13. 6370108046 & 06742492245 - Khurda Road Helpline number
14. 9937732169 - Balugaon Station
15. 8978881006 - Palasa 
In such a harsh time for the nation, various organizations and NGOs are playing their part in helping the stranded people and the kin of those who lost their lives in the accident. A few of these are: 
1. Oxfam India
The NGO has been providing psychosocial care and counseling to all the affected victims. Their teams in Odisha and West Bengal have been providing ready-to-eat food, drinking water, and even temporary toilets around the area of the accident. 
Contact: 011 4653 8000
2. Aahwahan Foundation
This Bengalauru-based NGO has been providing support by facilitating medical aid while also transporting the injured to nearby hospitals. The organization has also been helping with food needs. 
Contact: 091130 18004
3. Hemkunt Foundation
This NGO has also been trying its best to help the victims of the tragic train accident by being on the ground. The team has also asked for, 'Odisha Train Collison Relief' and for the volunteers who can help the team with the same. 
Contact: 9811097124
4. TISS (School of Human Ecology) 
Tata Institute of Social Sciences has come up with an action project in collaboration with Mariwala Health Initiative aiming to provide emotional support to the people in distress of the Odisha train crash. One can call on 9152987823 for help. 
Contact: 9152987823
For more such stories follow Local Samosa on Facebook, Instagram, Twitter , and Telegram.