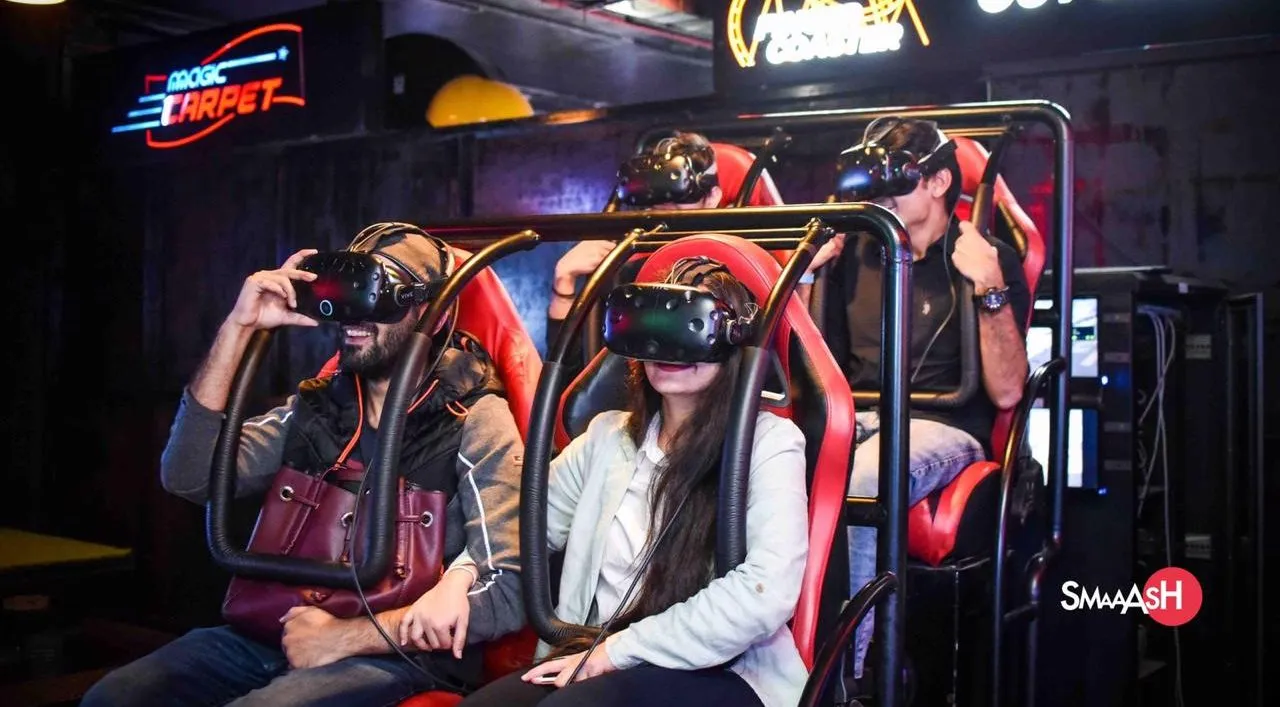 The virtual reality games at Smaaash are next level with high-resolution quality and must-try for those who love rides, heights, and speed!
Imagine escaping from ferocious dinosaurs, riding thrilling roller coasters, engaging in intense combat, experiencing breathtaking heights, and even soaring through the sky like a paraglider! Well, we are not talking about any amusement park here but something very local and very pocket friendly for Mumbaikaras who are up for adventure but are short on time and money. Smaaash in Ghatkopar's R City Mall is the place where you should be as it offers five breathtaking VR games that will take your breath away, along with some entertaining arcade and other games for others to enjoy!
Too real and too good!
Are you a fan of roller coasters? Smaaash has an exhilarating ride that lasts a whopping 1.30 minutes! Not only are the visuals fantastic, but the bumpy seat makes it feel like you're actually on a real roller coaster. It may not be suitable for those who are easily scared, but if you're a thrill-seeker, this is perfect for you. Right next to it is another virtual reality game called Jurassic Escape, and let me tell you, it's like being in a movie trying to escape massive dinosaurs! In this VR game, you find yourself in a Jurassic world, fighting for your life while driving an open jeep. If you've enjoyed the Jurassic movies, this game will definitely give you that same intense experience.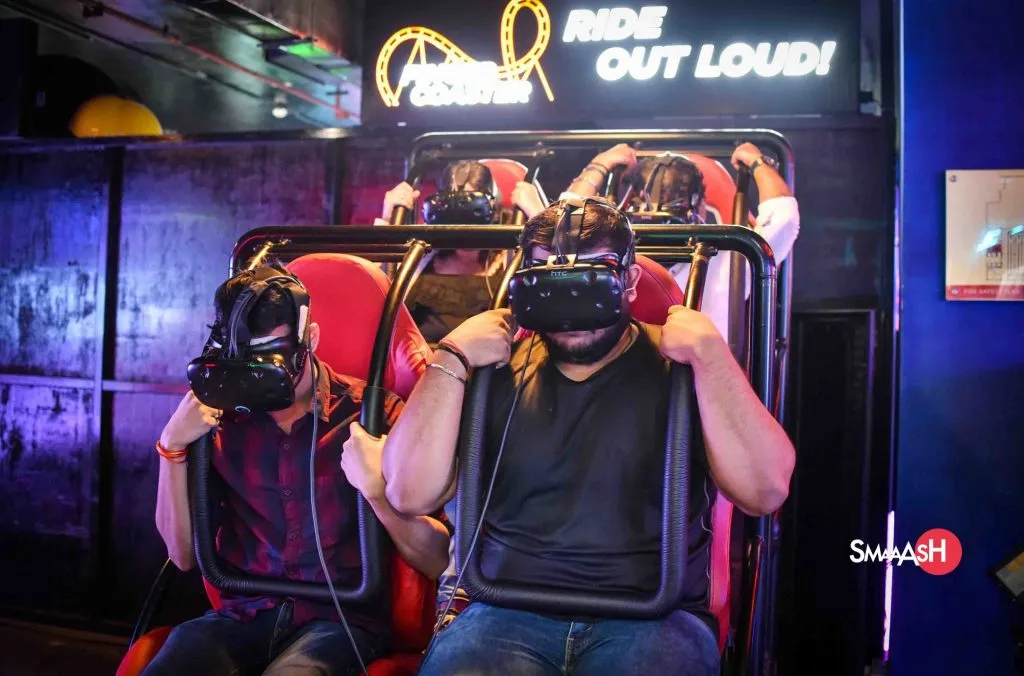 Experience the thrill of warfare in Art of Attack, a captivating VR game where you find yourself alone, strategically taking down opponents with the weapon of your choice. It's a must-play for enthusiasts of war gaming. On the other hand, if you prefer a more serene adventure, there's a paragliding VR game that allows you to soar through the skies and take in breathtaking city views. With the added touch of wind effects, you'll feel immersed in an incredibly realistic flying experience.
However, what truly sent shivers down our spines was Vertigo, an experience that made us feel like contestants on "Khatro'n ke Khiladi" (a popular Indian reality show). Imagine being transported to the 50th floor of a building, where you must navigate a narrow plank, saving both yourself and a helpless kitten from a horde of menacing flying creatures. This virtual reality game is not recommended for individuals with acrophobia, as the realism is overwhelming. However, if you're an adrenaline junkie unafraid of heights, it's definitely worth a try, especially at the affordable price of just 199 bucks charged to your card.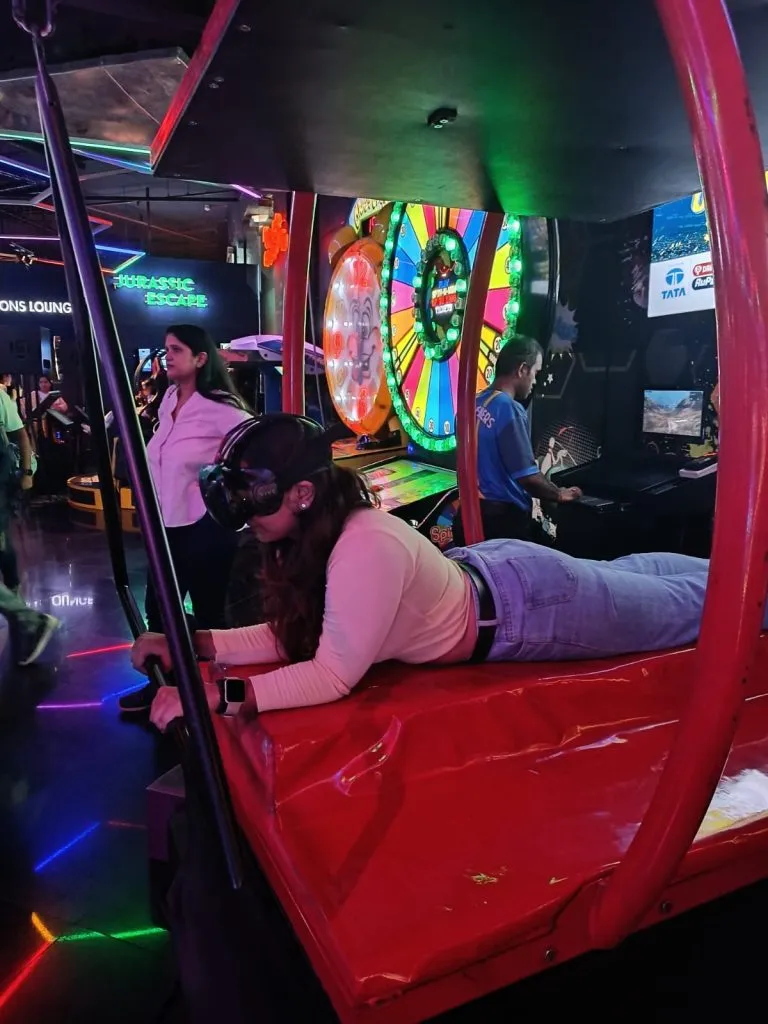 What else?
A lot more! Smaaash has arcade gaming with over 20 games, dance-off, bowling, and box cricket with all the equipment. The in-house cafe is delectable and their mocktails, nachos, and cheese garlic bread will leave you in a food coma! The place may look smaller compared to other gaming places in the mall, but trust us, the experience will be massive, fun, and memorable. The ambience is pretty lit and the vibe is undoubtedly wild. On weekends it gets super crowded. That's why a weekday visit to Smaaash would be better.
Where: R City Mall, 3rd Floor, Lal Bahadur Shastri Rd, Amrut Nagar, Ghatkopar West, Mumbai, Maharashtra 400086.
When: 11 am to 11 pm
Price: Rs.1,000 onwards
For more such stories follow Local Samosa on Facebook, Instagram, Twitter, and Telegram