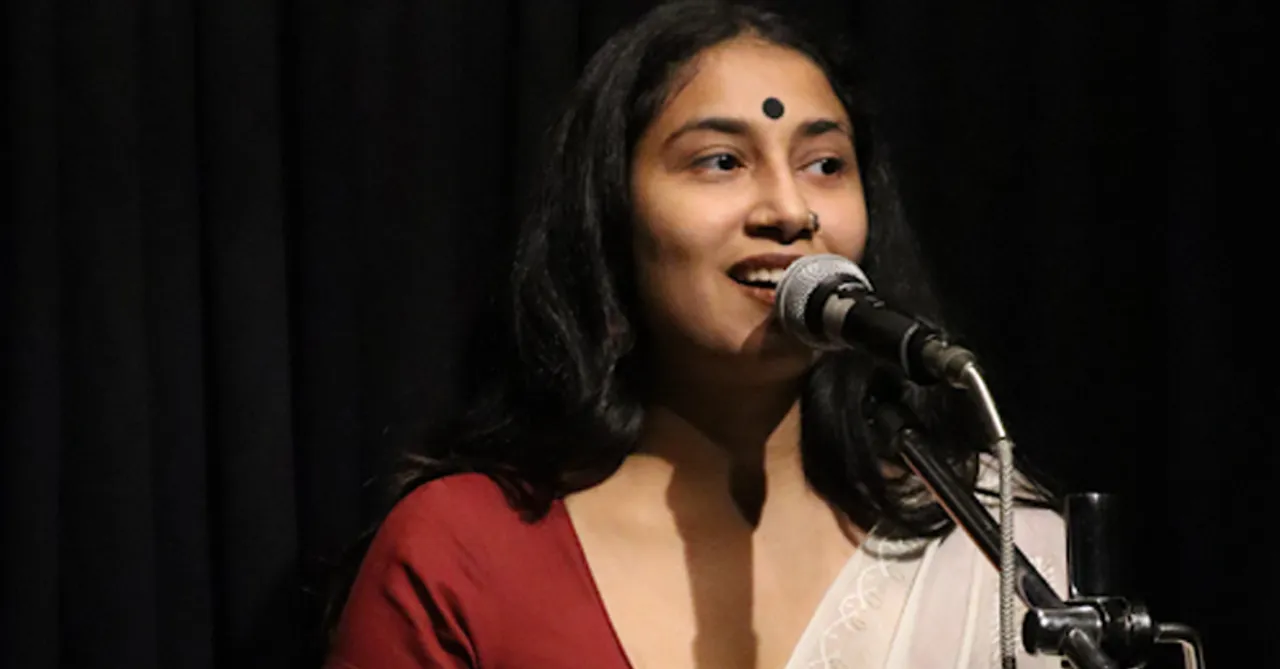 Akanksha Grover, who resides in Bir, has been organizing 'Baithaks', an age-old way of sit-down gatherings in Indian classical music, and ensures interaction with the audience throughout her performances of classical music, gazals, and old Hindi songs.
Until very recently, not only small towns and villages but also cities were focused on preserving the traditional elements of Indian classical music, including "Baithaks" which were sit-down gatherings popular in these performances. However, Baithaks have now become less common, limited to smaller towns or regional musical events. Have these gatherings been replaced by something else? Yes, indeed, concerts attract much larger audiences than Baithaks. With this in mind, Akanksha Grover, an Indian classical vocalist, has taken it upon herself to revive this forgotten culture by organizing "Baithaks by Akanksha" at various locations.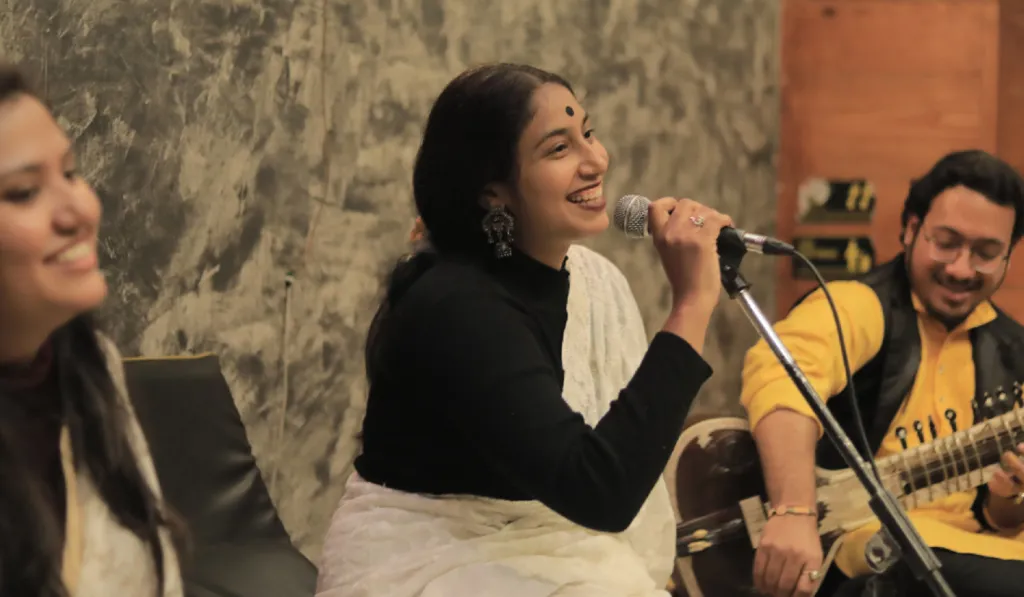 In a time where Indian music listeners can also be seen getting inclined toward international music, Grover believes that it is the need of the hour to evoke the liking for "Hindustani music" and 'Baithaks' can play an essential role in it. " Since the last few years, I was noticing artists performing in big spaces and stages with no actual connection with the audience during performances, and I never liked that," she says. "I started looking out for spaces and, meanwhile, saw a few videos of 'Baithaks' that used to be held in the bygone era and thought to start the concept again," she adds.
Connecting with listeners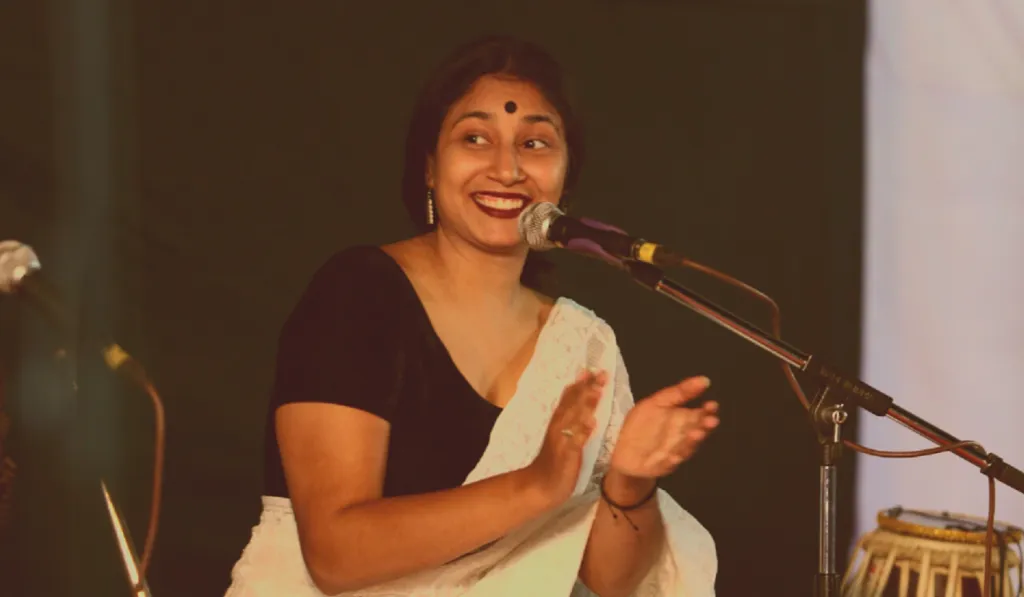 Having performed at a few places like Mumbai, Delhi, Goa, Ahmedabad, Bengaluru, Pune, and Nasik, in the last year, Grover is always elated to meet and greet with the audience. At the same time, she performs not just classical music but also old Hindi gazals, songs, and thumris. She makes sure to tell her audience the name of the singers, lyricists, music directors, and the movies before singing a song and also interacts in other ways, like asking people to share their memories related to a particular piece. "It is a delightful experience to keep talking to the audience while performing," she says, adding that the people from the age group of 10 to even 70 have appeared in her Baithaks "in a time when the music has been segregated."
Talking about the audience of the Baithaks, Grover mentioned that she prefers the audience count to be less and not more than 50 people as it reduces the intimacy between the audience and the artists. "The less the people are, the more convenient it is for me to interact with them throughout the performances," Grover says. However, the audience acknowledges the performances differently according to the regions, as she says. "Not to compare it, but while performing in Mumbai, I noticed that the listeners were well aware of the music I was performing, from the words to the swaras, and such an audience, at times, puts me into the anxiousness to performing correctly where I cannot afford to make mistakes," she says. "I like it more when I perform within an audience who focus on the music just for calmness and take the songs lightly since that allows me to be who I am, and I make lesser mistakes that way," she adds.
Growing with the music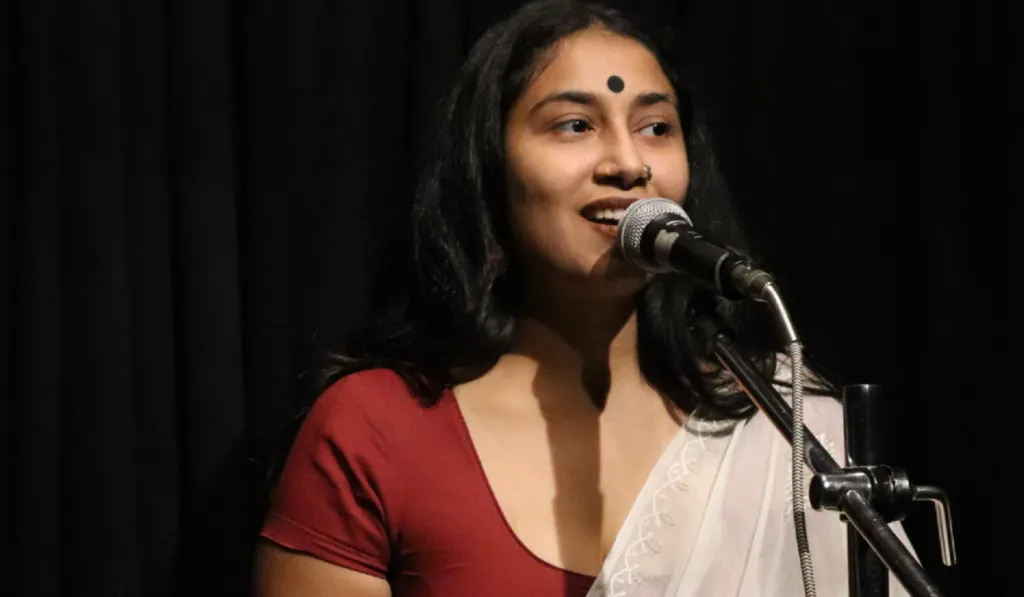 Performing comes more naturally to Akanksha Grover as it has been a part of her life since childhood. Growing up in Faridabad, near Delhi, her parents introduced her to satsangs and religious places such as Arya Samaj temples, where she began singing bhajans. At the young age of 3 or 4, Grover began singing at the Arya Samaj mandir and was soon enrolled in music training. Recounting the old days, she says, "My brother had started learning music from a home tutor but could not complete after five sessions due to lack of interest and it was only me who indulged in learning music in the childhood amongst us."
However, Grover took no time to develop an interest in the old Bollywood Hindi songs, especially the ones sung by Lata Mangeshkar. "I was always awestruck by the way Lata didi has sung every song and would always admire her," Grover says, adding that even her teacher would ask her to prepare Lata didi's songs like 'Mera Saya,' 'Lag ja Gale,' 'Iss Mod see jaate hain,' 'Naam gum jayega' and more. "From Lataji, her voice, and her singing, I got introduced to semi-classical songs. I was so overwhelmed by her that I could not stop listening to her songs," Grover says as she adds that "her songs are lessons."
The trail of listening to the late Lata Mangeshkar's songs led her to practice more and more old Bollywood songs. As she says, while learning these songs, she also understood the songs' bifurcations into Thumris, Gazals, and other genres. "I used to practise Lata didi's gazal, 'Yun hasraton ke daag' initially," Grover recounts. Currently, she has been learning classical songs for the last five years, and recently, she has also inculcated a fondness for folk music to incorporate into her Biathaks. "Before learning these, I was learning from Lata ji only," she adds.
In the lap of mountains
Along with the learnings, Akanksha Grover was also looking forward to an escape from a lot of things three years back. After she was diagnosed with an autoimmune disease called Coeliac, making her body go through various changes and problems and the mundane lockdown life due to the COVID-19 pandemic, she started exploring ways to feel better. Soon after, Grover, who was staying with her parents in Delhi, moved out of the house and rented an apartment in the same city to restart her life. She also adopted a dog but later left Delhi with her dog in her car to reach Bir. "I always dreamt of living near Parvati Valley but have been living in Kangra in Bir, and I am much better now," she recalls her decision while sitting in the backdrop of lush greenery and bright sunlight at Bir.
But Grover does not want to stop here as she plans to host a "driving tour" wherein she will drive to a place with her dog, organize the Baithak among the locals, and stay there for one week before leaving for another place to keep the trail on.
For more such stories, follow Local Samosa on Facebook, Instagram, Twitter, and Telegram