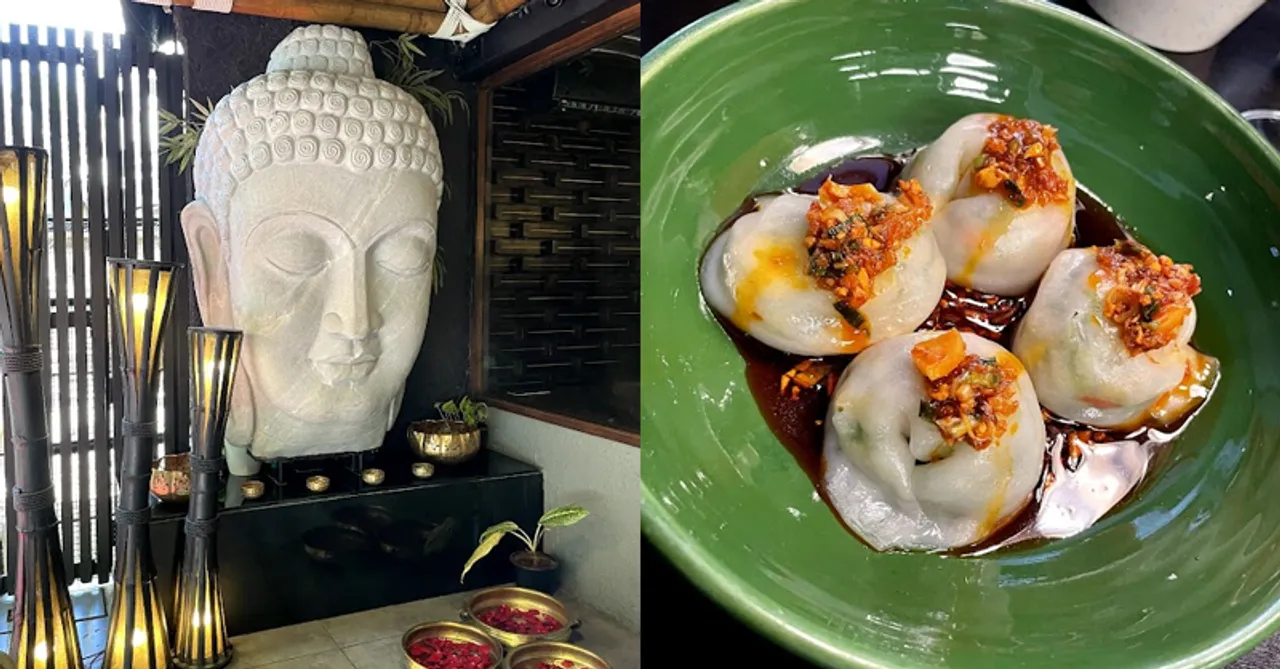 Located in Bandra West, Tao Asian is a small restaurant decked up in modern luxurious decor serving a variety of Asian dishes for vegetarians.
The ONGC Colony, around Bandra Reclamation in Mumbai, is noticeable because of a chain of restaurants aligned in the lane, and tucked in the same street is Tao Asian - a perfect corner for veg lovers who prefer to explore the manifoldness of the veg Asian cuisines. Our recent visit to the place indeed amazed us with the variety of Asian dishes, some of which were just cooked to match the preferences of the 'Jain community'.
Getting to Reclamation is always an easy journey, and it was no different for us. However, we stumbled upon Tao, a restaurant with a black exterior located on the ground floor of the Gelki building, which appeared to be residential. Despite this, Tao impressed us with its stunning decor, featuring a large sculpture of Gautam Buddha at the entrance, golden metal plates with water and rose petals on the adjacent floor, and an overall opulent feel with its grey and black tones, contemporary sofas, ceiling lamps, and modern decor.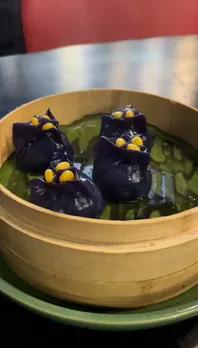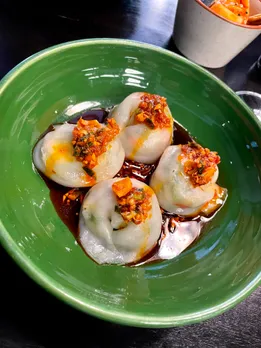 Having understood that Tao has been created to serve the best interests of the veg community, we were more than excited to try their menu. To begin with, their Assorted Dim Sum Basket, which contained colourful varieties of dim sum, were gushy enough to make us fall for them. The Pecking Chilli Oil Dumplings were another treat to the tongue, with amazing flavours, chopped vegetables, and spices on its top. However, it could be a"no-no" for you if prefer avoiding oil dressings since it was one of those. Along with this, the Corn & Water Chestnut Dumplings or the purple-colored dumplings tasted much simple yet perfectly steamed to us.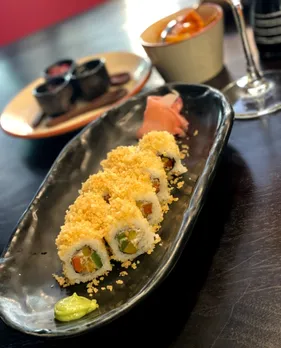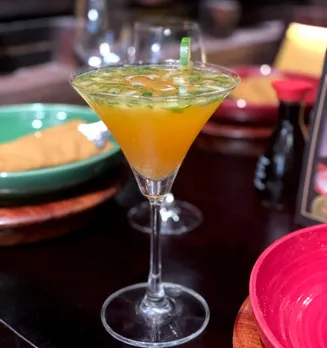 On the other hand, Crispy Tempura Uramaki stood true to the taste of Sushi with its simplicity, softness, and little pinches of salt and can surely be tried with your preferred drinks. Ours was the Guava Mocktail Signature Mary which had a great mix of tanginess and sweetness with the sprinkle of salt on the end of the glass. Another drink that kept going was an Orange mocktail that came with the cucumber flavour along with that of orange and turned out to be good, if not the "best".
When we had the 'best'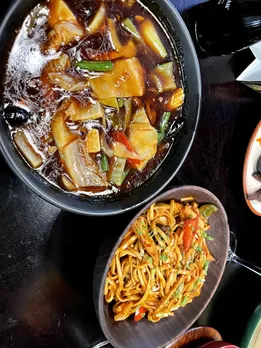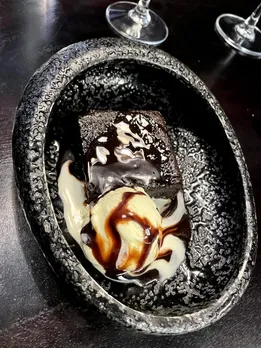 Devouring the main course was surely an even better experience for us with the hand-picked vegetables in Kung Pao Sauce, which was served in a bowl with a few items like cottage cheese, broccoli, baby corn, and tomato slices peeking from the inside. A mix of slightly sweet, sour and spicy dish sat well to our taste and we loved gulping it in with Stir Fried Udon Noodles, which is cooked in Soya sauce with assorted farm fresh veggies. The combination of both tasted absolutely delectable and only if we were not full had we eaten the whole of it. To balance the taste, we ended with Warm Melting Chocolate Cake, again to have the best merger of chocolate cake with a scoop of Vanilla ice cream.
Apart from the food, the Tao has a few things to offer and mostly seems to be preferred by vegetarians, that too, for small get-togethers. Despite being well-maintained, Tao's limited space may pose a challenge for those looking to enjoy a bustling atmosphere. While the weekends are usually busy, the restaurant appears deserted on weekdays. Nevertheless, based on our personal experience, once you step inside, Tao does not disappoint, offering excellent food and warm hospitality.
For more such stories, follow Local Samosa on Facebook, Instagram, Twitter, and Telegram