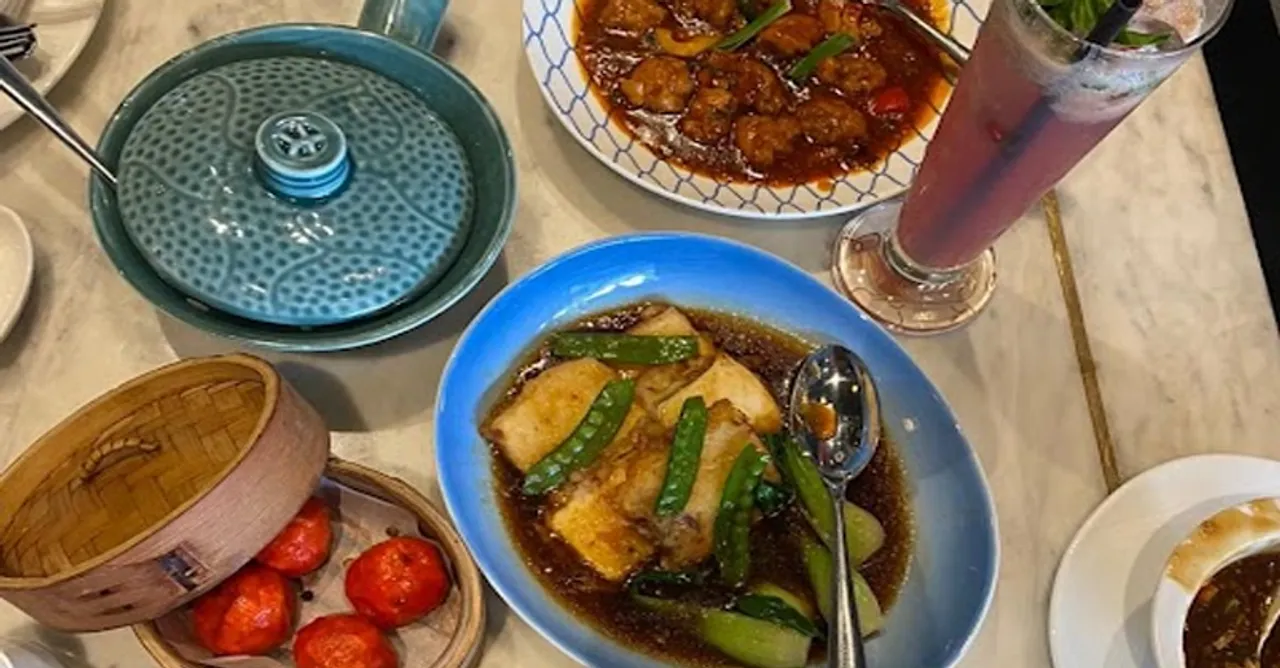 Mainland China in Andheri gives a fine peek into what can be termed a near to perfect Indo-China restaurant, both in terms of setting and the quality of food.
A fine afternoon walk on a recent Monday took us to an Indo-Chinese restaurant chain called Mainland China in Andheri, whose first brand has been existing since the initial 1990s. They've redesigned an old branch in Andheri but the sweetness in food and the pleasant behaviour of the staff remains the same.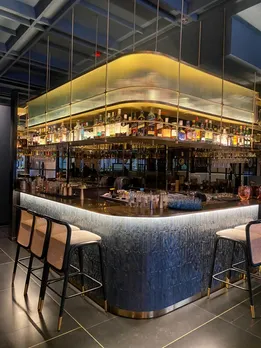 We were welcomed to a modern-setting seating area, with large glass windows opening towards a closed parking space outside the building. While the blazing colourful bar area of the restaurant at the entrance sparkled our eyes, it was the natural brightness sneaking into the restaurant that felt more appealing to us. Another noticeable attribute was the rustic interior tangled with modern aesthetics with wooden chairs, marble tables, grand sofas, and yellow glass lamps on the ceiling.
Starters that started our afternoon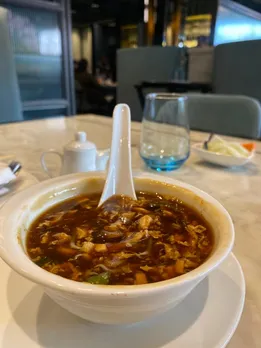 We kickstarted our lunch by ordering dumplings, noodles, chicken soup and a mocktail named 'Thai Exotica' which arrived one by one for us to savour their individual magic in detail. To start with Cottage Cheese dumplings was a good idea because these red-coloured dumplings, popular as momos in the local markets of India were stuffed with cheese. It was mixed with black pepper and beetroot juice to give it a red colour. The soy sauce-based dipping sauce served with it was fine enough to dip those dumplings in. Even the Hot and Sour Chicken soup matched our expectations and impressed with its quantity too.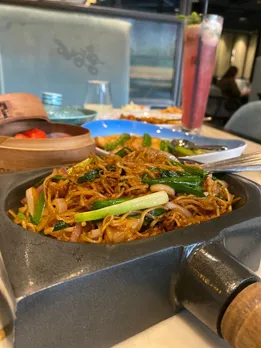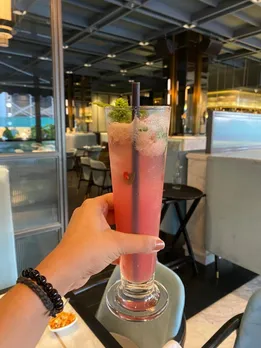 The Veg Hong Kong Fried noodles were more than enough for two people. But as we devoured more, the essence of sweetness overlapped the sour taste, which for us, turned out to be the 'elaichi' in the biryani! The mocktail, on the other hand, which was a mixture of guava and pomegranate juice with a sprinkle of pomegranate seeds in it appeared to be an angelic drink to have on a mild-cold day.
What our main course looked like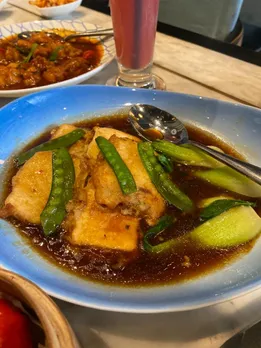 Yellow Pan Fried Cottage Cheese in Black Truffle Sauce and Cantonese Chilli Chicken along with Veg Asparagus and Sun dried Tomato Jasmine Fried Rice was mixed with tomato, pickle, and ginger and was soft as silk to eat but rather sweet, making it a dish we weren't sure we liked.
Talking of the Cottage Cheese which was pan-fried turned out rather delicate and glazed. Along with it was the boneless chicken cooked in a medium spicy tomato sauce which was fiery bittersweet. It was a rarity to find the dish both spicy and sweet.

The king of the jungle
We'd like to call Berry Forest this because the dessert was presented like a cotton candy tree with the trunk made from chocolate, sown in the soil of cookies, chocolate, and a scoop of strawberry ice cream, all put together in a glass bowl instead of a vase. What also made us jump on the couch was the nitrogen effect in the glass tempting us to try it soon, before the smoke vanished.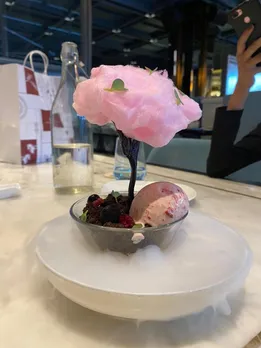 We had this quickly to avoid losing its charm which was not just in its visual appeal but in its earthy aromatic taste too. Having said that, the quantity wasn't sufficient and there wasn't much to eat in there. Once the scoop of ice cream was wiped off, neither the crumbled brownie nor the berries were very impressive, leaving aside the cotton candy tree that reminded us of our childhood!
We weren't too happy with that hint of sweetness mixed in every dish that we tried. They left us craving some spicy food.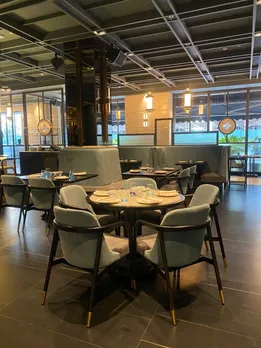 The overall interior and the praiseworthy settings with the help of instrumental music make for a delightful place to sit, have a chat and simultaneously eat. There is no doubt that the Indian palette welcomes Chinese food to a great extent making restaurants like Mainland China a hit in no time. This brand has maintained its reputation well among consumers which were visible to us when we visited.

For more such stories, follow Local Samosa on Facebook, Instagram, Twitter, and Telegram