With two outlets in Mumbai, located in Juhu and Dadar, Ginkgo restaurant plated up Asian food, but for us, it also served freshness on a humdrum first day of the week.
As much as Monday morning blues were about to crown their peak, a sudden phone call followed by the ringing of the doorbell in office enlightened dull faces all around us. Every one of us knew that a bag full of food from Ginkgo restaurant had arrived! Without further delay, we opened the bags and boxes and there came out top 5 creations of the restaurant — at least we would call it so on the pretext that a restaurant would serve their "best" to the reviewers! Well, our assumptions certainly did not disappoint us as we gulped in the sweet and nutty yet savoury Dan Dan Noodles, to start with.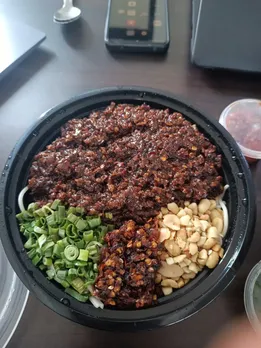 The bowl of noodles was topped with green onions, chilli flakes, peanuts, and soya which made it look even more drool-worthy. What also dazzled us was enough quantity and overall it was a good bowl of piping hot noodles. However, some in office claimed that they'd tasted better noodles.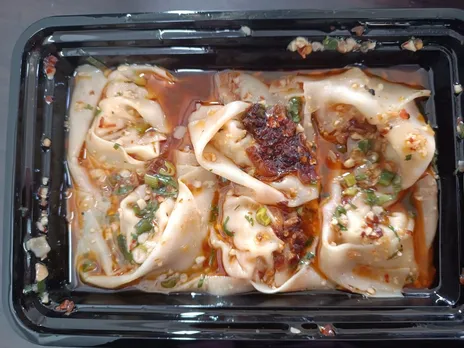 Their Steamed Chicken Wantons with Crispy Chilli Oil was soupy which is the actual nature of it. And, people who love soupy chicken dumplings would love to give it a shot, especially during this time when it's cold outside! This also has great chicken fillings! The only caution here is to eat these immediately as they might sour one's mood once soggy.
Our mood was lightened with another jack in the pot or as the restaurant calls it - Vietnamese Tenderloin Salad. As the name suggests, the beef loin was tender along with being juicy. But let's not miss out on the visual appeal of the dish where the leaves of coriander peeping from inside the transparent box gave us fresh vibes. Further, it was the tangy and chewy nature of the loin that made us decide on ordering the salad sometime in the future.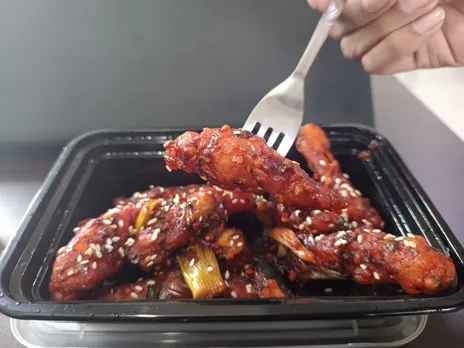 What spiced up the meal, however, was the Korean Spicy Garlic Chicken. Not only was it red but it also had a perfect kick of spice.
Even though the Fried Corn Cream was soft and creamy it didn't quite stand out for us. Nevertheless, what stood out about the food was the experimental nature of the chefs at Ginkgo, which we got to witness through these dishes!
Where: Ginkgo restaurant, Dadar and Juhu outlets Time: 11 a.m. to 1:30 a.m.
Price: Rs. 450 for one
For more such stories, follow Local Samosa on Facebook, Instagram, Twitter, and Telegram