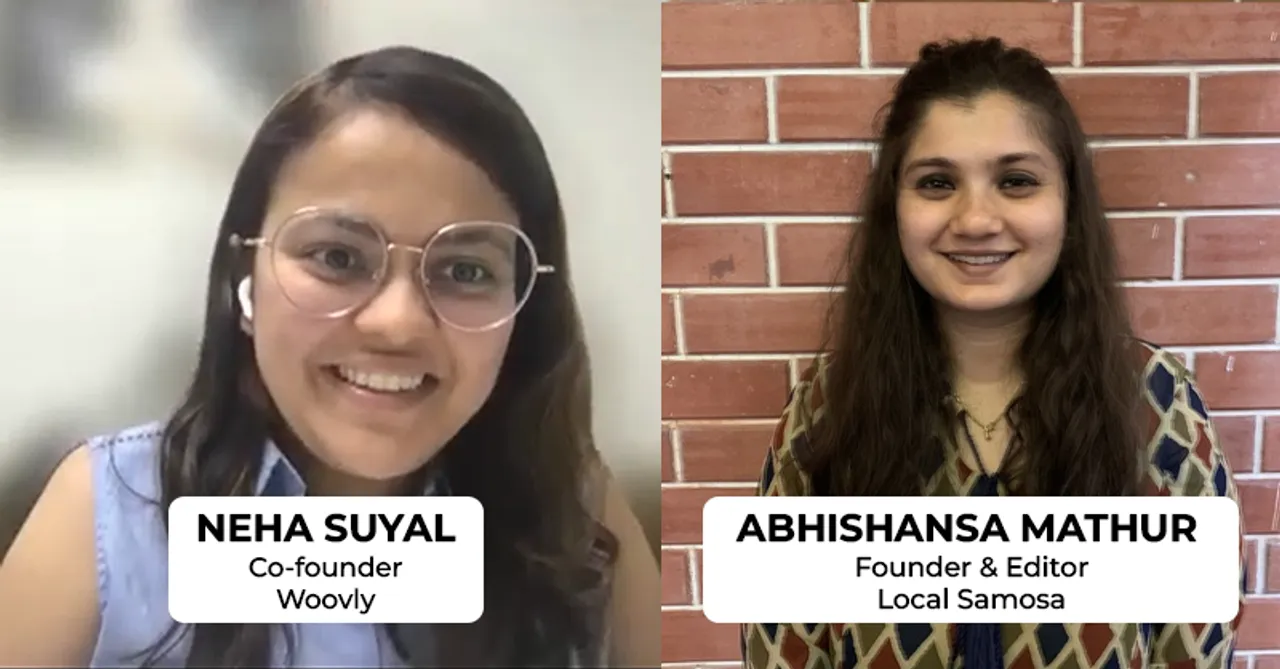 As the founders of Woovly, Neha Suyal, says, "We were very good at chasing things from the start. Whether it was acquiring our first thousand consumers, creators, or investors, we personally reached out to as many people as possible until we gained their trust."
For the past 30 years, Neha Suyal's mother, who is a teacher, has been running the only school in Kichha. She believes that she inherited her entrepreneurial skills from her mother. With a passion for technology, she pursued an engineering degree and later completed a course in entrepreneurship at Stanford. It was there that Neha Suyal met her current co-founder of Woovly.
After realizing that consumers were changing their behavior towards consuming both long and short videos, they identified a problem: as the consumption behavior changes, so will the shopping behavior. To gain a deeper understanding of startup development and work dynamics, she joined her co-founder's company, Quess Corp. After approximately three years, they went on to establish Woovly.
Abhishansa Mathur, was in conversation with Neha Suyal to gain insights into her experience of establishing Woovly.
You started as a travel adventure experience platform & then, during COVID, pivoted to social commerce, that too focusing on tier 2 and tier 3 cities, please share the journey so far.
The principal idea was always to help the consumer to discover better. When we started, it was the adventure sector. The problem statement was when you ask someone about their bucket list, adventure, and travel come into their mind. Usually, the adventure operators in India or outside also come from tier 3 - 4 cities of India. You won't find Rafting operators in Mumbai, but you'll find them in Rishikesh. 
The challenge was that they were sharing up to 50% of their total price with the service providers. And we were trying to bridge that gap. We told consumers you have your bucket list and have done those activities, so create video content and start tagging the operators. 
It was going really well, but then COVID hit. And the biggest category that got affected was travel & adventure. We took a call, and when we were curating content for travel & adventure, creators were also talking about what they were wearing, etc. So somewhere, we noticed consumers are conscious about brands and are talking about it. As a team, we took a call, pivoted the platform, and told consumers to tag as many brands as they love, and it went crazy, and we saw them tagging brands more than 25 in just one picture or video. That's when we decided to pivot from travel & adventure and social commerce for the lifestyle category came into the picture.
Why is your focus so much on tier 2- 3-4 cities?
Content is created by people from specific cities, and our platform is primarily designed for those cities. The issue of discovery is not prevalent in Tier 1 cities; it is more of an issue in Tier 2, 3, or 4 cities. For instance, a person from a Tier 4 city may not have the ability to read an article of 200-300 words to understand what a product does. However, they can easily relate to and understand from someone who speaks their language and can help them make a purchase decision. We have conducted an analysis and found that people from these cities have spending capacity, but the challenge is the lack of discovery and availability of products and brands.
What's in it for Brands? Consumers? Creators?
The main hurdle faced by the online shopping industry is the high cost of customer acquisition. Even after all the expenses and sales, growing brands may not be able to generate profits if they rely solely on online marketing.
At Woovly, we offer a one-stop platform for brands because of our unique approach. We believe that any product discovery should occur through video content, which involves content creation, influencer outreach, and sales. Unlike traditional commerce markets, we strive to increase visibility for non-selling SKUs and introduce products to new audiences, which helps brands improve their economics.
Out of 42 million content creators across all online platforms, only a small percentage of 1.5 L creators earn money, particularly those with more than 50K followers. Woovly focuses on micro-nano creators with around 15-20K following and provides them with brand partnerships to monetize their content.
What challenges did you face while running your brand?
In the initial stages of our startup, social commerce was still in its infancy, so the main hurdle we faced was creating awareness about our platform. Facebook and Instagram had previously claimed that shopping and entertainment could not coexist on the same platform, so it was our time to step in and change the game.
While it's important to show empathy towards potential hires, I learned that being overly sympathetic during the hiring process can hinder the success of a startup. Resources are limited, so it's crucial to make quick decisions about whether a candidate is a good fit or not. Delaying the decision-making process can lead to longer productivity cycles and hinder success. In the early days of Woovly, I made the mistake of being too sympathetic and took too long to decide whether a person was suitable for our team. However, we eventually learned the importance of hiring and firing quickly. This benefits both the employee, who can find work that better suits their skills, and the company in terms of productivity.
Let's talk about the social commerce industry in India. How is it growing?
Before the Covid outbreak, there were numerous predictions about the future of the industry. Reports indicated that the industry could grow to become a billion-dollar market by 2025 and a 3-5 billion dollar market by 2030. However, Covid and the rise of early short video platforms significantly altered consumer behavior. Consumers have become accustomed to watching everything online and in video format, which has led to a new prediction that the video commerce sector of social commerce alone will reach a value of 17 billion dollars by 2030. The consumption habits of consumers have advanced by ten years, which means that the purchasing habits have also advanced by ten years. Consequently, the video and live commerce sector within social commerce is set to expand.
With so many players and established e-commerce players in the market, how do you stand out?
When people want to buy something, they visit online shopping websites. However, they come to Woovly even when they don't know what they want to buy, but end up discovering products that they like, which helps them make purchase decisions and buy directly from the platform. Unlike entertainment-focused video platforms such as Moj and Josh, Woovly caters to consumers' shopping needs. Although Instagram's DM feature is functional, but that industry is small, and Meta has scrapped its shop feature altogether. Additionally, the post-purchase experience of buying through DMs is not satisfactory, and Instagram is not directly responsible.
I believe that e-commerce and social commerce will coexist as different markets. As the largest player in the social commerce space, we understand the needs of tier 3-4 consumers who seek brand ambassadors that they can relate to and trust. These consumers base their buying decisions on user-generated content that showcases people like them using the product.
Tier 3 consumers have unique needs and queries, which is why we are developing an interactive live commerce feature that allows for experiential buying.
How do you plan to stay relevant and stand out?
Our strategy for remaining relevant to consumers involves both developing features tailored to their needs and actively soliciting their feedback. To achieve this, we have implemented a daily practice wherein each member of our team spends 30 to 45 minutes speaking directly with consumers to gain insights into their preferences and we try to incorporate them into our product development decisions.
What trends do you foresee in this industry?
Interactive live commerce will become a huge thing. Experiential buying that is similar to offline buying is what I feel will become quite normal in the coming times.
How are you using Social Media to promote your homegrown brand? Other marketing strategies?
Our primary strategy for growth is centered around our creators and influencers, who play a crucial role in expanding our user base. This is particularly effective in small towns where personal connections are stronger. By onboarding someone from such a town, we can tap into their network of acquaintances who may be interested in joining our platform or following their content. Prior to the COVID outbreak, we had established a presence in over 1000 colleges across India through our Woovly ambassadors who promoted our platform to the Gen-Z audience. This initiative led to a significant increase in user engagement and overall experience on our platform.
What is your 5-year plan for Woovly?
To date, a large number of content creators have struggled to generate revenue from their work and the profession is not yet widely recognized as a viable full-time career. Our goal at Woovly is to empower at least one million content creators to earn a sustainable income through our platform. In doing so, we aim to specifically target individuals residing in smaller cities throughout India rather than focusing solely on those living in metropolitan areas.
Can you share your business model with us?
On Woovly, brands operate within a standard marketplace framework by creating a listing for themselves. We generate revenue through brand partnerships and earn a commission on any sales made through our platform. What sets Woovly apart is our reliance on influencers as our primary assets. When brands provide us with their desired target audience and reach, Woovly collaborates with relevant influencers and leverages their local networks to create demand for the brand's offerings. This unique approach distinguishes us from other conventional platforms.
Tell us about your Funding Phase.
As founders, we were very good at chasing things from the start. Whether it was acquiring our first thousand consumers, creators, or investors, we personally reached out to as many people as possible until we gained their trust. We thought what worst could be that the person could block you, but there will be so many who won't. When building something, it's essential not to shy away and to be shameless in reaching out to anyone who may be interested. It takes courage and determination, but eventually, someone will appreciate your work and guts.
One advice/suggestion you'd like to give aspiring entrepreneurs out there.
Show up every day.
One Anecdote you would like to share?
It comes from my mother, who opened the first school in our village, which still remains the only one today. Back then, nobody wanted to send their children to school in that area, so she had to go door-to-door and convince families to enroll their kids. With unwavering determination, she offered to teach them for free, and continued to do so for years. She takes great pride in knowing that every student from our village received their education at her school. This early lesson on perseverance and dedication deeply impacted me, even before I began my own career.
Your happiest or cherished moment/achievement you would like to share.
At the beginning of our journey, we had a small team of 7-8 people. Later on, we discovered that three of those team members had either started their own companies or become founding members of other ventures. When they returned to our office and shared this news with us, we felt an immense sense of pride. It was a significant moment in our journey of building Woovly.
Rapid Fire
Indian Successful Entrepreneur, you look up to- Supam Maheshwari
Fav book or which book are you currently reading- Predictably Irrationally
One quality of yours that has been instrumental to your success- Show up every day
One terrible Advice that you followed - Be too much sympathetic
What do you need from your investor along with the funding- Strategic Partnership 
A blog/book/show that you follow, and why? - It's Not About the Bike: My Journey Back to Life by Lance Armstrong
One homegrown business that you love and support - TATA
How would your perfect day end- when I have something to look forward to the next day
Quick Question
Your 3 learnings while running Woovly
Identify the problem, build it for the consumers and not anyone else
Don't shy away. Entrepreneurship is a very lonely journey. There will be way more downs than ups.
Build a strong team