Planning a trip to the blue city? Then check these luxurious hotels in Jodhpur for a royal stay and make your trip memorable.
Jodhpur is known for its scenic views, the blue lanes, the stunning forts and architecture, and the best fabulous hotels, too. If this royal city is on your next bucket list, then you can experience a royal stay in one of these luxurious hotels in Jodhpur!
1. Radisson
This boutique hotel offers ancient-style architecture with modern amenities and some spacious rooms and suites, including options like one-bedroom, two-bedroom, deluxe, junior, and presidential suites. It's also a good pick for a destination wedding as they have great indoor and outdoor banquet space. There's also an outdoor pool, an on-site R3 Natural Spa, two on-site restaurants, and two bars.

Where: Gaurav Path, 8, Residency Rd, Air Force Area, Jodhpur.
Price: 10K / night onwards.
2. Krishna Prakash Heritage Haveli
This hotel is as old as the Mehrangarh Fort and is situated on the foot of the same. If you want a stay with vintage vibes and the experience of the old Marwar region, then Krishna Prakash Heritage Haveli is the right place for you. Built in 1902 by the Late Shri Lala Ram Chandra Mathur(Superintendent of Police, Marwar State) and Shri Harish Chandra Mathur(Member of Indian Parliament & Home Minister, Marwar State), this haveli is gorgeous and has paintings and treasure troves of the past in well-preserved condition even now. The semi-deluxe, super-deluxe, and deluxe rooms with elegantly carved interiors and rustic decor are pretty. There's a pool, concierge services, an in-house restaurant offering Marwari food, Village Safari, and more such services to make your stay comfier.

Where: Nayabas, Killikhana, Near Makrana Mohallah, Jodhpur.
Price: Rs.2299 /night onwards
3. Ummed Jodhpur, Palace Resort
This 28-acre five-star palace resort offers 80 rooms and 8 massive suites with architectural details like jalis, jharokhas, and domes. There are also banqueting spaces for royal weddings and corporate events. The palace also has a spa and fitness centre, and offers various experiences, including folk performances and more.
Where: Banar Rd, Prem Nagar, Jodhpur.
Price: Rs.5,950 onwards per night
4. Kankariya Heritage
This heritage hotel overlooks the Mehrangarh Fort and offers different types of deluxe rooms. It also conducts live music performances, cooking classes, local tours, bike tours, bicycle rentals, and other recreational activities for its patrons. Their rooftop restaurant is a vibe and it's a good option for a relaxing stay if you are in the city.

Where: Kankariya Bhawan, Gulab Sagar, Jodhpur.
Price: Rs.9,500 onwards
5. Ajit Bhawan
Built in 1927, Ajit Bhawan claims to be India's first heritage hotel and was even once the residence of Major General Maharaj Dhiraj Sir Ajit Singh Ji, the younger brother of Maharaja Shri Umaid Singh of erstwhile Jodhpur State. There are presidential suites, luxury rooms, vintage suites, and luxury tents that are equipped with modern amenities, including a mini bar, and a hint of old-world charm. One can also enjoy a desert safari or a drive in a vintage car or a village safari if here.
Where: Circuit House Rd, Ajit Colony, Jodhpur.
Price: Rs.13,500 onwards
6. The Rohet House
This elegant hotel is all about aesthetics and richness. It was started in 1990 and this gorgeous property features thirty-two appointed rooms, including six suites. The hotel also conducts activities such as village safari and culinary workshops for the guests, and even hosts live performances by folk musicians.

Where: PWD Rd, opposite Dilip Garden, P.W.D Colony, Jodhpur.
Price: Rs.20,040
7. The Marugarh Resort & Spa
Located between rock mountains, Marugarh offers a rustic and green ambience and is spread over 14 acres. There are 51 rooms and all of them have balconies. There's a multi-cuisine restaurant, a bar, a swimming pool, lawns, a spa, a kids' play area, jacuzzis, as well as Banquet facilities, making it a decent stay option.

Where: Chopasni, Jaisalmer Bypass Rd, Gopal Bari, Jodhpur.
Price: Rs.3,791 onwards.
8. RAAS Jodhpur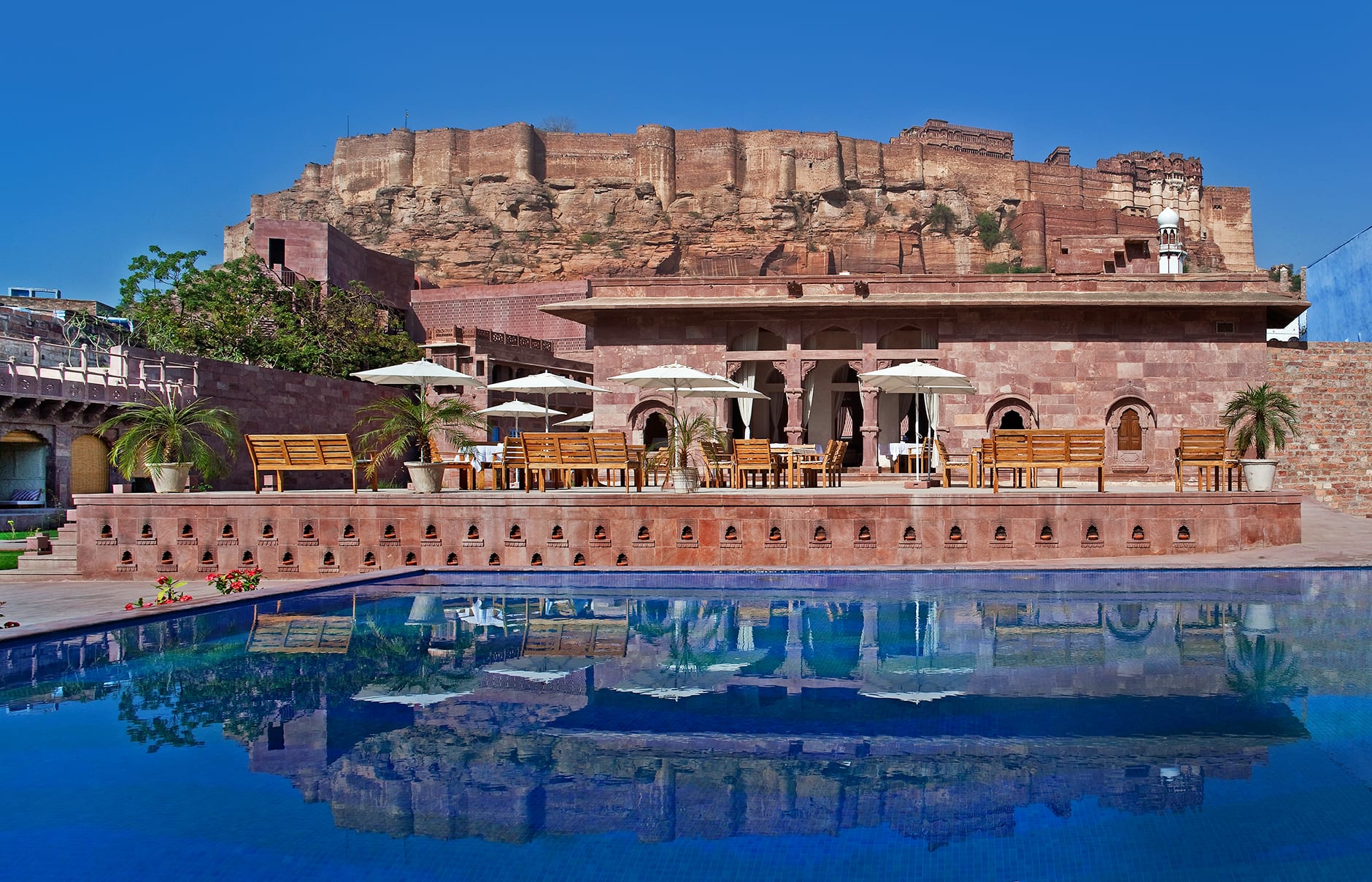 RAAS has a haveli-styled structure and gives beautiful views of the Mehrangarh Fort from its terrace. The hotel has forty rooms and suites with different decors and themes that are equipped with modern amenities. Some of them even have a garden attached to them. There are multiple experiences that the hotel hosts, including family activities and day-long visits. Other facilities include a wellness spa, restaurants, and a rooftop bar.

Where: Tunwar ji ka Jhalra, Makrana Mohalla, Gulab Sagar Rd, Jodhpur.
Price: Rs.18,656 onwards.
9. Daspan House
An open courtyard, a Mughal-styled garden, beautiful rooms, and verandahs with intricately carved stone pillars sum up Daspan. It has a rooftop pool, a bar, a lounging area, and a restaurant that serves lip-smacking local and continental food. Stay overnight in one of its double rooms and gaze at the beautiful lush garden, decorated with lights.

Where: Old, Loco Rd, Ratanada, Jodhpur.
Price: Rs.9,900 onwards.
10. Hotel Inn Season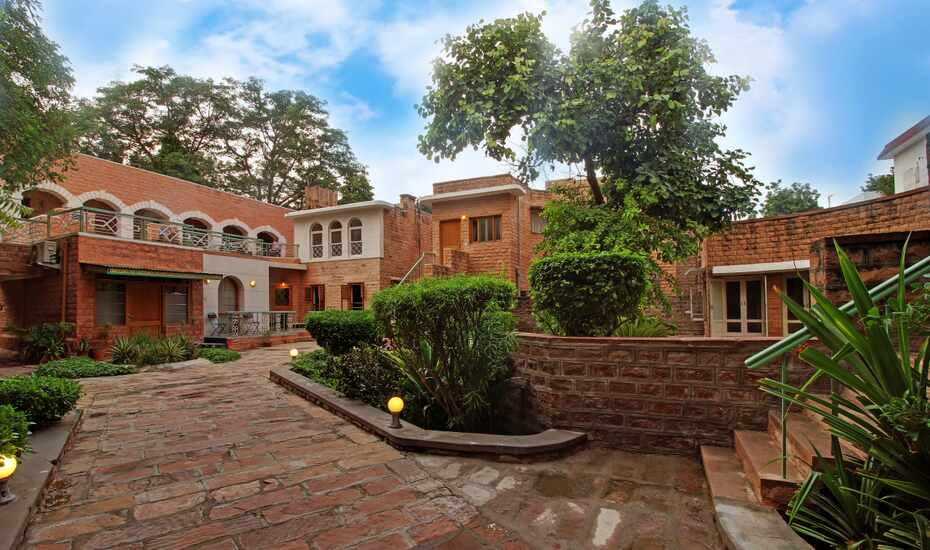 This heritage hotel has an architecture that's been inspired by the Art Deco style of the 1930s and has thirteen exquisite suites. The property also features an outdoor pool and gardens and has an in-house restaurant that offers organic Indian and selected multi-cuisine dishes.
Where: Near P.W.D. Circle, P.W.D. Road, P.W.D. Colony, Jodhpur.
Price: Rs.3,812 onwards.
11. Taj Hari Hotel
Another must-check luxury hotel in Jodhpur, Taj Hari, spreads over six acres of landscaped lawns and gardens and resembles a 14th-century royal palace. The rooms are spacious, and there are many options for you to choose from. Each room has de-stress options such as surround sound home theatre systems, a special Rest Easy menu, and dual massage showerheads that will add luxury to your stay. There's a fitness centre, outdoor pool, 2 restaurants, and a bar, too. Other than all this, the hotel provides multiple offers, including Romantic Hideaways Offer, Family Getaways, safaris, and more.
So, what are you waiting for? Book a royal stay in Jodhpur now!
For more such stories follow Local Samosa on Facebook, Instagram, Twitter, and Telegram.
Comments
comments