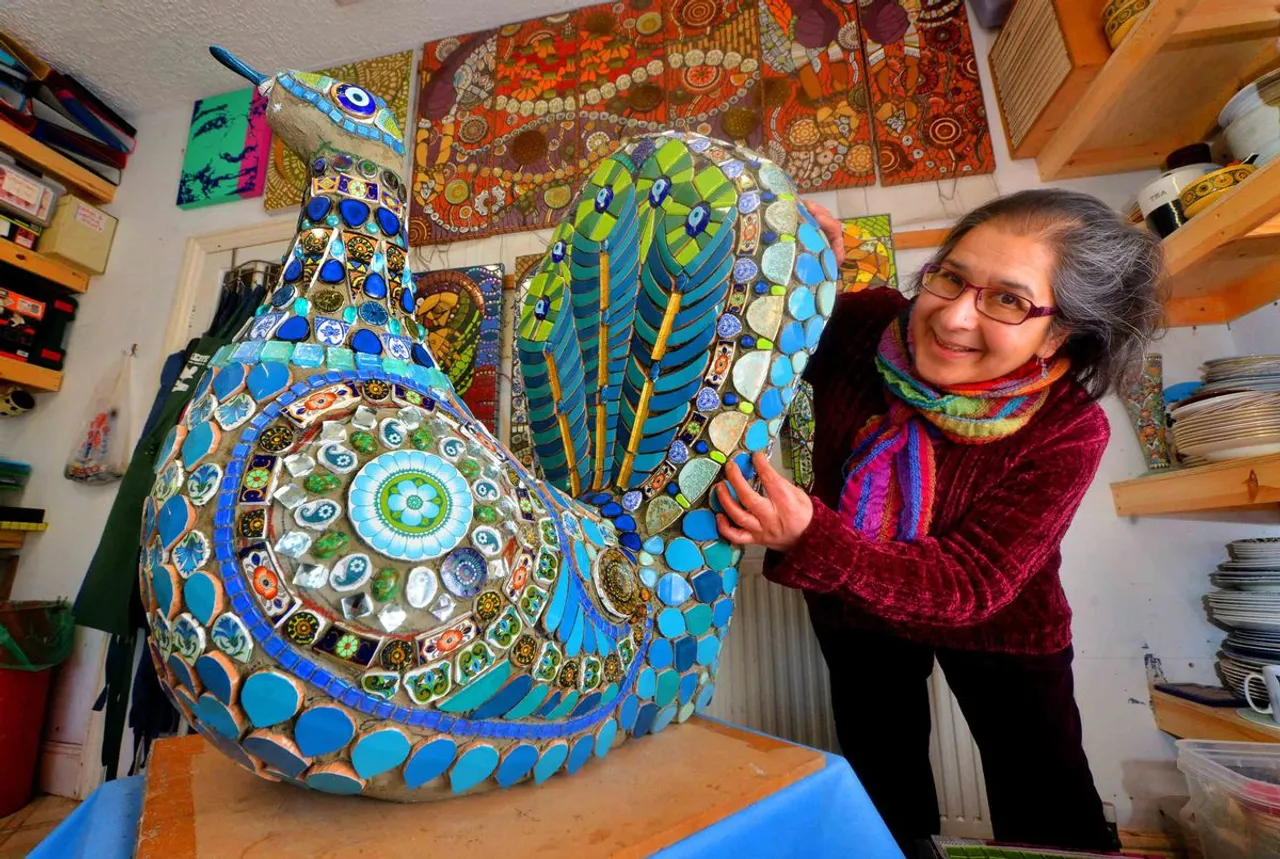 Mosaics are made from broken pieces and they are definitely a piece of art. If you also adore them, then check out these mosaic artists on Instagram and give some pleasure to your eyes.
A mosaic is a picture or pattern that is made by placing together small coloured stones, pieces of glass, etc. It is one beautiful art form and requires skills and experience. These mosaic artists on Instagram are definitely a pro at it, as their feed is flooded with beautiful mosaic pieces. So keep scrolling and check their amazing artwork.
1. Mini Mason
Kanika Singh is an artist who decorates walls with hand-cut pieces of glass and ceramic tile. We love how her pieces are detailed and just can't help but admire her skills. Check her feed to see some amazing mosaic mirrors, home decor pieces, and everything colourful.
2. Mosaics by Renu
After working as an illustrator and graphic designer for over 10 years, Renu ventured into the world of mosaics and stained glass. She has done large-scale mosaic wall murals for clients, including one for Delhi Metro. Renu is definitely an expert at her job, and her Marilyn portrait and mosaic birds are proof of that.
3. Vandeepp Kalra
Vandeepp Kalra is another talented mosaic artist you should see. She effortlessly plays with glass mosaics to create exquisite contemporary art. She makes portrait frames, and home decor pieces, and each one of them is equally mesmerizing. Check her website to see her work.
4. AnuRang by Anuja
Anuja Pingle is an artist and architect who owns a Mosaic art studio in Nagpur and makes customized hand-cut tile artworks! Right from mosaic nameplates to frames, bowls, coasters, and more, she can create a masterpiece for you as you want. Check her on Instagram to see her fantastic artwork.
5. Shailna and Anish
Shailna and Anish are the artistic duos who create unique art. Their work is different as they make mosaic artwork with wood, and it's just amazing. They also make wooden organizers, dining tables, racks, and many more fab things. Check their work and get something wooden for your space.
6. Divya Kapur
Divya Kapur creates mosaics inspired by the lives around her and she is really good at her job. From gorgeous portraits to decor pieces and terracotta pots, she makes them all flawlessly. She also keeps posting videos about the making process and helps her followers understand this art better. Check her out and learn a few new things about mosaics.
7. Sheenaz- Mosaics & More
Sheenaz is a Mosaic artist and vintage brass collector. She makes customized glass mosaics and vintage home decor items and we love her work. Her wallplates, butler trays, and floral artworks are just breathtaking and if you want something colourful for your home, we'll suggest you see her work once.
8. Ashika and Tanishaa Cunha
Aashika & Tanishaa Cunha are two sisters creating handcrafted bespoke glass mosaic pieces. They make murals, figurative, portraits, flora & fauna, and city escapes, and it's a delight to see their feed. Check them out and explore their colourful world of mosaics.
9. Mango Mosaics
Daksha Caroline Jariwala is joyfully covering the world in mosaics with her amazing skills. She uses the picassiette method of old, chipped, and discarded crockery to make her artworks and her experience covers a wide range of art forms, such as illustration, batik, mural, and mosaic. Check her feed to see her spill some beautiful colours.
Do check these Mosaic artists on Instagram and let us know what are you buying from them!!
For more such stories follow Local Samosa on  Facebook,  Instagram,  Twitter, and Telegram.