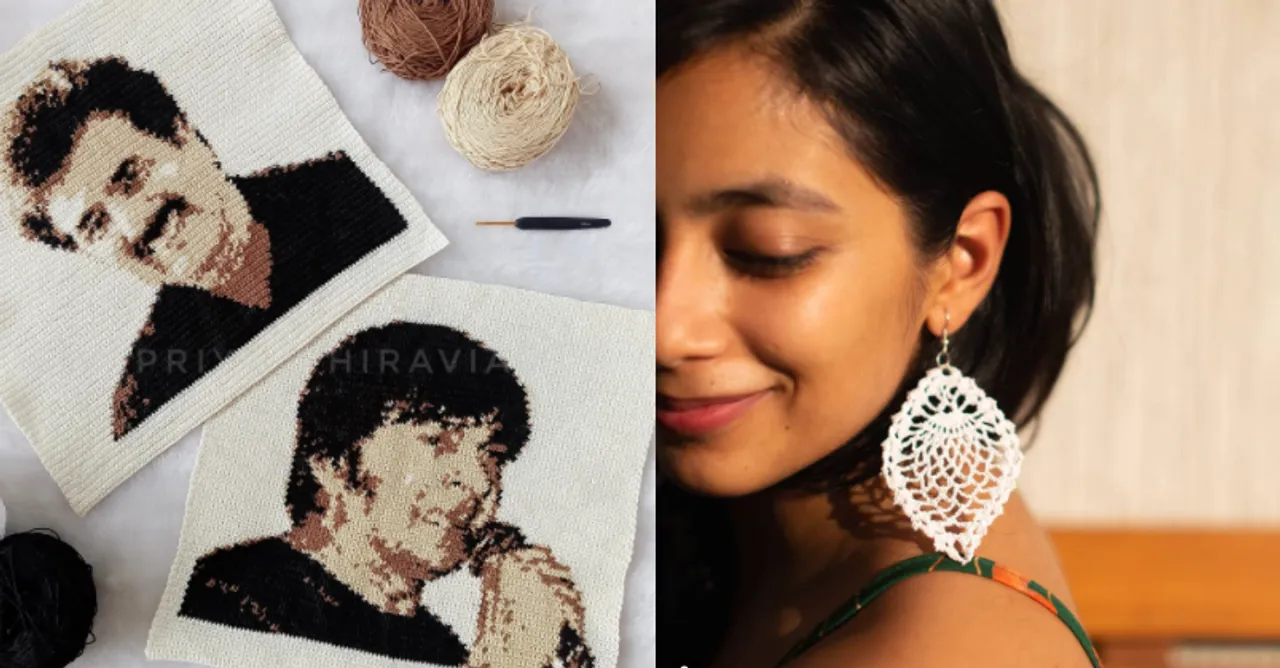 You must check these Indian Instagram accounts selling amazing crochet products online, because we're sure you will love them too.
They can make anything from just a hook and a yarn, and that's their superpower. These Instagram pages are selling crochet products online that are different, pretty, cute, and just what you need if you are looking for something colourful and comfy.
1. Yarn-o-ver
Crocheting with the highest quality yarn, Yarn-o-ver from Tirur offers some really cute baby outfits and accessories in bright colours and beautiful patterns. From rompers to shoes, to toys and more, there's a lot from which you can pick. They also make accessories, slippers, and bags. Do check them out if you love yarn!!
2. Shruthi Sripathi
Shruthi is a miniature crochet artist from Bangalore and her work is remarkable. Her miniature flowers are definitely worth checking out and we just love how cute her feed looks. Check her page if you are looking for miniature decor, details, and some unique gifting options.
3. Hope in Crochet
Hope in Crochet from Ahmedabad takes its inspiration from slow fashion and offers handmade crochet bags, tops, caps, and masks. Her work is neat and we love the subtle use of colours she adds. We personally adore her Avarosa Crochet Cardigan and we'll suggest you check it once.
4. Crochet girl
This small business is run by a self-taught crocheter from Bangalore and offers crop tops, home decor accessories, bags, and even hair accessories. You can shop for an entire look from Crochet Girl and trust us you won't regret it. So, hurry up and shop, shop, and shop!
5. Arwa Knots
Arwa Knots is one of our favourites. Her colourful feed featuring dolls, bunting, floral embroidery, baby rattles, and other custom pieces is bliss to scroll through. If you are looking for cute stuff, do check her work out because she is really good at her job.
6. Noorie Crafts
Crochet bookmarks, earrings, coasters, scrunchies, gratitude envelopes, bandanas, collars, and a lot more you'll find on Noorie's Instagram feed. Her work is gorgeous, and she is definitely a pro at it. Check out this Pune-based business to see what we are talking about.
7. Knot in Love
We are all in love with the cute crochet kidswear collection that Knot In Love offers. Here, you will find birthday Tutus, newborn dresses, and other custom kidswear. If you are buying something for the munchkin you know, we'll suggest you see their work at least once.
8. The Crochet House
Another good option for buying crochet products online, The Crochet House from Mumbai is all about customized and sustainable crochet tops, car charms, mirror mandalas, hairbands, fit dresses, wall hangings, and much more. Go on a crochet hunt and shop from them online.
9. Yarnesthete
Just like other pages, Yarnesthete from Kanyakumari also offers home decor items like dream catchers, wall hangings, table cloths, pillowcases, bags, and more. But what caught our attention was their amazing crochet portraits. They are definitely taking crocheting to another level with these picture-perfect portraits. So, do check them if you are looking for something unique to gifting options.
For more such stories follow Local Samosa on  Facebook,  Instagram,  Twitter, and Telegram.