There is something special about the pre-wedding photoshoot, and if you are planning to get one, then you should head to these breathtaking pre-wedding photoshoot locations in Lucknow, and make your album a memorable one!
Together is a gorgeous place to be, but you know what's gorgeous too? These pre-wedding photoshoot locations in Lucknow are beautiful, and trust us, you two are going to look amazing at these places. With a perfect backdrop and fantastic ambience, these locations will make everything look perfect!
1. Ambedkar Park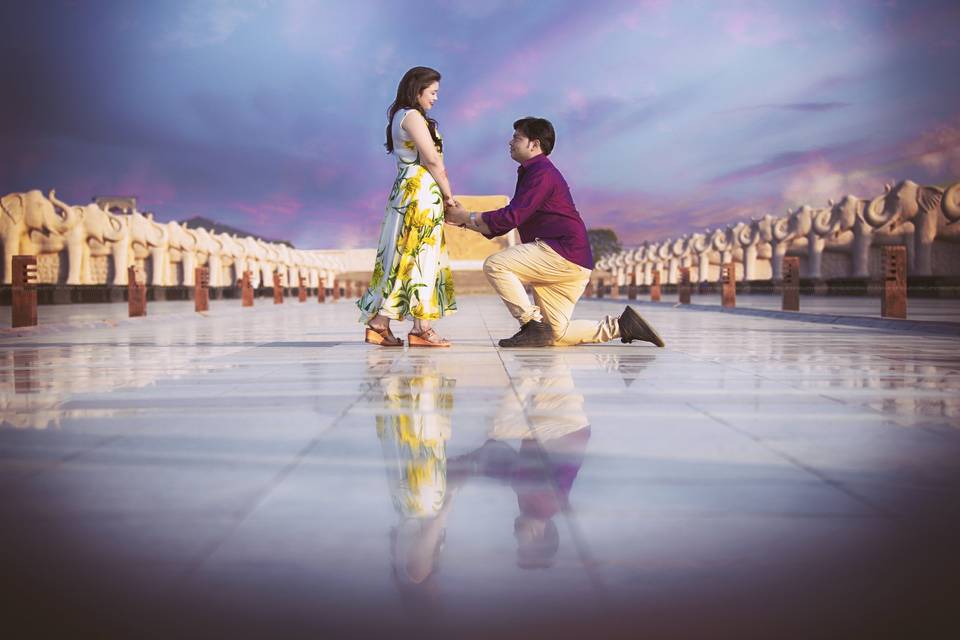 The Ambedkar Memorial Park was constructed to appreciate those who dedicated their lives to equality and human justice. With a feel-good vibe, this place is filled with greenery. The marble floor reflects the shadow most beautifully, and tall elephant statues can do wonders for your photos. The park looks stunning at night, as it is lit with beautiful lights.

Where: Gomti Nagar
2. Rumi Darwaza
The Awadhi architecture of Rumi Darwaza is mind-boggling. This 60 ft. tall doorway looks royal and can be an eye-pleasing backdrop for a pre-wedding photoshoot. It is designed with intricate carvings and would look fabulous as the setting.

Where: Macchi Bhavan
3. Gomti Riverfront 
Bless your photoshoot with the calmness and tranquility of the Gomti river. It looks breathtaking during the sunset. The orange rays of the sun will make your photos stunning. After sunset, the lights are turned on, and the music in the background adds more beauty to the atmosphere. Sit and relax with your beloved, because the pictures are going to be amazing.

Where: Marine Drine
4. Bara Imambara
Also known as the Asfi mosque, bada Imambara is another impressive choice for your pre-wedding photoshoot. If you have decided to go ahead with the Rumi Darwaza, plan for some clicks in Bada Imambaraa too, as the doorway leads to it. Built with rice husk, bada imambara has an old-school charm to it. It even has a maze, which too can work as a fabulous backdrop, and a fun activity post your pre-wedding photoshoot!

Where: Macchi Bhawan
5. Sikandar Bagh
Spread over 4.5 acres, Sikandar Bagh is nothing but gorgeous. It is a huge villa that has a beautiful garden and a wall surrounding it. The stunning arches, pediments, chattris, pillars, and pagodas will look fantastic as the backdrop!

Where: Civil lines
6. Kudiya Ghat
Make your pre-wedding photoshoot memorable and gaze into the scenic beauty of the city at Kudiya Ghat. Enjoy a boat ride, and get some fabulous shots. Don't forget to dance and pose, and the beautiful dome in the backdrop will do the rest of the magic. During the evening, this place turns into something purely magical, and it is a must-visit place in Lucknow

Where: Husainabad
7. Dilkusha Garden
One of the most beautiful historical places in Lucknow, Dilkusha Garden is all about lush green trees, and the iconic dilkusha kothi. This place will give a rustic feel to your photoshoot and is perfect for those who love empty lawns and old structures!

Where: Cantonment
8. The Residency
This group of vintage buildings used to be the residence of the British Resident General. It has a banquet hall with tall arches, high ceilings, and large hallways. A beautiful fountain awaits you at the entrance and is nothing but pretty. This place is perfect for your pre-wedding shoot and a must-visit in Lucknow!

Where: Qaisar bagh
9. Lohia Park
Lohia park is all about old-school romance and charm. This beautiful garden has well-maintained trees and sparkling fountains. It will satiate your eyes with all the greenery and the fresh air. Feel free to wear something super bright and dance with your beloved and be ready to strike a good pose!

Where: Gomti nagar
10. Janeshwar Mishra Park
Add a bit of quirk and fun to your pre-wedding photoshoot at Mishra park. It is a visual and a cycling delight for people, with many other fun activities. It is home to many migratory birds and a lot of greenery. Spread over 376 acres of land, Mishra Park is a perfect place with beautiful natural backdrops and fantastic views.

Where: Gomti Nagar
11. Satkhanda
Built in 1800, Satkhanda is a four-storey building. It was meant to be a watchtower, but it could not get constructed. Inspired by the Tower of Pisa, Satkhanda is another place where you can get your pre-wedding photoshoot done. It is a hidden gem in Lucknow and is beautifully lit after sunset. If you want to give a dreamy feel to your photo shoot, then Satkhanda is definitely a spot you should head to.

Where: Husainabad

So, what's the delay for? Head to one of these pre-wedding photoshoot locations in and around Lucknow, and make it memorable!
For more such stories follow Local Samosa on Facebook, Instagram, Twitter, and Telegram.
Comments
comments