Let's sort the wedding season by finding out the best wedding venues in Ahmedabad that are majestic, scenic, and hospitable enough to make your occasion a grand one.
It's the dream of many bride, groom, and even their families to have a perfect wedding destination, and we're pretty sure you and your to-be partner want to etch this memory forever. Finding a good venue to host the wedding is quite a tough job but we have hand-picked some of the best wedding venues in Ahmedabad. So, if you are planning to tie knots in Manchester city of India, then check this list.
1. Sabarmati Riverfront Event Centre
Planning your wedding vows alongside a river? Now that's what a dream wedding looks like. Sabarmati Riverfront Event Centre provides a venue for various events, and wedding is one of them. With the river aside and a splendid view, you can book the venue at the rate of Rs. 49,000 (as mentioned on their site). There is a separate charge of Rs. 18,400 for the stage. Outside catering is allowed at this venue but the booking has to be done 6 months prior through their official website.
Location: Sabarmati Riverfront Walkway W, Narayan Nagar Society, Kocharab, Paldi, Ahmedabad, Gujarat.
2. Renaissance
It is an excellent location for weddings as it is situated near the airport. Renaissance is your one-stop go for weddings of different capacities. This location has majestic vibes and a spacious area. They provide amenities like a Bridal dressing room, valet parking area, and in-house catering. If you plan to host your wedding in an open space, the lawn is perfect for accommodating 800-1000 guests. If you are planning to go for a banquet hall, it holds a capacity of 100-400 guests at a time. Their in-house catering has both the options of veg starting around Rs. 1200 per plate and non-veg starting around Rs. 1500 per plate.
Location: Behind Ganesh Meridian Complex Sola Road, Sarkhej – Gandhinagar Highway, Ahmedabad, Gujarat
3. 100 Acres Club
If you are planning to tie the knot with lovely scenery around, 100 acres club is one of the best places. Your guests will find it very comforting with the hospitality this venue provides. Other services like the pre-wedding shoot, wedding planners, and theme decor are also available. Depending upon your guest list and function, you can choose between outdoor lawn 1 with a capacity of 200-400 people, outdoor lawn 2 with a capacity of 800-1000 people, and outdoor lawn 3 with 300-400 people. 100 acres club offers you vegetarian cuisine starting from Rs. 600 per plate.
Location: Vinchhiya, Sanand – Nalsarovar Rd, Ahmedabad, Gujarat.
4. Hyatt Regency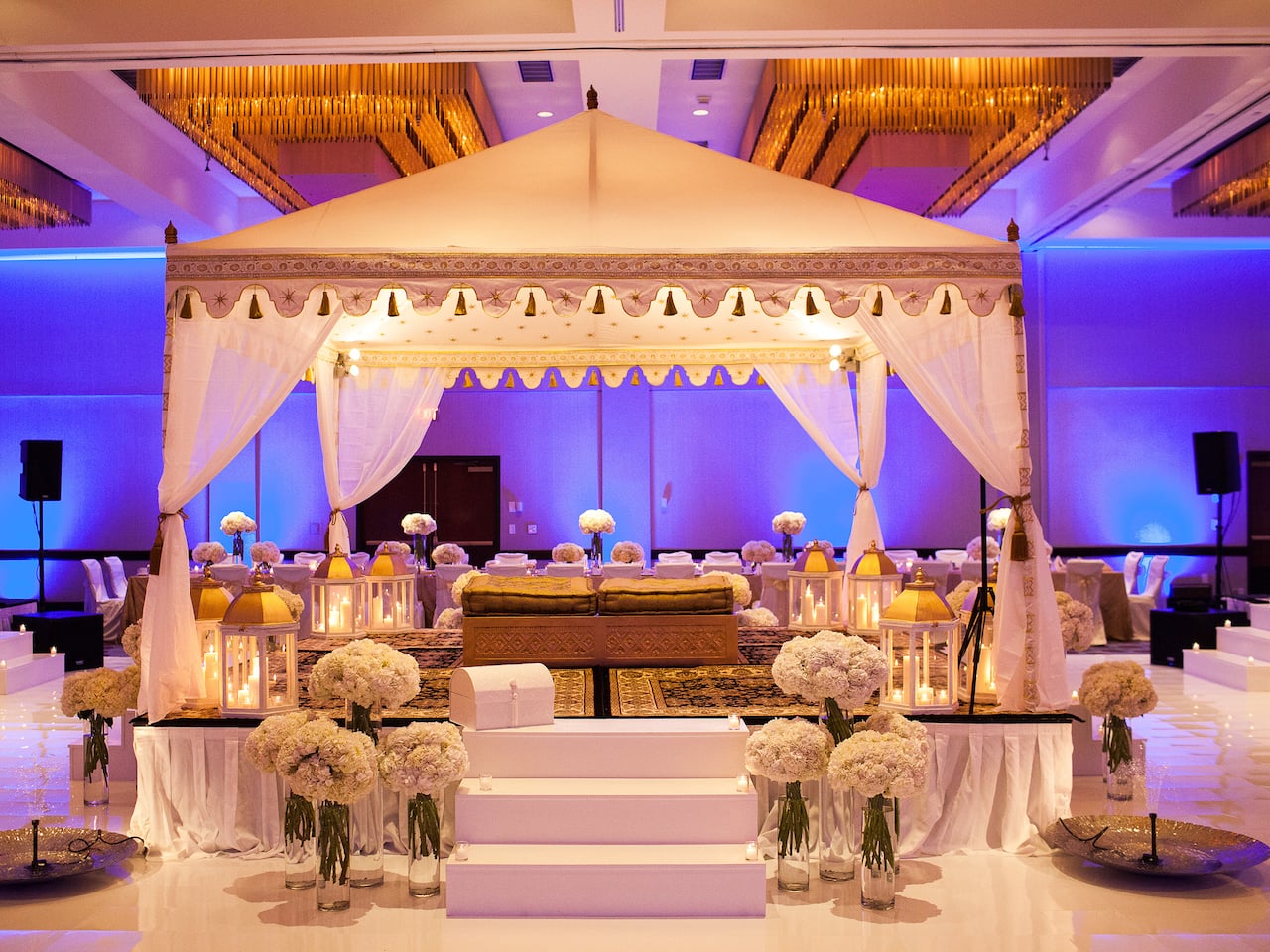 Who doesn't like to have a wedding venue facing the Sabarmati River? Hyatt Regency is another well-known name when it comes to hosting your marriage ceremony with a perfect view out of your room. The poolside venue (accommodating 200 guests) is also preferred by many customers. The outdoor lawn, green lush (accommodating 400 guests), and ballrooms (accommodating 500 guests) are also options for you to choose from. This is a place for both vegetarians and non-vegetarians, serving delicious cuisine ranging from Rs. 2000-2300 per plate
Location: 17/A, Ashram Rd, Usmanpura, Ahmedabad, Gujarat.
5. The Grand Bhagwati
Adding another venue to make your wedding a memorable day. This hotel lets you customize your wedding theme from Indian to Contemporary. There are various halls like The grand ballroom accommodating 1500 people, the ambience banquet accommodating 600 people, and the melodies room accommodating 400 people. They provide Indian as well as gourmet catering for dishes around the world. The price per plate for the vegetarian menu is around Rs.1100, and it varies according to the choice of food items.
Location: NH 8C, Sarkhej – Gandhinagar Hwy, opp. Gurudwara, Bodakdev, Ahmedabad, Gujarat
6. Wyndham Ahmedabad Shela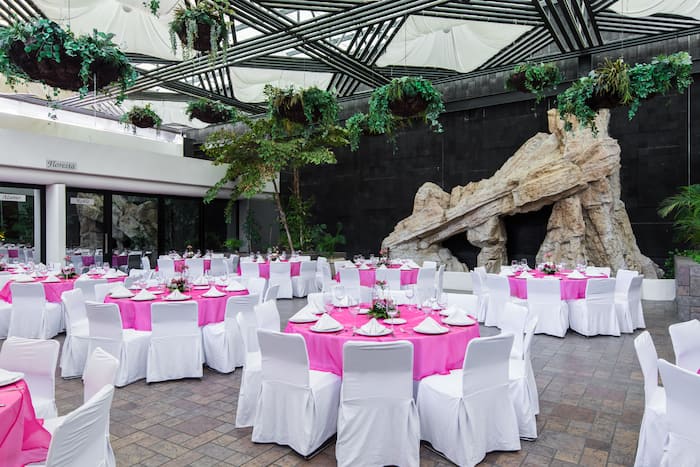 Wyndham Ahmedabad Shela is one of a kind wedding destination that offers 34 event venues. The staff will look up to every detail that will make your experience an unforgettable one. Majorly all the venues can accommodate up to 300 people. There are a total of 160 guest rooms with amenities like event planning services, a parking lot, an airport shuttle, a spa, a salon, and many more.
Location: Club O7 Rd, off Sardar Patel Ring Road, Shela, Ahmedabad Gujarat
7. Samarpan Baug Party Plot
Samarpan Baug Part7 Plot is located in the Satellite area of the city. This venue is a great option for hosting weddings with a large number of guests. It's an open lawn where the in-house decorators can customize the decorations according to your requirement. The location has the capacity to accommodate 800-1200 guests and is easy to access via various transport facilities. The price of the menu differs according to your choice of dishes.
Location: Satellite Rd, near Hotel Marriot Cross, Satellite, Ahmedabad, Gujarat.
Do let us know in the comments if you know of any other venues in the city!
For more such stories, follow Local Samosa on Facebook, Instagram, Twitter, and Telegram.
Comments
comments