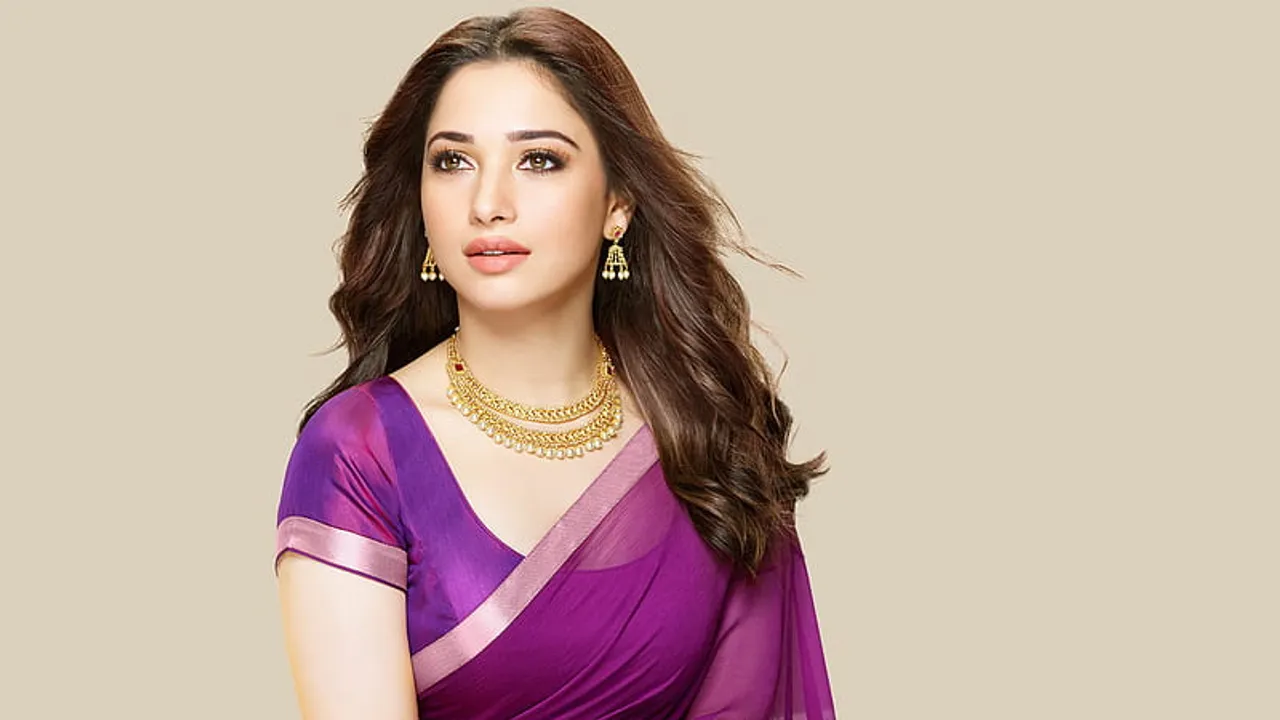 We love Tamannaah Bhatia and cannot help but adore her fashion sense and so we made this list of Indian jewelry brands worn by her.
Tamannaah Bhatia is always known to impress her fans with her charm. She speaks fluent fashion with elegance and styles every outfit in a beautiful manner. The accessories she wears also add more grace to the looks and so, here are some Indian jewelry brands that she has worn.
Shri Paramani Jewels
Shri Paramani Jewels have a legacy of over 200 years in the jewelry business. This brand is known for its workmanship and quality in heritage jadau and polki pieces. It has styled celebrities like Sridevi, Kareena Kapoor Khan, Vidya Balan, Deepika Padukone, and many others. Here is a look at Tamannaah Bhatia in Shri Paramani Jewels which looks pretty good.
Anatina
Tamanna slays in this black outfit with flower-shaped earrings from Aanatina. If you love minimal accessories to style your outfits then Anatina is the brand to go. Pure and raw design is what this brand stands for and offers some amazing sets of accessories.
Anmol Jewelers
These long earrings and cute rings look great on Tamannaah, don't they? They are from Anmol Jewelers. They curate some simple and elegant jewelry. So, if you are up for a simple look for your next outfit you know the name.
Minerali Stone
Tamannaah looks extraordinary in those statement earrings with the aqua dress. Minerali Stores offers such eclectic designs and tints to style your outfit. Whether you like a modern design or some traditional jewelry, Minerali has got it all.
Vandals Jewels
The diamond earrings on a satin blazer complement each other so well. If this piece of jewelry has caught your attention then you must check out Vandals Jewels. They manufacture jewelry with lab-grown diamonds that come with very unique designs.
Anayah Jewels
The Dresden Green diamond earrings look so good on the saree and we're falling for it. if you want to buy these kinds of earrings or any piece of jewelry then Anayah Jewels is the place to be. Anayah is an amalgamation of handcrafted contemporary jewelry that uses various techniques to bring a perfect piece of jewelry to you.
Joolry
This round-shaped earring gives a party vibe and Tamannah is a show stopper. If you want to try this look, you should check out JOOLRY by Karishma Mehra. It is a brand that has even been worn by Ambanis and has a wide range of curated accessories to give you a vibrant look.
Radhika Agrawal Studio
Tamannaah literally took us in awe with this it and the gorgeous statement bracelet by Radhika Agrawal Studio is adding to the entire look. This brand provides meticulous jewellery with different shaped designs and we love their collection.
9. Studio Metallurgy
That shimmery gold necklace just looks awesome around Tamannaah's neck and is sure to catch attention with its elegant look. Inspired by nature and specially handcrafted by craftsmen, Studio Metallurgy is a brand that resonates with contemporary jewelry and is something you should definitely check out.
Mozaati
Saree and silvery accessories can never go wrong. Here's miss queen with her styling statement in Mozaati jewelry with an eye-appealing bracelet and cute little earrings. Mozaati offers quality accessories for every occasion at affordable pricing.
Happy Birthday, Tamannaah!
For more such stories follow Local Samosa on Facebook,  Instagram,  Twitter, and Telegram.