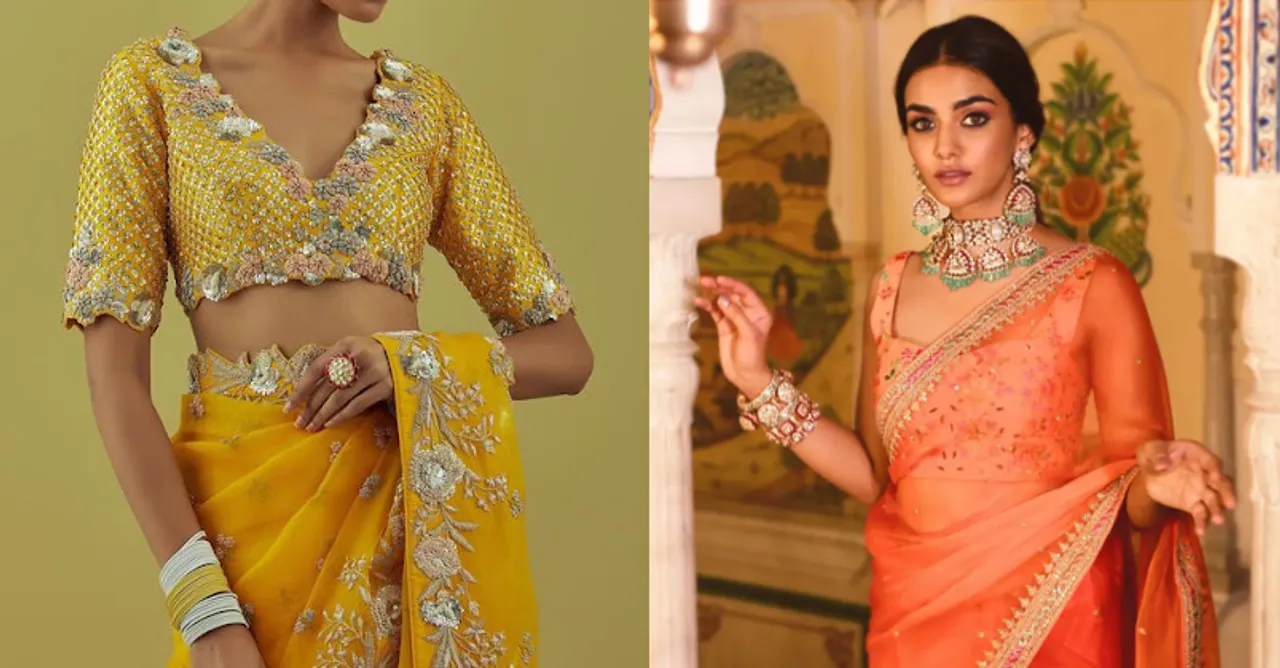 In this wedding season, we suggest you buy bridal sarees in Jaipur from these places for your wedding, which are a perfect amalgamation of traditions and modernity!
If you are also one of those who would choose sarees over lehengas and planning to go for a bridal saree for your wedding, this is important for you because we are talking about some of the best and most popular places for bridal sarees in Jaipur. So, have a look and buy the best for your D-day!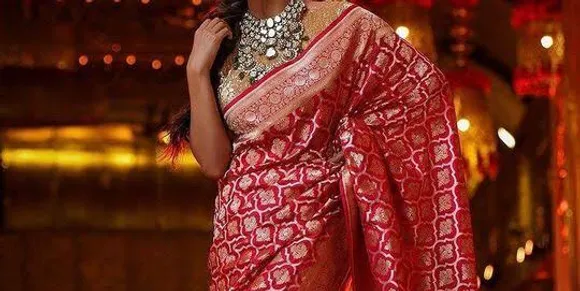 1. Monisha Thahryamal
Trust this fashion designer and her studio when it comes to beautiful and colourful wedding sarees! Their designs are well suited for contemporary trends and times! However, you can also find some beautiful traditional prints and designs that make the bridal sarees - a must-have!
Contact: 9983808666
Where: C-38 pancholi vihar, New Sanganer Rd
2. Ratni by Payal Bubana
Many of us love bandhani and other cultural prints during weddings. And if you are one of those, check out the collection of Ratni by Payal Bubana, and you will love to have one for yourself. Their experiments with colours will woo you surely!
Contact: 9166627177
Where: 1, 570, Sector 1 Rd, Sector 2, Sector-1, Vidyadhar Nagar, Jaipur
3. Pallavi Jaipur
If you are from Jaipur, there are good chances that you would have heard about Pallavi Jaipur, whose clothes and bridal sarees are also popular among Hindi Film stars! Their sarees are one of a kind and offer an exquisite outlook if you wear them! So, don't miss a chance to get one for yourself!
Contact: 7568792421
Where: 17-K-4, Sahakar Marg, Lalkothi
4. Pratap Sons
Pratap Sons is yet another popular name in Jaipur for wedding and bridal wear dresses and sarees. They are synonymous with "gorgeous Indian ethnic wear, traditional yet contemporary", as they say, and you will agree with it too after looking at their collections!
Contact: 7728922221
Where: SB 39, Rambagh Circle, Tonk Road
5. Zari Jaipur
With amazing bridal clothes like lehengas, Kurtis, suits, and sarees, Zari Jaipur is a well-renowned name among people. Their sarees are well crafted and designed to suit wedding rituals and traditions with amazing traditional designs! Have a look at their sarees, and we are sure you will love them!
Where: Multiple stores
6. Ranas
From a wide collection of Bandhej sarees, Ranas will impress you with its designer and colourful bridal sarees. However, you can also find the best of other designs, embroidery, and work at this place that is preferred for weddings!
Where: Ganpati Plaza, 1, MI Rd, Jaipur
7. Swati Ubroi
Swati Ubroi takes care of modern-day brides and their preferences. Their designs and colours well advocate this fact as they align with the trends. So, check out their collection and get ready to be impressed by it!
Contact: 9929112400
Where: C 25, Bhagwan Das Rd, Panch Batti, C Scheme, Ashok Nagar
8. Vasansi
"Handcrafted goodness," as they call themselves, and we agree with them too! Their sarees are one of a kind and appeal to traditional as well as contemporary preferences! While they love to experiment with the designs, their sarees also speak volumes of Indian culture!
Contact: 01416631200
Where: D-69A, Jawahar Lal Nehru Marg, near Teen Murti Circle, Near Trimurti Circle, Rambagh
9. Nidhi Tholia
If you want to opt for something elegant for your bridal wear, go get Nidhi Tholia's sarees that will display the same. Their designs are attractive and you will love them just by glancing at them! Check them out!
Contact: 9289722619
Where: J-50/A, Sarojini Marg, Opposite Beauty Creation Parlor, Panch Batti, C Scheme, Ashok Nagar
For more such stories, follow Local Samosa on  Facebook,  Instagram,  Twitter, and Telegram.