Treat yourselves to a luxurious staycation, replete with entertainment, authentic delicacies, music, & reverence, and dig in the epic Durga Puja Mahabhoj in Kolkata at JW Marriott.
Kolkata truly comes alive during Durga Puja, the colossal pandals, the sound of Dhaaker Taal and the fragrance of Kaash Phool, the stupendous spread of delectable food, and in particular, the irrepressible soul of the Calcuttans.  With the grand celebration of Durga Puja around the corner, JW Marriott Kolkata is all set to unveil the 'Durga Puja Mahabhoj' from 2nd October to 4th October 2022. The hotel has programmed a series of cultural events, premium staycation and a range of festive indulgences to add to the Puja fervour.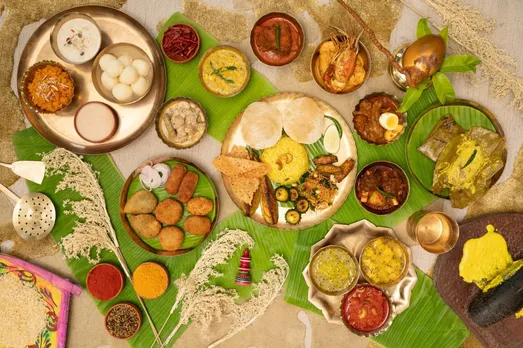 The Durga Puja Mahabhoj will be at the Grand Ballroom on Saptami, Ashtami & Navami (2nd to 4th October 2022) to pay tribute to the authentic and intrinsic flavours of Bengal. The menu celebrates a unique amalgamation of local ingredients along with the ambrosial Bengali favourites to tantalize the taste buds of the guests. Patrons can relish the quintessential festive delicacies like, 'Gondhoraj Fish Tikka', 'Echorer Dalna', 'Aam Kasundi Paneer', 'Pulao', 'Posto Murgi', 'Mutton Roganjosh', 'Dhokar Dalna', amongst others. The Puja Mahabhoj will be coupled with a host of captivating soirees like Baul Sangeet, Abriti, Dhaaki, Dhunuchi, and Puja Parikrama for a holistic experience.
The mindfully crafted menu of JW Kitchen will include a spectacular sojourn of cuisines, right from Indian, and Continental to Asian for food aficionados.  Patrons can delve into an indulgent gastronomic affair with an extensive spread of vegetarian and non-vegetarian dishes, like,' Stir Fry Asian Greens', 'Murgh Tariwala', 'Chingri Maachher Malai Curry', 'Sorshe Maachh', 'Kolkata Chicken Biryani' and 'Ghee Bhaat'. These mouth-watering comestibles will be available from Sashti to Dashami (1st October-5thOctober, 2022).To round up that perfect Durga Puja Mahabhoj, guests can choose from a wide selection of traditional Bengali desserts like 'Rosh Mallai', 'Sandesh', 'Roshogulla', 'Mishti Doi'
The signature Pan-Asian restaurant, Vintage Asia will also be offering a Puja special A la carte menu from Sashti to Dashami (1st October to 5th October 2022), to mark the cheerful spirit of Sharodiya.
Amplifying the essence of the 'sharodiya Utsav, the property will also extend a felicitous offering, wherein a bevy of individuals can also secure private and segregated venues to experience an exclusively designed Durga Puja feast with their loved ones.
Additionally, patrons can avail a 'Luxurious staycation', encompassing 'Buffet Breakfast at JW Kitchen', 'Durga Puja Mahabhoj at Grand Ballroom', and many more. The guests can schedule to book their stay in between 29th September - 4th October as well as spa services, for a thorough restoration of body, mind, and spirit prior to Puja.
So, this Durga Puja, immerse yourself in the food parade and cultural extravaganza at the city's favourite property—JW Marriott Kolkata—the exemplary avenue for all your "Adda," and "Utshob.".
When: 29th September - 4th October 
Where: 4A, J.B.S Haldane Avenue, Kolkata – 700 105.
Reservations: +91 33 6633 0000
For more such stories follow Local Samosa on Facebook,  Instagram,  Twitter, and Telegram.