The city has an extra sweet connection with mithais and seperating them is something next to impossible. So, if you are here and planning to try sweets duirng festivals, then head to these sweet shops in Kolkata to make your day meetha!
Kolkata is one of those cities where you will find sweet shops in almost every nook and corner. It wouldn't be wrong to say that Kolkata Bashis love mithais a little more than everyone else and that is why all these sweet shops offer the best of the mithais always. Yet, there are some shops that have been serving their delicious legacies, unlike others. Here is the list of sweet shops in Kolkata that you just can't miss.
1. Adi Haridas Modak Bhandar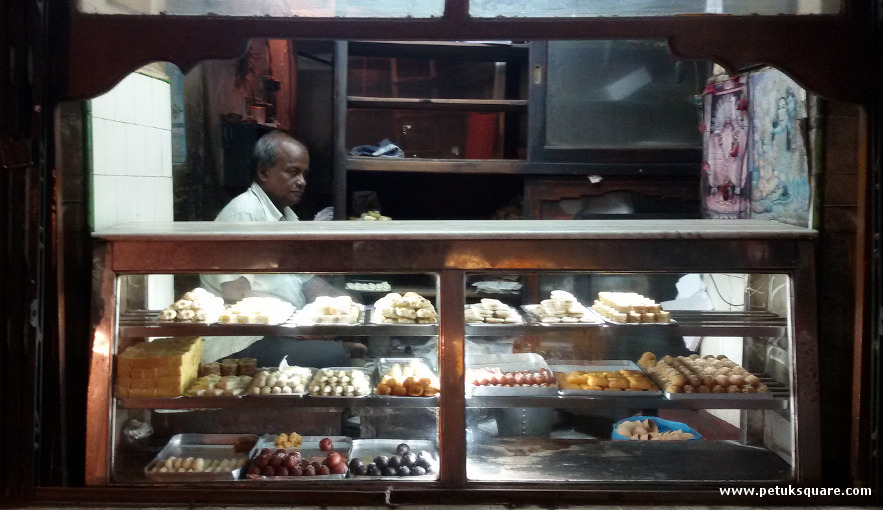 This sweet shop is over 250 years old and is a must-visit for the variety of sweets it sells. Some of the must-try here would be Kalakand, Jibe Gaja, Chhanar Jilipi, and Kalojam. It is now being run by the sixth generation of the Modak family and also offers a typical Bengali breakfast along with one of the best kachoris in the city.
Where: Shyambazar More, Acharya Prafulla Chandra Rd, Fariapukur, Kolkata.
2. Mithai
If you are in Kolkata and haven't tried the Mishti Doi, what are you even doing? Head to Mithai which is best-known for its delicious white Mishti Doi. The aroma of saffron in their sweets adds up to the taste and makes them even more delicious. Other than the regular Mishti Doi, do try their Mango Sandesh, Choco Modak, Kanchagolla, and Malai Gur Chamcham too.

Where: 48B Syed Amir Ali Avenue.
3. Nobin Chandra Das & Sons
This sweet shop was started in 1886 by Nobin Chandra Das, who is known as the founder of Bengali rosogolla. This iconic sweet shop makes authentic Kolkata rasgullas, Kheer Kadam, Talsansh, Jolbhora Sandesh, Kalakand, Rasmalai, and many other traditional sweets. Their kachoris served with cholar dal is also worth trying. Visit this shop if you love sweets and kachoris.
Where: Jatindra Mohan Ave, Sovabazar, Shobhabazar, Kolkata.
4. Banchharam Sweets
Founded in 1976, this shop offers over 130 varieties of sweets and has 18 outlets. The sweets here are made with pure ghee and will surely give you a sugar rush! Other than offering the traditional sweets, you will also find some epic fusion sweets like Mango and strawberry-flavored doi, Gondhoraj Sandesh, Anjeer Barfi, Baked Rosogolla, Soan Cake, and Mihidana Tart!
Where: 22B Rabindra Sarani
5. Balaram Mullick & Radharaman Mullick Sweets
This is one of the oldest sweet shops in Kolkata that dates back to 1885. Eminent academician Ashutosh Mukherjee was a huge admirer of its"Guli Sandesh", and the shop dedicates its popularity to him. Though there are many outlets of this brand in the city, the one in Bhowanipore still tops the list. If you are here, do try their Kalojam, Pantua, Langcha, Magic Laddu, Jalbhara, Mousumi Sandesh, Baked Doi, and Baked Rasgulla.
Where: 2, Paddapukur Rd, Jadubabur Bazar, Bhowanipore, Kolkata.
6. Makhan lal Das & Sons
Makhan Lal is known for its huge variety of Sandesh! You have to give their Sor Kesar Sandesh a bite, or you will miss out on something delicious. It is made with saffron and is a big hit among people. Another must-try would be chocolate Mishti and butterscotch-er jol bhora.
Where: 313, Rabindra Sarani, Kolkata.
7. Ganguram
This sweet shop is famous for its delicious Indrani and Mishti Doi. With 27 outlets and over 200 types of sweets, Ganguram also delivers all across the country and is a place we would really like you to visit. Try their chhena, fried delicacies, Kaju Barfi, Rasmalai, Rose Sandesh, Sankh Sandesh, Talshansh, and the exclusive item, Kolaveri Di Sandesh will leave you delighted.

Where: 159C, Vivekananda Road, Maniktala.
8. Bhim Chandra Nag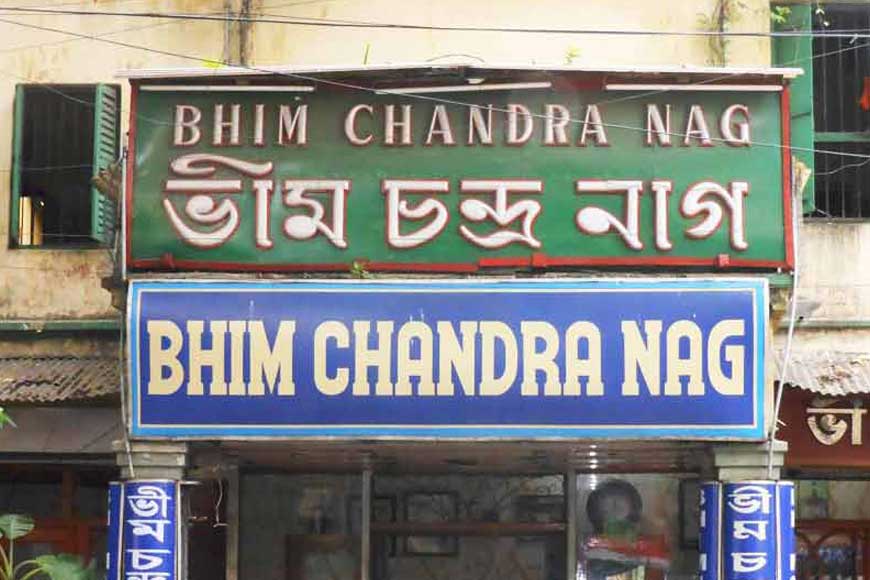 This small shop was set up by Paran Chandra Nag in 1826 who was the inventor of the city's popular sweet Ladikeni. Their sweets here are perfect for festivities or any occasion. We will suggest you try Sonpapri, Kosturi, Labanga Latika, Talsansh, Rasgulla, Sandesh variety, malai chamcham, and Mishti Doi. Also, don't forget to check the vintage wall clock which is here since the 1930s!
Where: 46, Strand Rd, Fairley Place, Barabazar Market, Kolkata.
9. Putiram
This centuries-old mishti shop dates back to 1852 and can be found near City College of Commerce. This place is popular for its Stuffed Gulab Jamuns, Rasgullas, Danadar, Kalo Jam Malpoa, and other Bengali mithais. The signature Hing Kochuri and Moong Dal Kochuri are also worth-biting. Do check this place for delicious sweets and lip-smacking snacks!
Where: Amherst St, Lalbajar, College Row, Machuabazar, Kolkata.
10. Sen Mahasay
This shop is known for making sweets in traditional ways! Some of the famous ones to try here would be Ratabi Sandesh, Dorbesh, Desh Gourab, abar khabo Sandesh, goja, khirer chop, dorbesh, and their trademark monohora Sandesh. Visit this shop if you love traditional Bengali sweets.
Where: There are four outlets across the city at Lake Market, Bhawanipur, Gariahat, and Salt Lake.
For more such stories follow Local Samosa on Facebook, Instagram, Twitter, and Telegram.
Comments
comments