Located at multiple locations across the city, including BKC and Cuffe Parade, Bayroute is your next stop for satiating Greek and also Lebanese dishes.
Finding authentic Lebanese and Greek cuisine in a city filled with multiple restaurants can be a task. But not anymore since Bayroute has come up with a new Lebanese Greek menu with refreshing drinks and an ambiance you wouldn't want to miss.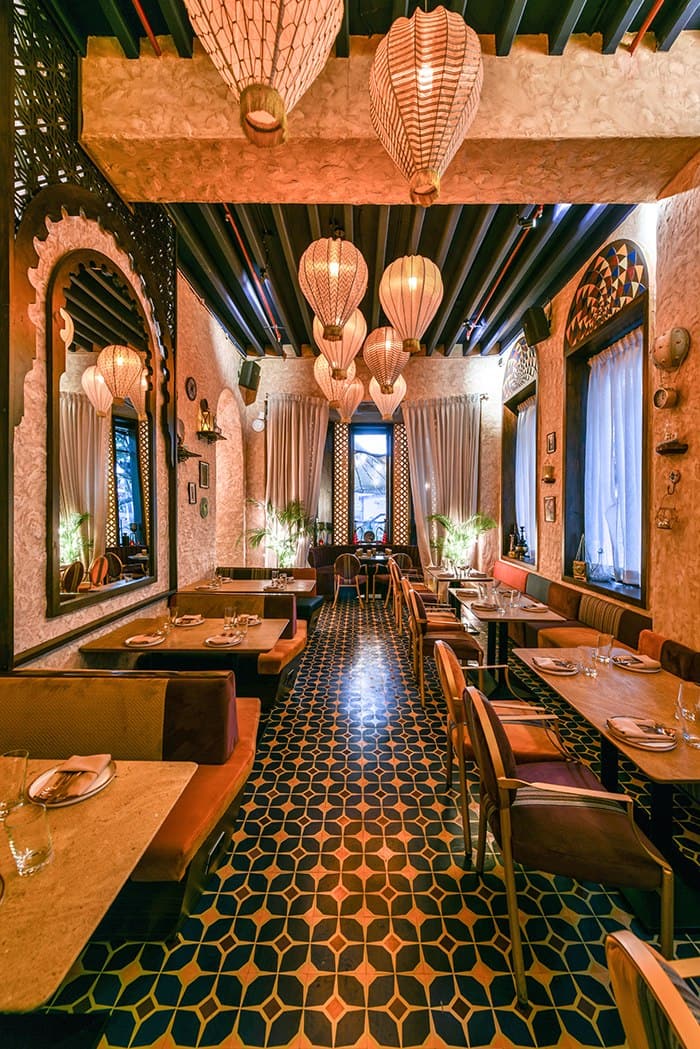 Food is, of course, among the top priority when selecting a restaurant, but the ambience is what adds to the charm. Before we go ahead and tell you about the food, it's essential to highlight the magnificent aesthetics of Bayroute as we simply loved it. The place is designed with an old-world charm, long glass panels, standout tables inspired by Morocco's quaint street-style cafes, middle-eastern interiors, and a glorious bar to top it off. A perfect place for a quiet and serene meal.
Mocktails and Cocktails that make you go "Mmmm"
The expansive menu of mocktails and cocktails at Bayroute is worth trying. Go ahead with Kopoto Juice, a filling drink that won our tastebuds. Another would be the Kooler drink, a sweet and fresh concoction of Apple Juice and Cucumber. It was a refreshing take on the classic mocktails and is worth every sip on a hot, humid day.
Go high with the Do as the Romans Do, a Roman Cider vinegar gel with grape juice, served with edible air and flower. The Gin was slightly on the bitter side and would be perfect for people who like their cocktail a little spunky and sour. On the other hand, Portokali was a white rum cocktail made with bitter-sweet greek oranges shaken and coconut syrup. The drink was good, with a slight hint of bitterness and sweetness from the oranges and the earthy tones from the Applewood.
Let's talk about "Foood!"
Greek cuisine requires excellent expertise, so it can be a hit or miss. But Bayroute slays it, especially when it comes to Hummus. Our top pick would be the saffron and pumpkin hummus which had the nutty flavour of pumpkin seeds and was caramelized on an open fire. The hint of saffron and the creamy flavour of the coconut milk made it a good side dish to enjoy.
We continued with a bowl of Beetroute Moutabel, a smoked eggplant served with greek yogurt. The roasted shreds of beetroot were pure delight. The dish was impressive and tempting to tastebud. Next up was Baked Greek Yogurt, a custard baked with a Blueberry compote on top. The texture of the Yogurt custard was very similar to curd and paneer, and the texture was smooth.
Being the only vegetarian main course option, Spanakopita was a Greek pie with creamed spinach and feta cheese stuffed in phyllo (pastry dough). The crust was great, and the filling was indeed "filling" and heavy—ideal for anyone who loves a well-baked pie with delicious stuffing. Additionally, there was Feta Saganaki, a Greek savoury dish prepared with baked feta Cheese wrapped in phyllo (pastry dough). The dish was drizzled with wildflower honey and sesame. Order this one if you like crusty pies!
Other things on the Bayroute menu!
The Bayroute menu offers impressive and tantalizing delicacies. Right from scrumptious Salata, fresh Hummus, and exotic Deli to mouth-watering mains and decadent desserts. Other dishes to try in Bayroute are Sabich, Lamb Croque, Santorina Beet Carpaccio, and 7 Layer Shawarma. The Mediterranean sandwiches have Khamir bread and are served with enticing house dips on the side. So, what are you waiting for? Head to this fantastic place next weekend.
For more such stories, follow Local Samosa on Facebook, Instagram, Twitter, and Telegram.
Comments
comments