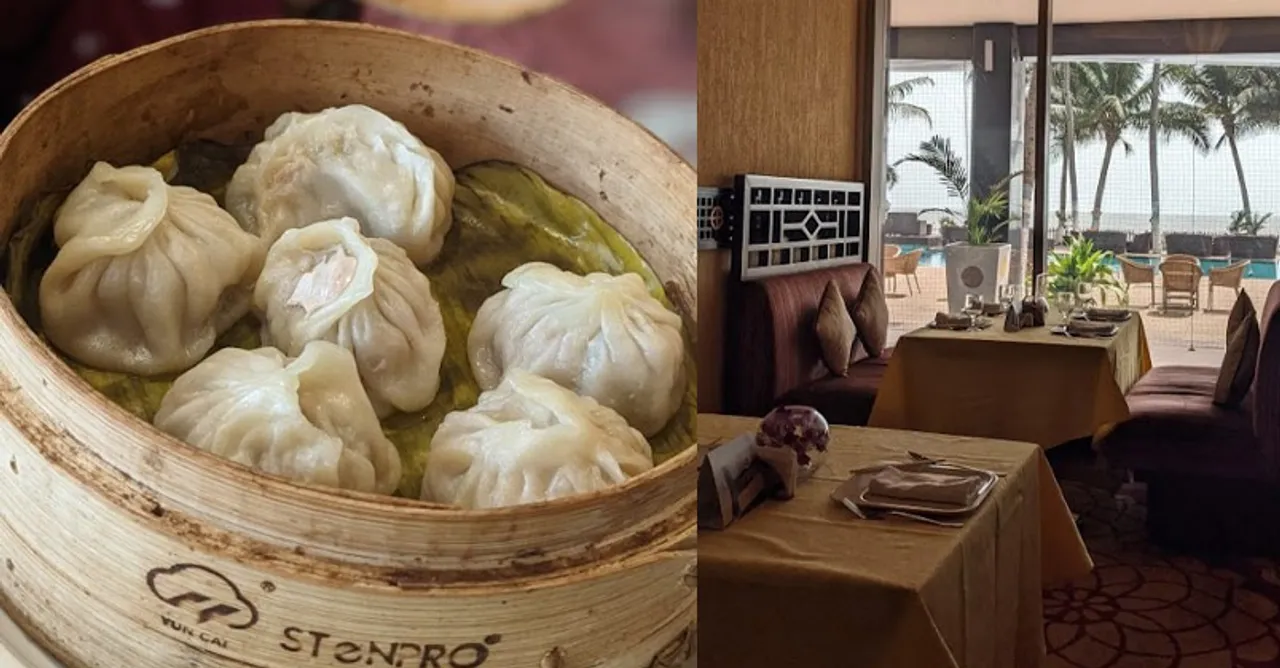 Located inside the Novotel hotel in Juhu, Sampan will satiate your hunger pangs with its amazing Chinese food, minimal ambience, and heavenly desserts!
The team of chefs at Sampan-Novotel, under the guidance of the head chef Penpa definitely knows their job. They will make sure that each bite is special and is packed with flavours. If like us, you also swear by Chinese food, and it is your comfort meal, then Sampan is going to make your belly very happy. Book a table for two or dine with your family if you like to enjoy your food with a view. We recently did a lavish lunch at this beautiful restaurant that overlooks the Juhu beach and can't wait to visit it again as it satisfied our Chinese food craving deliciously.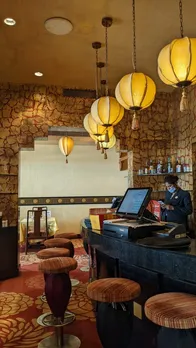 A meaty start!
We decided to keep it basic with one serving of Chicken Dumplings which was way more than just the salty filling of minced chicken. The dumpling skin was soft while the generous filling of chicken was juicy and moist. If you are a fan of subtle flavours and want to enjoy the taste of chicken, this is a must-try. The Mandarin Chicken was another starter we enjoyed. The sliced chicken tossed in mandarin sauce with bell pepper was all about a sweet, tangy flavour, while the medium heat added the needed kick of spice to our bite.
However, the highlight was the Cha Chu Prawns which simply left us speechless because it was an absolute delight! The crisp fried prawns with chilli, garlic, and spring onions were bursting with flavours, and even though we are not much into prawns we loved this dish. Definitely, something you must not miss.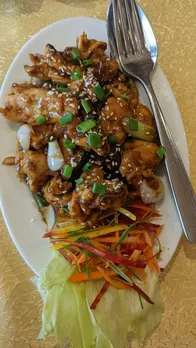 The Mains
The starters had left us wanting more and so we continued the meal with a bowl of Veg Chilli Garlic noodles, Dry Red Chilli Chicken, and Mixed veg in Blackbean sauce. The stir-fried noodles were fun to eat though the garlicky flavour was kind of missing. The red chilli chicken was tender and had a strong sweet and spicy flavour to it. A perfect noodle gravy combo! On the other hand, the mixed veg in the thick black bean sauce was perfect as a side dish, and the sharp, sweet, and pungent flavours of the sauce slowly grew on our tastebuds. By the end of our meal, we had almost finished the bowl and loved every bit of it.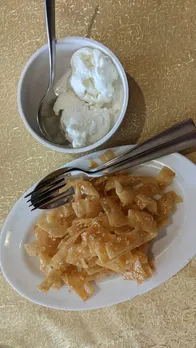 Desserts!
We warn you to not miss out on the desserts at Sampan as they are just too good. If you have a sweet tooth, The Honey Noodles would be something we will suggest. This dessert is a mountain of fried flat noodles that are tossed in honey & sesame seeds, and are served with vanilla ice cream. A crunchy and then chewy texture of the noodles mixed with the sweetness of honey will leave you high on sugar! But if you are someone who prefers less sweet, the Dates Pancakes are a must-try. The minced dates in fried wonton skin served with vanilla ice cream are pure bliss and taste heavenly when eaten warm.
Our Food Note
Though the food is great and the bar menu is good, the restaurant kind of misses out on its mocktails. So we'd be more than happy to see some new additions to it. It would also be great if the team could add more Chinese elements to their decor and ambience. But to sum up, Sampan Novotel is a must-visit for the quality of food they offer. And even though it's a little on the higher side, we would want you to check it at least once if you love Chinese!
Where: Balraj Sahani Marg, Juhu Beach, Mumbai.
When: Balraj Sahani Marg, Juhu Beach, Mumbai
Price for two: Rs.3000
For more such stories follow Local Samosa on Facebook, Instagram, Twitter, and Telegram.