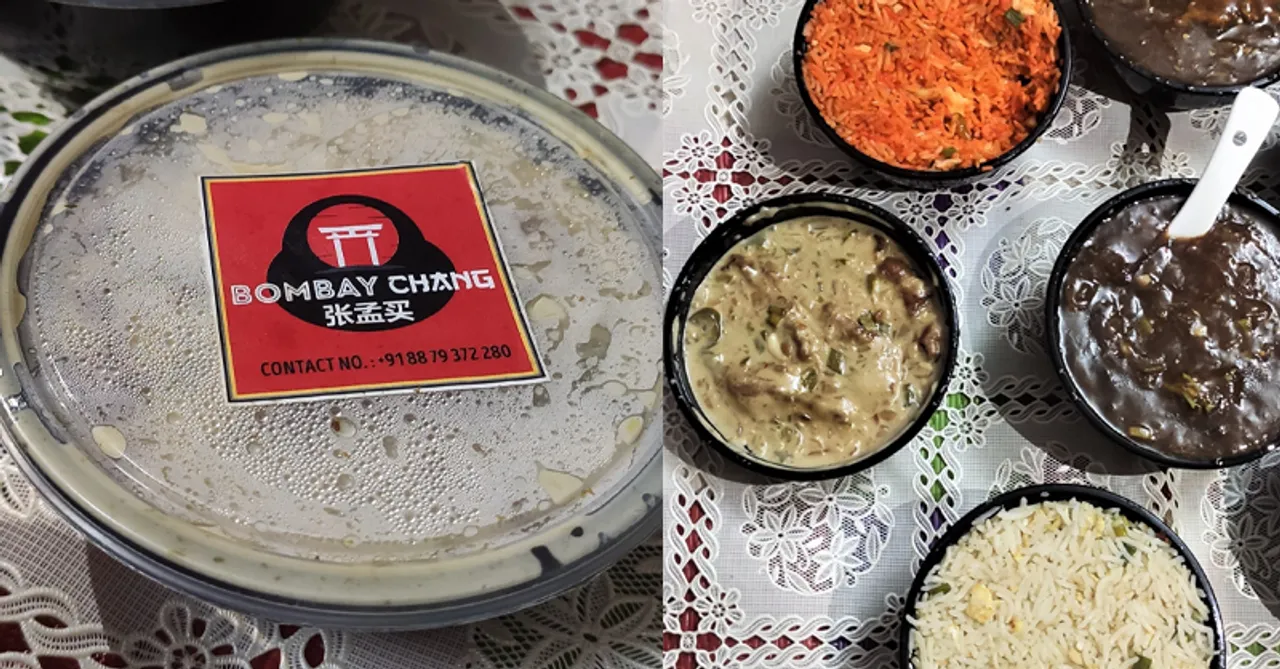 Bombay Chang is a newly opened cloud kitchen that offers lip-smacking Chinese as well as some fusion dishes all across Mumbai. If you are craving some good Chinese food, a bite of tender chicken, and a flavourful meal, then try Bombay Chang to fix your food cravings!
In the mood for a Chinese meal without leaving your place and hygiene worries?? Well, don't worry, we have a suggestion for you. Delivering soul-warming food all across Mumbai, Bombay Chang is a newly opened cloud kitchen that is here to take care of your Chinese cravings. If you love tangy, lip-smacking, and flavourful Chinese food, then here's what you can order from Bombay Chang to fix your mid-week blues.
Starters:
Though Bombay Chang has a variety of starters, and there are regular options like Chicken Crispy, Kung Pao, Teriyaki, Lollipop, and more on their menu, what became our favourite was the fusion Malai Chicken Crispy. This appetizer was something hatke and had a distinctive Chinese flavour as well as a very balanced creamy taste. The tangy flavour of the regular chicken crispy was blended very well with the creamy white sauce and we could actually identify both the flavour together. However, we would have loved it even more if it was a little crispier.
On the other hand, the bowl of Chicken Hunan Dry was as delicious as we were expecting it to be. This one was a little spicy, and the tangy flavour of the well-sauteed vegetables was going well with the bite-sized chicken. The thick Hunan sauce was loaded with vegetables like broccoli, bell pepper, baby corn, and spring onion. But, since Hunan Dry is supposed to be slathered in the sauce, and not smothered, it was a little too saucy for us. However, it was great to see veggies were crunchy until the very last bite.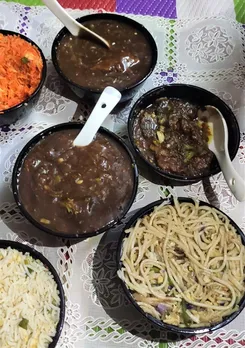 Mains!
We continued our meal and tried the Bombay Chang Special Chicken Shashlik gravy with White Fried Rice. The chicken in the shashlik gravy deserves a special shout-out as it was just perfectly tender, and having it with the gravy felt like a warm hug ( We are not exaggerating, it was actually great!). The rice had scrambled egg, spring onions, and it was a well-cooked bowl of fried rice.
The next combination on the table was Chicken Chilly with Schezwan Rice. The spicy and sour gravy did justice to its name and wasn't only offering a good amount of spice but was also flavourful and loaded with soft chicken tenders. Though the Schezwan rice was missing its signature flavour, we think the gravy was there to compensate for the same. Overall, it was a good piping hot combination that satiated our spice cravings.
We enjoyed both the gravies with a bowl of classic Hakka Noodles too. The noodles were chewy and had scrambled eggs along with a few small pieces of chicken. It was good, but we did miss the stir-fried vegetables here and wished the noodles were greased well.
Reasons to order from Bombay Chang:
1. Pocket Friendly: A full meal from Bombay Chang won't burn a hole in your pocket. The quantity is good, and half a bowl of rice/noodles with gravy is enough to satiate you.
2. Quality and taste: There are options available for people with different spice levels. While the regular and not-so-spicy dishes offer a lot of flavours and aren't bland. Bombay Chang also doesn't add soda in any of their dishes and uses Sella Basmati Rice to cook the rice dishes. The quality and quantity are good for the given price, making Bombay Chang a good option to order Chinese food if you are in Mumbai.
Contact: +918879372280 or DM them here.
Where do they deliver? All across Mumbai.
Price: Rs.400 for two.
For more such stories follow Local Samosa on Facebook, Instagram, Twitter, and Telegram.