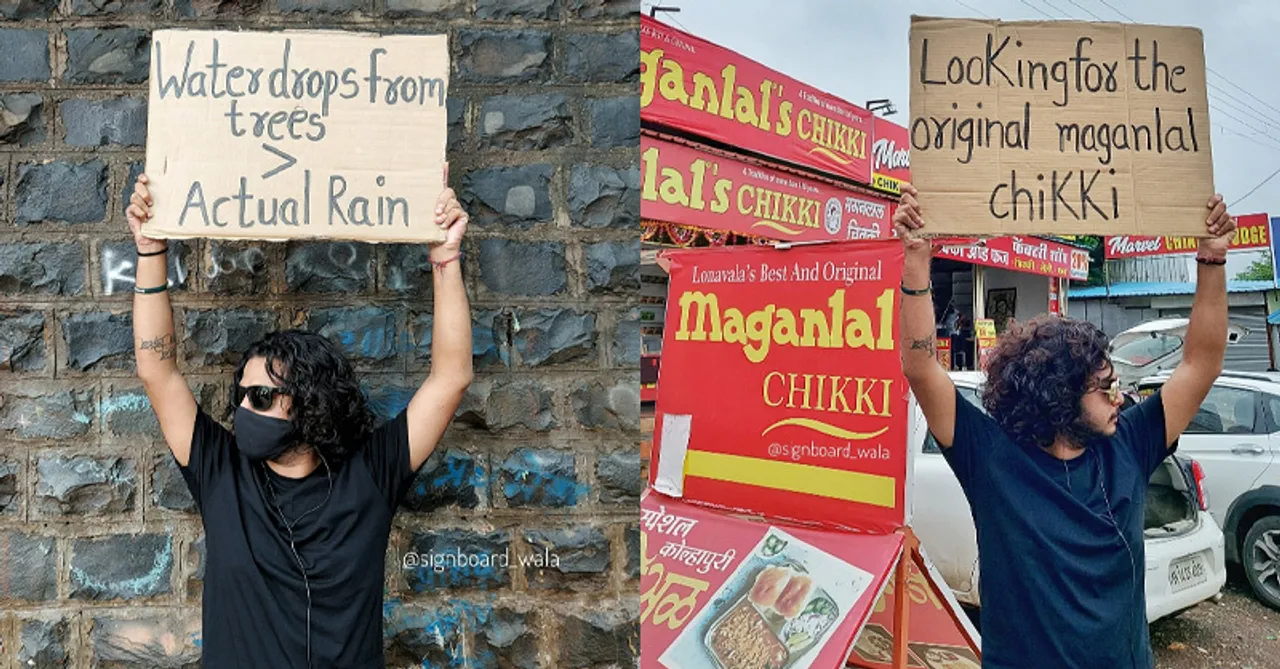 Check out the Signboard Wala that appears with witty messages written on them. Here's the story behind their quirky placards!
Nilraj Kadam, Vaidehi Salvi, and Tejas Tilak were college friends who studied, lived, and dreamed together and thus ended up working together as well. Three of them one day decided to make a page on Instagram in the name of Signboard Wala, which became popular in no time. Nilraj Kadam (One of the 3 friends) can be seen standing with a signboard that has some quirky messages written on it. His friends Vaidehi Salvi and Tejas Tilak help him with photography, ideas, and concepts, and together, this trio makes Signboard Wala, and we say how cool is that!
A team of three
All three of them were in the same college studying BMM together and got this idea one random day. "It was 'Dude with Sign,' a content creator from the United States, who inspired us to do something similar", said Vaidehi. The trio loved the concept and found it amusing how they could express their thoughts without even saying anything. "We thought why not do something similar with our own Indian tadka?" she further told us. That's how their journey began on the first of February of 2020 with a funny post about farting in public!
Observing and telling stories!
The concept is to stand with a signboard in public places, hence the name 'Signboard Wala.' 'Arey tu wo signboard wala na?', says anyone who recognizes them in public now. Their work doesn't just capture relatable and fun moments of life but also some very thought-provoking messages. "It's all about observation. We are surrounded by so many people every day and feel there's a story in everything. There are so many things happening around/to us but we rarely pay attention. We pick that and people go 'oh haa yaar ye toh hai'", she added.
The trio plans some of their content ahead of time, but they also enjoy responding swiftly to events as they occur. The majority of individuals who recognize them give them a thumbs up or a high-five. " People occasionally stop to chat as well, and the reactions are wonderful", says Nilraj.
Different locations
On their feed, you will see Nilraj standing with a placard with a quirky message written on it at different locations, including bus stops and the beaches. The team captures the content at specific spots based on the theme of the placard's content but sometimes goes with the flow and does things spontaneously. "Content that is location-specific is captured at a particular place. Otherwise, we shoot at different sites always", Nilraj further told us.
Signboard Wala is a hit on Instagram. The amusing placards have had internet users in stitches. Which signboard was your favourite?
For more such stories follow Local Samosa on Facebook, Instagram, Twitter, and Telegram.