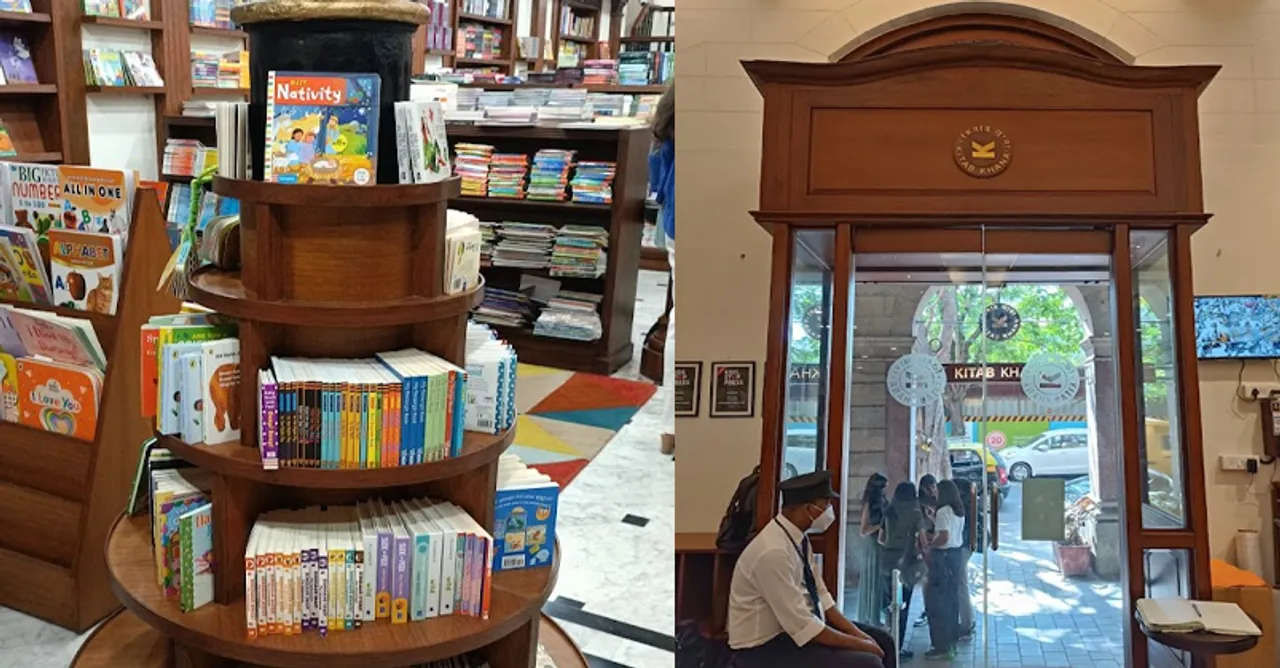 Started in 2011 by Samir and Amrita Somaiya, Kitab Khana was a result of their love and passion for books. This establishment has been around for more than a decade now and sees hundreds of bibliophiles and even those who don't read much every day. With thousands of books on its beautiful wooden shelves, Kitab Khana oozes a peaceful vibe and an eye-pleasing view of nothing but books around you.
South Bombay is home to many iconic places, stores, and eateries, and one of them is definitely Kitab Khana. Standing tall for the last 11 years, this spacious book store houses thousands of English books as well as books in different languages like Hindi, Gujarati, Marathi, and soon Urdu. As soon as you enter the store, it welcomes you with a grand view of books everywhere. They are neatly placed on the wooden bookshelves as well as on the tables and racks and it's pure bliss.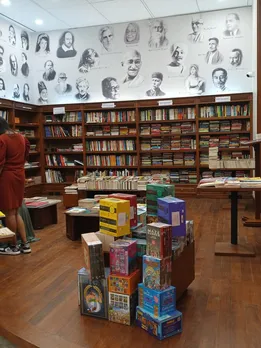 Housed in a heritage structure that is almost 150 years old
The bookstore is designed in a brilliant way and has been housed in a building that is around 150 years old. "Samir and Amrita Somaiya, are both audacious readers and it was their love for books, literature, and exposure to different places through instrumental in creating, what is now being often referred to as The most beautiful bookshop in Mumbai", said Sanjiv Kamat, one of the staff members at Kitab Khana. Born and brought up in families that always encouraged reading, Samir and Amrita always found themselves reading up a range of works in different Indian languages.
After Samir did his post-graduate studies at Harvard University, he wanted to have his own bookstore one day, and the inspiration behind this thought was The Harvard Coop, an on-campus bookstore that spread over four floors. After travelling extensively in the early 2000s, the duo found themselves influenced by different bookshops in Berlin, Paris, and New York and even Universal Booksellers in Lucknow's Hazratganj area. This all lead them to open Kitab Khana, with an aim to not just promote the international literature, but also books in as many Indian languages as possible.
A bookstagaming ambience
Kitab Khana is referred to as 'The most beautiful bookshop in Mumbai and there's no doubt about that! The ambience is calm, quiet, bright, and warm, just what you need to enjoy your favourite book. There are high ceilings and large leather couches to sit and read. There's even a small coffee section from Subko from where you can buy a hot cuppa along with some snacks and then enjoy your book in a separate reading room on the left side of this corner.
On the second floor, you'll find many Gujarati, Hindi, and Marathi books. You can check them out or just simply enjoy the view of the ground floor from here as it's just breathtaking. One can see all the shelves from above and how perfectly books are placed on them. Watching people devouring their favourite book is in itself no less than a view. " Our intention for each and every visitor is to help them find good books. And once we understand their taste, we recommend new writers and books to them", said Mr. Kamat. The staff is good at their job, and at times the visitors end up buying quite a few books.
The fire of 2020
In December 2020, Kitab Khana suffered serious damage due to a fire that sparked in its cafe kitchen and swept out of control. There were no human casualties, but around 45,000 books were damaged, and the upper floor was completely destroyed and gutted. "The above section was all burned and we had to the renovation of the entire floor. It was not just the fire but also the water that the fire brigade had used. Around 80-85% of the space was damaged. But now it is back to its strength. There's a section where the damaged books have been kept and book lovers can buy them at discounted rates", he further mentioned.
"I will definitely come back even if it takes an hour for me to be here"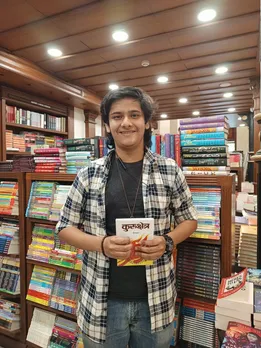 Kitab Khana sees 400-500 visitors every day. Some of them are old visitors while some are here just to witness Kitab Khana's charm and to know what the buzz is all about. Ahaan Vaidya was one if them! We found him near a bookshelf where he was busy looking for something particular.
"My junior college was offline and so I couldn't explore the south Bombay. There are soo many iconic and must-visit places and Kitab Khana is one of them. A friend told me about it. And even though I am not an avid reader, for some reason I'm enjoying it. I am planning to buy Kurukshetra by Ramdhari Singh 'Dinkar'", he told Local Samosa. Similarly, even Tanvi, who stays in Borivali was here for the first time. "I have heard so much about this place so I came here for film-related books and I've found one as well. It's a book by Gulzar sahib and has Hindi lyrics. I was amazed to know that there is a compilation available. I will definitely come back even if it takes an hour for me to be here", she said while laughing.
A place where kids like to spend all day!
Kitab Khana is not just a go-to bookstore for adults, but kids are also in love with this place. And why not? The store welcomes them with everything that's needed. There's a children's section where comfy beanbags are placed, and a lot of books are waiting for their little readers to come and read. This one section is particularly very cozy and just so colourful. "It's a comfy corner and on Saturdays and Sundays, you'll see many kids of the age group 2-6 years here", mentioned Sanjiv Kamat. Other than this, school kids are also found here almost every day and their parents don't mind them leaving them at Kitab Khana even for an entire day!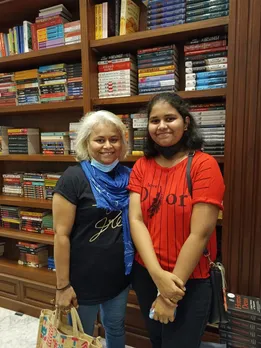 Jyoti Narayangondal, who comes to Kitab Khana almost every month, doesn't mind leaving her daughter Vaishnavi with her friend here. She feels it's a safe place for kids and helps them study and read well. This mother-daughter duo stays in Virar and it takes them over 2 hours to reach Kitab Khana. But they don't find it a task. " I started reading 2 years back and my friend told me I should visit Kitab Khana. Since then, we've been visiting this place with our mothers. It's our little own book squad. I love the silence and the vibe as it's pure bliss here. There have been times when we stay here all day and it's a great place to be", said Vaishnavi.
With new books coming every now and then, Kitab Khana is no less than a heaven for book lovers. There are frequent book signing and launching events that also take place. So, if you are a fan of signed books, you should definitely visit it if you haven't already!
Where: 45, Ground Floor, Flora Fountain Somaiya Bhavan, 47, Mahatma Gandhi Road, Fort.
When: 10.30 am - 7 pm on all days
For more such stories follow Local Samosa on Facebook, Instagram, Twitter, and Telegram.