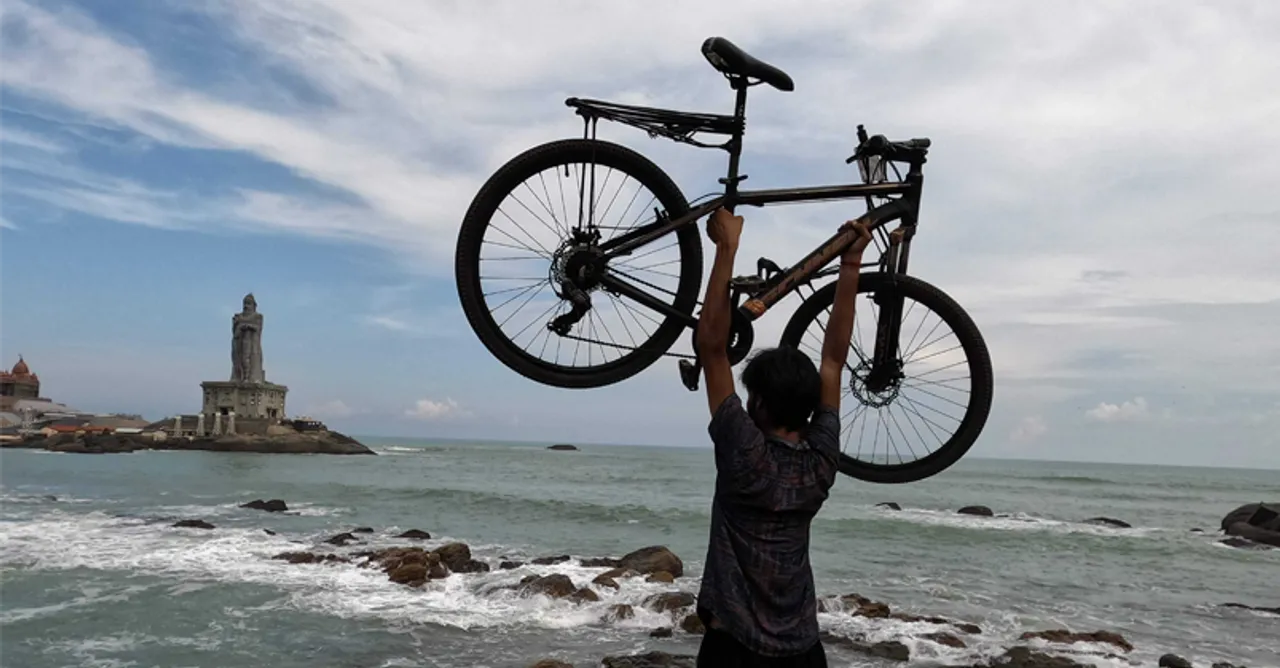 For the last sixteen months, traveller Aman Singh is on an 'India tour' with his cycle. He has travelled across 15 states so far. Here's what his journey looks like.
For most of us, Cycling around parks and nearby areas used to give immense pleasure in our childhood days. Back then, one could envision cycling far-off distances with ease. However, as we grow up, such imagination appears no more than a childhood fantasy that takes a back seat but not for the traveller Aman Singh, who is wheeling around India for the last sixteen months.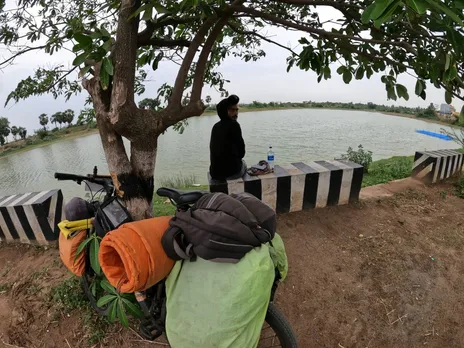 The conversation with Singh started when he was cycling from Rameshwaram to Pondicherry and was on a hunt for a suitable place to stay. Even though he carries his tent along on the cycle, oftentimes, he also prefers to stop off in the hotels and other staying options. On choosing a cycle to travel, he says that he could manage it with his little nest egg, and it is an easy and affordable mode of transport.
Born and brought up in Delhi, Singh completed his high school in Bihar and graduated in Himachal Pradesh. It was in the first year of his college when he went on a trip to Rishikesh for the first time with friends. The trip emerged as a goal setter for Singh, who found his calling in travelling and exploring places.
While traveller Aman Singh was certain of his passion, he had no idea how to go about it. The money was a necessary backing he needed, and for that, he first completed his Master's in Business Administration from Dehradun, Uttarakhand and later joined a corporate job in Gurgaon, where he worked for two years. On the other hand, coming across Singh's devotion to travel, even his parents wanted him to earn money for it.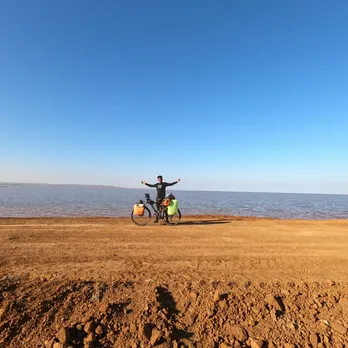 However, it could not continue for long. As lockdown hit the country and Singh's company was to work on the massive layoff that could have included his name, Singh himself resigned from the job. He came back to Siwan, a district in Bihar where his family lived, and began working on his dream. During this time, he watched many travel vlogs and came across a foreign couple traveller, touring on cycle for ten years.
The travellers inspired Singh and with his savings, which remained little by that time, he bought a bicycle. It was hard to leave the family and make the decision to travel with a cycle, but Singh was determined on it. As he started from Siwan, a few of his friends accompanied him for 15 km to a popular temple on the outskirts of the district to bid farewell, and he realized he would be alone from there.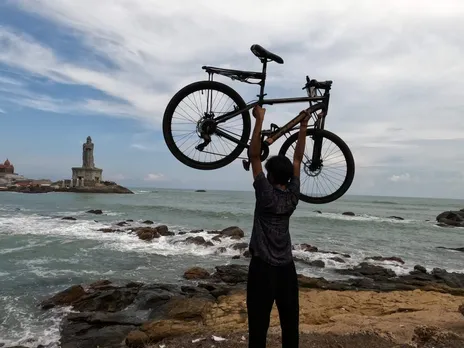 "I sat down beneath a tree and cried a lot. But I had made a decision and had to stick to it," the 25-year-old says. Soon after, Singh got up and commenced his journey and crossed the border of Bihar to enter Uttar Pradesh. He reached Gorakhpur, his grandparent's place, and stayed there for a week. The comfort of home and the love of family though became the cause of the halt, he restarted recalling his dream.
Since then, he has travelled across 15 states, starting with Bihar, Uttar Pradesh, Delhi, Maharashtra, Punjab, Haryana, Himachal Pradesh, Uttarakhand Rajasthan, Gujarat, and Goa to Karnataka, Tamil Nadu, Andhra Pradesh, and Kerala in the South. Apart from his cycle, what he had not forgotten to take along was his camera. It is no wonder that in today's world, Singh knew, it was a good option to disseminate his ambition.
Meeting goodness
Shooting around the locations, when Singh travels places, he meets people who often ask him to return home, but he also comes across those who believe in his dream. Frequently, people ask about his move and are impressed by his aim, and also help him monetarily and otherwise. Singh has also come across a few drug addicts on his way but has never been harmed by anyone.
This could be the reason why he says, "I have seen good things and met good people on my way." Singh has many such stories that shaped his statement, like in Madhavpur, Gujarat, when he was allowed to stay for two days in 'Osho Ashram', which usually does not let people stay. During his stay, he came across strange yellow eyes in the jungle while he was on his way to the kitchen of the ashram, which later turned out to be a leopard. Though Singh fled the place without eating, it was the people living there, who took him again to the kitchen and helped him with the food.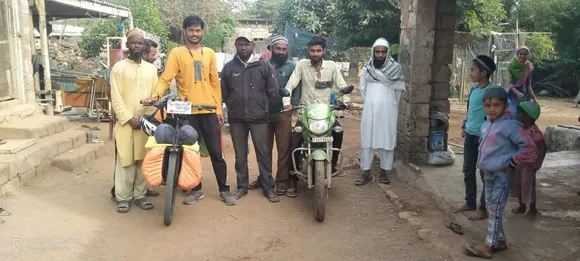 Similarly, when he cycled an extra 60 km just to witness the extravagant affair at Sasan Gir National Park in Gujarat, he was denied entry because of some ticketing policies. But as he sat disappointed at a cafe's outer area for tea, the owner of the place, who also had a lavish resort, offered him a free stay for two nights. "He said that he could not let me enter the national park but at least he could offer me a stay and I was overwhelmed with emotions," Singh recounts.
There were a few villagers who met Singh at this resort and invited him to their village. So, how could he not return their love, so he rode another 50 km just to meet them. If this was not enough, Singh was again swamped by the warmth when he was offered to stay in an office of an MLA at around Mumbai-Pune Expressway, just before the Khandala ghats.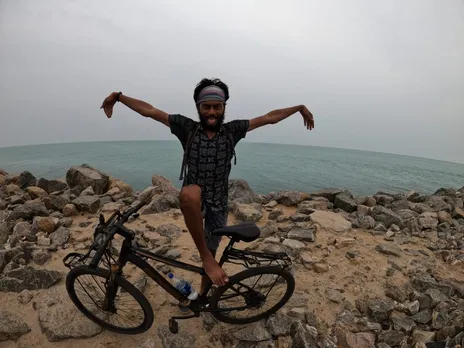 It is quite visible in Singh's story that he comes across many unplanned things, and he also has a take that planning does not come in handy while travelling. Apart from the financial and emotional support from the family, Singh manages to ace his travel journey by giving up on many luxuries. He says, "I have been able to survive through the journey because my way of travelling is not luxurious. But that does not mean I can not travel."
Aiming to explore the entire country before going back home, Aman Singh is still on his way with his companion - the bicycle. But why only a cycle? He says, "I want to travel slowly to feel the core of travel. I miss many things when I go fast by another mode of transportation. The cycle does not let me miss a thing or a moment that comes my way."
From the conversation, it seems that Singh does not believe in letting go of any moment of life, and as he says, it is short and temporary.
For more such stories follow Local Samosa on Facebook, Instagram, Twitter, and Telegram.