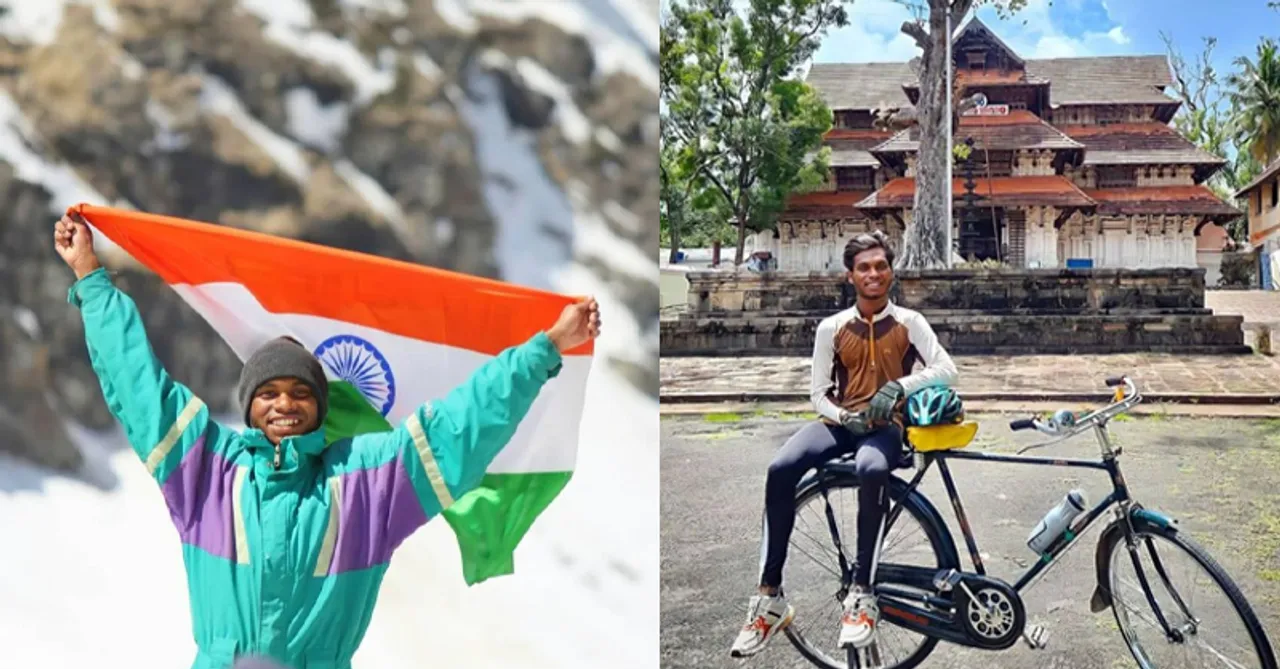 The journey of Nidhin Maliyekkal from Kerala did not start when he set his bicycle to travel India but it started when he saw a dream of becoming a filmmaker.
He knew that to portray the reality of India in the form of movies on the big screen, he first had to see the whole of his country. With this thought in his mind, Nidhin Maliyekkal from Kerala picked up his brother's old Hercules bicycle and decided to reach Kashmir while selling tea on the way to manage his expenses.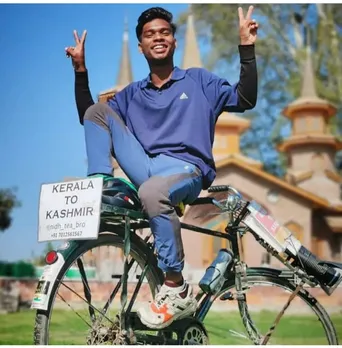 The 23-year-old started his journey on January 2021 from Thrissur, Kerala, and reached Kashmir in just 120 days in April. He crossed Goa, Maharashtra, Gujarat, Rajasthan, Haryana, Delhi, Himachal Pradesh, and Punjab to ultimately reach the 'heaven of the earth', Kashmir.
"I was sitting at home for almost 8 months, after I lost my work in 2020 as a tea maker at a restaurant in Thrissur. During this time, I thought of exploring India," Nidhin said. He always wanted to be a filmmaker, and thought, it was the only way to make movies on the lives of people who live in India.
Deciding to travel was the first step for Nidhin to fulfill his dreams. But he still had to plan his long journey. Since he could not afford to buy a new bicycle, he decided to take his brother's one, which was not in a good condition. He also did not have the money for the repair works. "On realising the situation, I sold a small camera that I had and got the bicycle repaired," Nidhin said.
However, finances were also a major challenge for him to think about. "I thought a lot about what I could do. Then, I realised that I could use my skills of making tea to earn some money during my travel and hence, bought tea powder and sugar, both of 1 kg from the remaining money saved after selling the camera," he said. Immediately after this, the enthusiastic South Indian resident put one tent in his bag and with just Rs. 170 in hand and a placard written 'Kerala to Kashmir', set out to see India.
Unforgettable tales
Nidhin had a particular mindset towards people living in North India according to what he had heard from the locals of his village. His journey, however, proved to be an eye-opener for him. "I was told the stories of how North Indians torture the ones who come from South India. Those stories revolve around kidnapping, murder and what not," Nidhin said while adding that those claims turned out to be false and people met him whole-heartedly.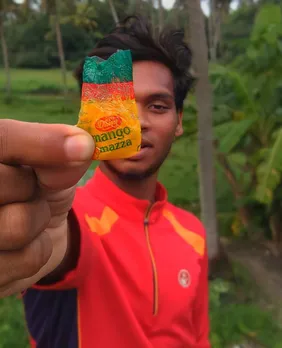 He talked about how he cannot forget a man who had appeared in front of him while he was pushing the cycle in Haryana. "He asked for my whereabouts and after assuring that I was on an honest mission, began searching something in his pockets. He, then, took out a mango toffee and said that he could only give that to me," Nidhin said. "That toffee will always be special for me," he added.
The solo traveller used to cycle 100 kms a day where areas near petrol pumps used to be his halting points. "I used to stop to make tea for people and buy the tea essentials. Everyone used to help me by either taking tea or giving me money of their own will," Nidhin said.
"One day, I was making tea on my small stove and fire was being blown off by the wind. People, who stood close by, surrounded my stove so that the wind could not sneak in and I could make tea. I'll never forget these moments," he added.
Nidhin used to take the night off from travelling to sleep in his tent that he fixed at petrol pumps and Gurudwaras. While being in Gujarat, he found his place at the parking areas of the Dhabas. On the other hand, Maharashtra also welcomed him with its heart where he, for the first time, had 'Misal Pav', a dish popular in the state.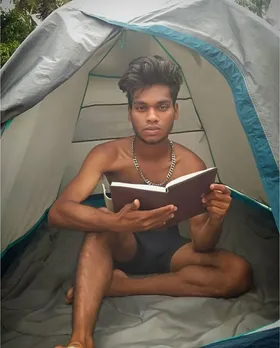 "When I was passing through Satara, (A district in Maharashtra), I had come across two young people of my age who were exercising and like others, they also asked me where I was going. I told them and moved ahead but they followed me on their bike and stopped me," Nidhin said. "They took me to a small shop and made me eat 'Misal Pav'," he added.
Not only this, but Nidhin said that they also invited him to their village, which belonged to farmers. "I visited with them, a temple, where an old person handed over coconut, flower, and shawl to me," he said. Villagers, as Nidhin said, wanted him to stop that day, but he did not. "Had I kept stopping at places on the requests, people would not have given me that special treatment. I had to go on," he said.
On the contrary, Nidhin saw a challenging time in Rajasthan where he found it difficult to get water.  One day, he was very thirsty and was waiting for some help from people. It might have been a special day for him as he suddenly found a truck coming close to him whose number place indicated its belongingness to Kerala. "I was very happy that day to meet a Malyali and drink the water of my place while being so far away from it."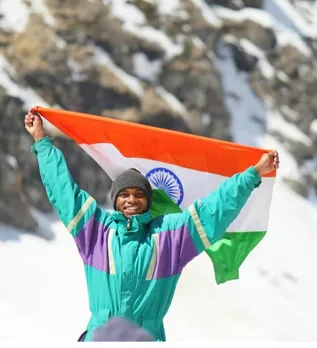 With such small and endless instances, Nidhin Maliyekkal from Kerala reached Kashmir. He had to take a COVID-19 test before entering the borders. After coming negative, he was allowed to enter Kashmir, and he was more than happy to take pictures in the beautiful land. "It was only the smile of people that helped me achieve this target," he said.
Now when Nidhin is back in his town in Kerala, his parents, who are daily wage laborers and had not believed that Nidhin would go beyond Maharashtra or Goa, are proud of him. A few regional filmmakers have also approached him for various projects, including the director of Drishyam, a Malayalam-language movie series, who visited his house after knowing about his journey through the news. He also offered Nidhin a chance to work with him as an assistant director in Drishayam 3, as per Nidhin.
On asking how did he make it possible, Nidhin just says, "Get out of your comfort zones and see the magic in your favour." No doubt, why he says this with pride.
Follow Nidhin Maliyekkal from Kerala on Instagram.
For more such stories follow Local Samosa on Facebook, Instagram, Twitter, and Telegram.