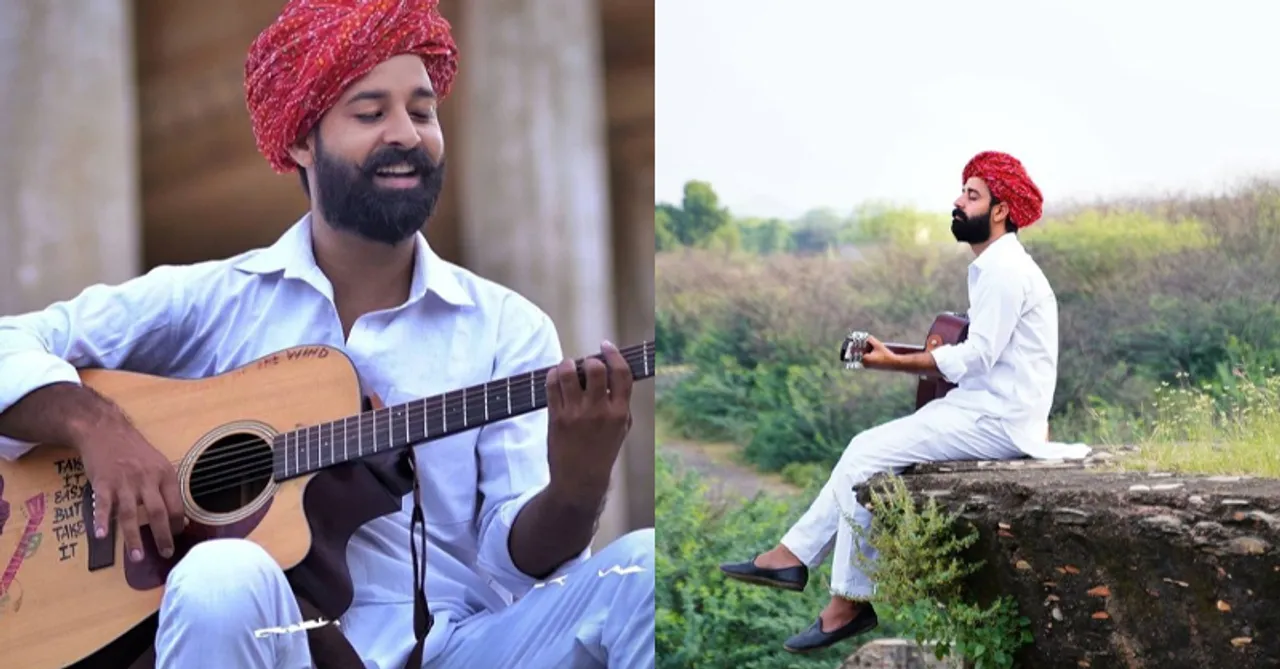 Rahgir, the folk singer from Rajasthan travels around various states of India and attracts people with his words and music composition.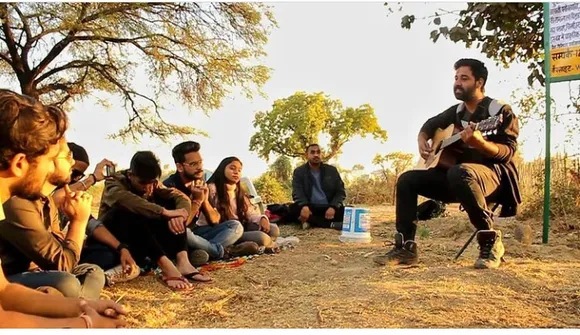 As Rahgir travels down the deserts and valleys with his guitar and attractive poetry, he makes more friends who appreciate his work and who cannot stop inviting him again. No doubt, why Sunil Kumar Gurjar aka Rahgir, the folk singer, is popular as a travelling musician!
Rahgir pens down the words and gives them a fine tune that appeals to people residing at all hooks and corners of the country. He has travelled to 16 states as of now, not with the money, but just his music. "It is the support of people which does not make me think much about my survival and I go on to entertain them through my music," Rahgir says.
Having visited various places, Rahgir easily adapts to the culture of the place. "Whenever I visit a place, I get a chance to sit with the people of those areas for the jamming sessions and as they sing in their languages for some time, I learn it and make songs myself in those dialects," the 28-year-old says whose song 'Mere gaon aoge' is a superhit on Spotify.
"People often think that 'Mere gaon aoge' has been written after a heartbreak which is not true. The credit goes to the realisation that one can think about the old times, the times that left for us memories but the time where one cannot go back again. Therefore, the lines 'Tum mud to paoge par laut na paoge' (You can turn around and can never return) was born," he says.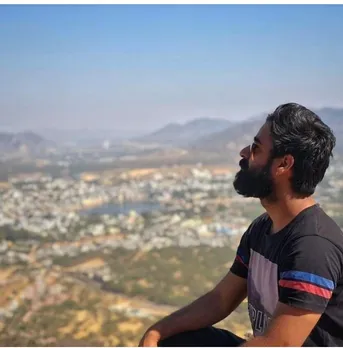 Rahgir's choice of words depicts the societal issues and evil practices that surround the society like child marriages, domestic violence, etc. He says that the real issues of society motivate him to write. "I believe that I can honestly write about only those things that I have either seen or faced," he says and adds that he is also inspired by the quote of an American singer-songwriter Woody Guthrie "You can't write a good song about a whorehouse, unless you have been in one".
From an engineer to Rahgir, the folk singer
However, it was not always that Rahgir wanted to become a singer and a songwriter. He had studied Engineering from a Punjab-based college and had joined a company after that in Pune. "I was earning a decent amount after my college ended in 2014," he laughs as he adds, "Though, I used to write poems even during my college days owing to some romantic experiences."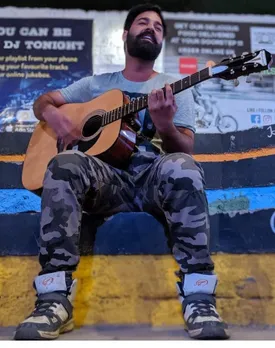 "I did not stop writing after my work started in Pune and wrote some 10 to 15 songs. However, I was introduced to 'country music' by Bob Dylan and others during this time and got immersed after reading their journey. I realised how these people, with the minimum training and facilities, went on to become the great singers later," he says.
After taking inspiration from the international singers, Rahgir took the help of his friend to purchase a guitar as by this time he had overcome his fear of not being able to sing well due to the lack of training. "I left my job and started writing songs and giving it a composition. One day, I requested a tea joint where I used to visit for chai to allow to conduct a small music session and they agreed. I sang the song I had written and received appreciation from people," he says.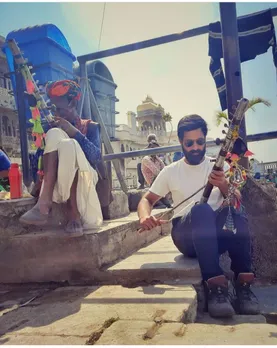 This was the first time Rahgir sang at a public place and how could he stop after that. He performed at several open mics, old age homes, for specially-abled kids orphanages, etc. He immediately planned a trip for two months covering Maharashtra, Telangana, Andhra Pradesh, Odisha, West Bengal, Bihar, and Jharkhand. "I had carried my tent for the stay and used to take the lift for travelling around. However, I never had to use the tent as people always offered me a place to stay," he says.
As Rahgir says, it was his friendly nature that helped him connect with the people from the various states. "My songs were not perfect but they were heart touching," he says while adding that he never had to face the language barrier as the language for humanity is the same everywhere in the country.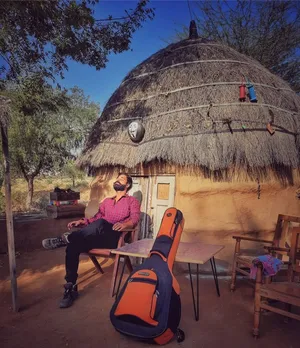 Rahgir went on the second trip covering Himachal Pradesh, Uttarakhand, and Rajasthan after the first lockdown was lifted and currently living with his family in his hometown in Sikar, Rajasthan.
And, the heartwarming moment
"During the initial days, my family and friends were not sure about my decision of leaving the job. They kept warning me about the consequences but I kept doing my work," Rahgir says. He also describes his most unforgettable moment being the one where his father's senior had appreciated his music before his father.
"I was performing in a show in Bikaner and there were a few elderly people sitting and enjoying the music. After the show wrapped up, one uncle came to me and asked about my hometown and father's occupation. I told him that my father was in the Indian Army. Surprisingly, he happened to be the retired colonel of the same battalion as my father," Rahgir says. "He called my father and said that he should be proud of me. It was a heartwarming moment for me and it helped me believe that I was doing something right and good," he adds.
Presently, after doing end numbers of stage shows and gigs, Rahgir is working on his new album and waiting for the COVID-19 to end. He again wants to pack his bags and go out to spread love through his music, but this time to the whole world!
Visit his Instagram profile here.
For more such stories follow Local Samosa on Facebook, Instagram, Twitter, and Telegram.