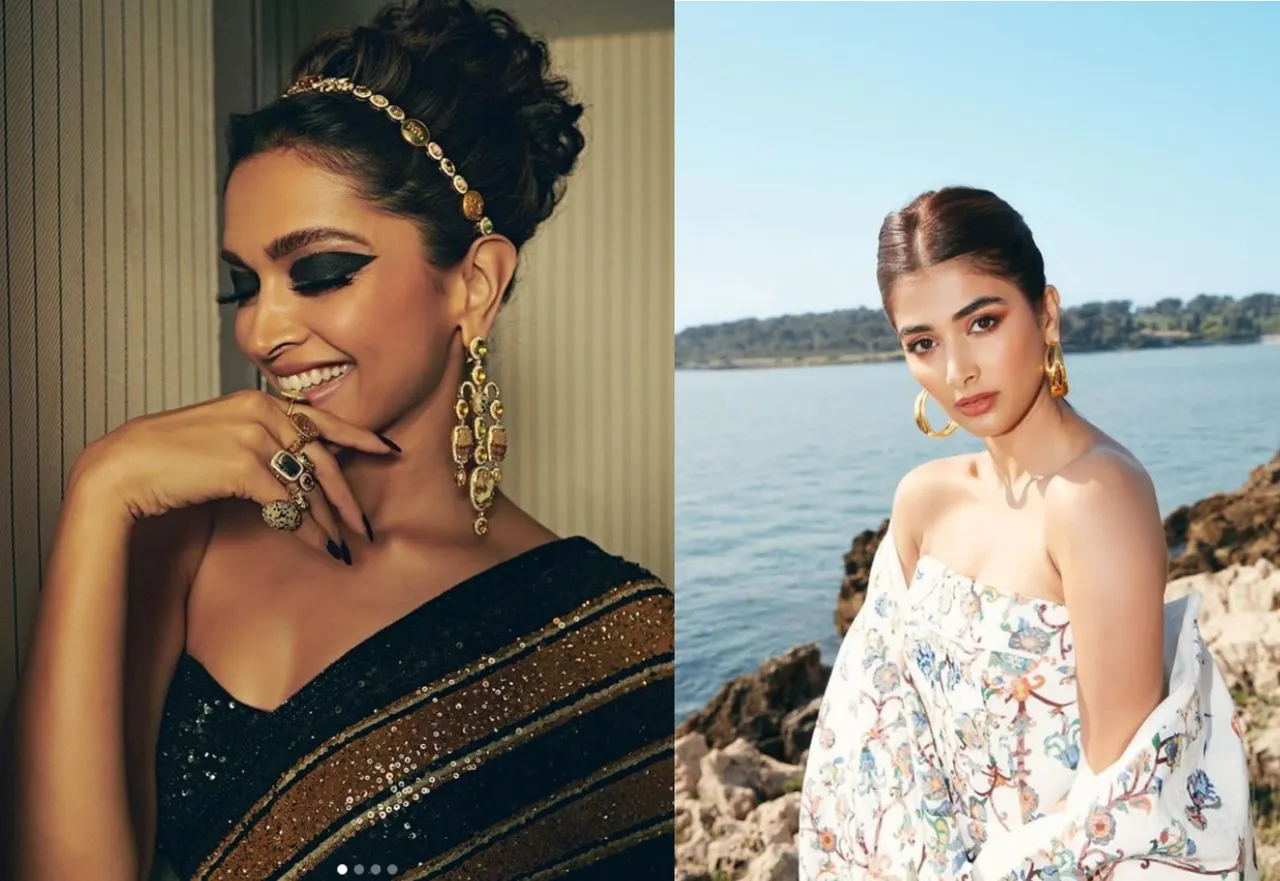 The 75th Cannes has been going strong! We have been served with so many jaw-dropping looks that Cannes is so famous for! Check out this list of celebrities and the homegrown jewellery brands that graced the Cannes 2022 red carpet!
There is no room to keep calm as Cannes 2022 is ongoing, and it is as magical as we hoped! This year has been especially great for India as we were the official Country of Honour at the upcoming 'Marche du Film', organized alongside the 75th edition of the Cannes Film Festival in France. Everyone's excitement was through the roof, and many Indian celebrities graced the Cannes 2022 red carpet. Bold looks paired with ethereal elegance and our Indian representatives definitely understood the assignment because a lot of them rocked Indian homegrown brands. Deepika Padukone, R Madhavan, Pooja Hegde, Tamannaah Bhatia, Hina Khan, and many more donned some of the most beautiful outfits! Not only celebrities but social media influencers also served us with some of the most gorgeous looks with beautiful pieces of jewellery on the Cannes 2022 carpet that you absolutely cannot miss!
1. Deepika Padukone in Sabyasachi Jewellry
Deepika looked stunning in her Sabyasachi casual but chic ensemble. The star of this look was her Maharani necklace from Sabyasachi Jewellery. The necklace was breathtaking and paired so well with the look and she completed the ensemble with a Sabyasachi belt. Deepika's both of the looks were iconic, especially the Shantipriya earrings that went viral on the internet! Those earrings are from Sabyasachi Jewellery as well.
2. Tamannaah Bhatia in Jaipur Gems and Misho Designs
Tamannaah was the epitome of grace in her Gauri & Nainika black and white ensemble with a dramatic trail that elevated the whole look. Her iconic Bershka outfit was unforgettable as well. She looked stunning and ready to own the red carpet and the best part was that chose homegrown brands! That's right she donned beautiful mosaic diamond earrings from Jaipur gems and beautiful golden loops by Misho Designs! The outfit, the earrings, everything looked just gorgeous especially with the graphic liner with the classic gown because we love a dramatic look!
3. Hina Khan in Karishma Joolry, Renu Oberoi Luxury Jewellery, Tuula Jewellry and Mozaati
All of Hina Khan's looks have been iconic because she is the queen of style! We loved her Rami Al Ali red ensemble because it was the perfect balance of grace and drama. She chose to pair her red outfit with gorgeous Aqua earrings from Karishma Joolry that were just too beautiful. She accessorized her sheer black lace Fovari outfit with minimalist jewellery from Mozaati and Tuula! Her stunning purple Sophie couture ensemble for breathtaking and Renu Oberoi Jewellery elevated the whole look!
4. Pooja Hegde in Misho Designs and Bhima Gold
Pooja Hegde had some of the best fashion moments this year at Cannes 2022 because she definitely knows how to rock a look! Her white Honayda outfit was absolutely gorgeous and she paired it with beautiful hoop earrings from Misho Designs! We loved these earrings due to their sophisticated elegance. The actress also donned a stunning diamond ring from Bhima gold with her iconic Maison Geyanna Youness dress.
5. Helly Shah in Mozaati
Helly Shah nailed both of her Cannes looks because she paired them with the most beautiful jewels from Mozaati! She looked gorgeous and rocked the Cannes carpet with her Rami Al Ali shimmering ensemble as well as her gorgeous green shimmery Ziad Nakad outfit. Helly paired her Green outfit with emerald studs from Mozaati as well as her Rami Al Ali dress with earrings from the same brand. She certainly decked up in style and elegance!
6. Diipa Khosla in Tuula Jewellery
Diipa Khosla's white saree by Manish Malhotra undoubtedly stole the show because she looked stunning, especially with her Tuula earrings! Diipa decided to pair her saree with Tuula jewellery's Stella climb earrings. The beautiful earrings are made from 92.5 sterling silver and imported cubic zirconia and elevated the whole monochromatic look of this beautiful lady that looked ethereal!
7. Masoom Minawala in Karishma Joolry, Tyaani Jewellery and Lion Jewellers
Masoom undoubtedly had one of the most beautiful looks this year, especially her headgear which took the entire look to a whole new level. Firstly the gorgeous colour of this dress and then the earrings along with headgear took this outfit even further! She also looked stunning in her monochromatic Valentino look and the best part was her aqua ring from Karishma Joolry that gave a bit of the oomph factor to the entire look! For her Sophie Couture floral dress, Masoom opted for subtle and minimalist jewellery from Tyaani Jewellery.
8. Niharika NM in Diosa Paris and Radhika Agrawal Jewels
Niharika certainly turned heads on the red carpet with her black ensemble from Geisha Designs paired with beautiful jewellery from Diosa Paris by Darshan Dave as well as Radhika Agrawal Jewels. We indeed love this beautiful look that screams elegance especially when paired with the beautiful diamond hoops and gorgeous iris ring from Radhika Agrawal Jewels. Everything about this look was perfection.
9. Tarini Peshawaria in Karishma Joolry
Tarini Peshwaria is obviously among the best dressed this year because of her beautiful lavender Ambika Lal gown that she paired with stunning earrings from Karishma Joolry! She was the epitome of beauty and grace in her ensemble and undoubtedly looked beautiful and we could not get enough of her. Her simple drop earrings definitely stole the whole show!
10. Malvika Sitlani in Misho Designs
Malvika was definitely slaying the look. We loved this dramatic look especially the golden hoop earrings from Misho Designs because we are all about that drama. Malvika rocked the Cannes 2022 red carpet with her stunning Milia London ensemble. She certainly looked like a princess and the fact that her jewellery was from a homegrown brand was just a cherry on top!
These Indian Celebrities have made us proud and their style has been a blessing for all the fashionistas out there!
For more such stories follow Local Samosa on  Facebook,  Instagram,  Twitter, and Telegram.