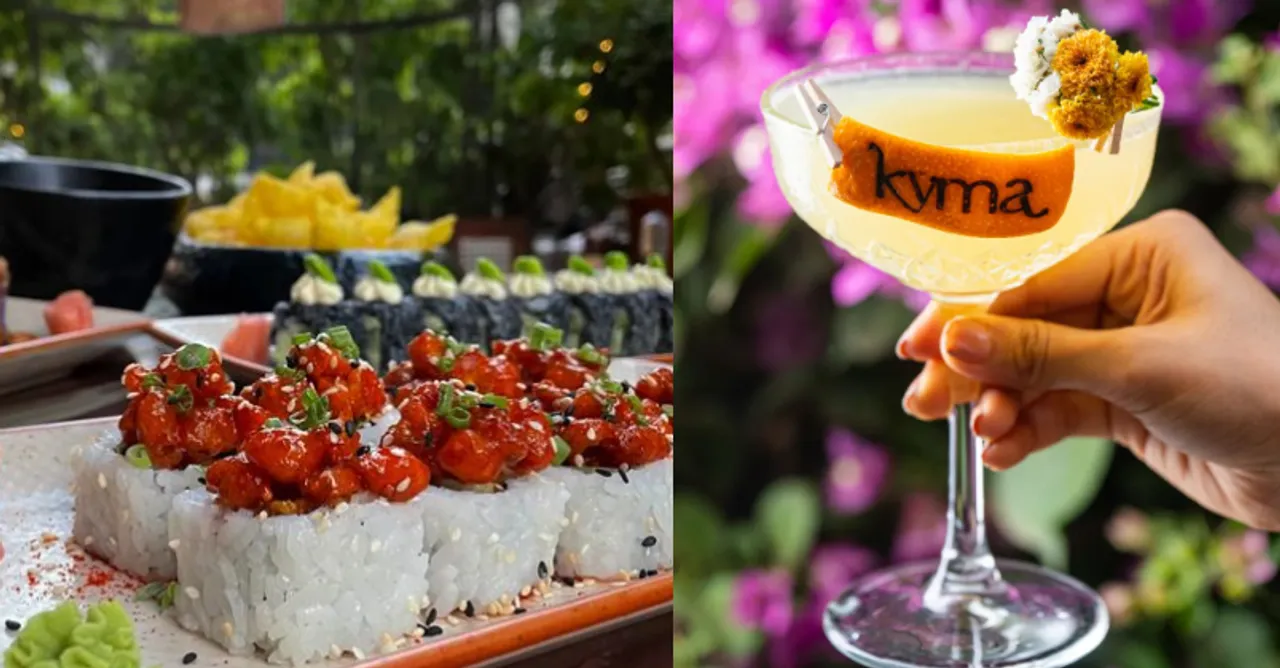 This newly opened restaurant has gorgeous indoor and outdoor seating, the ambience is warm, the food tastes heavenly, and is served in generous quantities. The menu is a tasty amalgamation of Asian and Mediterranean cuisine, which is well thought out, presented even better, and flavourful enough to satiate your cravings. 
Located at BKC One, Kyma is a place for hearty Asian and Mediterranean meals. The name takes its inspiration from the Greek word 'Kyma', which means 'Wave', and that's the vision behind its calm and comforting vibe. The outdoor seating is perfect for a quick brunch or lunch date as it's surrounded by lush green plants and a lot of 'Pink' elements. The indoor seating welcomes you with a natural wooden interior, a very artistic and well-lit wall corner on the right side of the main door (a nice backdrop for your Instagram feed), wooden display niches, barback, private dining spaces, and lobby panel partitions.
The staff is courteous and will keep a very polite check on you throughout your meal. They are well-versed with the menu and trust us, you can rely on their food recommendations if you are trying something new! To beat our Monday blues and dig in good Asian and Mediterranean food, we decided to head to Kyma, and here's what we loved and what we'd recommend.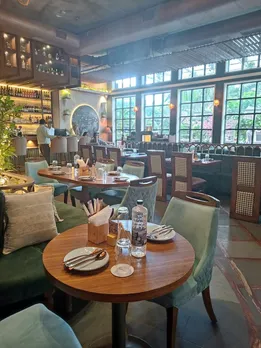 A Sushilicious beginning!
Kyma recently launched its special Sushi and Sake menu, which is still going on and is a must-try for all sushi fans out there. We tried a plate of non-veg Gunmun roll, which was a delight to not just our tastebuds but for the eyes as well. With shitake, asparagus, tempura, avocado inside, and a seared salmon on top with onion ponzu and caviar, it was one tasty bite.
But the one that left us in happy tears was their unique Peri-Peri Corn Sushi. This is a must for all those who love everything nice and lots of spice! The sushi was topped with a cluster of crispy peri-peri corns. It was one spicy affair and is a really good sushi option for vegetarians. And also something we'll order again! The Sushi and Sake menu will be ending on the 20th of May, so we'll suggest you visit Kyma before that.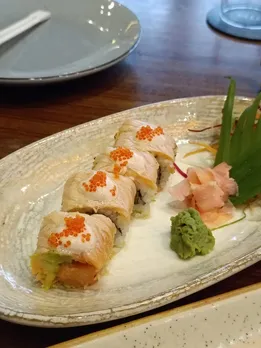 Must-try from the Asian menu
Kyma has a pretty extensive Asian menu, and as we personally love dim sums and baos, and so we had to order something from it. The first one to appear on our table was the very gorgeous 'Wild truffle & Mushroom dim sums. These black dim sums were served hot, had a chewy skin (in a very good way), and were loaded with a delicious filling of black & white fungus, and shiitake. This obviously wasn't spicy and the taste was minimal. Just what you expect from a plate of hot mushroom dim sums!
The Firecracker Baos were indeed a bomb of flavours. We loved the salty chicken mince filling, and the texture of the bao buns was on point. Fluffy, chewy, and soft! This one is definitely a good option for an appetizer.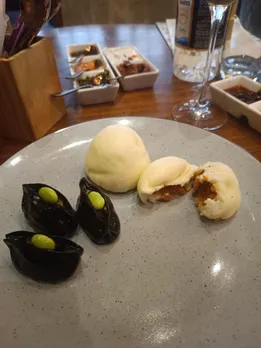 The Medditarennean favourites
Though the Asian food at Kyma is great, we feel the Mediterranean cuisine is even better and you must save some (actually a lot as the quantity is massive) space for it. We tried the Cheese and Za'Atar pide and it was cheesilicious. The bread was baked to perfection and the 4 cheese topping with Za'Atar was heartwarming. But the one to steal our hearts was the Jojeh Chicken cooked on the stone lava. It was served with Toum and Pita bread, and the flavours were too good! The chicken was perfectly tender and offered a mixed taste of salty, tangy, and sour all at once. We really couldn't stop eating this and loved it the most!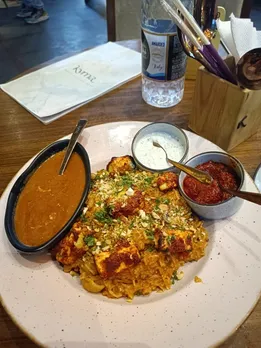 Since we loved both dishes, we decided to end our main course with the traditional Egyptian Koshari, a tangy rice dish served with tomato gravy. Overall it was good, but we feel the chef should have added more chickpeas and wished the pasta was less soggy. But the lentils and the tangy gravy compensate for it! So if you are a rice person, this is a good option.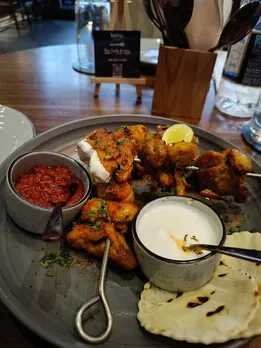 We ended our meal with a piece of Baklava cheesecake and a scoop of rose petal ice cream. This was definitely the star of the entire menu as even though we don't like desserts as much, we drooled over them. The 3 layer baklava had a crunchy and grainy pistachio base. On top of that, a creamy and sour layer of Mascarpone adds more flavour. And finally, a crispy layer of sweet pastry completes this heavenly dessert. We won't mind visiting Kyma again just to eat this Bakalava once more, and so definitely a must-try.
Our Food Note:
Though there's an entire bar section, we were hoping to see more in their mocktail menu. The place has a great vibe and is totally aesthetic. We wish the indoor ambience was brighter. Overall the place is great and makes Kyma a must-visit for its amazing menu and awesome staff.
Where: Plot C-66, One, G Block BKC, Bandra Kurla Complex, Bandra East, Mumbai.
When: 12 pm to 1.30 am
Price for two: Rs.1,000 for two without alcohol.
For more such stories follow Local Samosa on Facebook, Instagram, Twitter, and Telegram