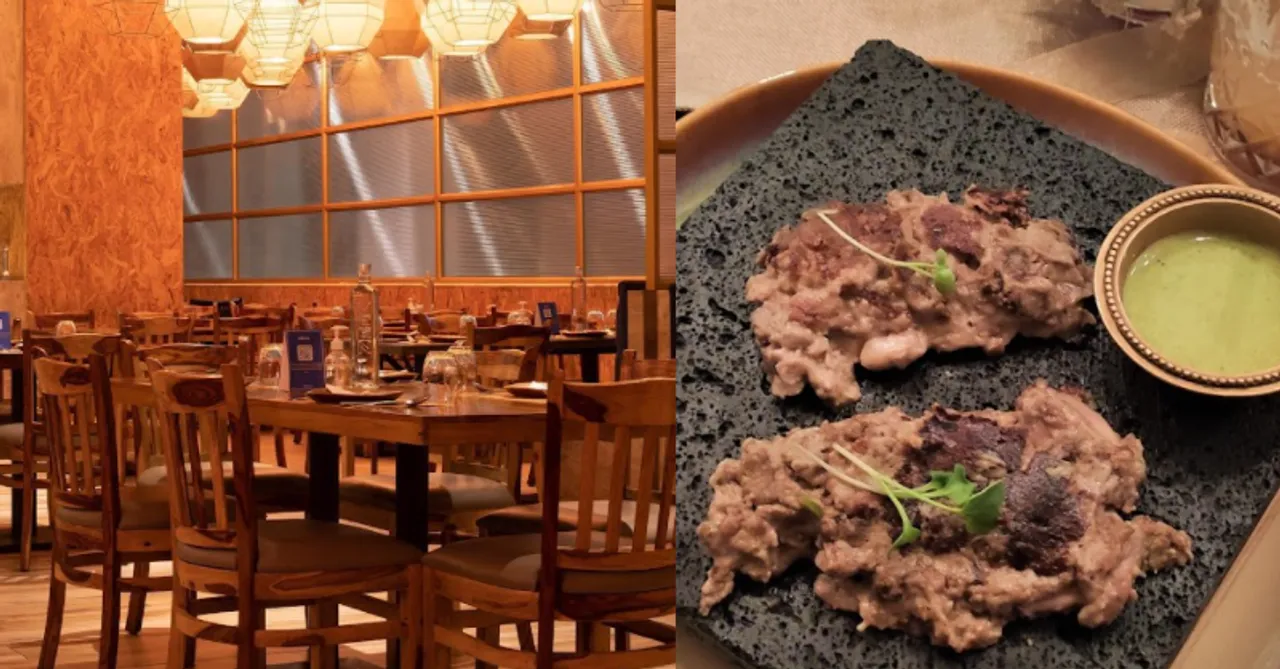 Started by restaurateur Pankaj Gupta, Taftoon Bar & Kitchen recently completed 4 successful years and is known for serving regional delicacies from the northern states. Taftoon has 3 head chefs who specialize in regional cuisines of Bengal, Kashmir, and Awadh. We recently visited this gorgeous restaurant for dinner and fell in love with it. We also shared a conversation with the owner and tried their food along with a few dishes from their upcoming menu!
Pankaj Gupta takes pride in curating North-Indian cuisines. Through Oye Kake, he worked on vegetarian North-Indian food, and with Taftoon, he wanted to come up with something where you get all the north Indian flavours through one single concept. 4 years ago, he launched Taftoon in BKC, which encompasses all major north Indian cuisines like Kashmiri, Punjabi, Awadhi, and Bengali. It takes us on an overland journey through the ancient Grand Trunk Road: all the way from Afghanistan, through Pakistan, North India, Punjab, Uttar Pradesh, and West Bengal.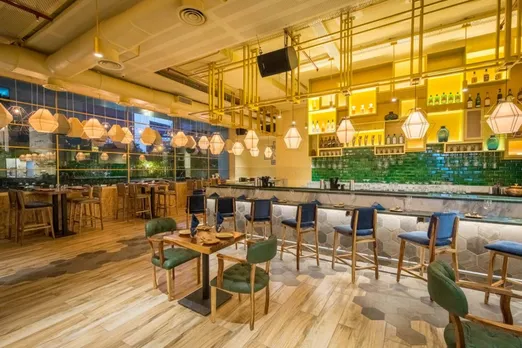 "I thought of Grand Trunk Road that comes right from Afghanistan, Chittagong and enters to India and crosses all the northern culinary states like Kashmir, Lucknow, Punjab, and Bengal. I decided to do a concept that enveloped everything. So, Taftoon is everything about these regions. We majorly specialize in Afghanistani, Pakistani, and Bengali food", said Pankaj Gupta.
The ambience of this spacious restaurant is worth your Instagram feed. A modern decor, classy Turkish music in the background, garage-grunge aesthetic, and pop-culture elements like graphic doodles, Aztec-inspired wallpapers make Taftoon a comforting place to dine in. While talking about how the name of the restaurant was inspired by the oldest bread 'Taftaan', which was brought to India by Afghanis, we took a bite of Nutree ki Potli. This vegetarian appetizer was crispy from the outside and had a piquant soy Bean Kheema filling. The recipe of this flavourful Potli was taken from one of the roadside stalls in Amristar outside a college and was one delicious bite!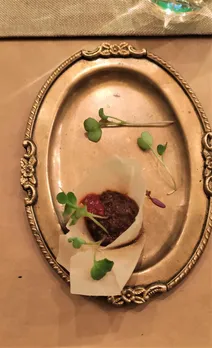 Another starter that we loved was Kathal ki chapli. These veg kebabs melted in our mouths! They had a pleasing taste, and the soft texture talked a lot about the expertise of the chef. It took us less than a minute to finish them. To satisfy our chicken cravings, we tried their Patthar Ke Kebab, which was served on hot lava stone! This one was a delight to dig in. The boneless pieces were tender and bursting with flavors. Pankaj later told us that the chicken was marinated for 38 hours and cooked on a sil batta i.e., a stone. The hot lava stone kept the kebab warm until the very end, and we can't help but give 5/5 to them.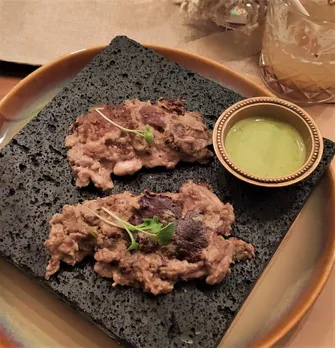 It was then the Peer Dhun Ghosht which was brought to our table by the chef himself. The huge mutton leg piece was placed on a trolley with a gold varq on top of it. This well-cooked piece was then shredded by the chef, which was layered with tomato and yogurt gravies, and served over a naan! The meat was tender, succulent, and packed with flavours. This one is a must-try because of the way it's prepared and served. The sourcing of the meat is done from Rajasthan and not Mumbai.
We continued the meal with Kashmiri Kabargah. This traditional dish is a staple in all major celebrations in Kashmir and is fork-tender. The ribs of young lamb or goat are cooked in milk and spices, and then everything is fried in pure ghee. At Taftoon, it was the baby lamb, which was cooked in milk and Kashmiri spices. The flavours were just right, and even though we are not a huge lamb fan, we loved eating this Kashmiri delicacy at Taftoon.
We had another dish from Kashmir on our main course, and it was Chaman Qaliya. This Kashmiri beauty was a rich creamy and sweet paneer gravy that was warm enough to soothe our souls. It was a delight to have it with puris, and the south Indian-inspired presentation made it look even more interesting.
The last dish on our table was the Bengali Dom Ootoler Dolma! The stuffed pointed guard and potatoes in Bengali curry were tempered with cumin and mustard. The classic coconut filling was sweet and salty and we totally loved scooping it with Bengali Radhaballavipuris! The combination never goes wrong, and the flavours did justice to this Bengali signature dish.
We finished this satiating and lip-smacking feast with a bowl of warm Strawbery Kalakand Crème Brule. We would rather call it layered happiness, and it was a good desi twist to the classic French dessert. The bottom layer had kalakand, on top of which a rich custard was placed, and then finally it was layered with hardened caramelized sugar and topped with strawberry sauce! It was one satiating experience! In between fun conversations with Pankaj and other guests, we also sipped on their date and pineapple sherbet, which helped us clean the palate after every dish.
Long story short, we had a marvelous time at Taftoon, and if you swear by North Indian food and want to try regional cuisines of different states, then head to Taftoon and enjoy a scrumptious meal with your dear ones.
Where: Unit 2, C-31 - 32, G Block, Naman Centre, Opposite Dena Bank, Bandra Kurla Complex, Mumbai.
When: 12noon – 4 pm, 7 pm – 12midnight
Price for two: Rs.2,500.