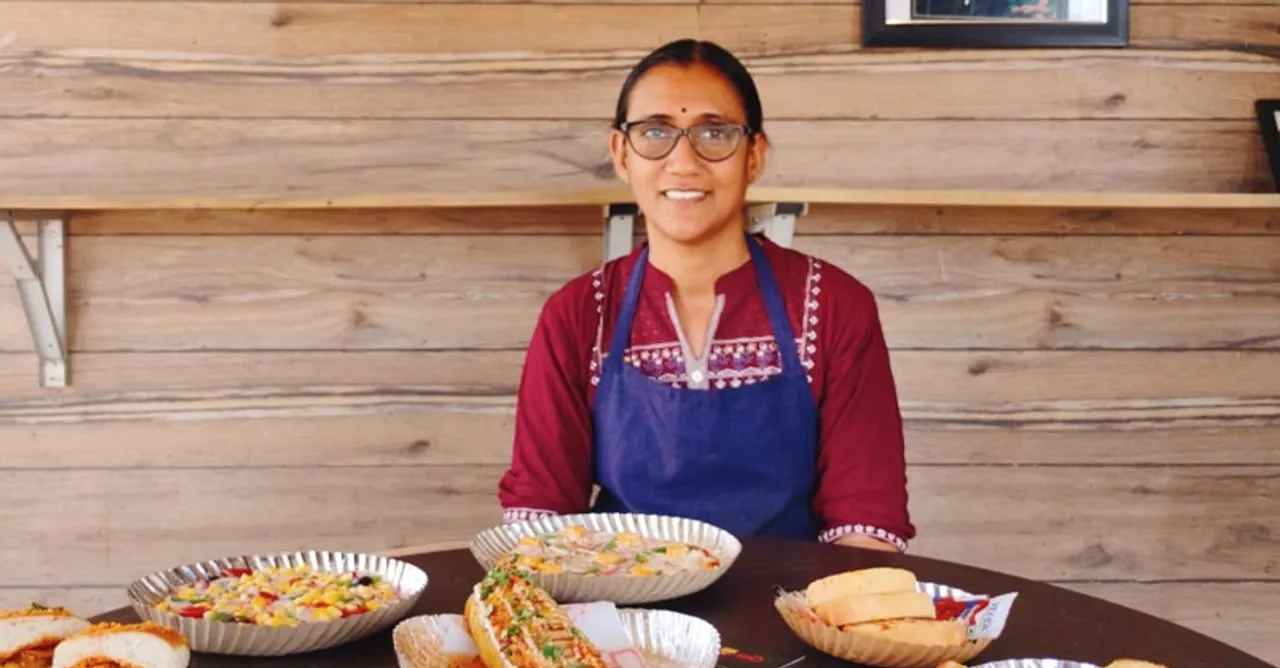 Based in Gujarat, this Vada Pav joint by Indu Rajput offers unique varieties of Vada pav that also caught the attention of actor Ranveer Singh.
Indu Rajput still suffers from swelling in her legs and is even vulnerable to falls after standing for a long time. The aftermath of the road accident that took place in 2017 in Mehsana, Gujarat, seems unlikely to escape her anytime soon, even after four and a half years. But that is no hindrance in running the Vada Pav joint by Indu Rajput that requires her to stand, sit and keep moving inside her small open kitchen. As a progress in her condition, even if she falls, she is now fit enough to get up, all on her own, unlike before.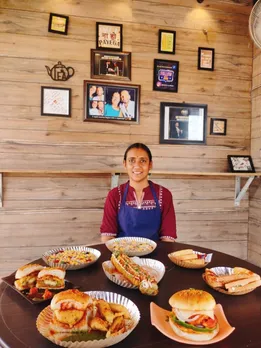 On a regular day, while crossing the road with her 7-year-old daughter, Rajput had come into the vicinity of a bike carrying three people that slipped on the road and injured Rajput while her daughter jumped to another side. Within a fraction of seconds, she observed darkness in front of her as the handle of the bike and a few other parts had severely affected her. When she opened her eyes, she was surrounded by people who called her husband, after which she was taken to the hospital.
Earlier, Indu Rajput was active in household chores and had already mastered the art of stitching. She wanted to buy new machines and set up a boutique to use the best of her creativity in designing. The incident, that broke her spine, however, changed her life as she was prescribed bed rest for 3-4 months. Initially, Rajput thought that she could be as normal as before after completing the period, but sadly it did not turn out in her favour.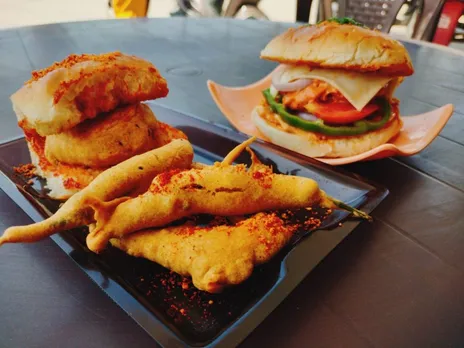 Not that she could not move, it was even difficult for her to sit for a long time. Years passed by, and she understood that she couldn't continue with her boutique dream. "I thought of working with a few people to continue stitching but I knew that no one would entirely dedicate themselves to the work as I could have," the 44-year-old laments.
To inspire daughters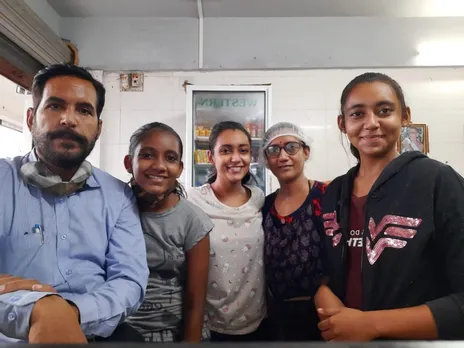 While the physical disabilities, on the one hand, forced Indu Rajput to peep outside the jaali (window with a net fixed) of her home that opened to a road, she found some motivation in teaching kids at her home. But how could it be enough for a mother of three daughters who always aspired to set an example for her daughters?
As the nationwide lockdown was imposed in 2020 and allowed Rajput to spend time with her daughters and husband, she, for the first time, initiated a conversation around starting a food venture. The reason behind choosing the sector was the appreciation she had been receiving for her cooking skills for a very long time. "I believe that to expect the children to perform better in lives, parents, first, need to set some example for them. I wanted to do the same through the food joint," Rajput says.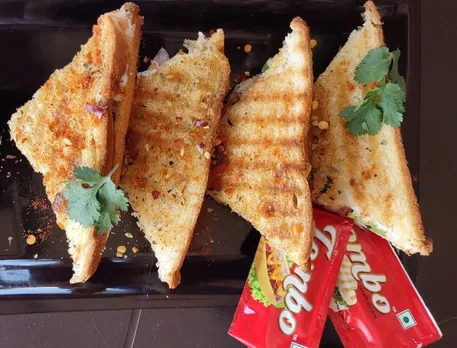 However, her father and one of her sisters approached Rajput to convince her to not continue with the plan, owing to her health conditions. They were ready to offer financial support to her, thinking that she might have decided to support her family, to which Rajput then said, "I do not require a baisakhi (crutch) but just your help."
It was then that her sister, who works with a company in Mumbai, asked Mrs. Rajput to start the venture with all her efforts and also helped with 4-5 Lakhs for the business as, coincidentally, she received a long due from her company during that time. Her sister, who is handicapped, also paid the rent for several months, where Rajput lives with her family to date. "She might be handicapped but has been a backbone for the entire family," Mrs. Rajput says.
A blend of four regions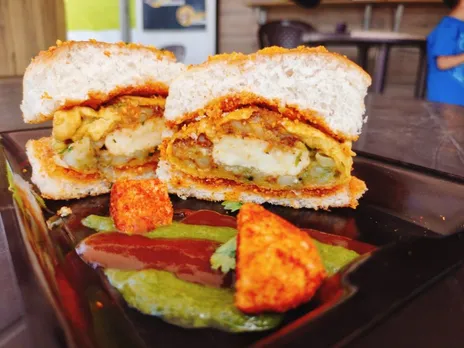 Hailing from Rajasthan, Indu Rajput, though, lived in Sholapur, Maharashtra, all her life before shifting to Gujarat after her marriage. Hence, It is no wonder how she came up with the idea of selling Vada Pav, but definitely, a matter of amazement as she has invented a few never-heard varieties before!
Since Sholapur houses many South Indians due to its proximity to Karnataka and Rajput was quite versed with it, she used some South Indian food essentials to mix it with Gujarati, Marathi, and even Rajasthani masalas in her Vada Pav.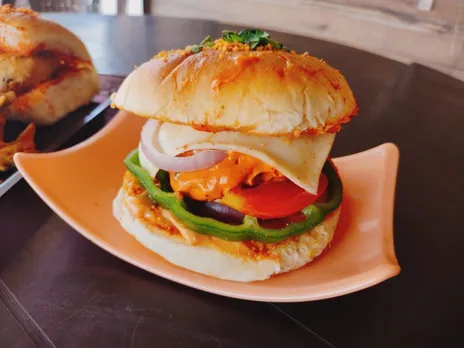 The family rented a shop near their home, which was vacant for a long time and ultimately started with the Vada Pav joint by Indu Rajput, 'Chilli n Cheese' - a name suggested by Mrs. Rajput's father. An open kitchen concept in the eatery, allowed her to win the trust of customers in the times of Coronavirus, as October 2020 marked the inception of the business. Moreover, she offered self-service facilities at the joint that proved to be an add-on.
People loved Vada Pav, and Rajput kept introducing new varieties, some of them being Tandoori Vada Pav, Mint Vada Pav, Shezwan Vada Pav, and even sandwiches. Aiming to appeal to the younger generation, she also invented a burger styled Vada Pav within the next few months.
The earnings from the Vada Pav joint were spent on the rent and the electricity bill of the shop, leaving Rajput with not more than 1,000 in her hand to take back home. Soon after, the second lockdown was announced, and the food businesses were ordered to operate for a limited time. It was likely for the Vada Pav joint to suffer, and Mrs. Rajput, who was physically better than before, was not ready to accept the defeat.
When Ranveer Singh named the Vada Pav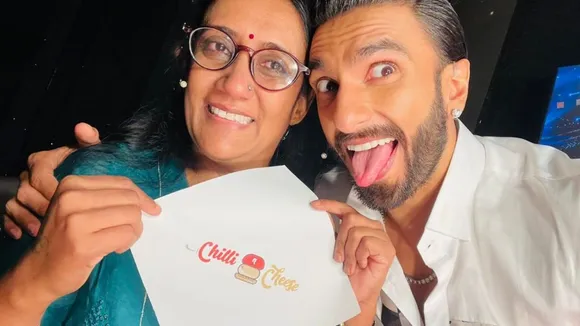 One day, Mrs. Banerjee saw an advertisement for 'The Big Picture' - a quiz game show hosted by Bollywood actor Ranveer Singh. Aiming to find some motivation in life, she asked her daughter to help her enroll for it. She practiced a few general knowledge questions and made it to the stage round. On being asked by Singh about what Rajput aspires to do in life, she said, "I want to create a space called 'Ummed ka Kona' where people, from all walks of life, could come and talk about their dreams, success, and failures."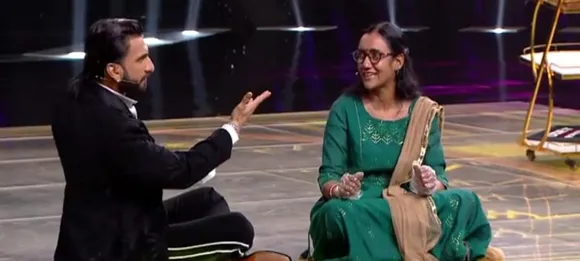 It was a visual-based quiz, and Mrs. Banerjee was performing well until she got to meet her family through the show, who was far away from her as the shooting was taking place in Mumbai. "After meeting them, I felt good but also anxious about winning the game and not letting my family down," she says, adding that the anxiety and the fear of losing the game made her commit small mistakes after which she actually lost.
Losing the game proved heavy on Rajput, and she started crying. "I still remember, Ranveer Singh, consoled me for half an hour. He said, 'It's just a game, not life'. This was much inspiring," she reminisces, adding that the actor also reminded her of her aspiration of 'Ummeed ka kona' and asked her to be strong to be able to fulfill it.
Even though Mrs. Rajput could not be benefitted monetarily from the show, she took back the unique name of one of her Vada Pav, given by Ranveer Singh after he tasted it on the show. After thinking for a while, Mrs. Rajput says, he named one variety 'Spicy Simmba' due to the presence of multiple flavours in it that resembled the character of Simmba from his film with the same name.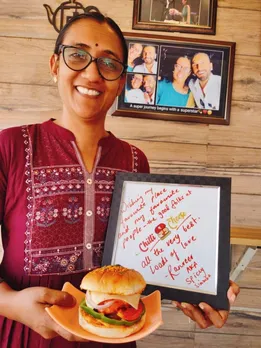 After getting back home, she experimented with a few different sauces to make 'Spicy Simmba' a stand-out from all her products, and she succeeded in doing so. After the show got aired in December, Indu Rajput's Vada Pav received huge popularity. "I received congratulatory calls from all my relatives and friends," she says and adds that a lot of people started emerging at her food joint, and 'Spicy Simmba' became an instant hit.
Ensuring freshness
Mrs. Rajput takes good care of hygiene and freshness. Every morning, she, along with her second daughter reaches the joint on her two-wheeler. On the way, they do not forget to buy fresh vegetables. On the other hand, the spices are bought every week and other ingredients, every alternate week as her husband buys them from a local market during his holidays.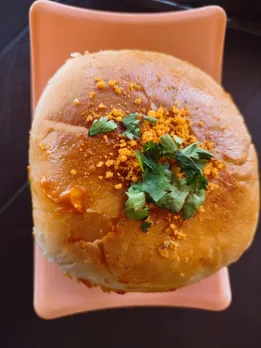 The operations of the food joint are managed by Rajput herself while her husband also goes to the joint every morning before going to the office and reaches there again after returning. As their first daughter is studying in Ahmedabad, the second remains with Rajput at the joint, and the youngest joins them after her school hours.
Observing the success of 'Chilli n Cheese', Mrs. Rajput is going to launch a Cheese Ball and Shahi Paneer Vada Pav soon. Meanwhile, her customers, who often talk about opening their own stalls after getting inspired by her, have not let her forget her own dream of opening a cafe with a special space for 'Ummeed ka Kona'.
Sometimes, people also come from far-off places like Ahmedabad to taste the Vada Pav, for which the credit can be given to the show, as Rajput says. "When people tell me that Vada Pav was as fresh as they had purchased even after travelling for a long time, I feel contented beyond words," she adds.
After serving no less than 1,000 families and battling all physical challenges, Mrs. Rajput when looking back at her journey, says, "I had two options; to die or to live. I chose the latter." As a matter of fact, she is still working hard to be an inspiration for her daughters, a glimpse of which can be seen in the fact that she continued taking orders and managing the joint along with this telephonic conversation. Who knows if she has not become an inspiring figure for the kids, already?
For more such stories follow Local Samosa on Facebook, Instagram, Twitter, and Telegram