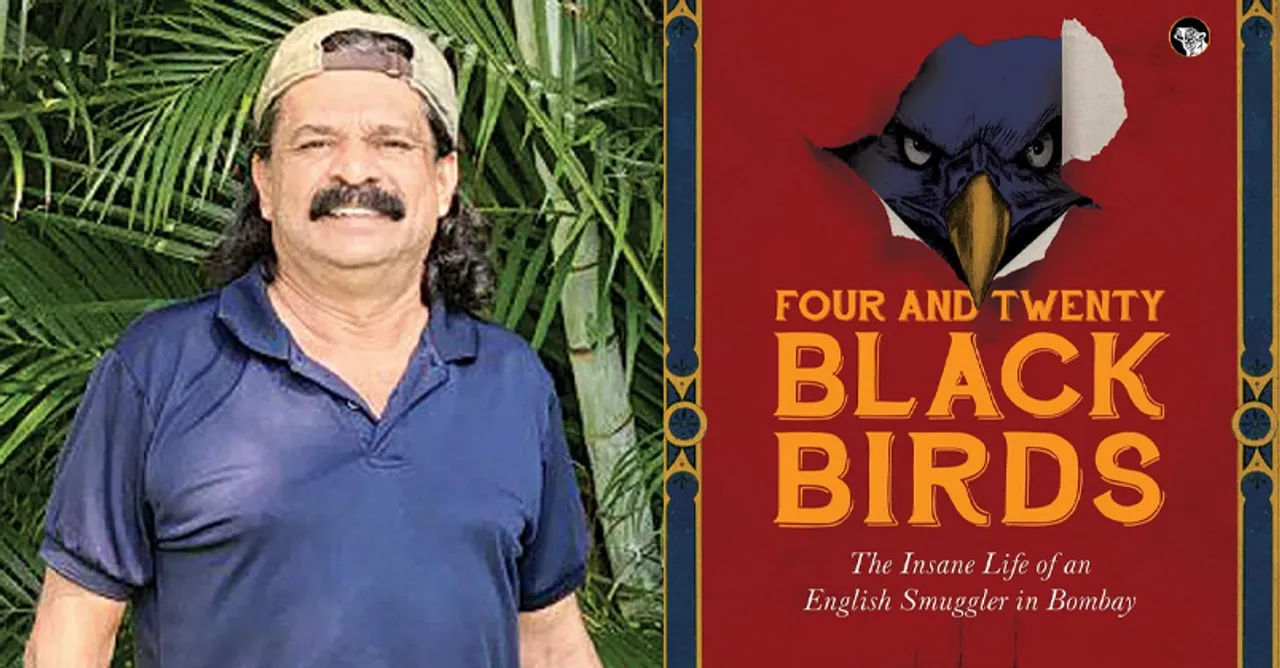 Set in the Partition & Independence era, Godfrey Joseph Pereira, in his new novel 'Four and Twenty Black Birds' talks about the life of Charlie Strongbow, a schizophrenic Englishman, who set up a smuggling den on Cross Island, off the Bombay coast. The book includes fascinating anecdotes about the difficulties a newly formed government of India faced as well as the history of corruption in India.
Born in Pali Village, Bombay, Godfrey Joseph Pereira holds a degree in English Literature and Philosophy. He followed a career in journalism, was Assistant Editor at Society Magazine, Principal Correspondent at Sunday Magazine and India Today, and worked as a war correspondent covering the First Gulf War from Israel. His first novel Bloodline Bandra was published in 2014. The novel made the 'Top Ten' List at Oxford Bookstore. His new book ' Four and Twenty Blackbirds' revolves around the disturbing and astonishing story of an Englishman who won everything but lost his soul on a no man's land in the Arabian Sea.
Abhishansa Mathur was in a candid conversation with him about the journey of writing, 'Four and Twenty Blackbirds', journey, and much more. Here's the excerpt from the interview.
1. Can you tell us a little about yourself? What inspired you to become an author?
Pali Village, Bandra, Bombay, was the place of my birth. I used to read a lot as a child. There was a library close to my home, and I would rent books and read them. By the time I was sixteen, I had read Leo Tolstoy's War And Peace. I hated school and disliked my teachers, and was a bad student, but I continued the paper chase and got a degree. I graduated in English Literature and Philosophy from Bombay University and began writing for a student newspaper, and then went on to work with magazines. I worked with Shobhaa De and was Assistant Editor at Society Magazine, worked with Sunday Magazine and India Today. Later, I became a War Correspondent when I covered the first Gulf war from Israel.
I moved to The United States after that and saw how Indians were ill-treated and exploited by other Indians, and I was one of those taken advantage of by my own people in New York City, and that's when I decided to write Bloodline Bandra, which is a story of Indians exploiting Indians in New York City.
2. Tell us about your inspiration behind Bloodline Bandra and Four and Twenty Blackbirds and why you opted to write these genres?
Well, inspiration is the wrong word for me here. Desperation, anger, and a burning desire to tell the world what Indians were doing to their own people in New York City were my motive for writing Bloodline Bandra. My experiences were so devastating that I tried to commit suicide. Bloodline Bandra was my story told through a fictional character, David Cabral. The book made it to the top ten list at Oxford Books in India.
Four And Twenty Blackbirds is Historical Fiction. I did not opt to write in this genre, it just happened. First, I heard this story in a bar in Croydon England, when I was visiting friends. I was shown letters written from an asylum by an Englishman, born in Bombay, who started a black-market business between Bombay and Southampton just after India's independence. It just seemed like a great story, and years later, in New York City, I met the grandson of the man who had written the letters again. So, it just seemed a fantastic story and turned into Historical Fiction as I was writing it. I have no idea how these transformations take place.
3. What kind of literary influences did you have growing up? Your earliest memories with storytelling?
The one book that blew my mind was Robert Pirsig's Zen and the Art of Motorcycle Maintenance. It changed my philosophy of life. My earliest memories of storytelling were my grandfather telling me stories.
4. How much research, imagination, and conviction do you think is required before writing any book? Take us through your writing process?
There is addictive desperation of pain in writing; I have often likened it to a junkie waiting for a fix. Take Four And Twenty Blackbirds, It started off as a straight story, but I could not ignore what was going on in India after Independence, and that is when it turned into a historical fiction novel. That is when the research turned interesting, historical facts led to stories, and the stories led to more facts. For example, Jahāngīr, the Mughal emperor of India from 1605 to 1627, was a drunk, an opium addict, and a womanizer. He was bribed by Sir Thomas Roe into signing the document that sold India to the British.
That is when my writing and research process grew more exhaustive. Indians have always been told that it was the British who fathered corruption in India. Wrong. Read history that has not been brown washed by India. The culture of corruption has always been thriving in India long before the British arrived. History will tell you that. The British came in and set their corrupt systems on a solid foundation of corruption that the Indians had cemented a long time ago. I am not anti-Indian. Read history. Even Gandhi wanted to dismantle the Congress because the party was so corrupt. His words are there for all to see. That is part of Four And Twenty Blackbirds. The story of Charlie Strongbow and his twenty-three mercenaries is a parallel story in the Novel.
5. From being a journalist to an author, you have come a long way! Tell us more about your journey!
It's been an extraordinary journey. I am glad that I am still alive, and I don't take this gift of writing that I have lightly. Covering wars, I lost my faith in humanity. Look what is happening in Ukraine. As a journalist, you want to change the world, but then, you encounter corrupt police, politicians, warmongers, gang leaders and gunslingers, pedophile Priests, and holy con men. That has been part of my journey. And finally, realization dawns that nothing really changes, the chess game of insanity goes on. I am glad that I gave up journalism. I would have lost my life trying to right the wrong. In the end, there are no real answers. I am comfortable writing fiction.
6. You have talked about your city in the book. Tell us more about the importance and connection to it.
Bombay City, now known as Mumbai, is where all my changes took place. Mumbai will always be important to me. It's a fantastic city where everything happens. There is Bollywood, where there are big stars but very few actors, then there is the underworld, the very rich, the very poor, and all that is in between.
I used to know Bal Thackeray, the Shiv Sena big chief very well and got to know many of the older stars like Rajesh Khanna, Dev Annand, and Amjad Khan. As a journalist in Bombay, there were wild times, dangerous times (when we took on the Underworld in Island Magazine, where I was Chief Editor), but it was a learning process for me. And then, I moved to New York City, and that began another journey that you can read about in Bloodline Bandra.
7. How do you spend your time when not writing or busy with work?
I live and work in West Palm Beach Florida. A year ago, I left the insanity of the New York area with my fiancée and moved here. My time off is mostly spent at home, maybe at a beach or the pool. I listen to a lot of Bob Dylan, Hariprasad Chaurasia, the Indian classical flutist, and bands like Pink Floyd and The Beatles. I like watching old films of Akira Kurosawa, Satyajit Ray, and Federico Fellini. I think actors like Peter O'Tool, and Marlon Brando were geniuses. The set formula that so many Bollywood films are still following is painful to watch.
8. Who is your favorite Indian author and your all-time cherished book?
Saadat Hasan Manto, hands Down. He is not Indian, but it does not really matter. Then there is Jhumpa Lahiri, who is an American. I guess I do not have an "Indian" author that I read. I have many "all-time" books that I cherish. Zen and the Art of Motorcycle Maintenance: An Inquiry into Values by Robert M. Pirsig, The Grapes Of Wrath by John Steinbeck, and The Magus by John Fowles are some of the books that I really respect. And then there is Colombian author Gabriel García Márquez. His writing makes me feel inadequate as a writer.
9. What about Mumbai/Bombay do you love the most?
Oh, I was born there, so there is always that umbilical cord connection. But Mumbai has a vibe that is out on the streets, in your face. Very much like New York City. The energy is awesome, and Mumbai has memories, some sad, some bad, some great: of dying or living, and some old friends are still around to remind me of those memories, and I get to experience all that when I visit. I will be in India to market Four And Twenty Blackbirds next month in May.
10. What are some of your favorite local spots to visit in Mumbai?
Well, since I am from Bandra, Carter Road, Band Stand, and Pali Village are my favourite places in the city. I don't like bars, and I don't like restaurants; I'd rather spend a day at The Kanheri Caves or go to Uttan, from where my grandmother, a Koli fisherwoman, came. My favorite spots are just walking the streets, listening to the vibe that is so uniquely Mumbai. By the way, I am an East Indian. The East Indians were the original inhabitants of Mumbai, so when I visit Mumbai, I am really coming home.
11. Godfrey Joseph Pereira, any plans for the next book?
Yes, of course. I have begun writing it. It is a satire on the American political system and "The American Way" staged in an asylum in New York City. I don't know where it's going to go. It does not matter. The journey is the destination.
About the Book, Four And Twenty Blackbirds
Godfrey Pereira's second book is set during the Independence era. Though the overall book is a work of historical fiction, the premise is based on letters given to the author in a New York bar in 2015 by Danny Strongbow, grandson of Charlie Strongbow, an English smuggler, who took over an unhabituated land, the Cross Island, near the Bombay docks. He, along with his 23 colleagues, captured the island to establish a black market between Bombay and Southampton, England, to smuggle the western goods that the Indian government was planning to put taxes on.
Though the novel's background setting is Bombay, the characters are majorly British, majorly revolving around the illegal capturing and activities at the docks.
Even so, the island's history is unknown and undocumented but is locally known as 'Chinal Tekdi', which natively means the hill of whores, and why this is called is strange and unidentified, and maybe there is a dark sad truth waiting to be still heard. 
The book also explores the state of India's independence movement, and Pereira emphasizes that the version of Indian history presented to us is brown-washed and condemns the Indian politicians of that era and the corruption prevalent in Indian history.  
The journalist turned author, Pereira's book, 'Four and Twenty Blackbirds' takes a new turn when Strongbow suffers from Schizophrenia, which could be somewhere related to his childhood trauma and abuse and his abandonment of two daughters to Indian orphanages. 
All in all, the Four And Twenty Blackbirds keep you hooked, gives you enough flesh to stick around with astonishment and exasperation, and leave you always wanting more revelations.
For more such stories follow Local Samosa on Facebook,  Instagram,  Twitter, and Telegram.