Mayur S. Sarfare who is a Mass Media Professor always wanted to be a writer. He grew up being a fun storyteller, while his love for words was always there. After years, this passion led him to pen down 'The Tonic', which captures the impact of Atheism on characters in a world ravaged by religious fanaticism, and it's hard-hitting!
Questioning religion and humanity in the backdrop of the 1992 riots, The Tonic is a roller coaster ride. Mayur Sudhakar Sarfare, has encapsulated religion, love, friendship, atheism, and other societal issues in this thought-provoking novel. A fan of Victorian literature, Mayur teaches Mass Media students in Mumbai and is an ardent consumer of metaphysics and philosophy. Local Samosa was in a candid conversation with him about 'the Tonic', its inspiration, and a lot more. Here's an excerpt from the interview.
Can you tell us a little about yourself?
I am a Professor of Mass Media who teaches at a reputed suburban college in Mumbai with a keen interest in creative writing. My range of subjects includes Understanding Cinema, Content Writing, and Media laws. I am someone who never wanted to write for a living because writing was life! I began my career in Public Relations at India's largest independent PR machinery Ad factors PR, but my love for media subjects and cinema drove me towards academics. However, the childhood passion for writing continued to blossom, finally fuelling the idea for my first novel, 'The Tonic'.
Tell us your inspiration behind The Tonic and why you opted to write this genre?
The idea for the novel came to me in the form of a powerful feeling of an 'elated bliss' that was unique enough to alter my consciousness momentarily. It was a result of something I had consumed. I tried to further dig into this feeling to understand how it could transform an individual and make him overcome his greatest inhibitions. The idea of a dramatic tale of how 'external stimulants' could magically metamorphose psychologically deficient individuals to stupefiers began blooming inside, and if I could bring into the mix a backdrop as adversarial as the Mumbai riots, I realized that I had an intriguing tale in my hands. The contrasting genres of Low-fantasy, Mystery, and Historical came together quite naturally as the story fell into place.
What kind of literary influences did you have growing up? Your earliest memories with storytelling?
I was not a great reader for the better part of my life but was an ardent lover of words, especially long ones. By the time I had entered my adolescence, I had turned into a lexophile, a sesquipedalian writer of sorts. I imagined myself to be the exhumer of certain words that lay buried in this great graveyard of the English language. Victorian literature is what greatly drew me as a young reader. Jane Austen was one of my favourite authors during my late adolescence. Her elaborate use of abstract nouns deeply influenced my writing style. I was a storyteller since my childhood days, I use to regale my friends and cousins with horror tales. I had a diary for every year that had many short stories.
How much research, imagination, and conviction do you think is required before writing any book? Take us through your writing process?
I think research and imagination are two sides of the same coin, fiction writing isn't just about conjuring characters and places, it requires you to fill them up with details. And details require you to research all the time. A poorly researched book will be exposed no matter how rich or fecund the imagination is. My writing process is fairly straightforward, I like to play out the whole scene in my head, and then have a vicarious experience of what the character feels, then the words simply guide me in putting it on paper.
Your career started off as a Professor. What inspired you to explore to become an author?
I remember when I was in ninth grade, all of us were asked to express what we wanted to grow up to be in life. I said I wanted to be an author, and the teacher had asked everyone to applaud. It was always a childhood dream to write a novel, I was always a storyteller. Teaching happened because of this deep affinity I had with theories and subjects, I loved talking, and a nine-to-five desk job wasn't ever going to be my cup of tea. I always wanted to emotionally inspire people through my writings, and that always drove me towards words, becoming an author was a consequence of this ambition.
How do you spend your time when not writing or busy with work?
I am a movie buff, so I devour films and web series belonging to the genre of mystery, drama, romance and thriller. I also love reading on subjects ranging from metaphysics to political theories during my leisure period. Also, I am an occasional epigrammatist and a collector of stamps.
Who is your favorite Indian author and your all-time cherished book?
I don't have a favourite Indian author unless you can count Salman Rushdie as one. I have grown to take a liking to his style of writing. The range of rhetorical devices used by him has always got me creatively interested. My all-time favourite book is a non-fiction one, called the God Delusion by the great evolutionary biologist, Richard Dawkins.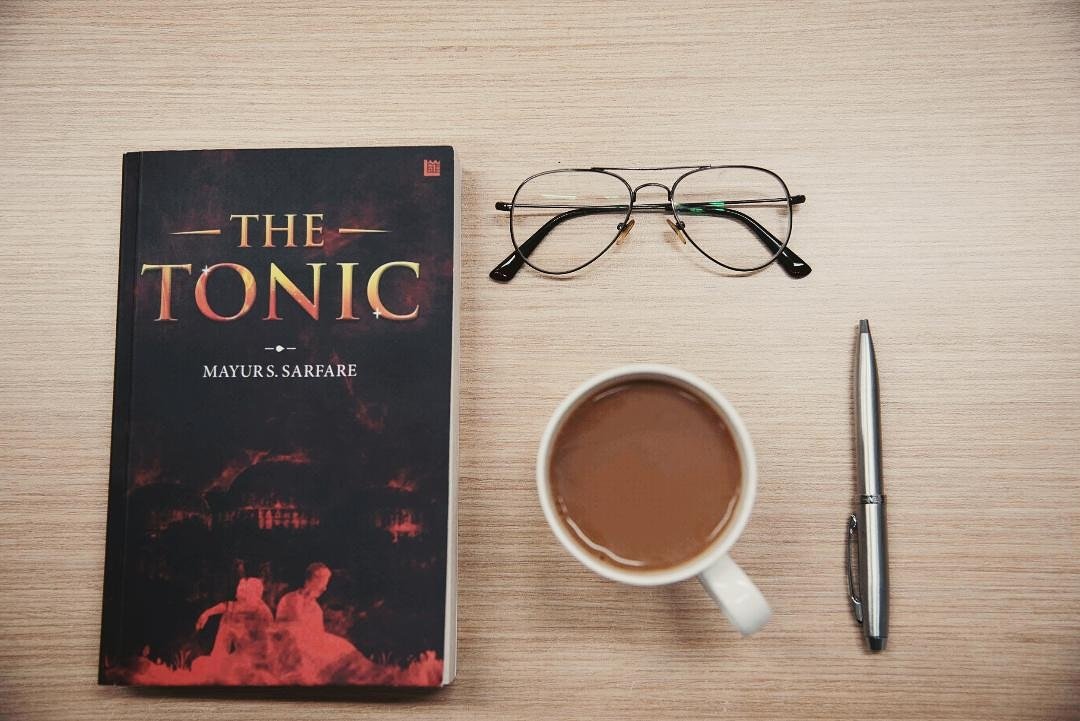 And what do you like the most about it?
The God Delusion is a book that intellectually stimulated me. It raised my consciousness, turned me from an agnostic to a committed atheist. The literary tools used to fashion an argument to debunk the greatest lie told to mankind. It is about religion and God is what made me love this book. The sheer irreverence that it displays towards false morals and explanations given by religion since time immemorial captured my imagination. One of the immortal lines I would like to quote from the book is how Dawkins has ever so ingloriously described God: "God is a vindictive bloodthirsty ethnic cleanser, a misogynistic, homophobic racist, an infanticidal, genocidal, filicidal, pestilential, megalomaniacal, sadomasochistic, capriciously malevolent bully."
Tell us about your favourite places you have lived. What were your go-to places to grab a book? Any Book store or library of choice?
Well, I have spent quite a few years during my childhood in Cochin (Kerala). A very scenic place; the quiet backwaters, the sound of crickets. Oh, and the fragrance of flowers while they bloomed continue to remain fresh in my memories. I was not a great reader. I have been a 'Kindle' person, not quite a bookstore person.
For people visiting your town, what kind of spots you'll suggest they visit? Any local secret you could spill?
I would suggest that they visit the Kochi backwaters and a houseboat stay that would include the delicious meals prepared on the boat. They spoil you with their sumptuous seafood platter. The exquisite fish fries and aromatic curries coupled with the picturesque sight of the sleepy villages passing by will make your stay an unforgettable one.
Any plans for the next book?
I have already half-completed the next novel, thanks to the excess of time I enjoyed during the lockdown. It is a romance mystery set against a powerful backdrop.
About the Book:
Set in the year 1992, starting with the communal riots in Bombay, with post demolition of Babri Masjid as its backdrop, The Tonic is a heart-wrenching tale of Masher and Raem born with certain deformities. Being misfits to society they find their solace in each other and creates a beautiful bond. "like a spirit, I am too falsely searching for a different life, for a better life, of not fitting in, observing the world from a distance,", Dialogues like these captures their insecurities and grief in a way that makes you feel blue.
One of the most adorable and beautiful scenes would be when Raem gifts Masher a packet of mysterious chocolate pills. The pills magically begin to embolden their lives. They begin to win moments and people. It becomes a tonic that turns them from being misfits to Stupefiers, and probably the reason why the book was given the same name. The story then takes us on a tragic journey of what the riots do to these two friends and the people of Bombay.
The book further introduces strong characters like Reymerg D'Souza, a media tycoon who wants to cleanse the country from religion. While Avantika das is an investigative journalist who is behind exposing Reymerg's darker agenda. The plot goes from 1992 to 2017 back and forth, showcasing the horrors of the riot and its after-effects through the journey of Reymerg's and Avantika's story. 
The Tonic is a blend of religious, political, atheism, realism, and societal issues. The book has thought-provoking scenarios, and questions religious motives blatantly. The cover is also smartly picked, and aptly represents the bold theme of the book. The red symbolizing multiple things. Babri Masjid in the backdrop and the two shadows sitting ahead inform, are capable of giving you a shiver once you are done with the book. If you are into political drama, we will recommend you to give it a read.
For more such stories follow Local Samosa on Facebook, Instagram, Twitter, and Telegram.
Comments
comments