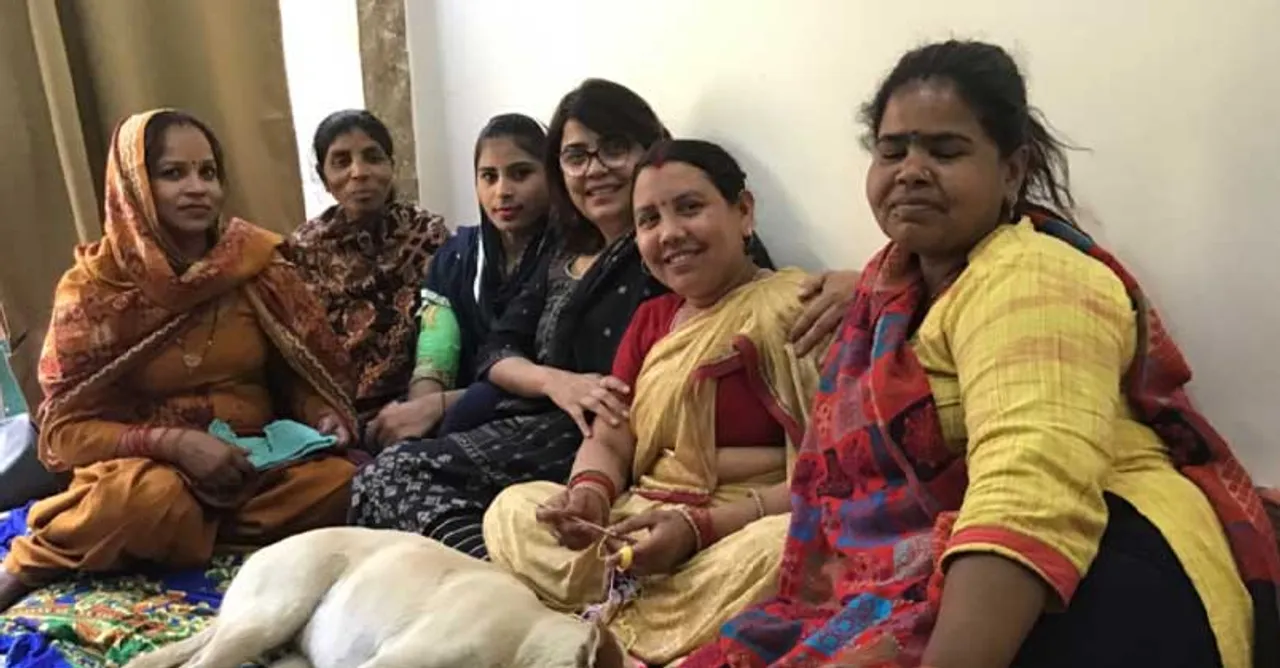 With the help of crochet products like sweaters, socks, tops, toys, and bikinis, the women from 'Sakha Ek Pehel' have been able to earn far better than before. All thanks to the founder, Vibha Chugh.
Nithari village is a small locality surrounded by posh colonies around Noida Sector 31. From the low literacy rate and high crime rate to the prevalence of domestic violence and womanizing, the village acquires all the attributes where a normal and healthy lifestyle, especially for women, appears a far-off dream. However, the condition seems to have started improving as the women residing here can be seen making various crocheted products and earning through a social initiative; Sakha Ek Pehel.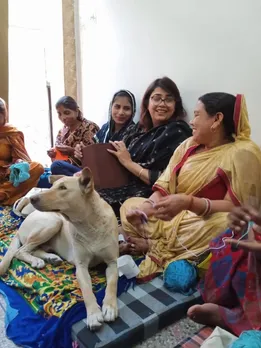 The non-profit organization founded by Vibha Chugh in 2020 aims to empower the women of Nithari village by providing them with a platform to help them earn and make self-reliant. As a result, what started with just winter socks, also paved way for the women to make toys, tops, bikinis, and dogs sweaters - their best-selling crochet product.
Finding the purpose of life
It had all started around four years back when Vibha had taken a break from her corporate job. For the last seventeen years, she was dedicated to her work in the healthcare sector, but as her daughter was little and required her attention, Vibha decided to quit. After that, she involved herself in the upbringing of her child. As time passed by, Vibha felt the urge to restart working, but she was looking for something "more meaningful".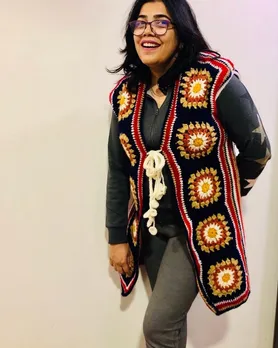 By this time, there were a few kids who would play in the playground of her society. The maids of the society, who worked in various houses, would often leave their kids in the playground. Vibha noticed that a man would come to distribute food to the kids every day. Curious to know, she approached him one day and asked the purpose behind it, to which he mentioned that some organization was doing social service and he was just a medium. Vibha asked if she could teach those kids, and as the man did not have an objection to it, she started giving lessons on 'personal development, 'sexual awareness' etc.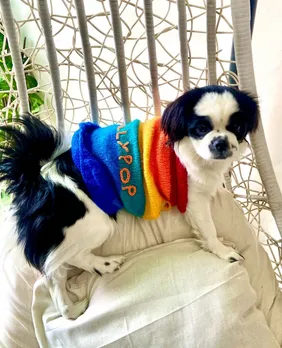 As 2020 had reached the threshold of the country and a national lockdown was in place, Vibha found out that many dogs were hounding around her society in search of food. They would bark all day and night, which would trouble her, even if she had never been friendly with dogs, all her life. She could not wait anymore and started feeding them. But the activity brought in for Vibha various challenges posed by her society members who would not like Vibha feeding the dogs owing to the noise created by the stray animals.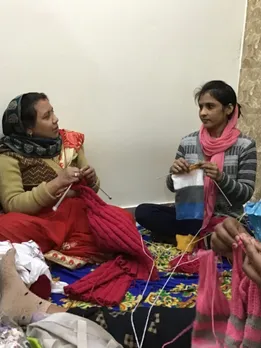 Not only this, the children of the society stopped talking or playing with Vibha's daughter, and the residents would also often put complaints about Vibha to local administrators. "I was advised like 'help people who are dying instead of this' by government officials and I would always say that it is us humans who can earn and feed ourselves, not these speechless animals," Vibha says. Nevertheless the circumstances, Vibha did not give up and continued feeding dogs with her own money. She would borrow money from her husband and would spend around 30,000 a month for the food and the medical needs of the dogs.
A visit to Nithari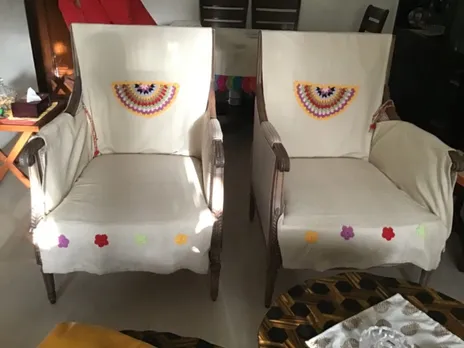 Owing to the expenditure, Vibha started facing the financial crunch, but even then, giving up was not an option for her. To look for alternative sources of income to feed the dogs, Vibha, one day, visited Nithari village and talked to the women, most of whom were laid off from their work due to the lockdown. After talking to them about the work they could do, Vibha saw that each one of them knew basic crocheting. Having been lived in Europe, she knew that crochet products have demand over there. She took the next step with just 5 women and started gathering them for crocheting in the public parks and even roadside. They would sit on the mat and would make winter clothing items.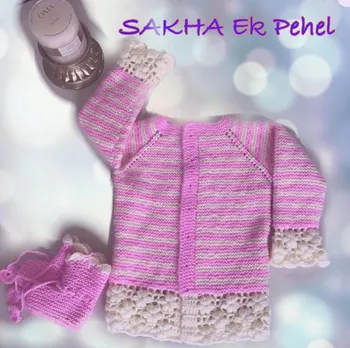 Since Vibha and the women from the village did not have the expertise in making finished crochet products, they started learning through various sources, including YouTube. Finally, in October 2020, the team launched winter socks as their first product, which received immense popularity. Vibha used her WhatsApp to circulate the message and sold a good number of socks. This also led the team to start with other winter clothes like sweaters, not just for humans, but also for dogs. That winter alone, the team sold 90 to 100 sweaters.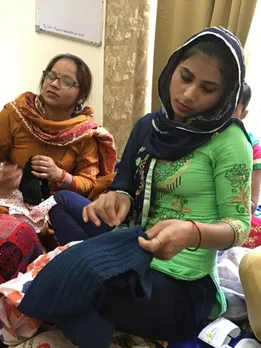 The thought of not being able to employ women hit Vibha when the summer arrived. Hence, she came up with a few products that could also be sold in summer, like bikinis, tops, and toys for children, and soon after, women started making these for the customers. This initiative had, by now, helped Vibha feed the dogs after she paid the women.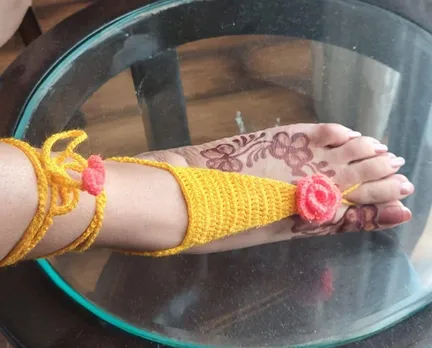 However, as more women joined her, she got 'Sakha Ek Pehel' registered in August 2021 with an official clause mentioning the distribution of income - 70% for the salaries of women and 30% for feeding dogs. "Sometimes, we start with a 'social cause' but get deviated as the income starts flowing in. I could not let that happen to me for which I got the '70:30 expenditure' written in the document," Vibha says.
The organization sold almost 100 products in the winter of 2021, and 450 alone between February and March 2022, which shows how their sale is going upwards. Even though the team does not have a website to operate, they have also been able to sell products in the USA and UK through Vibha's corporate contacts. Recently, an Australian toy chain has also approached the team for a few toys that, and if it turns out to be successful, the company will sign a contract with 'Sakha Ek Pehel'.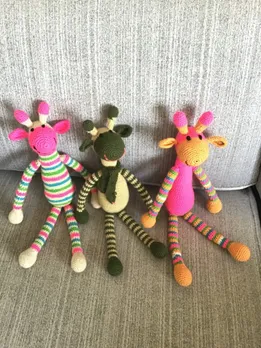 The initiative consists of 75 women who are happy with their work as they are now able to earn three times more than they used to before. Vibha has opened a small office in the village so that these women can work from the office instead of working from their homes. They sell all the products priced between 800 to 2,500 to various customers in India and abroad. This apart, Vibha keeps conducting various welfare sessions for women. She had also set up an 'eye check-up camp' on the occasion of International Women's Day this year and distributed around 100 glasses.
On the other hand, the fear of dogs is a long-forgotten past for Vibha, who has two dogs in her house, including the one she rescued a few months back.
For more such stories follow Local Samosa on Facebook, Instagram, Twitter, and Telegram