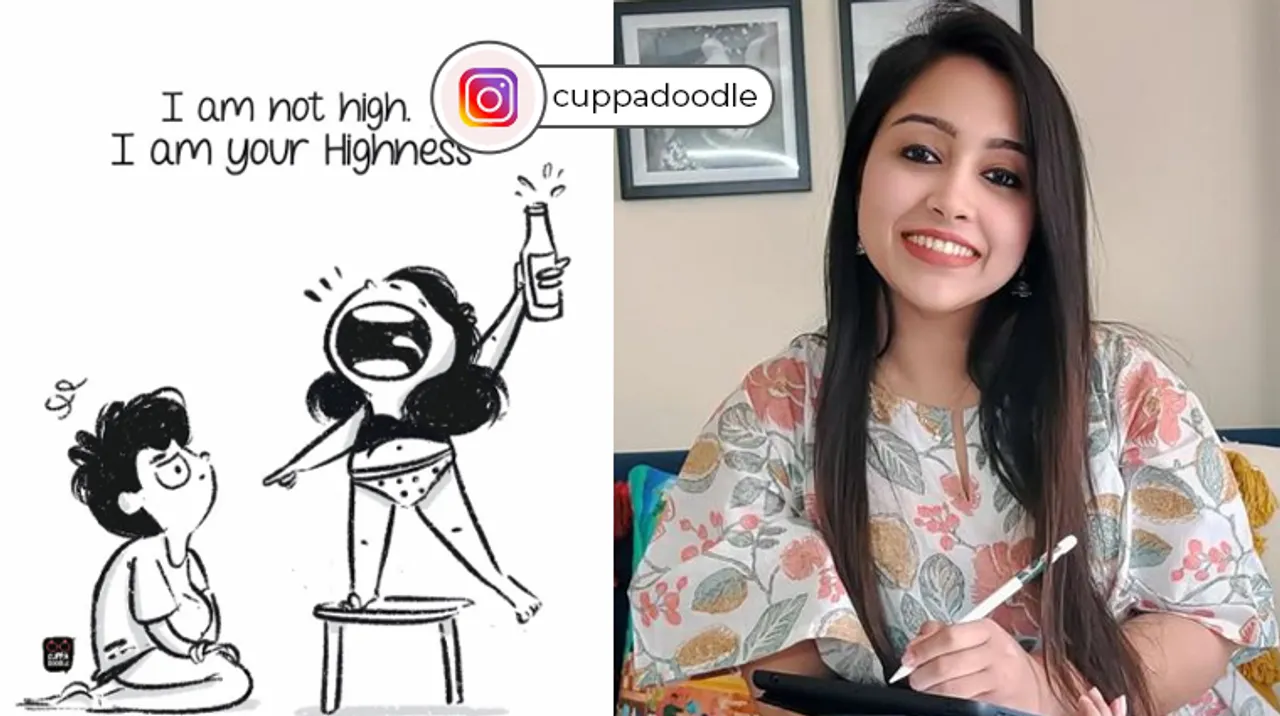 Nikita Agarwal who's an illustrator, comic artist, and animator, is spreading nothing but love and romance through her digital arts on her page CuppaDoodle.
Check CuppaDoodle, and you'll see a very cute and romantic couple all over the feed. These black & white animated characters are adorable enough to give us relationship goals. Founded by Nikita Agarwal in 2019, CuppaDoodle is the cutest thing you'll see today. The quotes and sound effects she adds in her illustrations and videos will surely bring a huge smile to your face. "My Instagram page in literal terms is my digital journal, which is not that private. I love to draw stories, and now I am sharing them with everyone out here", said Nikita.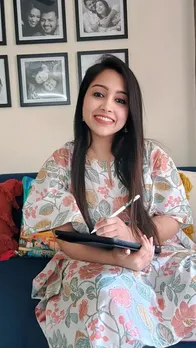 From being an engineer to a storyteller!
Cuppadoodle started as a side-hustle with Nikita's day job, which now has turned into a sweet little home-grown business. She is a self-taught illustrator, cartoonist, animator, and storyteller. Like many, she was also questioning being an engineer but luckily managed to sweep her way into NIFT Delhi for Masters in Design. "I worked for more than 2 years as a Graphic Designer, and after sitting on the fence for a long long time, I quit my job in 2021, and started running Cuppadoodle full-time", she further mentioned.
Initially, Nikita struggled with learning the basics of characters, cartoons, and comics, but it got better with regular tutorials and practice. She did many hits and trials to finally design Cuppadoodle characters. "The major challenge was to decide whether I should take this up full-time and leave my job. One fine day, after thinking through and with a leap of faith, I decided to quit. It was the best decision I have taken. Entrepreneurship is undoubtedly tricky and has its own kick. But I absolutely love what I do", she told Local Samosa.
Finally, when she started to post her illustrations on Instagram, she saw many people connecting with what she was feeling. "This name popped up in the head of my close friend who wanted it to be nostalgic and simple. The logo that I have designed is very simple, specs with two hearts used to be in every doodle of mine as a tiny metaphor of love, which now has made a tiny corner in people's heart and life", she said.
The magic of Black & White
Though there are many illustrators out there who talk about love through their work, one thing that makes CuppaDoodle unique is that she doesn't use colours in most of her work. And, yet they are warm, bright, cute, and filled with emotions. It's indeed a tough job to make such illustrations as colour do have an impact on our mood. So, we say kudos to Nikita for doing it!!! " I have done a few coloured ones as well, but I feel people resonate and recall my work in a certain design, and that is why I keep them black and white", said Nikita.
Nikita is also quite good at making e-wedding invites, and we simply love them. "I believe in not putting all the eggs in one basket. Hence I started working on wedding invites and enjoying making them so much. I cannot even tell you how much satisfying it is to work on them. And not only weddings, but I have also worked on baby showers, house warming, south Indian traditional invites as well", she added.
She now plans to launch the Cuppadoodle products line, expand and scale the customized area, and keep working on new projects. " I would also want to expand my workshops for a larger audience", she concluded.
For more such stories follow Local Samosa on Facebook,  Instagram,  Twitter, and Telegram.