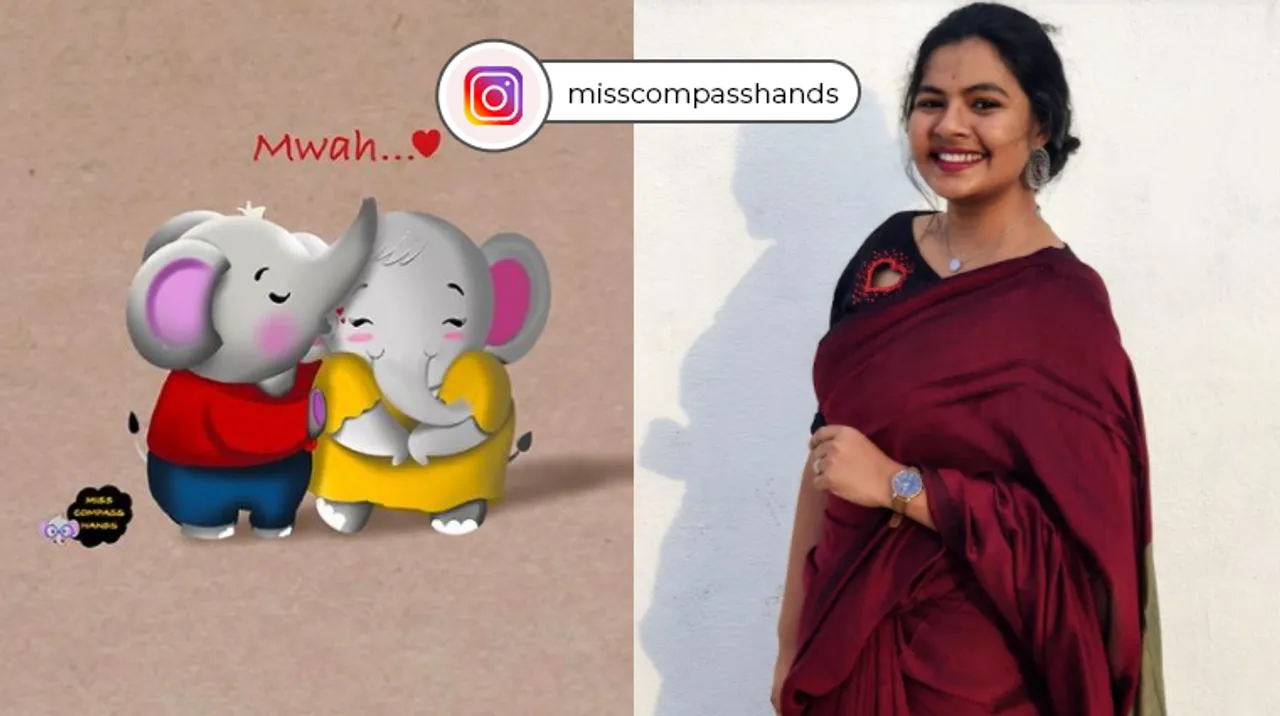 Sangeeta Pragaya was working in the US as a Software Developer and used to occasionally dabble in doodling and mandalas when she would miss home. After she met with an accident, she came back to India for her recovery, she found her peace in drawing, and that's when her casual hobby turned into healing and a beginning for her career as an artist.
Sangeeta Prayaga is an illustrator and an entrepreneur from Hyderabad. She is a computer science engineer by degree and was even working as a Software Developer in the US after completing her Master's program. It was the daily drudgery of work and commute that made Sangeeta feel homesick, and after her friend introduced her to the therapeutic effects of drawing mandalas, Sangeeta found herself drawing Mandalas after work every day. During this time, she got inclined in drawing and illustration, and after a while, she started her Instagram page.
"With time and practice, my mandalas kept getting bigger and more complex. I created an Instagram page to share my work and aptly named it parttime.artist.", says Sangeeta Pragya, aka Miss Compass Hands.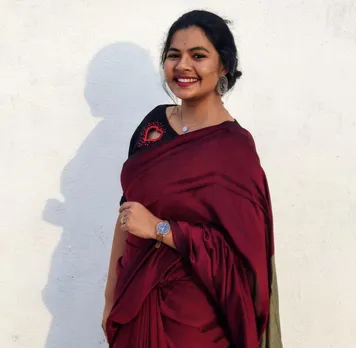 In one fit of inspiration, an elephant was created by Sangeeta, which she later named Ganpat Rao (GR). Through this cute little elephant, she would talk about issues like bullying, mental health, and sustainable living. It was astonishing for Sangeeta to see people resonated with the voice of Ganpat Rao and his friends. Gradually couples started reaching out to her for gifts and big corporates for decor. "I started taking mandala workshops for beginners and the response was heart-warming! In one of my workshops, someone commented, 'her hands themselves are like a compass', and that's when a friend suggested a new name for my brand.", she says.
After a lot of thinking and calculation, Sangeeta quit her job and became a full-time artist. Her work is a blend of relatable characters, situations, and oh-so-adorable elephants! She finds her ideas from what she observes on the streets, her grandparents, fashion, and personal experiences! Sangeeta's bio reads  "Awww"er at Baby Elephants, and a major part of her work revolves around Ganpat Rao, his cute girlfriend Gaja Laxmi, and their friends.
"When I was in the US, I was going through a tough phase. I felt depressed and homesick most of the time. One such day, I stumbled upon a video of a baby elephant chasing birds. It instantly brought a huge smile to my face, and so I binge-watched all elephant videos on youtube and wondered how life would be if we had therapy elephants, like therapy dogs! That's when I thought of creating one on my own. I hand drew an elephant and named him Ganpat Rao. Once I got engaged, I also introduced Gaja Lakshmi, GR's girlfriend!", she explains.
Through these cute characters, Sangeeta tells stories of her own struggles, achievements, and lessons. She recently did a series of simple and happy quotes, and it is amazing. Another fun series that brought a smile to our faces was the "Everyday Scenes on Indian Streets". This one features the people that we see around us. "What better place than Indian streets to find a diverse range of character design inspiration? That series has been one of the most challenging yet also loved one.", she adds.
Sangeeta is an avid reader too, and her latest series is also inspired by the same. This one features illustrations of India's first women doctors, and is based on the book, "Lady Doctors", which is written by Kavitha Rao."So, this is my first serious attempt at live study and a humble homage to those 6 women who were way ahead of their times! Something on this is coming up very soon at my store.", she says.
Sangeeta Prayaga began her artistic journey with Mandalas, and you will find it in her recent work too. But, it wasn't a random switch to an art form, it was more like a healing process for her. After she met with a car accident during a trek in the US, Sangeeta was bedridden with multiple fractures. It was a tough time and for the next few weeks, she kept having nightmares, flashbacks, anxiety, and repetitive thinking about the incident.
"My prolonged recovery from the road accident had me travel back to India to my parents, my life came to a stand-still. During my recovery, art saved me. I realized the therapeutic effect of drawing mandalas. It kept me calm and focused during my physiotherapy. I channelled my inner positivity through my baby elephant character named Ganpat Rao, and talked about my struggles through him. And to my surprise, those stories of struggles were relatable to thousands of people, which also helped me cope with my trauma.", says Sangeeta Prayaga.
Today, Sangeeta is an entrepreneur with over 26 K people following her work on Instagram. " Mandalas taught me patience, perfection, and self-awareness. I love how I immediately feel calmer and peaceful after drawing a mandala. So, that's my favourite part about it!," she further adds.
QUICK 5 ft. Sangeeta Prayaga!
1) Indian Illustrators, you look up to?
Firstly, my sister! I grew up with an artistically inclined sister, and she is the reason I can appreciate art. Secondly, Alicia Souza, of course. I look up to her work and the products that she designs, and thirdly, Mounica Tata. The reason I started drawing was to tell stories through them, and Mounica does exactly the same, and I am highly inspired by her!
2) What is about your favourite city you love and adore the most?
I have lived in so many cities all over India, but Bengaluru steals my heart! There is no other place where I would have dared to start my art journey. I have done some sweetest and wonderful collaborations here. I have been part of events that helped me grow as an artist and, of course, the vast amount of support for entrepreneurs! Obviously, I also LOVE the weather here, the cafe scenes, Phobidden Forest for their delicious Banh Mi, which instantly reminds me of my trip to Vietnam a few years ago.
3) If you have to make an illustration of a local place, a spot in a city, or a favourite eatery, which place would that be?
Hands down, it would be Yogisthaan! Since I moved to Bengaluru 3 years ago, that has been my favourite cafe to do my work. I have spent hours together there, sipping their mast masala chai and gobbling on quinoa salad!
4) Tell us your favourite local spots!
Lalbagh in Jayanagar would be the first one. A morning walk with my father in Lalbagh is always the best part of my day. Blossoms Book Store at Church Street for my to-read book list. Yogisthaan cafe for work! TOIT in Indiranagar to hang out with my friends, and lastly, Paperback Bookshop in Kammanahalli. So, It is a hidden gem we stumbled out and has a great collection of old and new books and charming owners.
5) If not illustrating, what would we find you doing?
I usually can be found coding, dancing, "awwww"ing at baby elephants, or my recent fascination, reading a graphic novel. I am a serial Dahi samosa maker and saree wearer. Also, I obsess over Vince Gilligan podcast (the maker of Breaking Bad and Better Call Saul).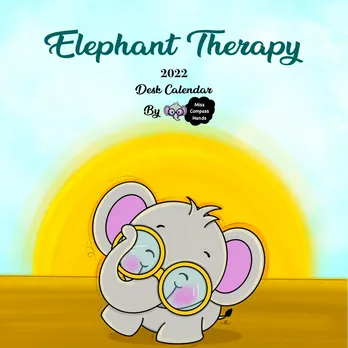 As Miss Compass Hands store turns 1 this November, Sangeeta is all set to launch a bunch of new merch for this festive season. She will soon be offering The "Elephant Therapy" 2022 desk calendar that features beautiful quotations with Ganpat Rao and Gaja Lakshmi illustrations.

" Each quotation is handpicked after days and weeks of research, as I wanted my customers to instantly feel energetic and happy when they read those quotes. The "Elephant Therapy" 2022 Desk Calendar launches shortly on the store and I am thrilled to announce and release the cover design for the first time on Local Samosa! I also have lots of new fun and cute stationery which make great gifts that are packed with love and care.", says Sangeeta Prayaga.
For more such stories follow Local Samosa on Facebook,  Instagram,  Twitter, and Telegram.