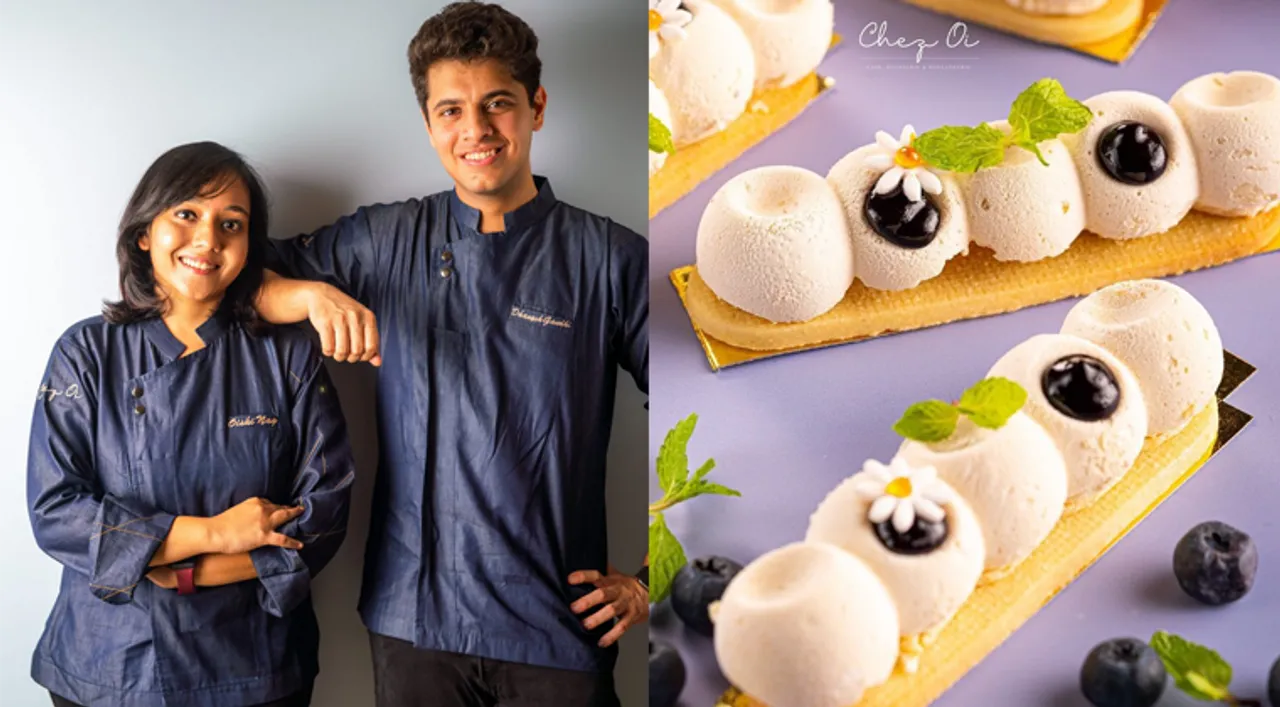 Meet the talented duo who is here to make elite desserts more accessible and exciting! From working with leading hospitality chains to starting out as a cloud patisserie in the pandemic, their journey is sure delectable.
Chef Oishi Nag and Chef Dhanesh Gandhi, are the founders of Chez Oi, a patisserie in Mumbai, are taking fancy delectables to a whole new level. They are serving elegant and quirky desserts that are just perfect for your sweet tooth! Their journey has been beautiful so far, and it has only just begun. If you ever visit Chez Oi(pronounced as Shay-Oye), then you must check out Build your own cake, All I want Cake, Classical Opera, and Raspberry Choux from their range!
Abhishansa Mathur was in a baking conversation with them about their journey and more loafly things!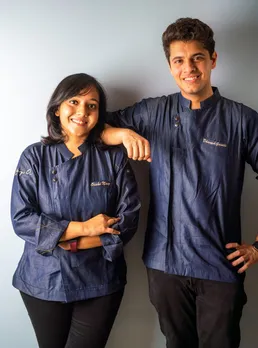 1. Where did it all begin for you?
We met and have been together since our college days in IHM-A. Despite the long distance through the initial years post-graduation, something that has fuelled both our relationship and professional journey has been our shared love for food and the idea of creating our own recipes. Being chefs of Pastry and Cuisine, we aspire to whip up our repertoire of desserts and savouries that one may tag as quirky, elegant, or simply exotic.
We want to create something which brings out the child in you and satisfies your soul too! We strive to revive the nostalgic essence of childhood by bringing those moments of joy by biting into our delicious desserts. At Chez Oi, we believe fancy should be more fun and love to play around with unique indulgent flavors that spark magic with every bite.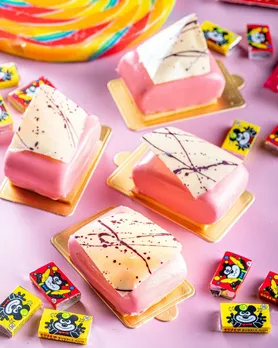 2. Can you tell us something about yourself?
We are both very inquisitive chefs who are always trying to push our boundaries in terms of bakery and patisserie. Oishi is an alumnus of Huddersfield University who has further specialized at the prestigious Lavonne Academy of India. Having worked with leading chains in the hospitality industry like the Taj Group of Hotels and the Accor Group, she brings in a wealth of exposure to make this an exciting and unique journey in the culinary space.
Dhanesh is also an alumnus of the renowned Huddersfield University started his career with the two Michelin-starred Taj Campton Place in San Francisco, followed by a long stint at the Taj Group of Hotels across Delhi, Mumbai, Lucknow, and Andaman and Nicobar Islands. He also represented India in Spain and currently dreams of taking Chez Oi across many shores.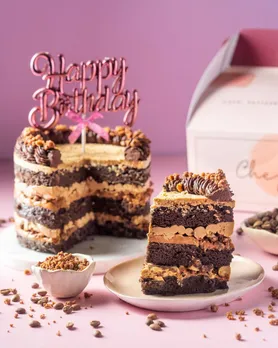 3. Can you walk us through your journey so far?
We started Chez Oi during the pandemic in the month of January 2021, which itself was challenging to begin at such a time. The initial plans were to start a cafe, but due to the timing, we started a cloud patisserie, something which I have grown fond of eventually. As we started the brand during the pandemic, we faced a lot of issues with our equipment procurement due to the supply chain problem that delayed the entire process a lot.
4. What are some challenges that you faced while running Chez Oi Patisserie?
One of the biggest challenges was logistics, as we weren't prepared for a cloud patisserie. Making our delicately garnished desserts reach intact to our customers was the biggest challenge. With time we worked around our desserts to make them more travel friendly.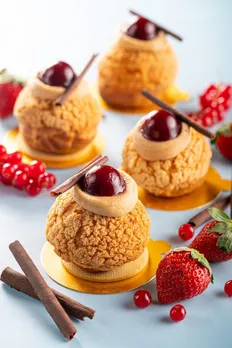 5. Your learnings running Chez Oi Patisserie?
The major learnings have been on balancing a team as it's very important to have a strong team. Secondly, we have learned to deal with customers and gain their trust as it's quite crucial for any new brand.
6. What according to you makes your brand stand out amongst other brands?
Chez Oi has a unique take on desserts, which is to make the fancy European/ French desserts into much more fun and quirky version of it. We believe that desserts along with being admired should bring about nostalgic memories and happiness.
7. Dessert trends do you foresee?
We feel that the growing trend of people moving away from instant coffee to Indian origin artisanal coffee has greatly influenced many brands. The Artisanal coffee wave has yielded products like coffee-infused gin, whisky barrel-aged cold brew coffee, and many more. The trend has been growing in the desert space exponentially as well. Pastry chefs have observed that customers are beginning to appreciate the flavour profiles and finer nuances of coffee like origin, roast, and brewing methods. Thus they have applied the same to their range of desserts.
Desserts like our eggless Tiramisu macaron, for which we use a freshly roasted Moka pot brew for the tiramisu ganache, contribute to a bold flavour of the macaron. Our classical french Opera, which is the most ordered dessert, uses a double shot espresso of medium roasted beans for the french buttercream.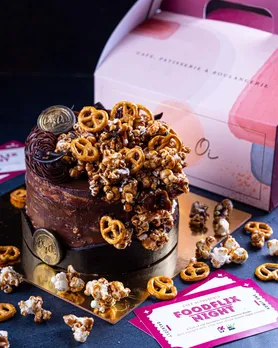 8. How are you using Social Media to promote your homegrown brand?
Social media is our main platform for promoting our brand. So, from using reels and images to showcase our products to taking polls on new menu launches, we do everything.
9. What is your 5-year plan for Chez Oi Patisserie?
We aim to have more delivery kitchens in other areas of Mumbai. Also, we plan to move on to cafes, providing niche dessert experiences.
10. Can you share your business model with us?
Our business model mainly relies on RnD. We first conceptualize and then conduct heavy research and a lot of trial and error. Hence before we launch any product, we go through a process and analyze to avoid any possible errors.
11. One advice/suggestion you'd like to give aspiring entrepreneurs out there.
To aspiring entrepreneurs out there, we would like to tell them to do a proper analysis along with market research and to get as much experience one can possibly have in the field along with creating a niche for themselves.
For more such stories follow Local Samosa on Facebook, Instagram, Twitter, and Telegram.