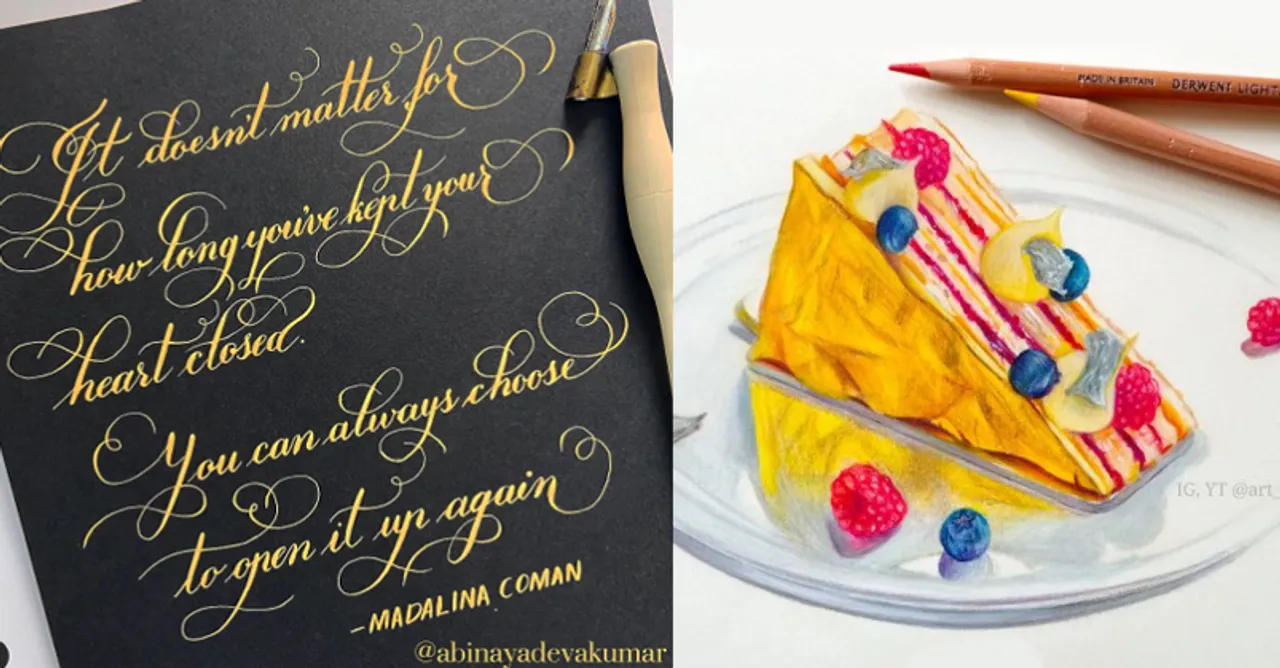 Local Samosa is back with the weekly list of workshops to help you utilize your time in the best possible way. Sign up for any of these upcoming online workshops and make the most out of your spare time.
Explore these interesting online workshops and pick the one that suits you the best. Learn about the basics of music, or try your hands on Lippin Art or learn modern calligraphy! Keep reading, as there's a lot that you can do this week with these upcoming online workshops.
1. Modern calligraphy workshop by Abinaya Devakumar
Abinaya Devakumar is a self-taught artist, architect, and runs an art studio in Chennai. She is conducting a comprehensive 4-day online workshop on calligraphy next week for advanced Level and another 2-day workshop for the basic Level. Indulge yourself in good handwriting and learn modern calligraphy from her.
When: 2nd, 3rd, 9th, and 10th April
Get in touch at 9841423978
2. Music workshop for kids by Prodigies Event
Prodigies event conducts workshops for parents and children and they are all set next week with this musical workshop for kids. Let your little munchkins learn about the fundamentals of sound, rhythm, and lyrics and understand music better.
When: 8th to 10th April
DM for more details.
3. Resin Art workshop by Anubha Singh Gaur
Anubha Singh Gaur is a trained workshop expert and has conducted resin workshops for over 500 students as of now. Next week she is conducting a training workshop where she'll help you understand how you can start your own resin business. The kits will be delivered to your doorsteps and so enroll ASAP.
When: 2nd and 3rd April
DM for details.
4. Colour pencil realism workshop by Mad Cap Workshops
Didn't we all love the drawing periods the most during school time? Well, if you were also one such kid and want to bring back the nostalgia, enroll in this 7.5-hour workshop where artist Smitha Rao Kordcal will help you learn how to draw Color Pencil Realism Portraits.
When: 2nd and 17th April
Get in touch at 9176808449 / 9677238849
5. Fabric paint workshop by Rupa Arora
Painting is fun but you know what's even more fun? Well, it's painting your outfit or fabric that you can later wear and flaunt. Fabric painting is easy once you learn it from an expert and so this online workshop by Rupa Arora is something you should check out.
When: 1st to 3rd April
DM for details.
6. Lippin Art workshop by Authindia 
Lippan art is a clay art form from Gujarat and is mostly done by the villagers from Kutch to decorate their homes. You will see this art on the walls of homes if you are there and we think it's beautiful. Learn this art form and make Lippan wall decor with clay and mirrors.
When: 16th and 17th April
Get in touch at 6392135640
For more such stories follow Local Samosa on Facebook,  Instagram,  Twitter, and Telegram.