Rocking every performance with their own twist in the popular talent show 'Hunarbaaz', Rocknaama is a Sufi rock band from Delhi that's winning hearts for its energy, fusion, vibe, and everything right! 
If you are up for a good combination of folk, Punjabi, semi-classical, rock, or even funk music, we suggest you check out Rocknaama's work. This amazing band from Delhi is nailing almost every genre, and after we saw them in Hunarbaaz, we couldn't help but admire how talented musicians they are. Started by Shaheen Salmani and Vicky Ani, this band is definitely here for the long run as celebrities like Parineeti Chopra, Mika Singh, Hema Malini, and many more have appreciated Rocknaama and their work.
"I used to perform freelance with different bands and I was working with a band name Dhwani. It was there I saw Vicky performing. I really liked his work and so I asked him if he'd like to play with me for an upcoming audition. He said yes, and we went to the audition, cleared it, and started performing as a duo", said Shaheen Salmani, Co-founder and the key vocalist of Rocknaama.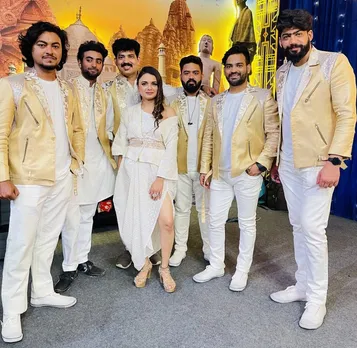 Back then, Shaheen would sing while Vicky would play the keyboard, and they both would perform some beautiful unplugged sessions. Their work was appreciated, and when the duo felt they had bonded well, they thought of expanding the band and started jamming with other musicians. "Every musician has their own vibe, so we were looking for people with whom we can match ours. We started jamming with different musicians, and it actually wasn't tough, though it did take some time", said Vicky.
Once the band was formed, there were new members in the team, and in no time, it became a musical family. Shaheen came up with the name and called it Rocknaama, and since then, they've been rocking various genres as there are different instrument players in the team. "I wanted to do something fusion, and so I combined our core with an Urdu word and that's how we did it", added Shaheen.
Rocknaama plays all kinds of music, and there's something for everybody, we would say. They play funk, rock, semi-classical, folk, and Punjabi by adding their unique twist and experimenting with different instruments. "We add our little touch of fusion and rock to everything we do. It'll be more accurate to say that we add our own spice and tadka to every song, and that's the only mantra", said Shaheen.
Being the only female and the lead vocalist in the band, Shaheen is one bawse lady. Her journey of taking up music as a full-time career was daunting, yet she paved her path. "When I started doing music, my family wasn't very supportive as they wanted me to pursue something stable like teaching. But when they saw me being serious about it and then finally forming a band, they accepted it. Though, I still get negative comments from the community about it. But, I really don't care because it's the food of my soul. I'll keep doing it no matter what people say", said Shaheen.
Even before participating in Hunarbaaz, Rocknaama was doing great. They were doing gigs, performing with celebrities like Akshay Kumar and Lucky Ali, and had a few originals in the pipeline. But then, Hunarbaaz happened. "We weren't sure if people would like our style or not. But to our surprise, everybody welcomed us with so much positivity. With Hunarbaaz, our sense of musicality has hanged and evolved even more. And, I think it was the best decision. We are learning a lot and love how our mentors have made it all easy for us", mentioned Vicky.
Team Rocknaama is making a lot of noise with their power-packed performances in Hunarbaaz and plans to make it even noisier and more entertaining in the future. "It actually doesn't matter how far we are going to make it as everybody is so talented. But once we go out of this, we'll plan as we were planning before. We will release our own compositions as early as possible as all the eyes are on us now. We will also be doing more gigs and public appearances, and a lot more", added Shaheen.
For more such stories follow Local Samosa on Facebook, Instagram, Twitter, and Telegram.